Tropical Papaya Detox Smoothie
next! OR, you can turn your papaya into a sweet treat with my
No-Churn Papaya Nice Cream
recipe!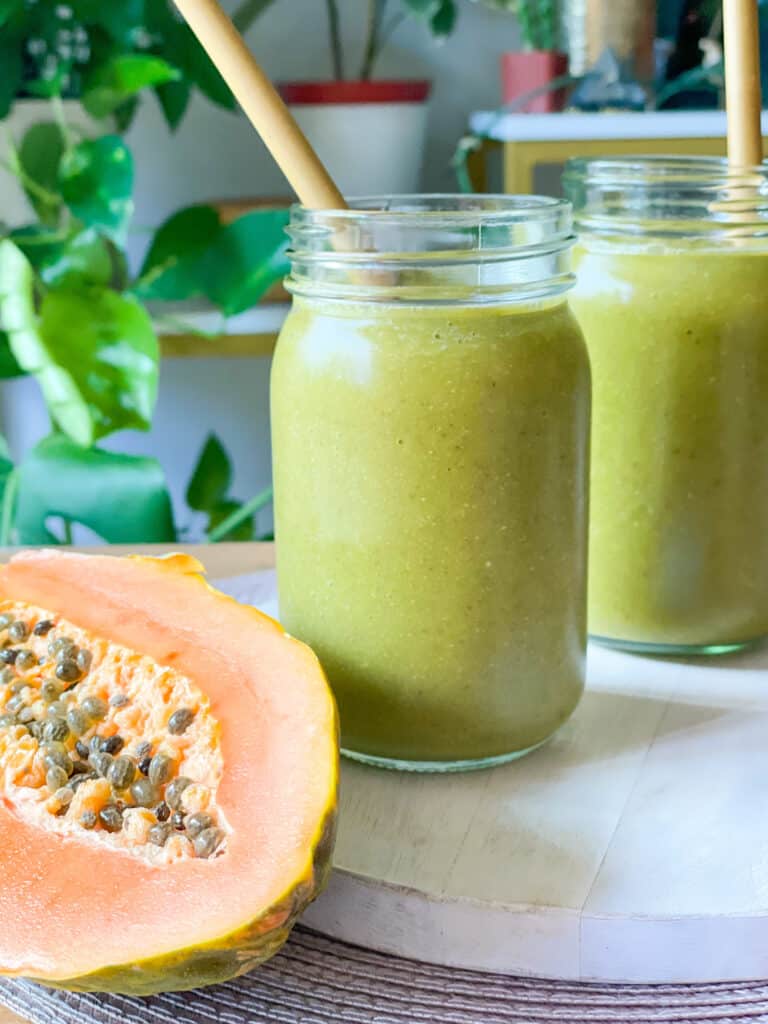 This content contains affiliate links, which help goodfoodbaddie.com to provide free recipes and resources. As an Amazon Associate, I earn from qualifying purchases. Thank you for your support of the blog!
You probably already know, but I am a smoothie fanatic! Moreso than that, I am a superfood fanatic! So, anytime I can make an incredibly-tasting smoothie mixed with superfoods, I am extremely happy. This Moringa Papaya smoothie is one of my favorites!
Have you checked out my 16 Superfood Smoothies To Start Off Your Day?
If you have not, you'll want to! It is a list of 16+ super nourishing smoothie recipes.
Moringa Papaya Smoothie
Moringa and Papaya both offer numerous health benefits and provide amazing nutrients!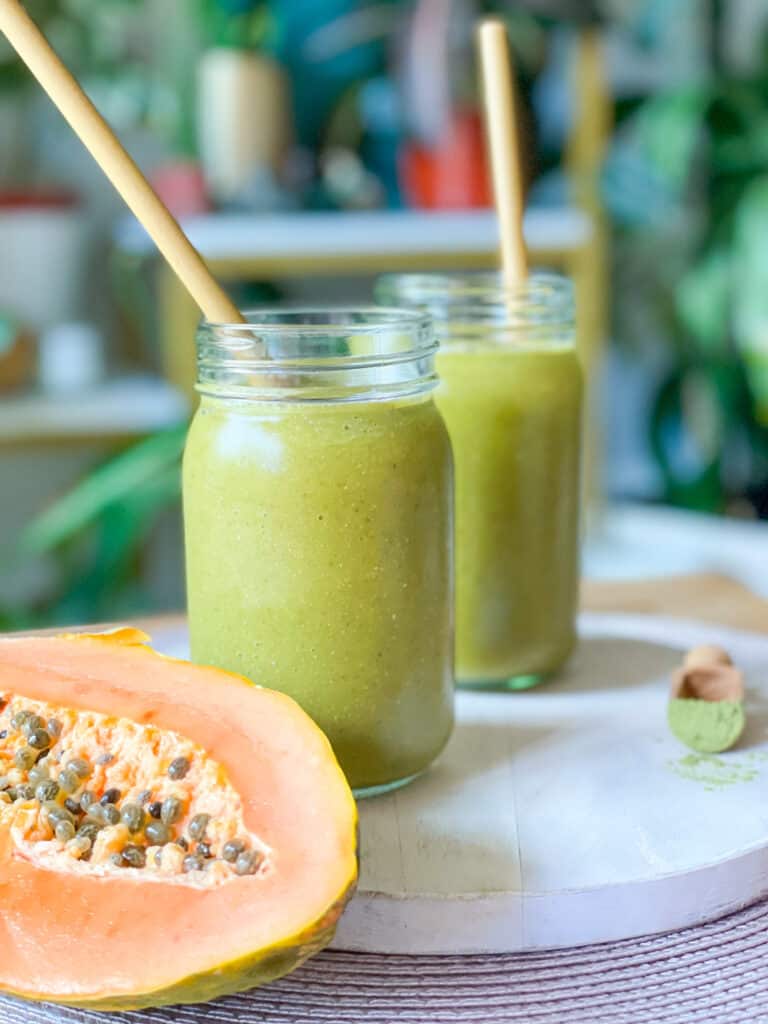 Moringa Papaya Smoothie Benefits
Papaya is an antioxidant powerhouse! It helps to reduce oxidative stress, reduce inflammation, lower disease risk in the body, and lower LDL "bad" cholesterol levels.
It's loaded with Vitamin C and Lycopene, which help improve heart health, boost the immune system, and is amazing for your skin, reducing signs of aging.
Papaya is high in Fiber and helps to improve digestion and relieve constipation.
Moringa Oleifera Benefits:
It is packed with protein, essential amino acids, 27 vitamins, and 46 antioxidants!
Per gram
it has:
10 times more Vitamin A than Carrots
15 times more Potassium than Bananas
17 times more Calcium than Milk
25 times more Iron than Spinach!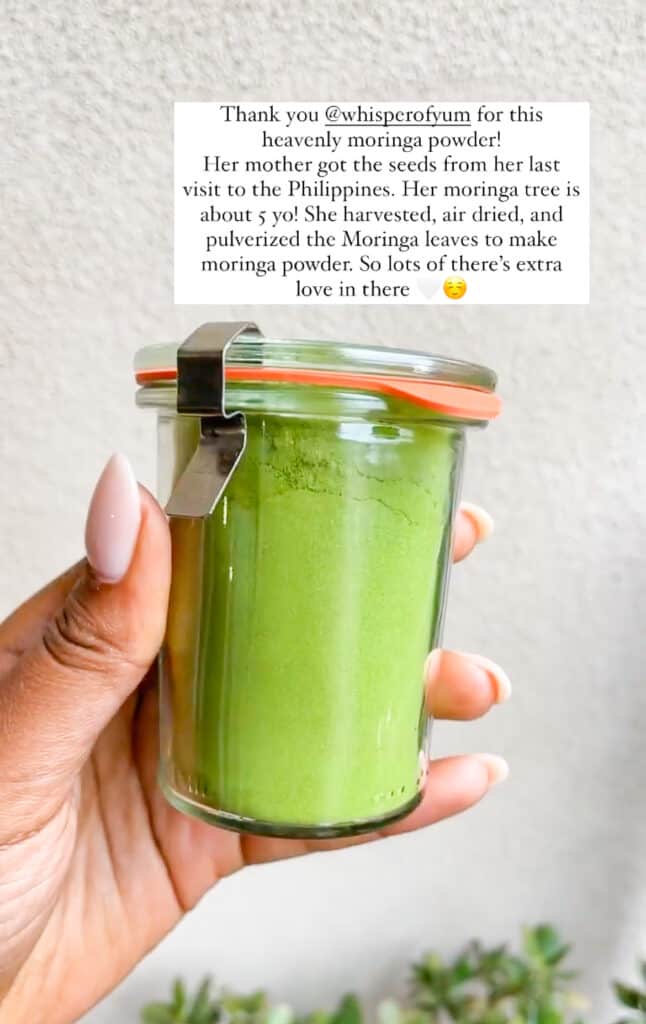 The moringa powder pictured above is from my good friend Jeri, creator of Whisper of Yum. Her mother hand-picked, dried, and pulverized the moringa leaves into powder and Jeri gave it to me as a gift —so incredibly sweet of her!
What You Need To Make This Moringa Papaya Smoothie
Papaya: Make sure your papaya is ripe for the best results.
Moringa Powder: Be sure to use high-quality organic moringa powder like this one, Kuli Kuli Organic Moringa Powder | Amazon.
Frozen Unsweetened Pineapple Chunks: Pineapple is incredibly detoxifying! It also helps reduce inflammation, boost the immune system (due to its high amounts of Vitamin C), and improves digestive health.
Coconut Water: coconut water is great for hydration and is packed with electrolytes, potassium, antioxidants!
Hemp Seeds & Flax Seeds: Both hemp seeds and flax seeds are loaded with high amounts of heart healthy fatty acids, protein, and fiber!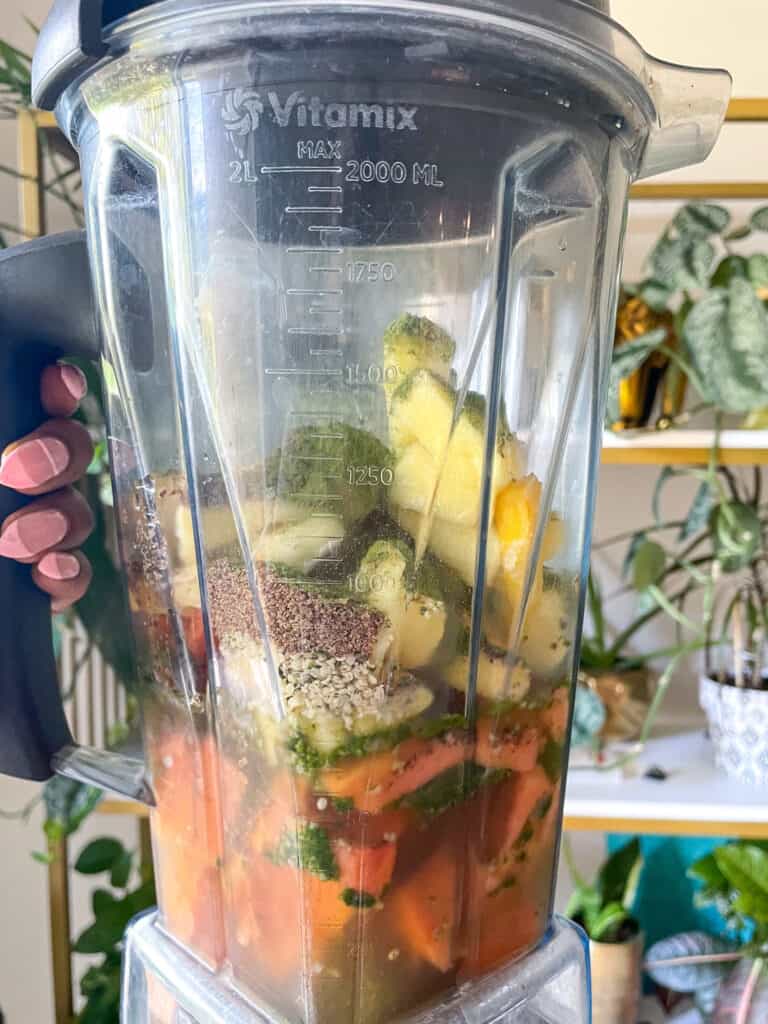 How To Make This Moringa Papaya Smoothie
Simply combine the ingredients in a high-powered blender and blend until smooth! The recipe makes two smoothies. Enjoy immediately or store in an airtight mason jar for up to 24 hours. (Best consumed immediately)
Common Questions:
How Do You Know When A Papaya Is Ripe?
You can tell papaya is ripe when the green flesh of the papaya begins to turn yellowish, orange, or red, and soft to touch.
Do You Peel Papaya For Smoothies?
Yes, the best way to prepare papaya for smoothies is to cut the papaya in half lengthwise, scoop out the seeds with a large spoon, and then scoop/cut out the ripe papaya with a spoon or knife. If you would like a video walk-through, check out my post
here
.
What fruit goes well with papaya?
Papaya has a very mildly sweet, subtle flavor. It pairs perfectly with mango, pineapple, strawberries, and blueberries.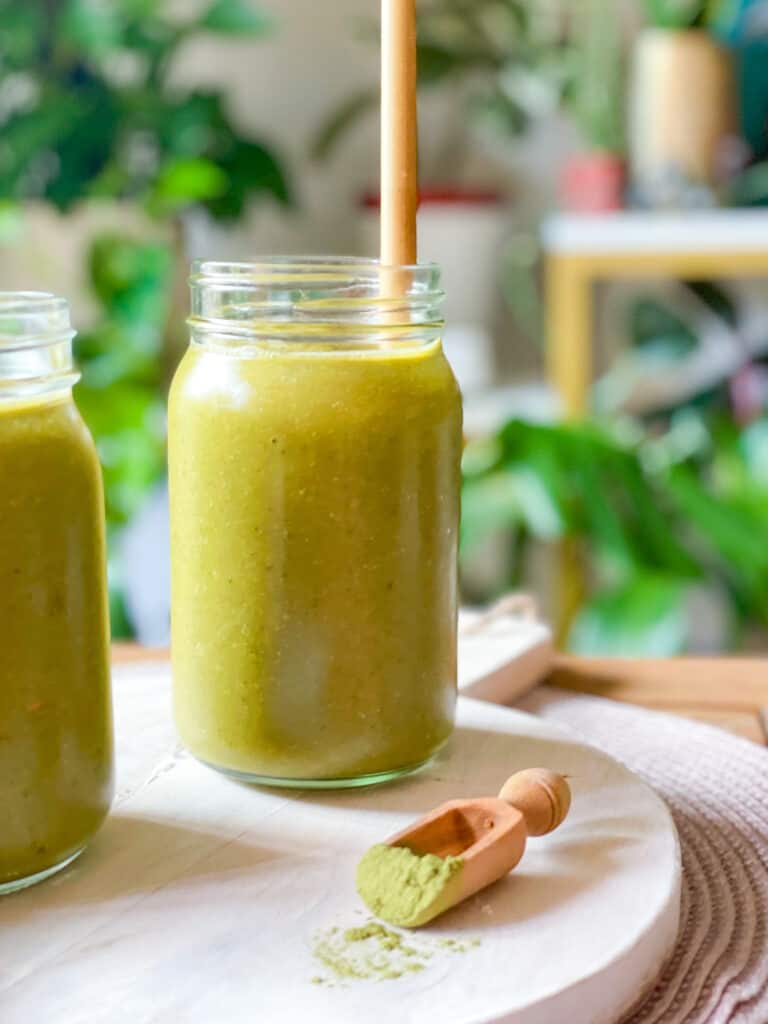 I Hope You Enjoy This Moringa Papaya Smoothie Recipe!
If you try the recipe, don't forget to rate the recipe and let me know what you think in the comments below! Take pictures, tag #goodfoodbaddie, and share them with me on
Instagram
! I love seeing my recipes come to life in your kitchen.
More Smoothie Recipes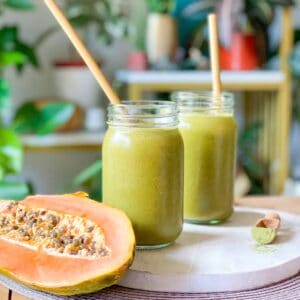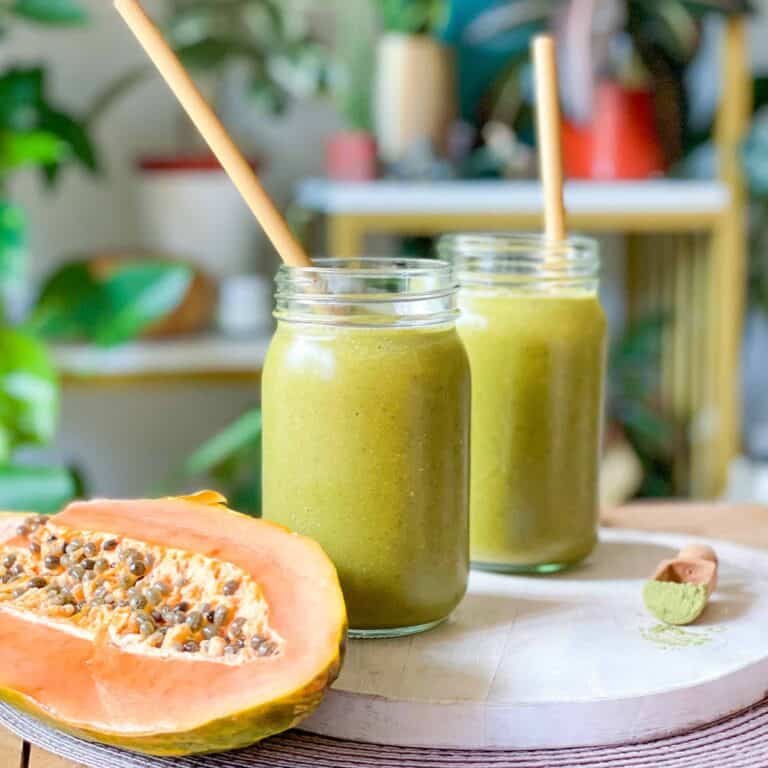 Moringa Papaya Smoothie (Vegan + Gluten-Free)
This Moringa Papaya Smoothie is a delicious, nutrient-dense combination of Moringa Oleifera powder, ripe papaya, frozen mango, and a few other nutritious add-ins! It is a healthy green smoothie that not only tastes great but also supplies your body with essential nutrients! (Vegan + Gluten-Free)
Print
Pin
Rate
Servings:
2
12 oz smoothies
Ingredients
1/2

Large papaya, peeled, seeded and chopped

(about 2 1/4 cup)

1 1/2

cup

Unsweetened Frozen Pineapple Chunks

1

tbsp

Hemp Seeds

1

tbsp

Ground Flax Seeds

1

tbsp

Moringa Powder

1 1/2

cup

Coconut Water, plus more to reach desired consistency (if needed)
Instructions
Combine all the ingredients into a high-powered blender and blend until smooth

If the drink is thicker than you'd like, add more Coconut Water to reach your desired consistency. If you would like to make it thicker, add more frozen fruit and blend until you reach your desired consistency.

Serve immediately and top with your favorite toppings. (like shredded coconut, hemp seeds, etc.)
Nutrition