Enjoy these Vegan BBQ Jackfruit tacos on your next Taco Tuesday extravaganza. These perfectly seasoned and saucy tacos are made in less than 20 minutes. Perfect for you and your family to enjoy!
This post may include Amazon links. As an Amazon Associate I earn from qualifying purchases. Thank you for your support of the blog!
Cinco de Mayo is on Taco Tuesday this year!! In light of the way things have been going so far this year, this great news and a means to celebrate! Celebrating the little things is my way of staying positive and creating enjoyable moments.
For this epic Cinco De Mayo, I am sharing this incredible Sweet and Spicy Jackfruit taco recipe! These saucy, mouthwatering Vegan tacos that only take 20 minutes to make and satisfy all your taco needs! Made with the sweet and spicy vegan sauce from FlexEats amazing line of sauces, this meal is all you need, and maybe a Modelo or two!
So let's jump into this Vegan BBQ Pulled Jackfruit recipe!  
Watch this quick video: How to make bbQ Jackfruit Tacos
Jackfruit is a tropical fruit that originated in southwest India and is now grown in other parts of Asia and Africa! Jackfruit is a large yellow-green fruit that has become quite popular for its versatility and ability to be transformed into a meat substitute because of its interesting texture when cooked. It is also packed with a tons of nutrients and antioxidants!
What does Jackfruit taste like?
When jackfruit is ripe, it has a sweet taste, similar to mango, pineapple, or banana.  When eaten unripe, which is how it is used for cooking, it has a neutral flavor. For this recipe, you will want to use green, unripe jackfruit.
Does Jackfruit really taste like meat?
Jackfruit on its own does not taste like meat, but with the help of savory aromatics like garlic and onion and a few seasonings, it can very well taste like meat! Jackfruit absorbs the flavor of whatever it is cooked with. This, and its uncanny resemblance to pulled pork when jackfruit is shredded, makes it perfect as a vegetarian meat replacement. 
The first time I had jackfruit tacos I was floored. There is no way you could have told me that what I was eating was fruit and not meat! I loved it and I think you will too! 
Where can I buy jackfruit?
You can start to find jackfruit in the produce section in grocery stores now that it is spring. Jackfruit are large, yellow-green fruits with a bumpy exterior. However, this is not the jackfruit that you'll want to buy for this recipe. You'll need canned, green jackfruit for this recipe. 
You can also buy frozen jackfruit, but I've found that the outcome is not quite the same as canned jackfruit. If you cannot find canned jackfruit in stores, here's a link to order it online:
Order it: Canned Green Jackfruit | Amazon
How to make bbq jackfruit tacos?
Can you believe you can make these savory, delicious tacos in less than 20 minutes! When you buy the green, unripe jackfruit, it is already ready to go! All you need to do is season it to its glory. Jackfruit can be made in three steps! 
Shred the jackfruit so it resembled pulled meat  (like pork or chicken). You can use two forks or simply use your hands. 

Caramelize some onion and garlic to get the flavors going. 

Add the spices and the sauce! Then cook for 5-10 minutes!
The trick to making tender flavorful jackfruit is to pour a small amount of vegetable broth into the pan with the jackfruit and cover it for 5 minutes to tenderize and cook the jackfruit. Then, turn the heat up a bit and saute the jackfruit so that it gets nice and browned, sealing in all the flavor.
To make these delicious BBQ Jackfruit Tacos I used FlexEats Vegan Sweet and Savory Sauce.
It is the perfect blend of savory heat with a perfect, subtle compliment of sweetness. Flex Eats has tons of delicious sauces, all made by Flex, a small business owner and entrepreneur. So, not only do you get an amazing sauce but you also help support small business owners in the process! Always a win-win for me!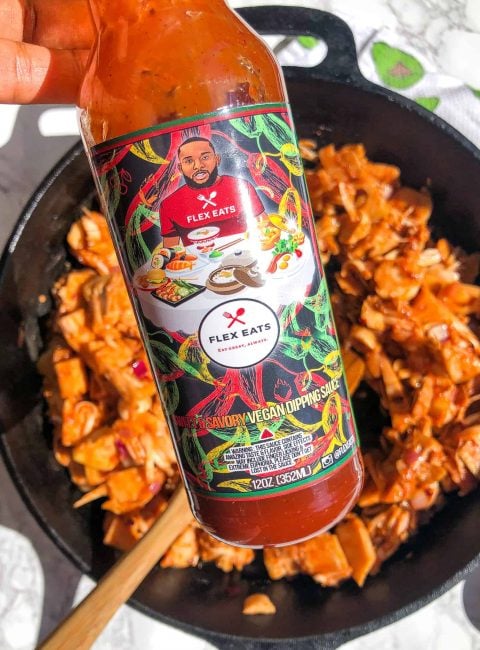 For Cinco De Mayo, Flex is offering 15% off all purchases with the code CINCOWITHGFB! Now you can purchase the sauce and spice up your next Taco Tuesday.
Here is his website so you can check out the sauces he offers and learn more! 🙂
Vegan BBQ Jackfruit Tacos
Enjoy these Vegan BBQ Pulled Jackfruit tacos on your next Taco Tuesday extravaganza. These perfectly seasoned and saucy tacos are made in less than 20 minutes. Perfect for you and your family to enjoy!
Print
Pin
Rate
Ingredients
2

20-ounce cans young green jackfruit

1/2

tsp

Smoked Paprika

1/2

tsp

Chili Powder

1/2

tsp

Dried Oregano

1/4

tsp

Red Crushed Pepper

1/4

tsp

Sea Salt

1/4

tsp

Fresh Ground Pepper

1

cup

Flex Eats Vegan Sweet and Savory Sauce (or your favorite BBQ sauce)

1/3

cup

Vegetable Broth

1-2

tbsp

Cooking Oil

1/2

Red Onion

3

Garlic Cloves, minced
Instructions
First, prepare the jackfruit by pouring it into a strainer and thoroughly rinsing to remove any debris, salt, or liquid remains

Transfer the jackfruit into a large bowl. Then, using a knife or your hands, pull apart (or slice) the jackfruit into thin pieces. (Do not discard the core or seeds)

Season the jackfruit with the seasonings listed above and add the Sweet and Savory Sauce. Mix well to ensure all the jackfruit is evenly coated. 

In a large skillet over medium heat, add 1-2 tablespoons of oil of choice. Then, add the chopped garlic and onion and sauté for 2-3 minutes, until golden. 

Add the seasoned jackfruit to the pan and then pour in the vegetable broth. Mix the ingredients and then cover the pan for 5 minutes on medium-low heat. 

After the vegetable broth has been absorbed by the jackfruit, turn up the heat to medium-high and sauté the jackfruit for 3-5 minutes, until slightly browned on the outside.

Place generous portions of the pulled bbq jackfruit onto your prepared tortilla. Add toppings of your choice and Enjoy! 
Notes
You can get Flex Eats Sweet and Savory Sauce here: https://www.flexeatss.com/
You can store any leftover BBQ Jackfruit in an airtight container in the fridge for up to five days.
Nutrition
Want more Delicious Vegan Mexican recipes! Try these: