A deliciously colorful Mediterranean Pasta Salad loaded with healthy goodness and topped with an incredible lemon basil vinaigrette. With its robust zesty flavors, this appetizing pasta salad is a definite crowd-pleaser! It's gluten-free with a vegan option!
This pasta salad, like my Quinoa Vegetable Salad, are easy to make and perfect for quick lunches, picnics, gatherings, and easy dinners. 
This post may include Amazon Links. As an Amazon Associate I earn from qualifying purchases.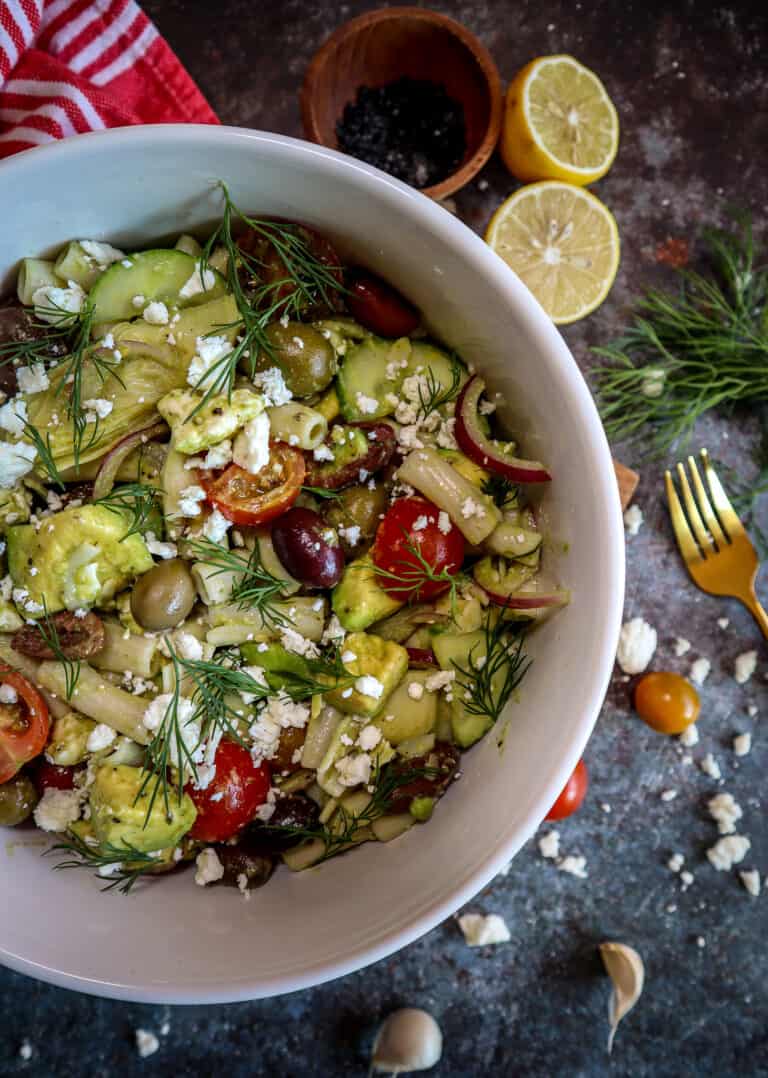 People have been asking for my pasta salad recipe for YEARS! It's one of my favorite go-to dishes for any gathering or occasion. It's usually gobbled up in minutes and the barrage of text messages asking for the recipe come the next day. Well, here it is my friends! I am so happy to share this mouthwatering Mediterranean Pasta Salad with you! 
Mediterranean Pasta Salad Recipe | 1-minute video

easy summer pasta salad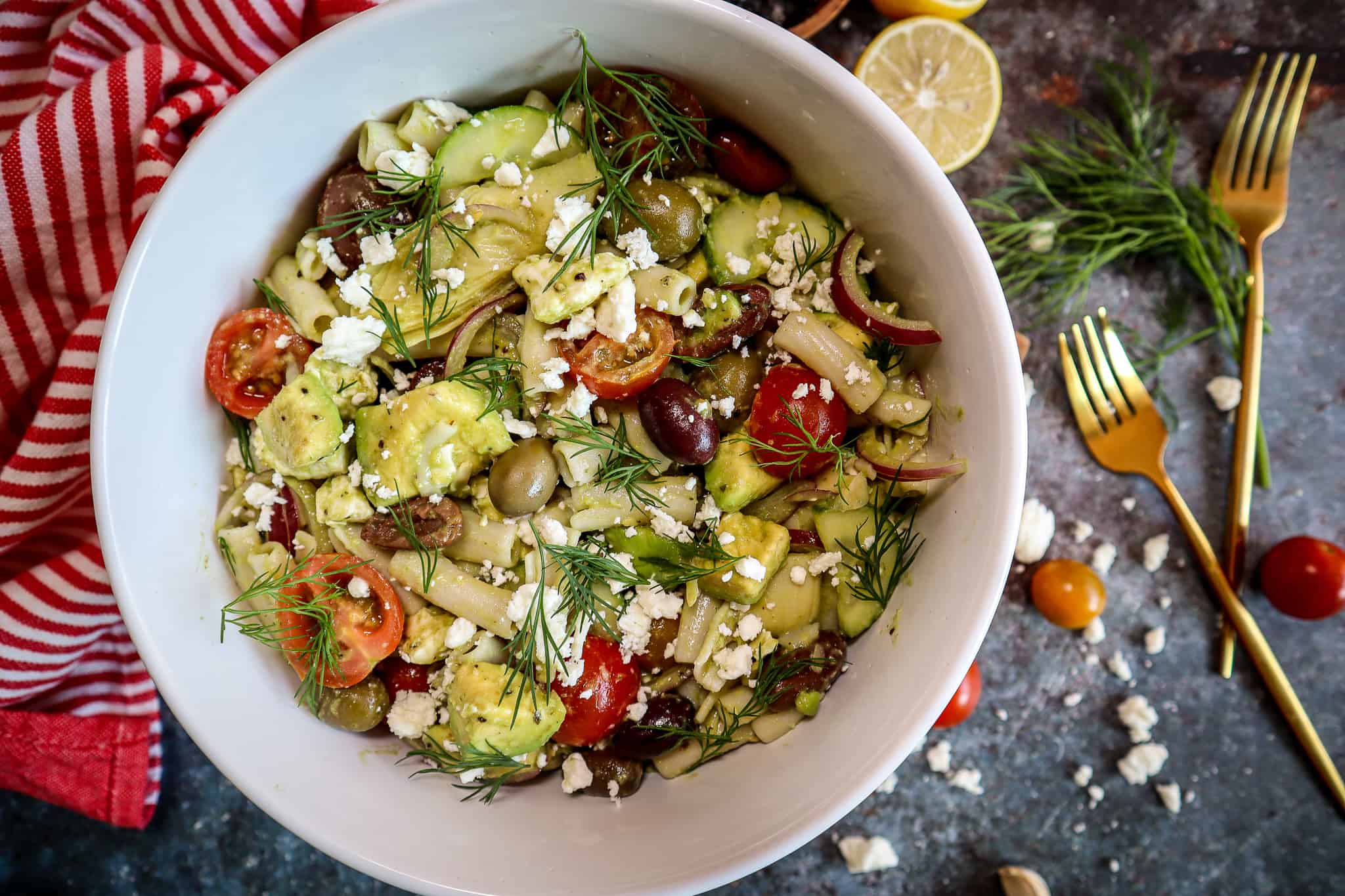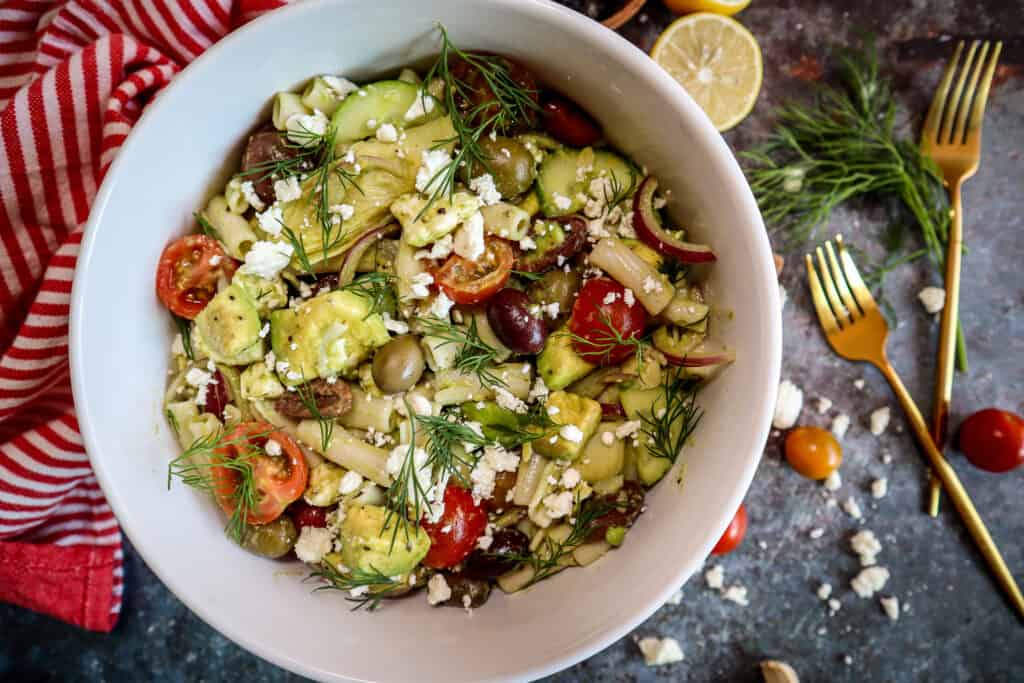 What goes in Pasta Salad?

The beauty of pasta salad is that you can get as creative as you like. This Mediterranean pasta salad is filled with vibrant vegetables, salty olives, creamy cheese, tender artichoke, and topped with a zesty lemony vinaigrette. 
Cucumber: English Cucumbers are the best so that you do not have to worry about the seeds.
Cherry Tomatoes: I love using different color tomatoes, like yellow, orange, and red, to make the salad more vibrant and fun!
Olives: You can grab pitted olives from the salad bar at your local grocery store! I like to add a mix of olives —Kalamata, Picholine, and Niçoise are my favorite!
Feta Cheese: Make sure to buy crumbled feta cheese. The cheese adds a layer of creaminess to the pasta. You can completely skip the cheese to keep this pasta salad vegan and it will still taste great!
Avocado: Another creamy element to add to the salad. Avocados also provide their delicious taste and a boost of healthy fats! 
Artichoke: The artichokes are the tender "meat" of this salad. This is a Mediterranean salad with artichoke because it honestly would not be complete without them! You can grab a can of your favorite marinated artichokes from your local grocery store or check out these here!
Pasta: We are using Trader Joe's Gluten-free Penne Pasta in this recipe! It's a tasty pasta and holds up well to the ingredients. You can find it here. And of course, if you are not gluten-free you can always use regular pasta. I recommend rotini, penne, or bow-tie noodles.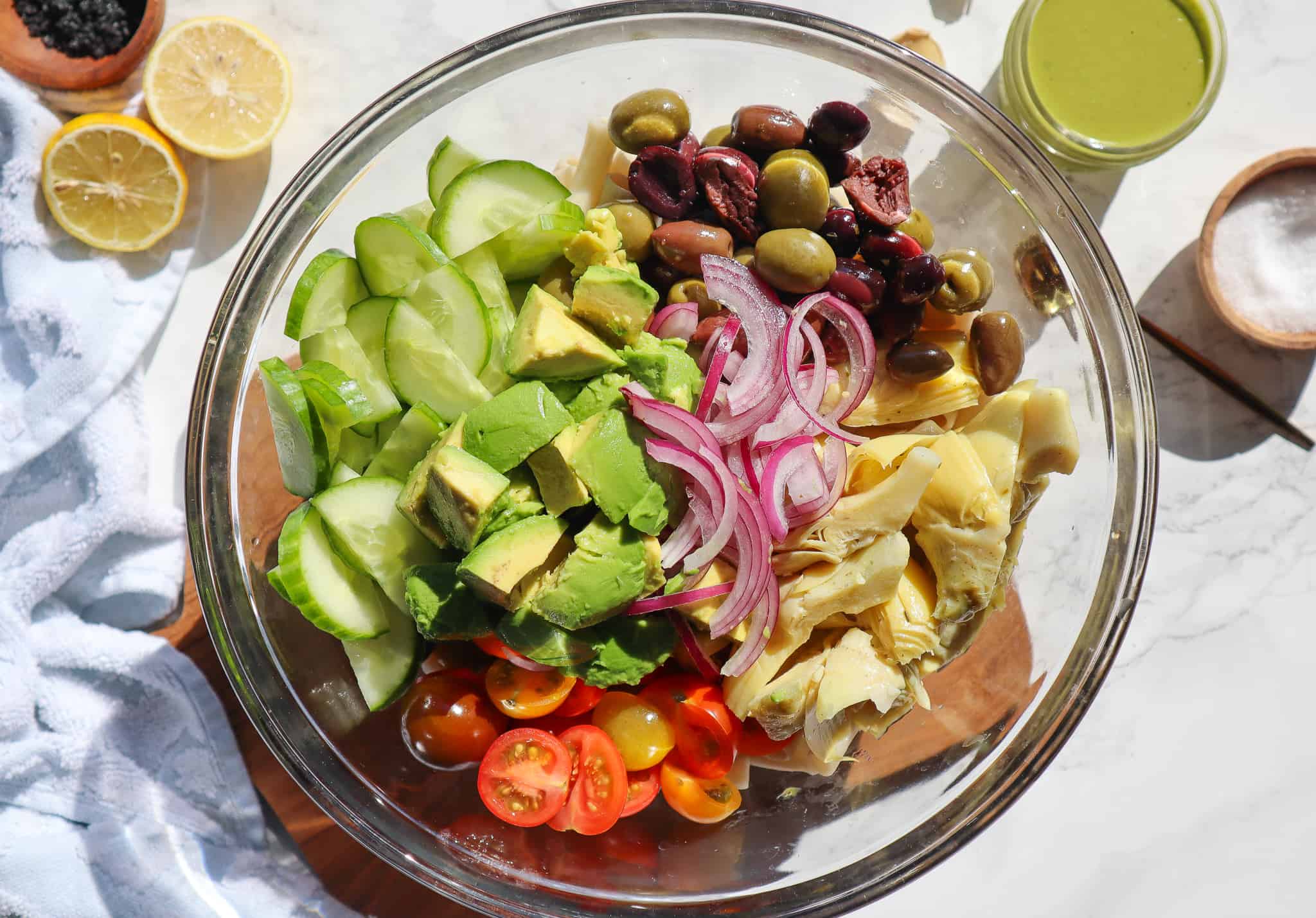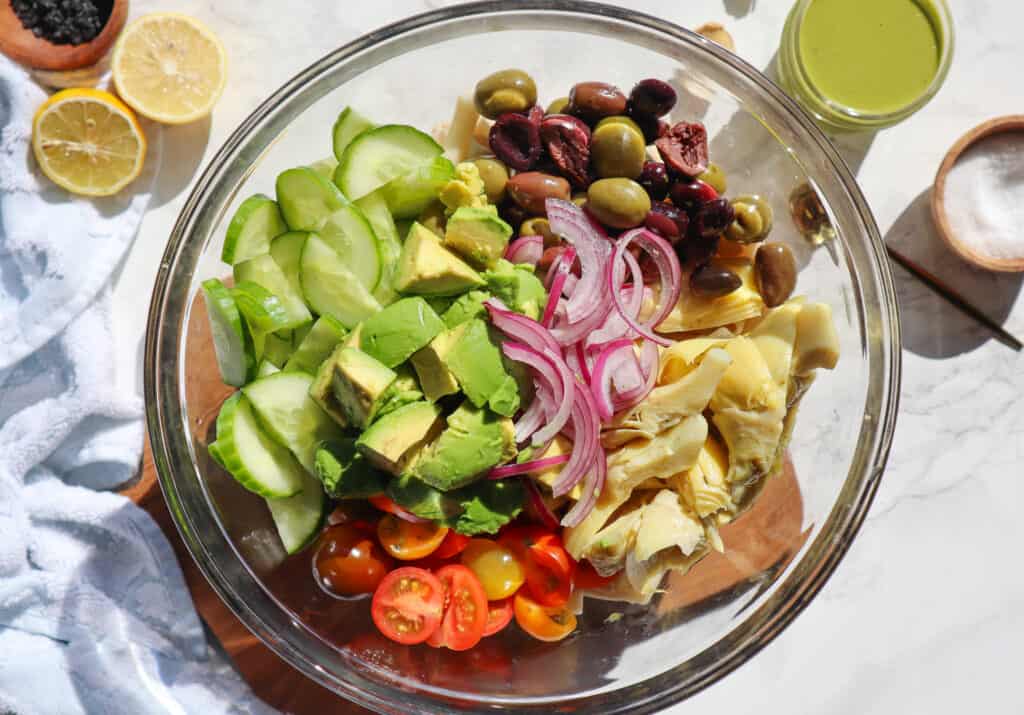 How to Make Mediterranean Pasta Salad

This Pasta Salad can be made in a few easy steps. Simply cook the pasta, make the dressing in a blender or food processor, combine all the ingredients into a large bowl, and enjoy!
Tips for making the best Mediterranean Pasta Salad
Pasta: Cook the pasta to al dente, soft but firm to the bite. Simply follow the instructions on the packet on your favorite pasta. When the pasta is done cooking, pour the pasta into a colander and rinse the pasta with cold water to stop the cooking process. You want your pasta to be al dente otherwise it may break apart when mixed with the other ingredients.
Dressing: To make this zesty, herbaceous Lemon Basil Vinaigrette, you can simply add the ingredients into a blender and pulse until it smooth. You can also finely chop the basil, add all the ingredients into a jar with a tight-fitting lid and shake to combine all of the ingredients. 
Combining the ingredients: Place all the ingredients for the pasta salad in a large bowl and pour the vinaigrette on top. Mix everything together with two large spoons.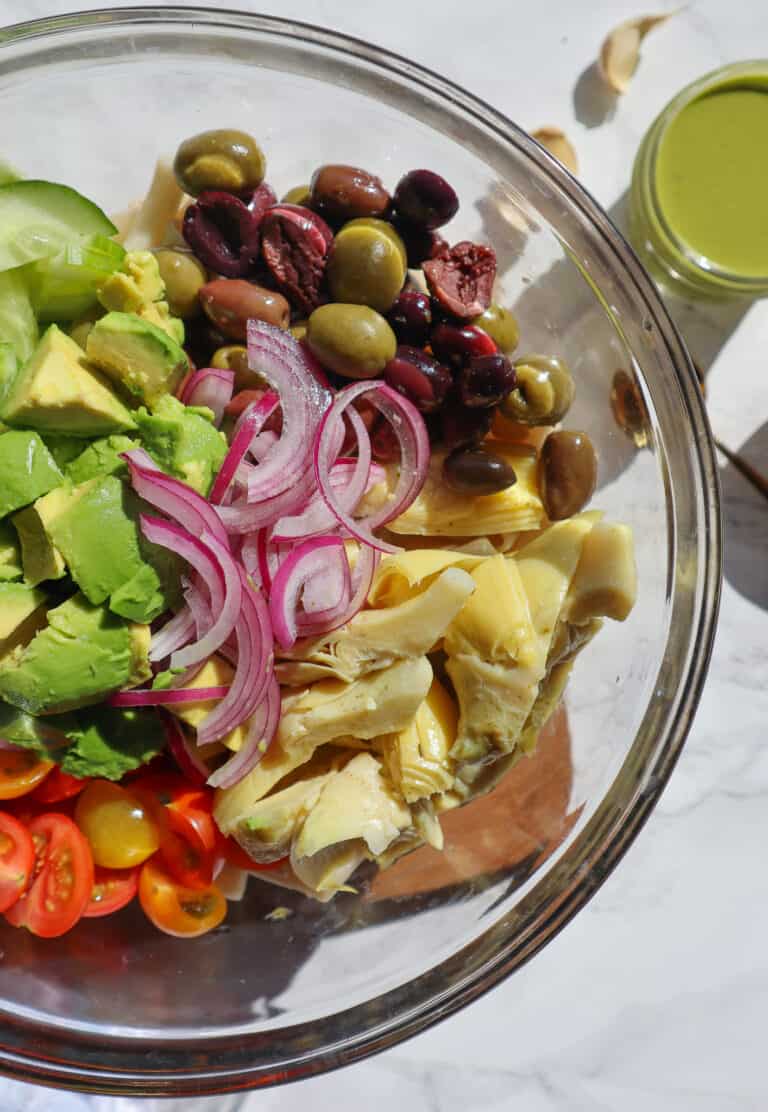 For the best results, give the pasta time to soak in all of the ingredients and flavor, at least one hour. When you are ready to serve it, top it with more feta cheese (because who doesn't like more cheese!), and fresh dill or parsley.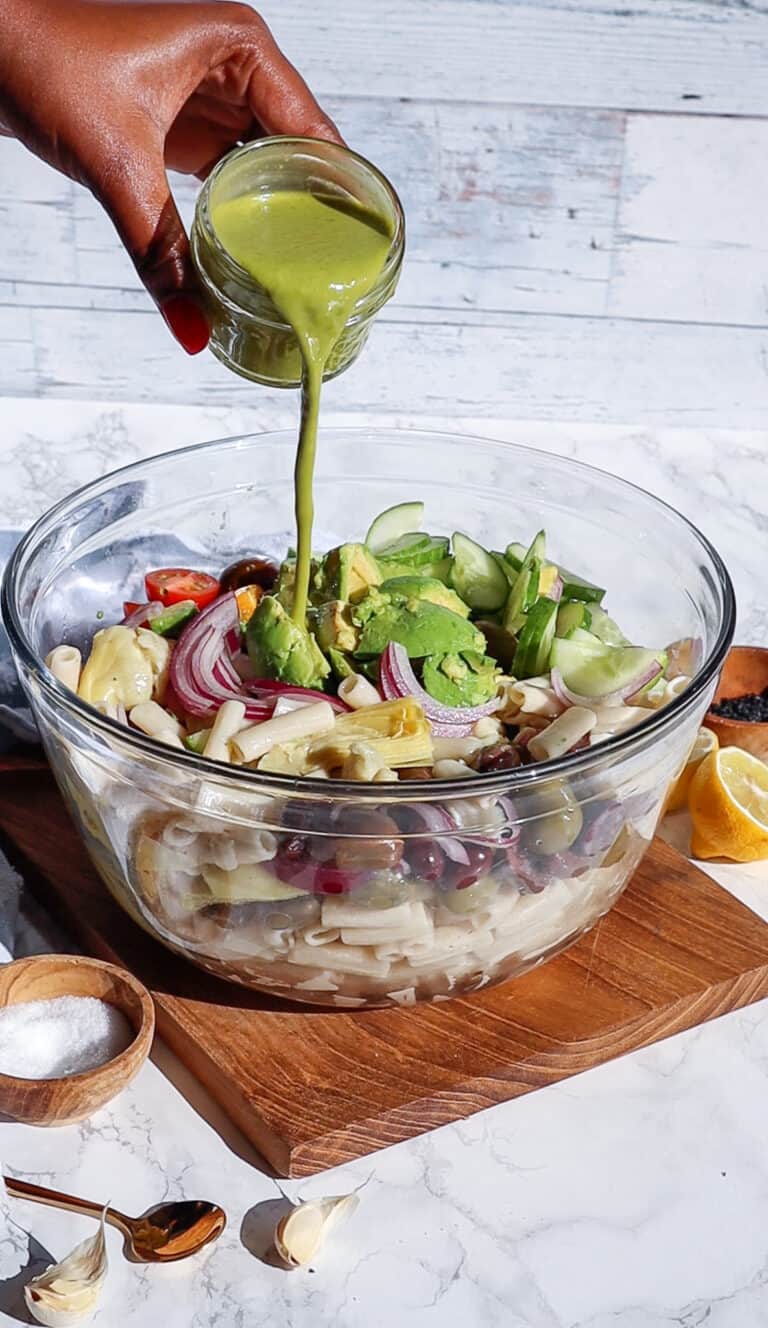 What is the best pasta salad dressing?

Making your own dressing at home is quick, simple, and easy — I highly recommend it! If you're not up for making your own dressing, try to buy one that is zesty and tangy to compliment the pasta salad, like an Italian Dressing.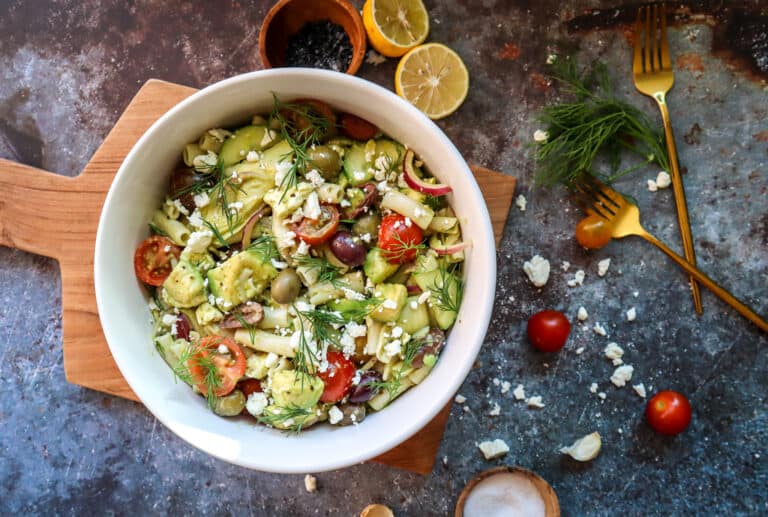 How Long Does Pasta Salad Last?

If your pasta was cooked al dente, this Mediterranean Pasta Salad will last in the refrigerator for up to five days. Be sure to store it in an airtight container, like these.
Don't be scared to doctor up your leftover pasta salad. Sometimes extra liquid accumulates at the bottom of your container (most likely from the tomatoes and cucumbers), simply drain the extra liquid and top with a bit of dressing, salt, pepper, or feta cheese to bring the salad back to life!
If you love Mediterranean flavored dishes as much as I do, you'll love these dishes!
Greek Orzo with Lamb Meatballs | Gluten-Free
Grilled Greek-Style Lemon Yogurt Chicken | Gluten-Free
Creamy Roasted Red Pepper Hummus | Vegan + Gluten-free
The Best Baba Ganoush | Vegan + Gluten-Free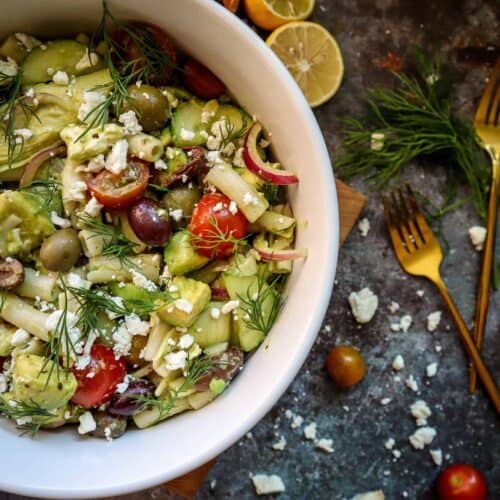 Mediterranean Pasta Salad with Lemon Basil Vinaigrette
A deliciously colorful Mediterranean Pasta Salad loaded with healthy goodness and topped with an incredible lemon basil vinaigrette. With its robust zesty flavors, this appetizing pasta salad is a definite crowd-pleaser! It's gluten-free with a vegan option!
Print
Pin
Rate
Ingredients
Pasta Salad
1

12oz

Package of gluten-free pasta

1

Large English Cucumber, sliced

1

cup

Organic Mixed Cherry Tomatoes, sliced in half

2/3

cup

Mixed Olives, pitted

1

Large Avocado, cut into cubes

1

12oz

Jar of Marinated Artichoke

1/4

cup

Red onion, finely sliced

1/4

cup

Fresh Basil, chopped

1/2

cup

crumbled Feta Cheese, plus more for garnish

Fresh Cracked Pepper, to taste

2

tbsp

Fresh Parsley or Dill, chopped for garnish
Lemon Basil Vinaigrette
1/3

cup

Olive Oil

1/2

cup

Fresh Basil, Packed

1

tsp

Honey

2

Lemons, juiced (about 1/4 cup)

1/4

tsp

Salt

1/2

tsp

Pepper

2

Garlic Cloves

1/4

tsp

Red Crushed Pepper, optional
Instructions
Bring a large pot of water to a boil. Generously salt the water and add the pasta. Cook the pasta to al dente according to package instructions. (Cook according to the lower end of time for best results)

While the pasta is cooking, combine all of the Lemon Basil Vinaigrette ingredients into a blender or food processor. Blend until smooth. Transfer into a small bowl or jar and set aside.

Gather the veggies for the salad. Chop the cucumber, tomatoes, red onion, avocado, and basil.

When the pasta is finished, drain the pasta in a colander and rinse the pasta with cold water to stop the pasta from cooking any further.

Transfer the pasta into a large bowl. Add all of the veggies, chopped basil, and feta cheese to the pasta. Top with the Lemon Basil Vinaigrette and mix well. If time permits, cover the pasta salad and place in the fridge for at least 1 hour.

Top the pasta salad with fresh ground black pepper, more feta cheese, and dill/parsley. Enjoy!
Notes
I use Trader Joe's Brown Rice Pasta. The fusilli or penne work well. It comes in 16 oz packages so be sure to use only 12oz)
For a vegan option, omit the cheese. Also, replace the honey in the dressing with agave or maple syrup.
Nutrition