This Golden Milk Latte is rich, creamy and made in 5 minutes with turmeric, ginger, cinnamon, and coconut milk. Give your body a nutrient boost with this delicious drink.
If you want more healthy warm beverages, then you should try Maca Hot Chocolate or Apple Ginger Tea.

This content contains affiliate links, which help goodfoodbaddie.com to provide free recipes and resources. As an Amazon Associate, I earn from qualifying purchases. Thank you for your support of the blog!
Golden Milk Latte or Turmeric Milk is a nutrient-rich dairy-free drink. It's served hot or cold. It is lauded for its incredible health benefits due to its key ingredient, turmeric. This latte is a naturally sweet, soothing drink that's best consumed before bed.
What are the Health Benefits of Turmeric Milk?
Golden (Turmeric) Milk Benefits
Because turmeric is a nutritious powerhouse and is coupled with cinnamon, ginger in this drink, you receive a ton of benefits, including improved:
Immune system
Brain health
Mood
Blood pressure levels
Skin health
Heart health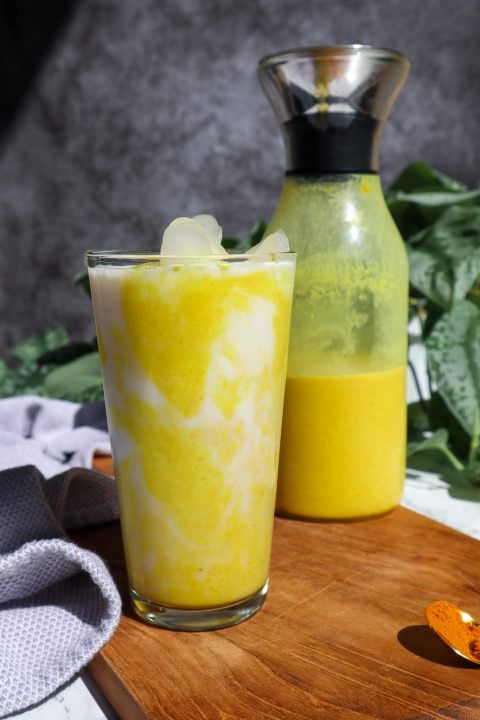 What do you need to make a Golden Milk (Turmeric) Latte?
Canned Coconut Milk: works best. But if you do not have canned coconut milk on hand, you can use carton coconut milk or any other non-dairy milk.
Non-dairy Milk: I've made this golden milk with almond milk and oat milk. Both options work great but you can use your preferred non-dairy milk.
Ground Turmeric: The key ingredient here. The recipe calls for 1 ½ teaspoon of ground turmeric. I tend to add up to 2 tsp for a fuller flavor and richer color.
Ground Cinnamon: The cinnamon brings a warm sweetness to the drink. You can also use a cinnamon stick to make this drink as well.
Ground Ginger: works best for this recipe. I have not tried this drink with fresh ginger, so if you do let me know how it goes!
Black Pepper: The black pepper activates the curcumin and medicinal properties in the turmeric. Just a pinch is needed and the flavor is not prominent in the drink.
Vanilla Extract: Just a bit of vanilla is needed for this drink.
Maple Syrup: Is the perfect natural sweetener for Golden Milk, but you can also use coconut sugar or date syrup. (or Stevia if you're Keto)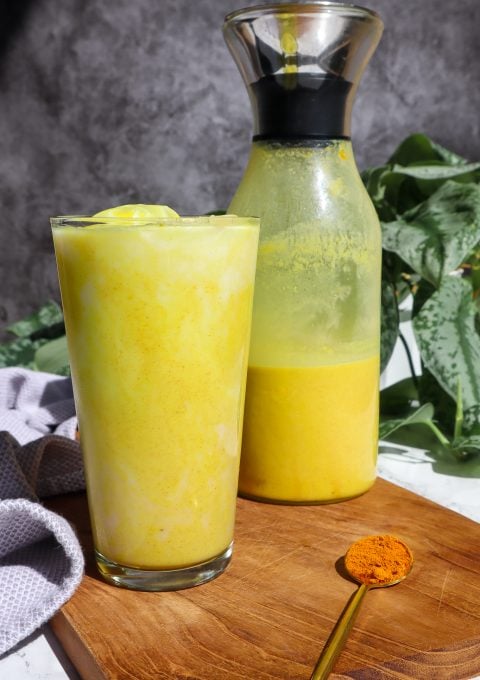 How to Make Golden-Turmeric Milk?
Making Golden Milk is simple and quick. Just add all the ingredients to a small saucepan then whisk over medium-low heat for about 5 minutes. Warming the ingredients activates the nutritional properties of the drink.
You can serve the drink immediately or drink it warm. Or you can store it in a mason jar or carafe for later. If you want to drink your Golden Milk Latte iced (cold), first allow the drink to cool down to room temperature before adding ice for the best results.
Simply fill up your glass halfway with ice and almond milk and pour the Turmeric Milk into the drink. As a result, the drink has a beautiful ombre look. Finally, enjoy!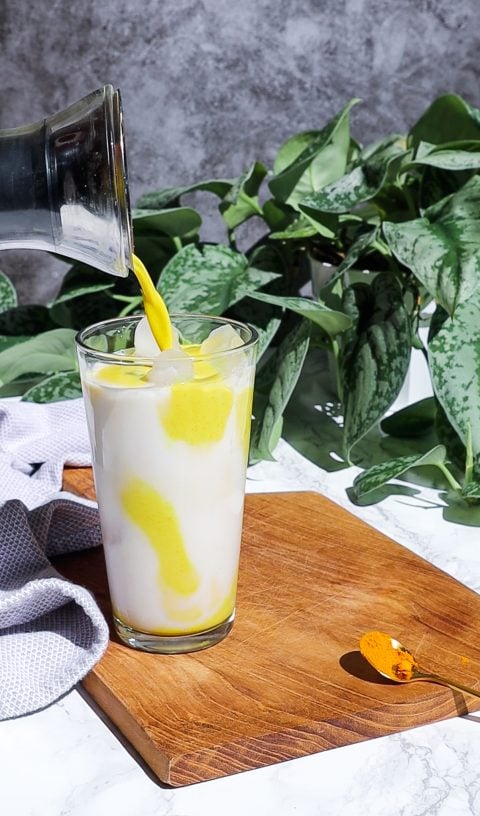 I hope you enjoy this Golden Milk Latte (Turmeric Milk) Recipe!
If you try the recipe, don't forget to rate the recipe and let me know what you think in the comments below! Take pictures, tag #goodfoodbaddie, and share them with me on Instagram! I love seeing my recipes come to life in your kitchen.
Looking for more nourishing drinks? Try these!
Golden Milk Latte (Turmeric Milk)
Rich, creamy Golden Milk Latte is made in 5-minutes with turmeric, ginger, cinnamon, coconut milk, and a few other delicious ingredients. Give your body a nutrient boost with this delicious drink.
Print
Pin
Rate
Ingredients
1 1/2

cups

Canned Coconut Milk

1

cup

Almond Milk (or non-dairy milk)

1 1/2

tsp

Ground Turmeric

1/4

tsp

Ground Ginger

1/4

tsp

Ground Cinnamon (or 1 cinnamon stick)

1/4

tsp

Vanilla Extract

Pinch of Ground Black Pepper

2-3

tbsp

Maple Syrup, Coconut Sugar, or Stevia

Pinch of Cardamom (optional)
Instructions
Add all the ingredients to a small saucepan and whisk over medium-low heat for about 5 minutes. You want to warm the ingredients, but do not bring it to a boil.

Remove the golden milk from the heat and adjust the taste as needed: adding more sweetner to taste and more turmeric for a more intense flavor.

Serve immediately and drink warm. If you want an iced latte, allow the golden milk to come to room temperature first before adding ice.
Nutrition
Pin It!