Make crispy, flavorful gluten-free Fried Chicken with Apple Cinnamon Waffles smothered in a mouth-watering Maple Bourbon Glaze! Chicken and Waffles is a timeless soul food classic and deeply loved comfort food! Enjoy this recipe for breakfast, brunch, or dinner!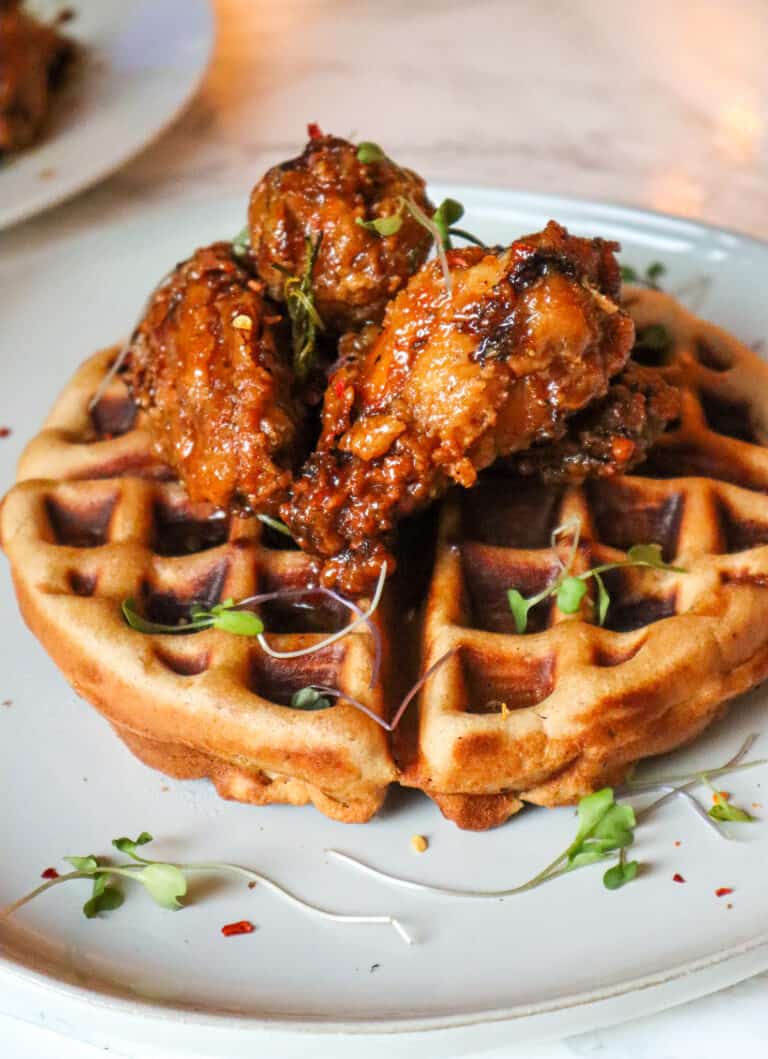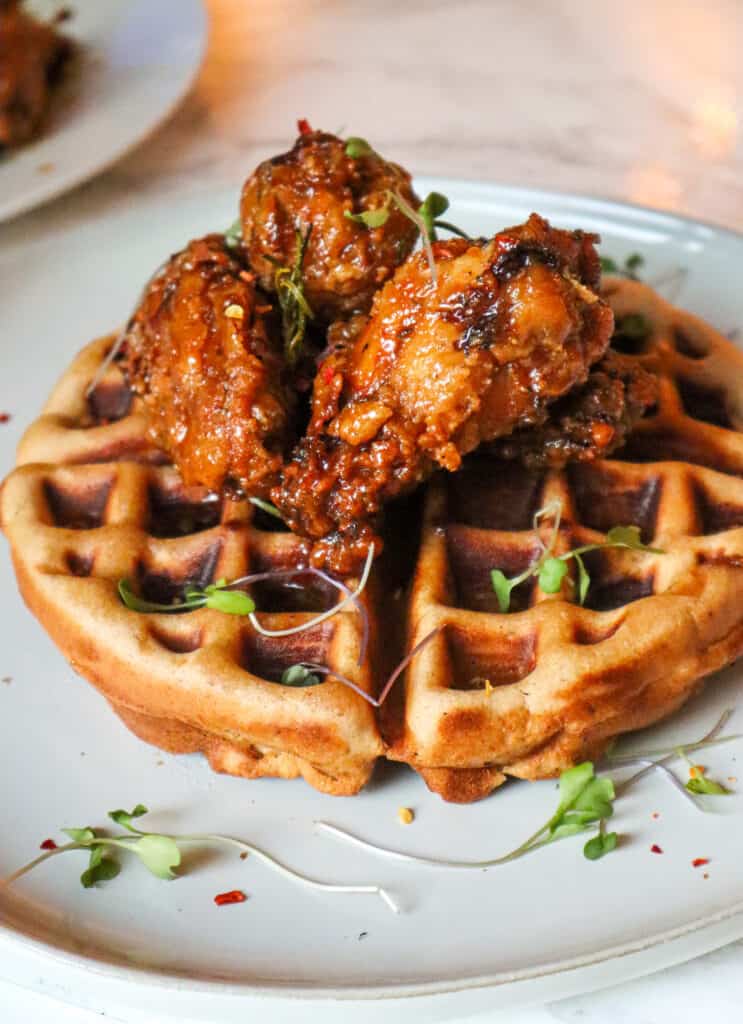 I'm participating in the 2021 Black History Virtual Potluck. A collaborative menu of recipes contributed by 40+black bloggers from around the globe in honor of Black History Month. See a sampling of some of the amazing participant recipes down below.
This post may contain affiliate links. As an Amazon Associate, I earn from qualifying purchases. Thank you for the support of goodfoodbaddie.com!
This gluten-free Chicken and Waffles recipe has been long-awaited! I originally shared the recipe on National Fried Chicken Day in July. I asked my IG friends if I should share my crispy chicken and waffles recipe and received a resounding yes!!
 

 

View this post on Instagram

 
Growing up, waking up to the smell of warm cinnamon waffles and crispy fried chicken always indicated a celebration was underway! My mother would have smooth jams serenading the house as my sister and I took turns taking in the glorious scent of our favorite breakfast! When breakfast was ready, my family would gather around the table, sharing in laughter, delicious food, and always good news!
Now as an adult, chicken and waffles always fills me with nostalgia. I've now turned my childhood favorite into gluten-free chicken and waffles so that anyone can enjoy them, especially those with gluten sensitivities!
Whether you are sensitive to gluten or not, this recipe is a hit! The flavors are unmatched and the Maple Bourbon Glaze is out of this world! 
Gluten-Free Fried Chicken
If anyone has ever doubted if gluten-free fried chicken tastes as good as chicken made with regular flour, then let me be the first one to say it tastes just a good, maybe even better!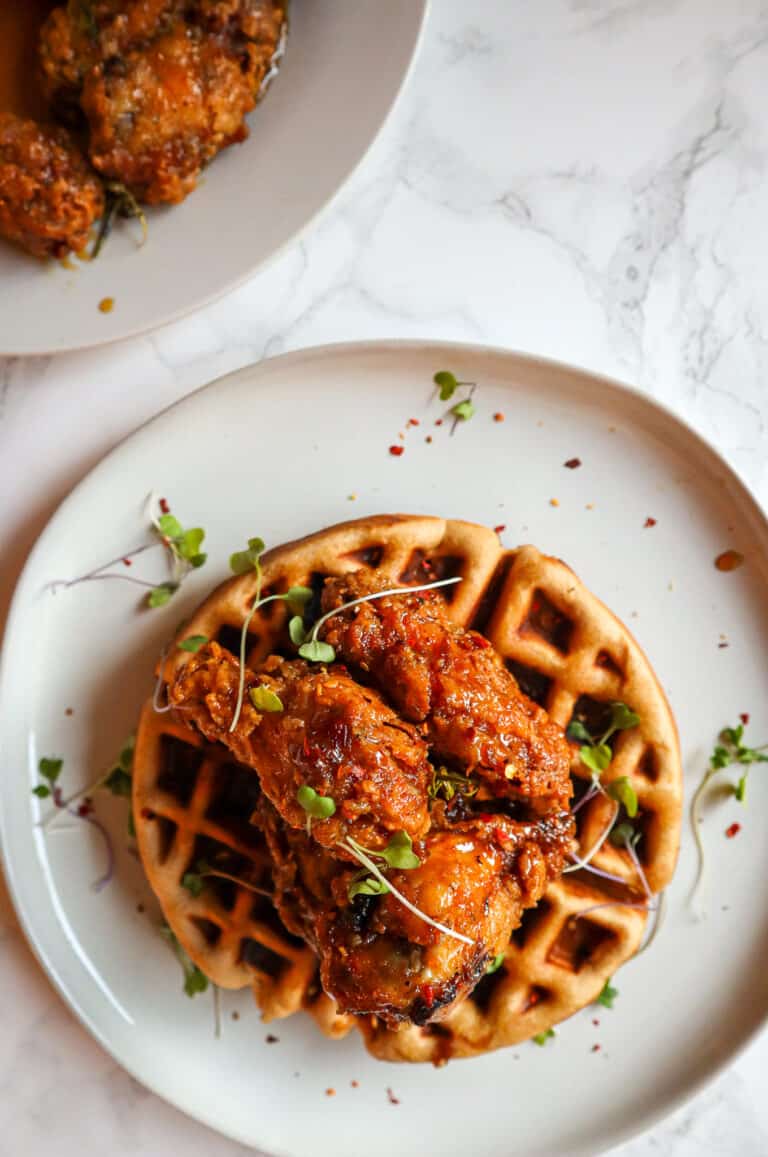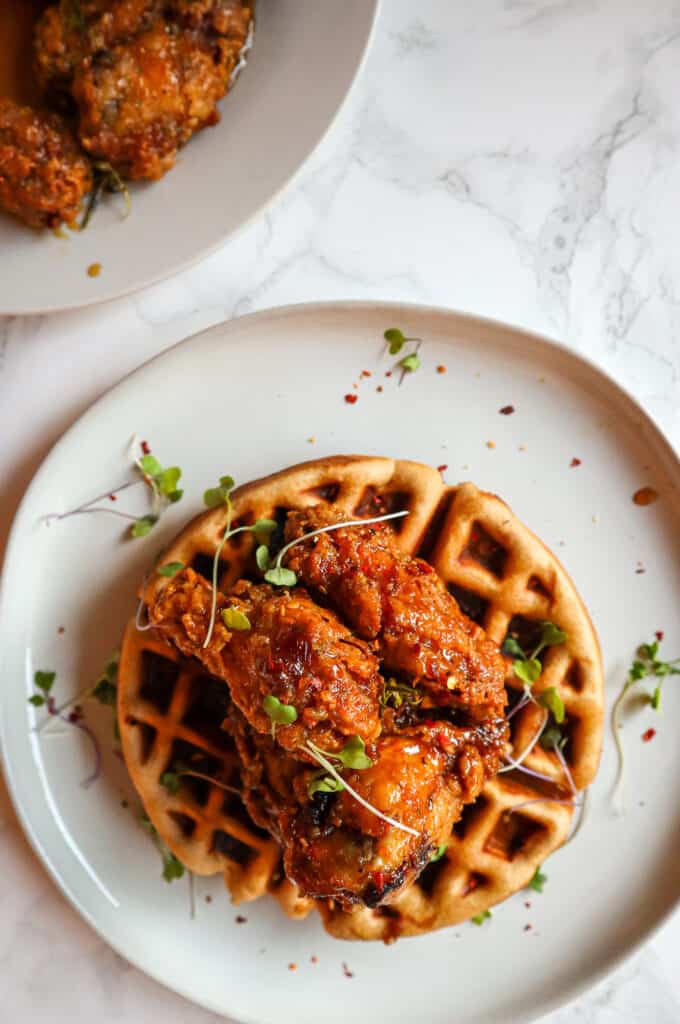 The recipe I am sharing with you makes gluten AND dairy-free chicken and waffles, which makes this recipe allergy-friendly!
Tips for making THE BEST Chicken and Waffles
Making Gluten-Free Fried Chicken
Tip #1: Marinate the chicken!
You can marinate the chicken using buttermilk. For a dairy-free option, create your own buttermilk using non-dairy milk and vinegar. Simply mix one tablespoon of apple cider vinegar per one cup (8 ounces) of non-dairy milk. (I like to use Almond Milk or Oat Milk). Cover the chicken wings with buttermilk (dairy or non-dairy), seasonings, and allow the chicken to marinate for at least 2 hours in the fridge.
Tip #2: Season the Flour!
It's very simple to make gluten-free fried chicken! Simply use Gluten-Free All-Purpose Flour instead of Regular All-Purpose Flour! That's it! I use Bob's Red Mill Gluten Free 1-to-1 Flour.
While making this easy substitute makes this chicken gluten-free, it is the flavors added to the flour that transforms the chicken and makes it taste out of this world! Be sure to season your flour mixture for optimal flavor!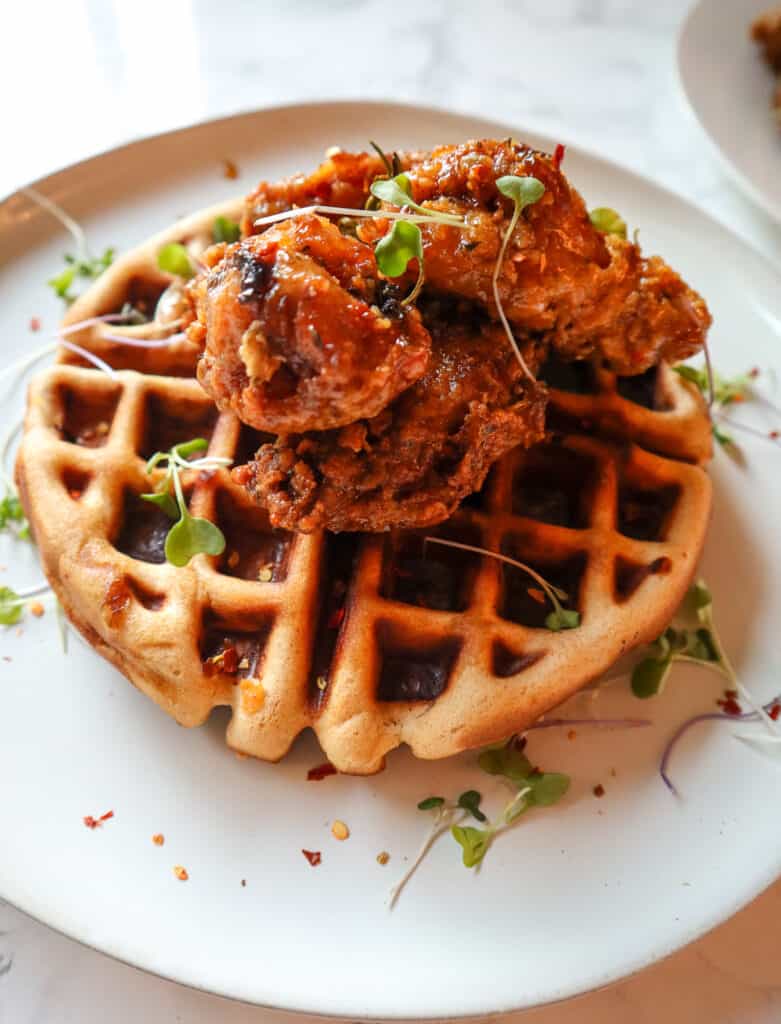 chicken and waffles
To make the Apple Cinnamon Waffles I simply used my Gluten-Free Apple Cinnamon Pancakes Recipe and made them in a waffle maker! Here is the recipe if you would like try it: Apple Cinnamon Pancakes | Dairy-Free & Gluten-Free.
Maple Bourbon Glaze
And of course, it would be a disservice to you if I did not share the Maple Bourbon Glaze with you— trust me, it is finger-licking good!
You only need 5 simple ingredients:
Butter (vegan or non-vegan)
Onion
Maple Syrup
Bourbon (I use Maker's Mark)
Fresh Rosemary
The Maple Bourbon Glaze takes hardly any time to make. You simply combine the ingredients in a small saucepan and allow it to reduce. Once the Sauce is done, coat each of the wings. Any remaining sauce can be poured over your waffles. If you want more sauce, you can easily double or triple this recipe!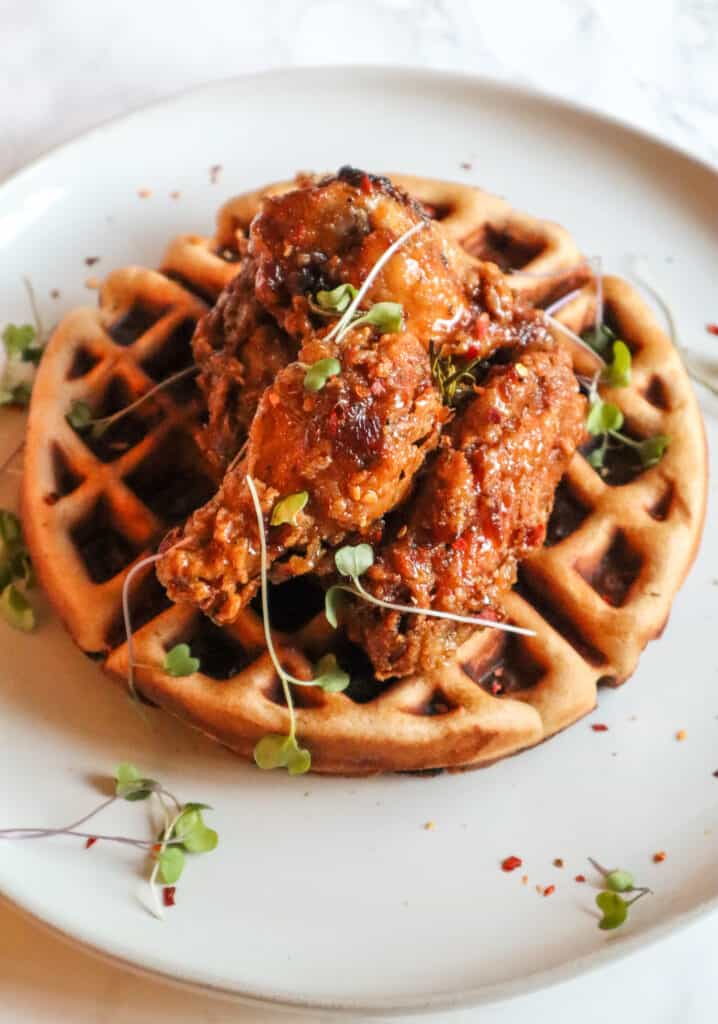 I hope you enjoy this Gluten-Free Chicken and Waffles Recipe as much as I do! If you make it, don't forget to rate the recipe and let me know what you think in the comments below! Take pictures, tag #goodfoodbaddie, and share it with me on Instagram! I love hearing from you!
Looking for more delicious gluten-free chicken recipes to try? Try these!
The Best Lemon-Herb Chicken Wings
Herb-Crusted Spatchcock Chicken
Gluten Free Fried Chicken and Waffles with Maple Bourbon Glaze
Make perfectly crispy gluten-free Fried Chicken with Apple Cinnamon Waffles smothered in a glorious Maple Bourbon Glaze! This is surely a chicken and waffles recipe that everyone will LOVE!
Print
Pin
Rate
Ingredients
Chicken Marinade
2

cups

Buttermilk (Dairy// or Non-Dairy)

2

lbs

Chicken Wing Sections (Party Wings)

2

tsp

Salt

1

tsp

Pepper

1

tsp

Garlic Powder

1

tsp

Smoked Paprika

1

tsp

Cayenne Pepper

1

tsp

Chili Powder

1

tsp

Italian Seasoning
Flour Mixture
1.5

cups

Gluten-Free All-Purpose Flour

1/4

cup

Cornstarch

1

tsp

Dried Oregano

1

tsp

Smoked Paprika

1

tsp

Garlic Powder

1/2

tsp

Salt
Vegetable Oil, for frying
Maple Bourbon Glaze
2

tbsp

Butter

1/4

White Onion, finely diced

1

cup

Maple Sryup

1/2

cup

Bourbon

1

tbsp

Fresh Rosemary
Instructions
In a large mixing bowl, add cleaned chicken pieces and season with the seasoning under 'marinade ingredients'. Mix well and make sure all the wings are coated in the seasoning. Pour the buttermilk over the chicken wings. Cover and refrigerate for at least 2 hours. (If you are using dairy-free buttermilk, follow the instructions in the notes below.)

Remove the chicken from the fridge. Set a rack over a baking sheet and place the chicken wings on a rack to drain any excess buttermilk. Allow the chicken to come to room temperature, about 30 minutes.

In a gallon-sized Ziploc bag or shallow dish, combine all of the ingredients for the gluten-free flour mixture. Make sure it is mixed thoroughly

In a large skillet, cast iron, or Dutch oven pour in 1-2 inches of vegetable oil and heat it until it reaches 350°F. Line a baking sheet with paper towels and set aside.

Working with one piece of chicken at a time, place the chicken in the flour mixture, making sure all sides are evenly coated. (gently tap off any excess flour). Place the chicken in the oil and cook for about 7-9 minutes on each side (turning once), or until an instant-read thermometer inserted into the thickest part of each chicken reads 160°F. (Fry up to 4 pieces at a time.)

Remove the chicken from the oil and transfer the chicken to the paper towel-lined baking sheet. Let the chicken rest for 5 minutes before serving.

Coat the Chicken in the Maple Bourbon Glaze and serve over waffles!
Maple Bourbon Glaze Instructions
In a medium-sized saucepan, melt butter over medium low heat.

Add diced onion and cook for 3-4 minutes. Add remaining ingredients and stir.

Let the mixture simmer for 10 minutes as it reduces, stir occasionally.
Notes
Non-Dairy Buttermilk = 1 tbsp Apple Cider Vinegar + 1 cup Non-Dairy Milk (I use Almond Milk). Let it sit at room temperature for 10 minutes, then use.

For the glaze, be sure to use pure maple syrup, like this one.
To make the Apple Cinnamon Waffles I simply used my Gluten-Free Apple Cinnamon Pancakes Recipe and made them in a waffle maker! Here is the recipe if you want to try it: Apple Cinnamon Pancakes | Dairy-Free & Gluten-Free.
If you do not have a gluten-sensitivity or intolerance, you can follow the recipe as it is and use regular flour instead of gluten-free flour. 
Store any leftover chicken in an airtight container and keep in the fridge for up to 5 days. For best results, rewarm the chicken in the oven at 350°F for 5-7 minutes. 
Nutrition
#BHMVP2021 TAKEOVER
Check out some of the other phenomenal recipes included in the 2021 Black History Month Virtual Potluck! This is an incredible list of recipes celebrating Black culinary history, past and present is worth taking a look at and even more so trying out!  Be sure to share using the hashtag #BHMVP2021, and shout out these amazing Black culinary creatives when you try their recipes!