Enjoy a juicy gluten-free burger made from scratch with 5 simple ingredients! These delicious, hearty burger patties are made without pesky fillers and binders like wheat and bread crumbs. It's way better than any fast food restaurant burger! You can whip them up easily on the stovetop or grill them.
Want more tasty gluten-free burger recipes to try? Check out this Lamb Burger or Bison Burger next! If you want a plant-based option, try our Beet Quinoa Burger or Grilled Pineapple Beyond Burger Recipe. (Beyond burgers are 100% gluten-free!)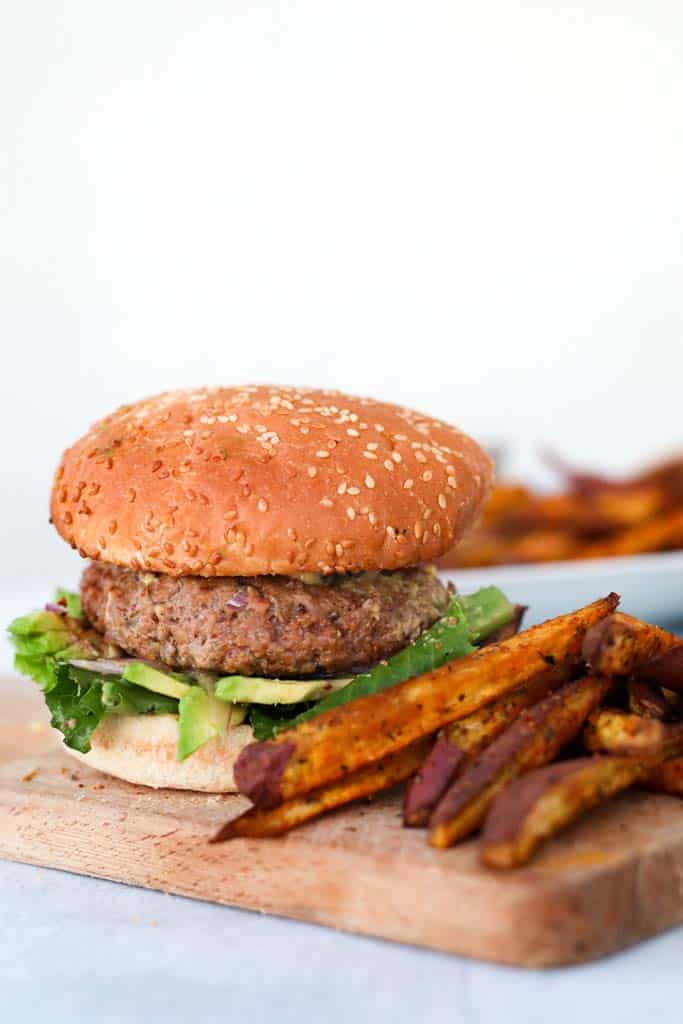 Making gluten-free burgers is super easy and inherently it should be! If you purchase 100% ground beef, pork, lamb, chicken, or whichever meat you like, it does not contain gluten. However, many store-bought burger patties or burgers served at restaurants may contain gluten.
Is Ground Beef Gluten-Free? Yes! On its own, ground beef is completely gluten-free.
Are Burgers Usually Gluten-Free? Not necessarily. Many burgers contain hidden gluten-containing ingredients like soy sauce and breadcrumbs, or can be cross-contaminated with gluten-containing ingredients.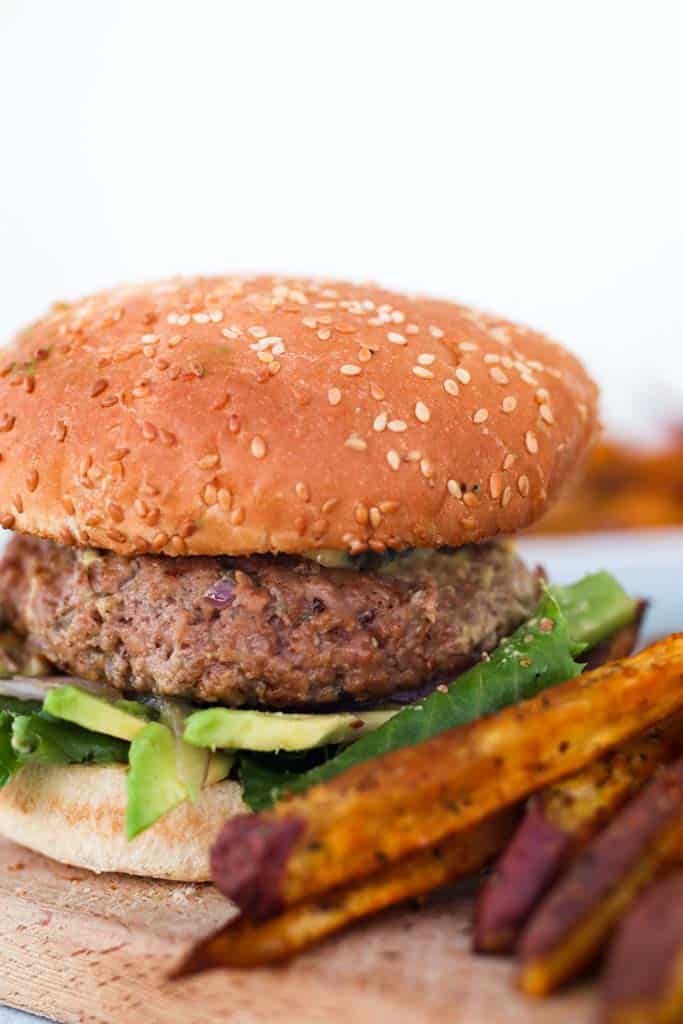 Luckily, you can take all the guesswork out of determining if a burger is gluten-free by easily making your own. This is the best gluten-free hamburger recipe because it is simple, quick, easy, and tastes absolutely delicious! I guarantee you'll love it.
Reasons You'll Love This Recipe. Its:
Easily Customizable: Keep it simple and season with salt and pepper. Or you can go all out and add your favorite burger seasoning.
A Great source of protein: Lean ground beef is a great source of high-quality protein and just 3 ounces provide you with 22 grams of protein!
Versatile: Enjoy your burger on its own, or pair it with fries, turn it into a burger salad, or enjoy with your favorite vegetables.
Perfect for a quick meal: These burgers are ready in less than 30 minutes!
Diet Friendly: These burgers are Whole30 compliant, Keto, Paleo, and completely dairy-free!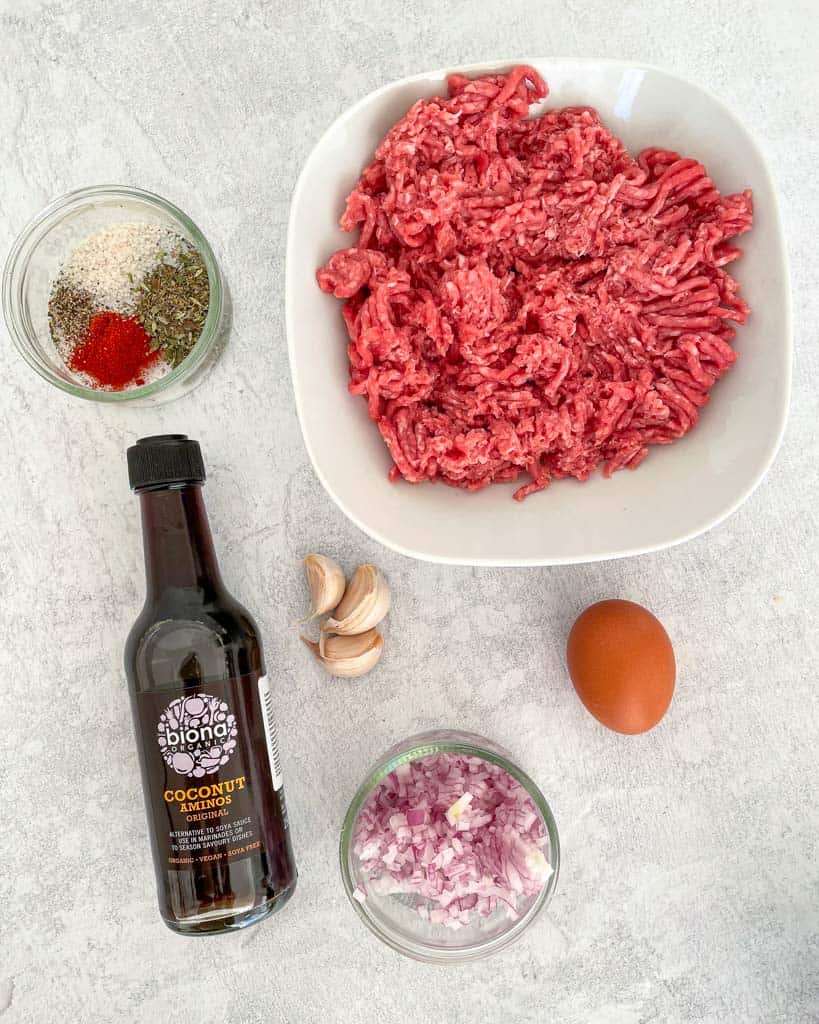 Ingredients You'll Need
Lean Ground Beef: Use high-quality ground beef for the best flavor. (between 80%-85% lean is perfect)
Egg: Just one egg is needed to help bind the ingredients
Coconut Aminos: This gluten-free soy sauce alternative gives the burgers a delicious umami flavor.
Garlic and Onion: Optional, but adds delicious flavor
Spices: You'll need Sea Salt, Black Pepper, Smoked Paprika, and any other seasoning you wish to add.
Optional Add-ins
Barbecue Sauce: Some people like to add bbq sauce to their burger patties for added flavor. You can use your favorite gluten-free barbecue sauce, or you can make your own using our 15-minute homemade barbecue sauce recipe.
Additional Spices: Add a mix of herbs and spices like parsley, oregano, chili powder, onion powder, or any of your favorite spice blends.
Almond Flour: almond flour makes the burger patty mixture firmer and further binds the ingredients. These burgers certainly don't need it, but feel free to add almond flour if you like.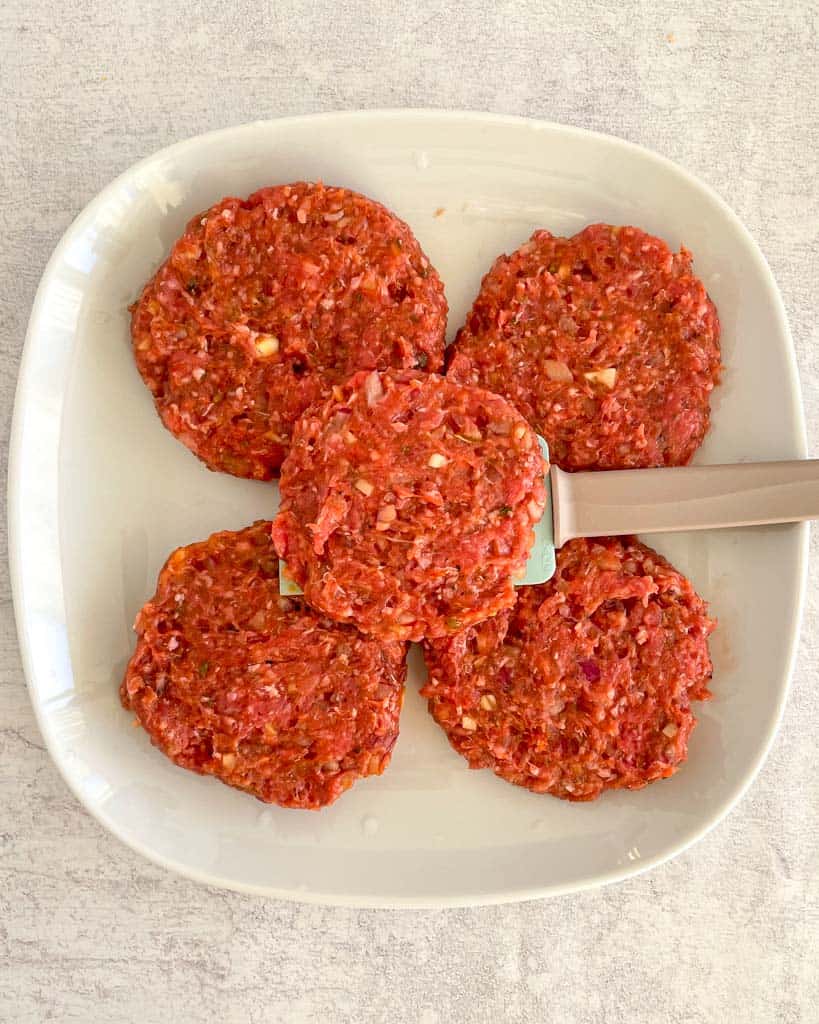 How To Make Gluten-Free Burgers
In a large mixing bowl, combine the ingredients for the burger patties.
Divide the ground beef into 4-5 equal portions, form each into one-inch patties and place a shallow thumb-size indent in the center of the patties. Place the patties on a plate or baking sheet. Then, transfer the patties into the fridge to chill for at least 10 minutes (30 minutes, if time permits).
Preheat a cast-iron skillet, griddle, or stainless-steel frying pan over medium-high heat. Heat the butter or cooking oil in the pan.
Place the patties in the pan, being sure to leave a bit of space between each burger.
Cook the burgers for 3 to 5 minutes on each side, until they're cooked to your desired internal temperature is reached. Remove the pan from the heat.
Serve burgers with your favorite gluten-free buns and toppings! Enjoy
Burger Cooking Time Suggestions:
Medium-rare (red in the middle): 6 minutes total, or 130 to 135°F
Medium (pink in the middle): 7 to 8 minutes total, 140 to 145°F
Medium-well (a smidge of pink in the middle): 9 minutes total, 150 to 155°F
Well-done (no pink): 10 minutes total, 160 to 165°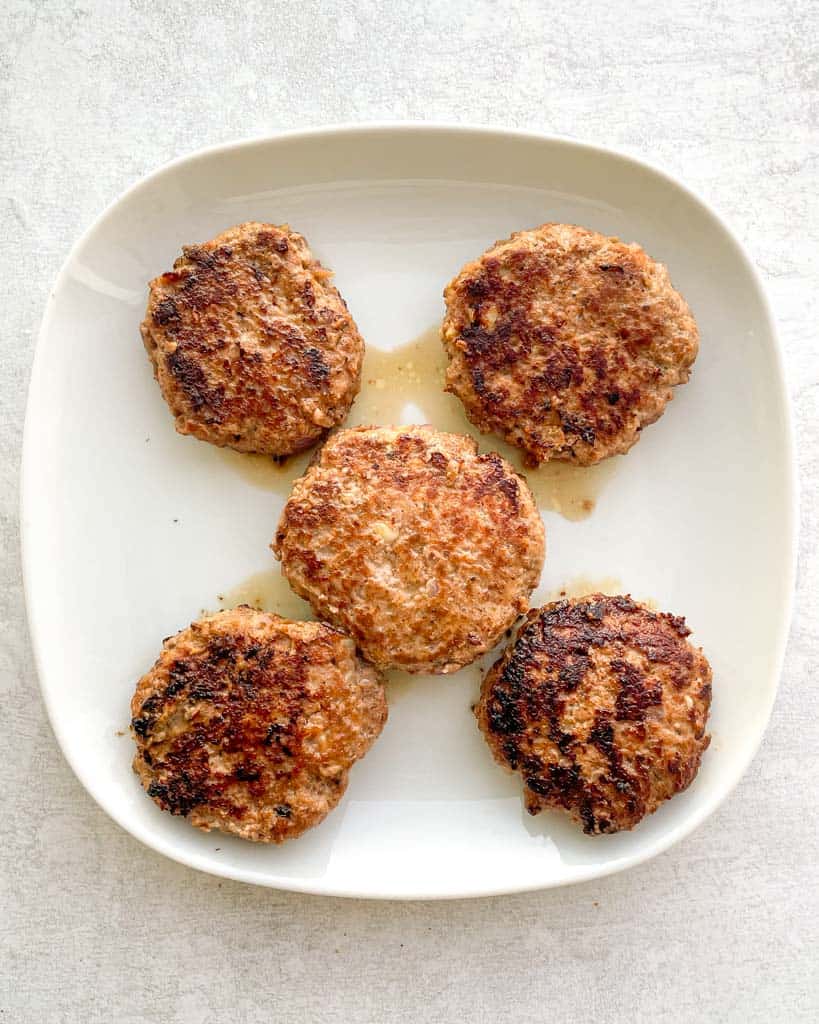 Want To Grill These Burgers? Here's What To Do:
Heat a gas grill to high or heat coals in a charcoal grill until they glow bright orange and ash over. Brush the burgers with the oil.
Grill the burgers until golden brown and slightly charred, about 3-5 minutes per side, depending on your desired doneness/internal temperature is reached.
Storage and Rewarming
Store any leftover burgers without toppings in an airtight container in the fridge for up to 3 days. Reheat the burgers in the microwave for 30-60 seconds, or until warm. You can also rewarm the burgers on the stove or in the air fryer. Air Fryer at 350°F for about 2 minutes, or until warm.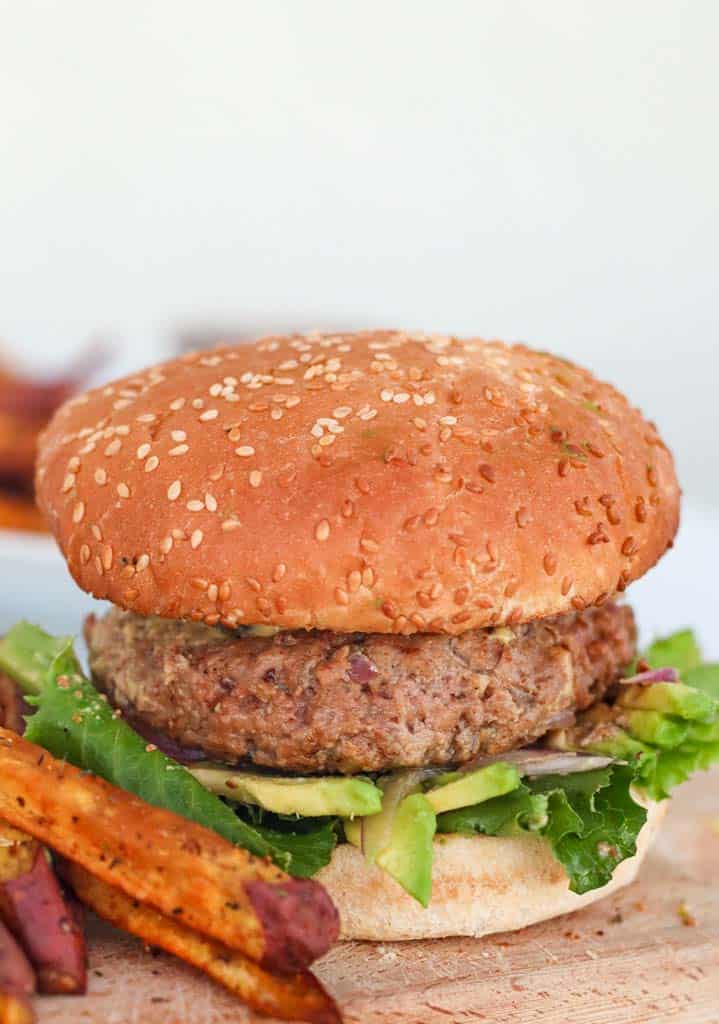 Tips For Making Juicy Burgers
Do not overwork the meat when making the patties. The more you handle the meat before cooking, the tougher the finished burger.
If time permits, transfer the mixture into the fridge to chill for at least 30 minutes before cooking. This helps the burgers get a nice sear and remain tender and juicy on the inside while cooking.
Do not move the patties around a bunch or flip them several times when cooking.
Do not overcrowd the pan: Work in batches if necessary.
Cast-Iron Works Best: When making burgers on the stovetop, cast iron works best to get the perfect sear and caramelized outer layer.
Pro Tip: When preparing the patties, make a small indentation in the center of the patty with your thumb. When you are grilling the patties, stick an ice cube in the center. This will add a bit of extra moisture to the patties.
Frozen Patties: If using frozen burger patties, you will need to add additional cooking time per side.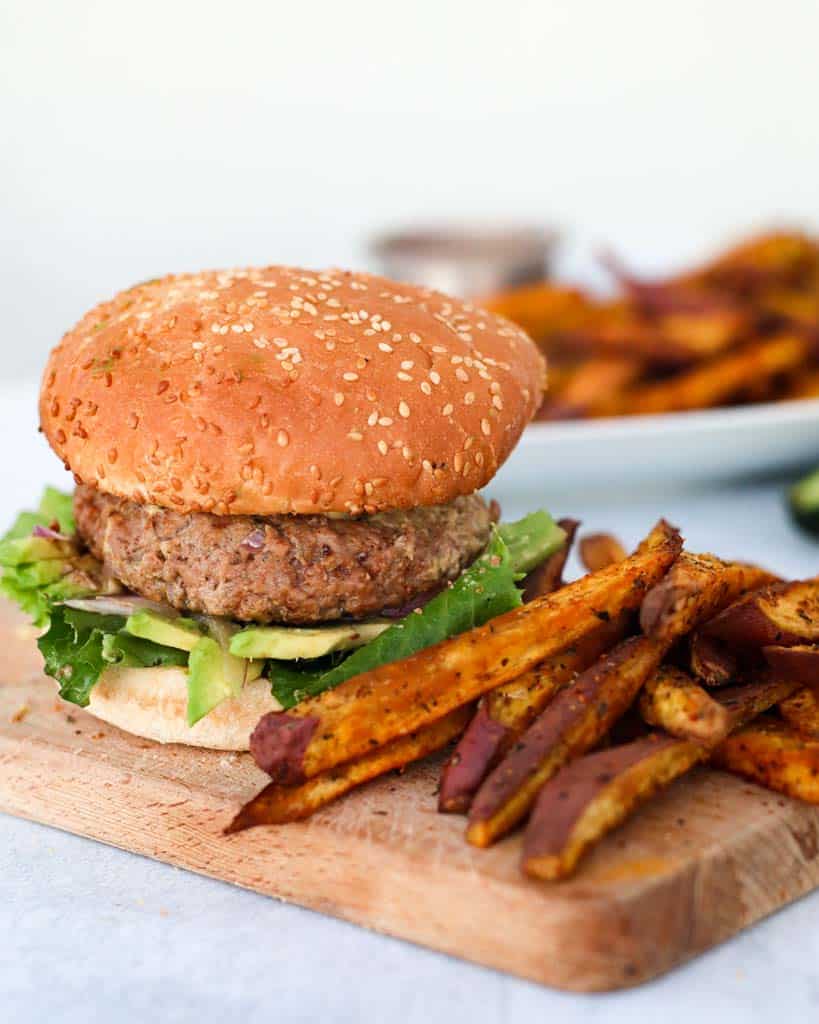 Common Questions and FAQs:
What Temperature Are Burgers Done?
The USDA recommends that any ground meat be cooked to an internal temperature of at least 160°F to destroy any harmful bacteria and to ensure the meat is safe for consumption. Cooking to the temp of 160°F will result in well-done burgers.
Are Burger Buns Gluten-Free?
Typical burger buns do contain gluten as they are generally made out of wheat flour. If you want a gluten-free bun, be sure to purchase one clearly labeled gluten-free. Alternatively, you can use lettuce wraps as buns.
Does Cheese Have Gluten?
100 perfect natural cheeses do not typically contain gluten. However, processed cheese may contain gluten-based ingredients to improve its texture, shape, and taste.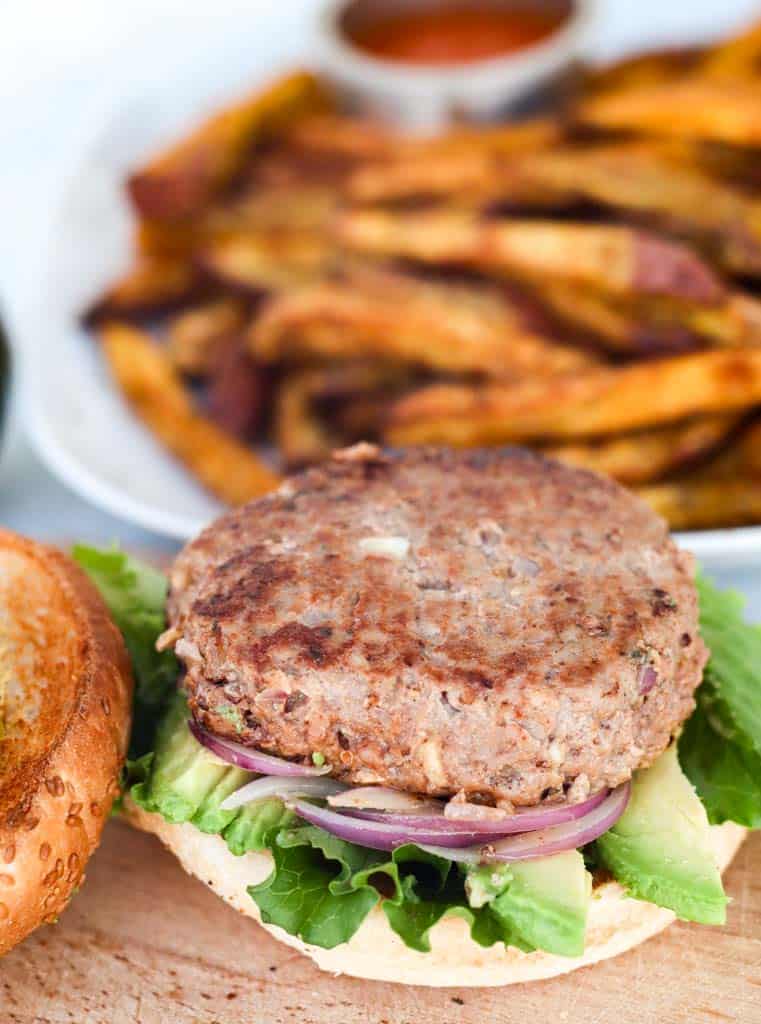 Healthy Substitutes For Buns:
There are many ways you can enjoy your burger without the traditional burger bun. Here are a few tasty ways to replace your burger bun:
Lettuce Wraps (aka protein style!)
Large Portobello Mushrooms
Sliced Eggplant Dials (like this Grilled Garlic Herb Eggplant)
Sliced Beefsteak Tomatoes
Or enjoy it bunless!
What To Eat With Your Gluten-Free Burger
Burger and Fries: This is a classic combo! Try our Air Fryer Sweet Potato Fries, Accordion Potatoes, or Hasselback Waffle Fries.
Burger and Salad: A Caesar salad would be perfect! Try our Dairy-Free Chickpea Caesar Salad. Or switch it up and pair your burger with our Beet Salad or Pasta Salad.
Burger and Soup: Here's a cozy combo. Our Roasted Tomato Basil Soup or Wild Rice Mushroom Soup would be the perfect side.
Sauces and Dips: Add any of these sauces on top of your burger to boost the flavor even more! Homemade Barbecue Sauce, Chipotle Sauce, Dairy-Free Tzatziki, or Avocado Sauce.
Toppings: Bacon, lettuce, tomato, ketchup, mustard, caramelized onions, and cheese are the typical toppings. Feel free to get as creative as you like!
Gluten-Free Buns: I typically use Trader Joe's Gluten-Free Buns. Canyon Bakehouse and Schar Gluten-Free Buns are great options.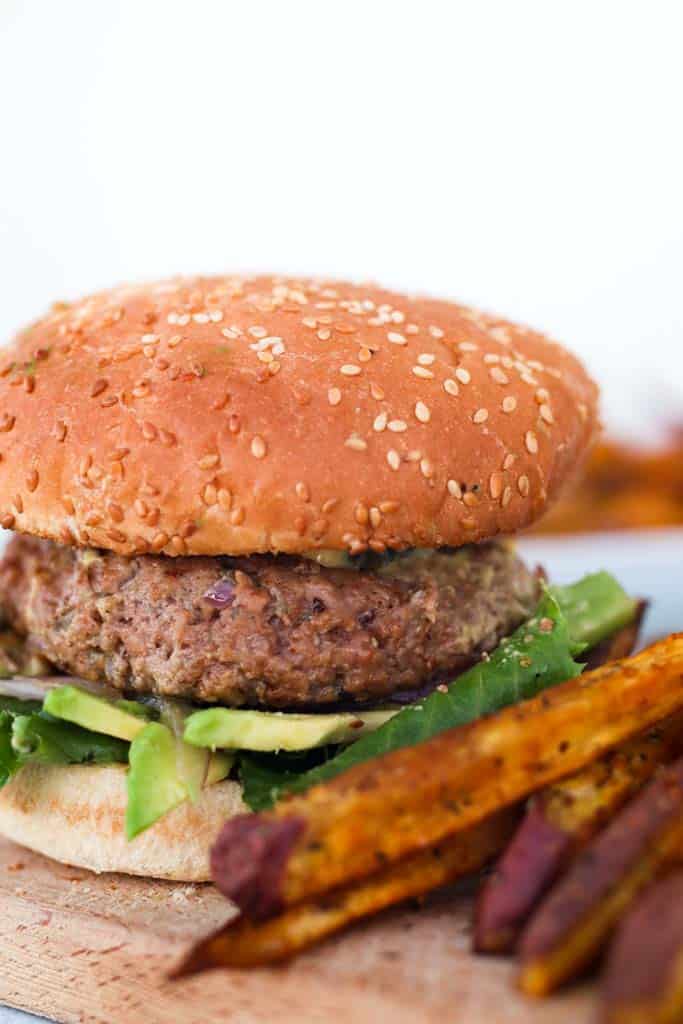 I hope you enjoy this gluten-free burger recipe! If you try the recipe, don't forget to rate the recipe and let me know what you think in the comments below! Take pictures, tag #goodfoodbaddie, and share them with me on Instagram and Pinterest! I love seeing my recipes come to life in your kitchen.
All The Recipes On GFB Are Gluten-Free! Browse around and find more tasty recipes to try! Need Ideas?
Try These Gluten-Free Burger Recipes Next: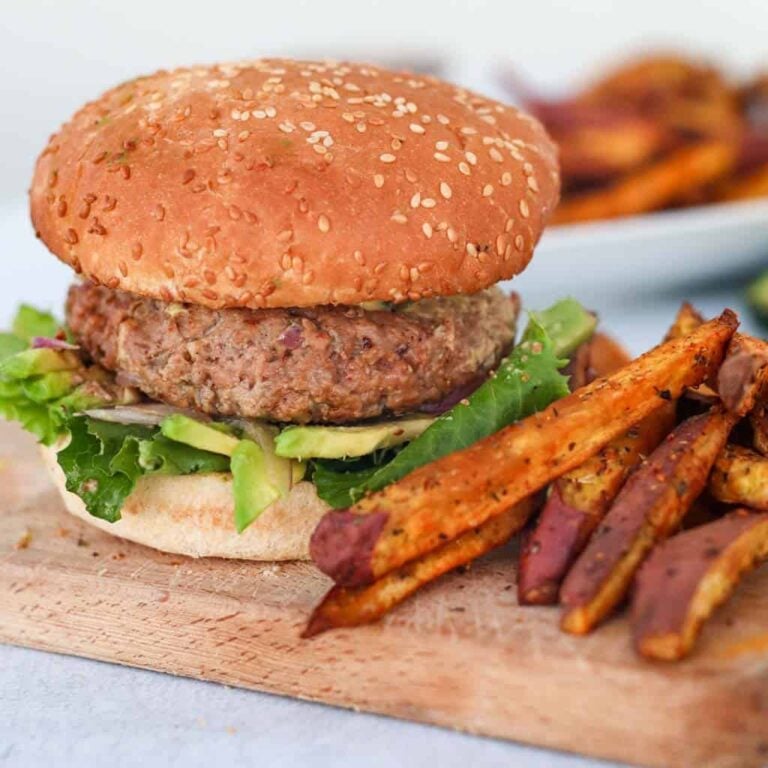 Gluten-Free Burger Recipe (So Easy!)
Enjoy a juicy gluten-free burger made from scratch with 5 simple ingredients! These delicious, hearty burger patties are made without pesky fillers and binders like wheat and bread crumbs. It's way better than any fast food restaurant burger! You can whip them up easily on the stovetop or grill them.
Print
Pin
Rate
Ingredients
1.5

lb

Lean Ground Beef

1

egg

1/4

cup

Onion, finely chopped

optional

3

Garlic Cloves

or 1 tsp garlic powder

1/2

tsp

Smoked Paprika

1/2

tsp

Sea Salt

more or less to taste

1/2

tsp

Black Pepper

more or less to taste
Instructions
In a large mixing bowl, combine the ingredients for the burger patties.

Divide the ground beef into 4-5 equal portions, form each into one-inch patties and place a shallow thumb-size indent in the center of the patties.

Place the patties on a plate or baking sheet. Then, transfer the patties into the fridge to chill for at least 10 minutes (30 minutes, if time permits).

Preheat a cast-iron skillet, griddle, or stainless-steel frying pan over medium-high heat. Once the pan is warm, heat the butter or cooking oil in the pan.

Cook the burgers for 3 to 5 minutes on each side, until they're cooked to your desired internal temperature is reached. Remove the pan from the heat.

Serve burgers with your favorite gluten-free buns and toppings! Enjoy
Notes
(Recipe makes 4-5 burgers, depending on the size of the patties)
Burger Cooking Time Suggestions:
Medium-rare (red in the middle): 6 minutes total, or 130 to 135°F
Medium (pink in the middle): 7 to 8 minutes total, 140 to 145°F
Medium-well (a smidge of pink in the middle): 9 minutes total, 150 to 155°F
Well-done (no pink): 10 minutes total, 160 to 165°
Nutrition
Serving:
1
burger patty
|
Calories:
246
kcal
|
Carbohydrates:
1.8
g
|
Protein:
28.4
g
|
Fat:
13.2
g
|
Saturated Fat:
5.1
g
|
Cholesterol:
128
mg
|
Sodium:
144
mg
|
Potassium:
385
mg
|
Fiber:
0.4
g
|
Sugar:
0.4
g
|
Calcium:
26
mg
|
Iron:
3
mg