Grilled Eggplant is the perfect summer side dish! It is coated in a garlic-herb marinade, then cooked to smokey perfection for a charred, caramelized flavor. This delicious, savory veggie is easy to prepare and ready to serve in just minutes, making it great for a picnic or barbecue.
If you love eggplant dishes, you'll definitely want to try my Sticky Glazed Eggplant or Vegan Eggplant Meatballs next!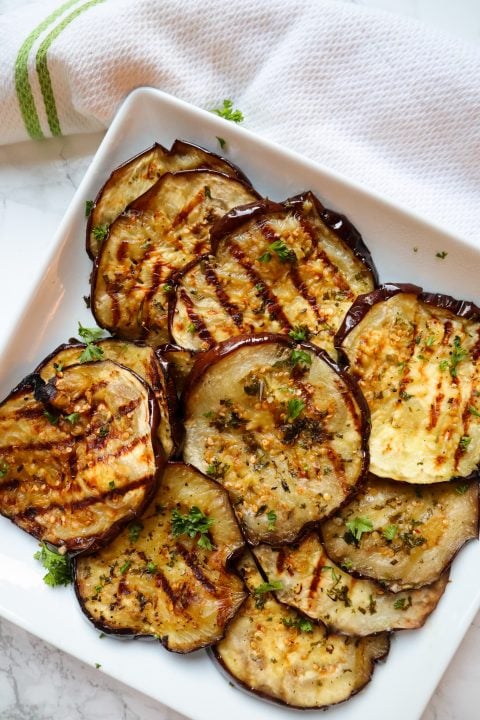 In my opinion, grilled vegetables are completely underrated!! Honestly, the contenders are great but nothing beats perfectly grilled eggplant or zucchini.
Grilled Eggplant is one of those dishes that is incredibly easy to make, super flavorful, and the perfect side dish when grilling. The trick to making tasty grilled eggplant is all in the preparation. There are steps you cannot skip if you want to get a nice, tender finish with a lovely charred crust on your eggplant. Let's dive in and I will tell you all you need to know!
Is Grilled Eggplant Healthy?
Eggplants are high in fiber and low in calories. It's been proven to lower blood sugar levels and help decrease the risk of heart disease. They can be enjoyed fried or baked but grilled is my preferred, healthier option.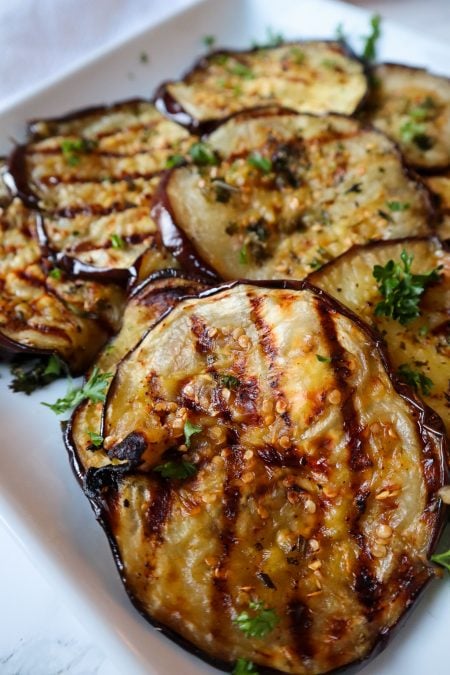 How to Grill an Eggplant?
First and foremost, the most important step is to slice the eggplant and season it generously with salt—and by generously I mean at least 2-3 tsp to cover all of the eggplant slices. Then you will set the eggplant aside and allow time for the moisture to escape the eggplant, about 15 minutes.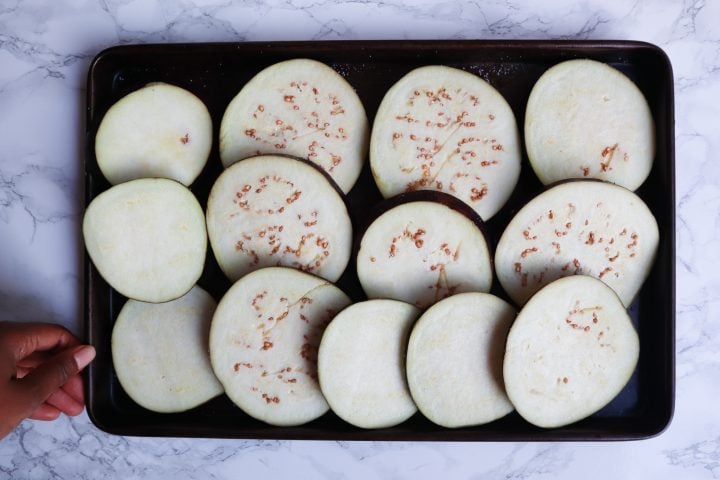 I know this step might be tempting to skip, but I promise you that it is crucial. Don't skip this step!
You'll notice that the eggplant has sweated a ton, leaving a lot of water on the tray. With a clean cloth or paper towel, pat the eggplant dry to prepare them for the next step: coating the eggplant with the garlic herb sauce.
Grilled Eggplant Marinade
In a small bowl, combine olive oil, fresh herbs, fresh garlic, and seasonings. Then, coat both sides of the eggplant. The next steps are even easier. Simply transfer the eggplant to a heated grill. If you're wondering how long to grill eggplants, they should cook for about 6-8 minutes on each side!
Grilled Eggplant Served With Pineapple Shrimp Skewers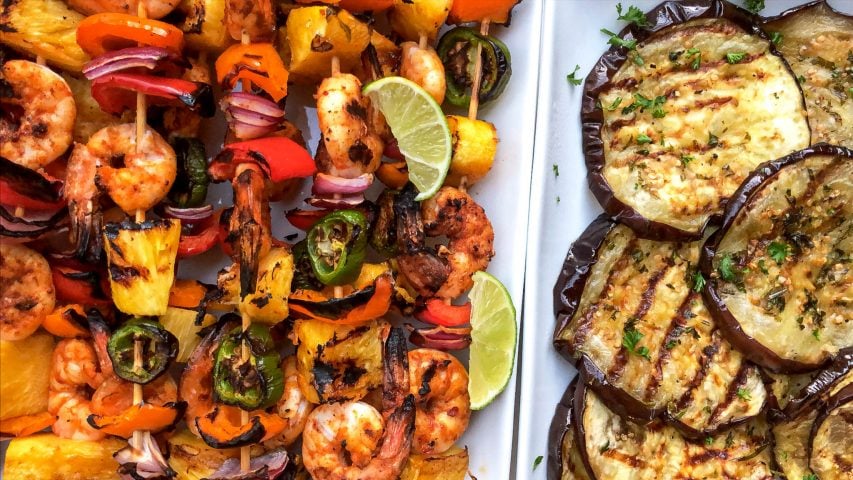 I Hope You Enjoy This Grilled Garlic Herb Eggplant Recipe!
If you try the recipe, don't forget to rate the recipe and let me know what you think in the comments below! Take pictures, tag #goodfoodbaddie, and share them with me on Instagram! I love seeing my recipes come to life in your kitchen.
What to serve with grilled eggplant?
Lemon Herb Chicken | Perfect Grilled or Baked
Grilled Eggplant with Garlic and Herbs
Grilled Garlic Herb Eggplant is the perfect summer side dish; cooked to smokey perfection for a charred, caramelized flavor. This delicious, savory veggie is easy to prepare and ready to serve in just minutes so it's great for a picnic or barbecue.
Print
Pin
Rate
Ingredients
Garlic Herb Sauce
2/3

cup

Extra Virgin Olive Oil

4

cloves garlic crushed

1/3

cup

chopped fresh parsley

2

tbsp

chopped fresh rosemary

1/2

tsp

Pepper

1/2

tsp

Sea Salt
Instructions
Cut the eggplant into 1/2inch thick slices (either diagonal or crosswise). Make sure to leave on the skin as this helps the eggplant to retain its shape during cooking and develop a crispy crust.

Line eggplant in a single layer on a baking sheet. Generously salt each slice on both sides and set aside for at least 15 minutes to draw out the moisture.

Preheat the grill to medium heat. Wipe each of the slices with a paper towel or cloth to remove the excess salt and moisture.

In a medium-sized bowl, combine the garlic-herb sauce ingredients. Coat each slice of eggplant in the sauce by placing it in the dish and flipping over so each side is coated thoroughly.

Grill the eggplant for 6-8 minutes per side, or until they are golden and/or have grill marks. Once the eggplant is cooked, remove it from the grill and drizzle any remaining garlic and herb sauce on the eggplant.

Garnish with fresh chopped parsley and enjoy!
Nutrition
Pin it! & Connect with me on pinterest! 🙂