Are you looking for a healthy vegan burger recipe? Look no further, because this vegan quinoa beet burger recipe is just what you need. These delicious, veggie-packed beet burgers are easy to make and filled with plant-based protein.
Satisfy your burger craving with these nutrient-dense veggie burgers! Pair them with crispy baked sweet potato fries, accordion potatoes, or Hasselback waffle fries for a full-on meal!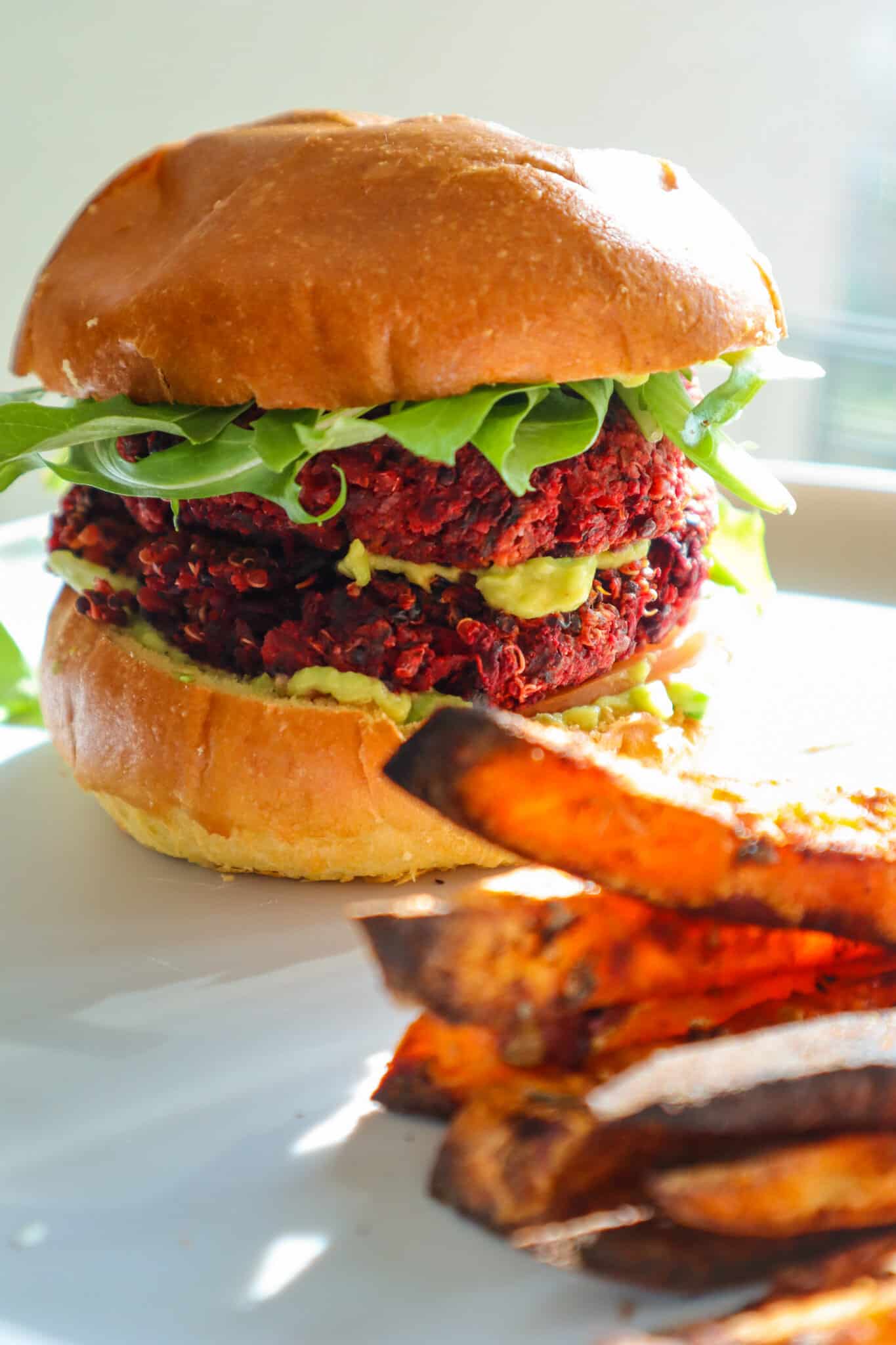 Okay, this beet burger is out of this world! The beets give the burger a nice red color, giving it an uncanny resemblance to actual meat. It's everything you want in a burger: savory, filling, and satisfying!
This Quinoa Beet Burger Recipe Ticks Off All The Boxes! It's:
Completely vegan and loaded with plant-based protein from the quinoa, rice, and chickpeas!
Provides you with filling, flavorsome, and thick veggie patties
The patties have the best texture! They are perfectly crispy on the outside with mouthwatering roasted flavors on the inside
Easily customizable and pairs well with just about anything!
A healthy burger recipe that you can feel good about!
Beetroot Quinoa Burgers (ingredients shown below)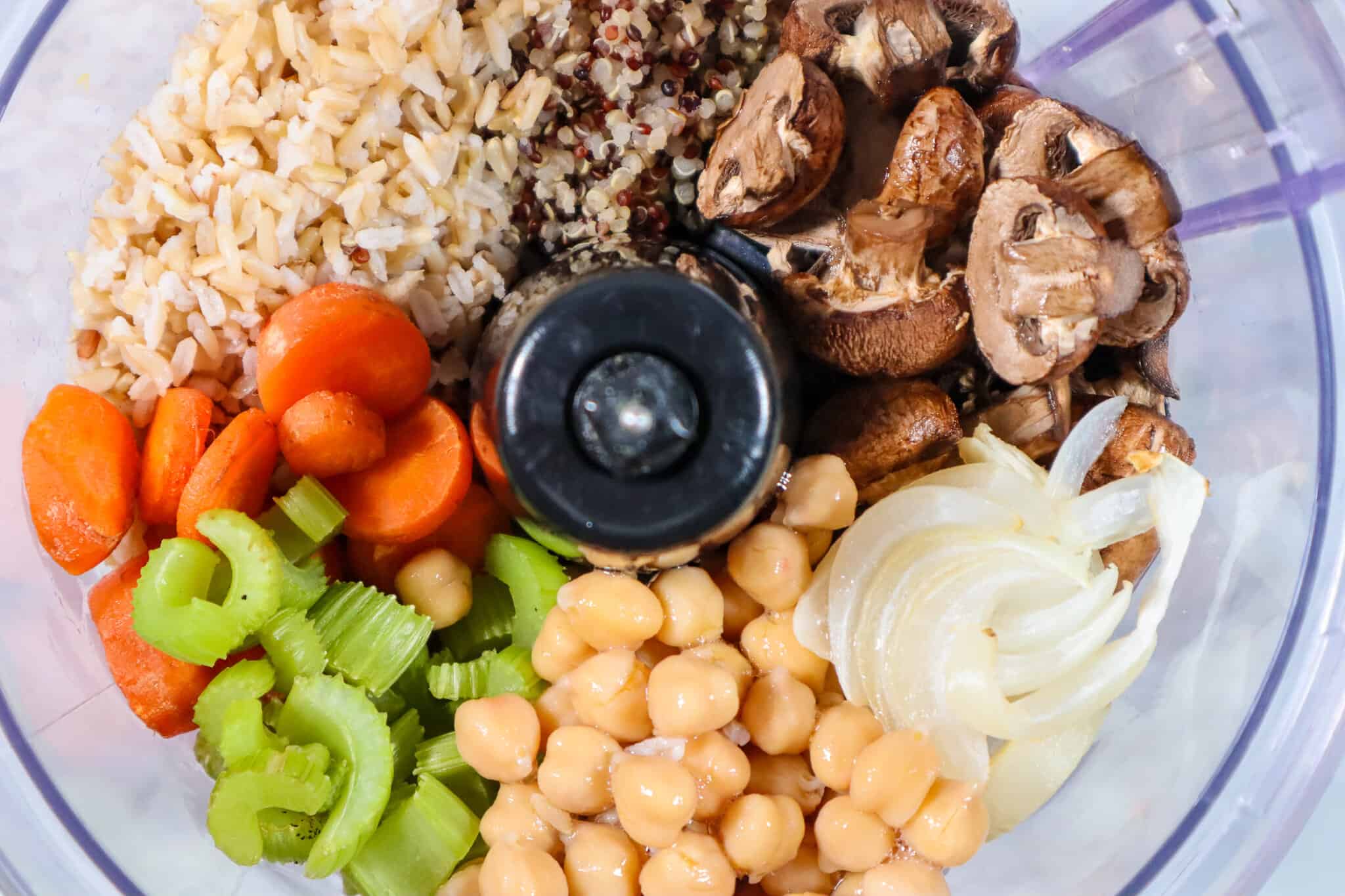 Ingredients needed to make these Vegan Quinoa Beet Burgers
Quinoa and Brown Rice: Both are great sources of plant-based protein and are used as the base to make filling veggie burgers. Use cooked quinoa and rice for this recipe.
Raw Beets (shredded): Not only do the beets give these burgers their beautiful vibrant color, but they provide nutrients like potassium, iron, and antioxidants.
Roasted Vegetables: roasting the celery, garlic, onions, carrots, and mushrooms first brings out their flavor and add the best taste to the burgers.
Chickpeas: Chickpeas are also a great source of plant-based protein and in this recipe, work to help bind the ingredients and make tender burgers.
Spices: Smoked Paprika, Chili powder, Sea Salt, and Black Pepper are all you need to season these beet burgers.
Almond Meal: The almond meal helps to absorb any excess moisture. Start with one tablespoon and add more as needed.
Ingredient Substitutions:
This beet burger recipe is easily customizable. Swap out some of the ingredients to customize the burger to your liking. Here are a few options:
Use Black beans instead of chickpeas to make a black bean beet burger
Use oat flour (ground oats) instead of almond meal
Use quinoa (or brown rice) only, if desired
How To Make Quinoa Beet Burgers?
Preheat the oven to 375° F. Start by roasting the veggies (onions, garlic, mushrooms, celery, and carrots) in the oven for 20 minutes.
Use pre-cooked quinoa and rice. If you do not have quinoa and rice ready, prepare them in a small pot while the vegetables are roasting.
Shred the beets. First, rinse the beet until all dirt is removed, then peel the skin using a potato peeler. Using a cheese grater, shred the beet until you have one full cup.
Once the quinoa, rice, and veggies are done, combine all ingredients except the beets and almond meal into a food processor or blender. Blend the ingredients lightly, just to break down larger chunks, and combine the ingredients.
Transfer the mixture into a large bowl, then slowly stir the beets into the mixture. Be sure to mix thoroughly so all the ingredients are well combined.
Add the almond meal 1 tablespoon at a time to absorb any excess moisture. The mixture should now be thick and you can easily form patties.
To form patties, take about 1/2 cup of the mixture and use your hands to form small balls. Place on a parchment-lined baking sheet and flatten slightly
Bake at 375° F for a total of 30-35 minutes. Be sure to flip halfway through, but handle the burgers with care so they do not break.
Enjoy on a bun or on a bed of mixed greens with your favorite toppings
Tips:
Make these burgers a lot quicker by preparing the quinoa, rice, and veggies beforehand. Quinoa and rice can be made 1-2 days in advance. Veggies can be made up to a day in advance
The burgers hold up well in the freezer! If you do not make all the burgers you can simply form a patty, line it with parchment paper, and seal it in a freezer-proof container.
If you make all the burgers and have leftovers, you can freeze any leftovers and when you're ready to enjoy them, simply microwave them for 30 seconds and warm them up on the stove or oven (at 350°f for 10 mins)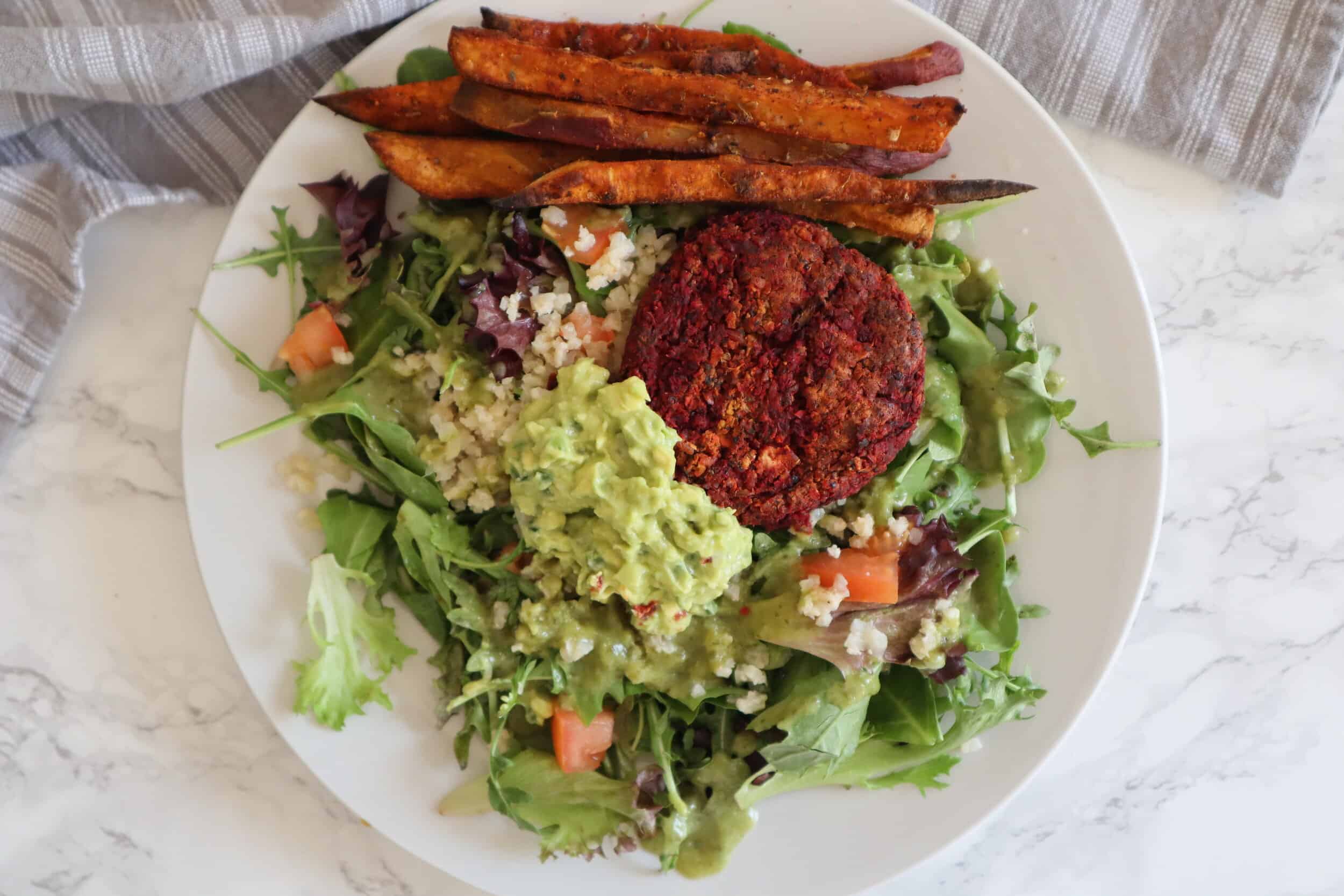 Quinoa Beet Burger Toppings
We all know that burger toppings are essential to making an epic burger. Load your burger bun up with the basics, like lettuce and tomato, then add the extras! Here are a few ideas:
Guacamole
Sauteed Spinach
Sauteed Onion
What does a beet burger taste like?
The beets because give the veggie burger a beautiful, deep color while providing tons of flavor and nutrients. The beet taste is VERY subtle —you wouldn't know it was added, outside of the color. The beets hardly have a taste, but they do help to keep the inside of the veggie patty from getting dried out during the cooking process, which keeps the burger "juicy" and flavorful.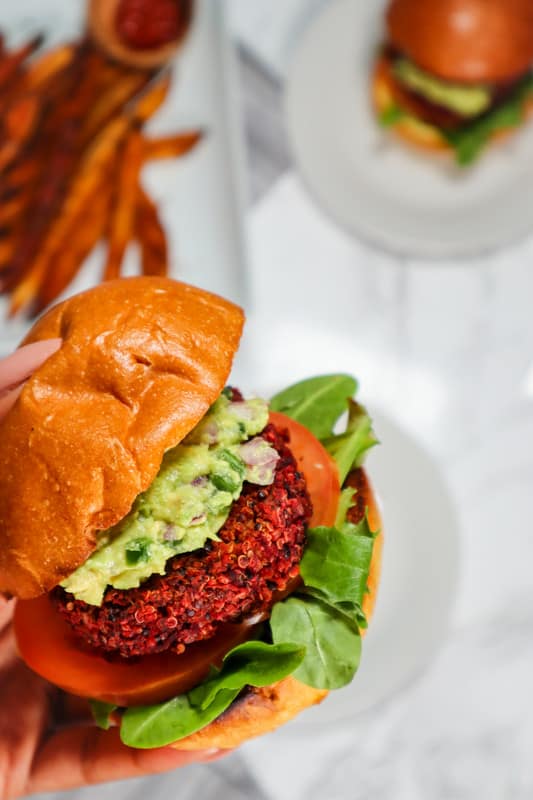 I hope you enjoy this Quinoa Beet Burger Recipe! 
If you try the recipe, don't forget to rate the recipe and let me know what you think in the comments below! Take pictures, tag #goodfoodbaddie, and share them with me on Instagram! I love seeing my recipes come to life in your kitchen.
More Vegan Meal Ideas: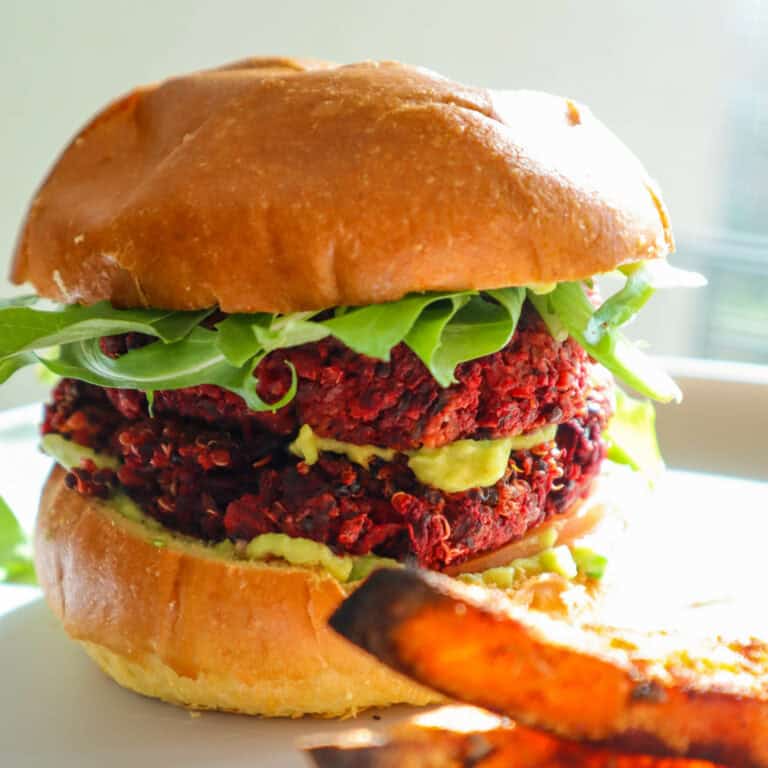 Best Beet Burger (Vegan and Gluten-Free!)
Are you looking for a healthy vegan burger recipe? Look no further, because this vegan quinoa beet burger recipe is just what you need. These delicious, veggie-packed beet burgers are easy to make and filled with plant-based protein.
Print
Pin
Rate
Equipment
Food Processor

Cheese Grater
Ingredients
3/4

cup

Cooked Quinoa

3/4

cup

Cooked Brown Rice

1

cup

Shredded Raw Beets, packed

about 1-2 beets

1/2

Onion, roughly chopped

1

cup

Mushroom, sliced

approximately 8 oz

1

Large Carrot, sliced

1

tsp

Smoked Paprika

1

tsp

Chili Powder

1/2

tsp

Sea Salt

plus more to taste

1/4

tsp

Black Pepper

plus more to taste

1-3

tbsp

Almond Meal (or oat flour)

plus more as needed
Instructions
Preheat the oven to 375° F. Start by roasting the veggies (onions, garlic, mushrooms, celery, and carrots) in the oven for 20 minutes.

Use pre-cooked quinoa and rice. If you do not have quinoa and rice ready, prepare them in a small pot while the vegetables are roasting. (Cook the quinoa and rice as normal, according to the package.)

Shred the beets. First, rinse the beet until all dirt is removed, then peel the skin using a potato peeler. Using a cheese grater, shred the beet until you have one full cup. (consider using gloves when shredding the beets)

Once the quinoa, rice, and veggies are done, combine all ingredients except the beets and almond meal into a food processor or blender. Blend the ingredients lightly, just to break down larger chunks, and combine the ingredients.

Transfer the mixture into a large bowl, then slowly stir the beets into the mixture. Be sure to mix thoroughly so all the ingredients are well combined.

Add the almond meal 1 tablespoon at a time to absorb any excess moisture. The mixture should now be thick and you can easily form patties.To form patties, take about 1/2 cup of the mixture and use your hands to form small balls. Place on a parchment-lined baking sheet and flatten slightly.

Bake at 375° F for a total of 30-35 minutes. Be sure to flip halfway through, but handle the burgers with care so they do not break.

Enjoy on a bun or on a bed of mixed greens with your favorite toppings
Nutrition
Serving:
1
burger
|
Calories:
81
kcal
|
Carbohydrates:
14.6
g
|
Protein:
3.3
g
|
Fat:
1.4
g
|
Saturated Fat:
0.1
g
|
Sodium:
133.5
mg
|
Potassium:
212
mg
|
Fiber:
2.7
g
|
Sugar:
3.4
g
|
Calcium:
25
mg
|
Iron:
1
mg