Looking for the best Red Wine Braised Short Ribs recipe? You've found it! Make tender, flavorful short ribs that fall off the bone effortlessly and are packed with delicious flavors! This popular recipe has over 5 million views on Pinterest with thousands of tries and comments! You don't want to miss out on this incredibly flavorful dish!
Enjoy these short ribs with a side of  Creamy Garlic Mashed Potatoes or delicious Instant Pot Creamy Parsnip Mash! If you want to make these mouthwatering short ribs using an Instant Pot, try my Instant Pot Short Ribs with Sweet Potato Hash Recipe!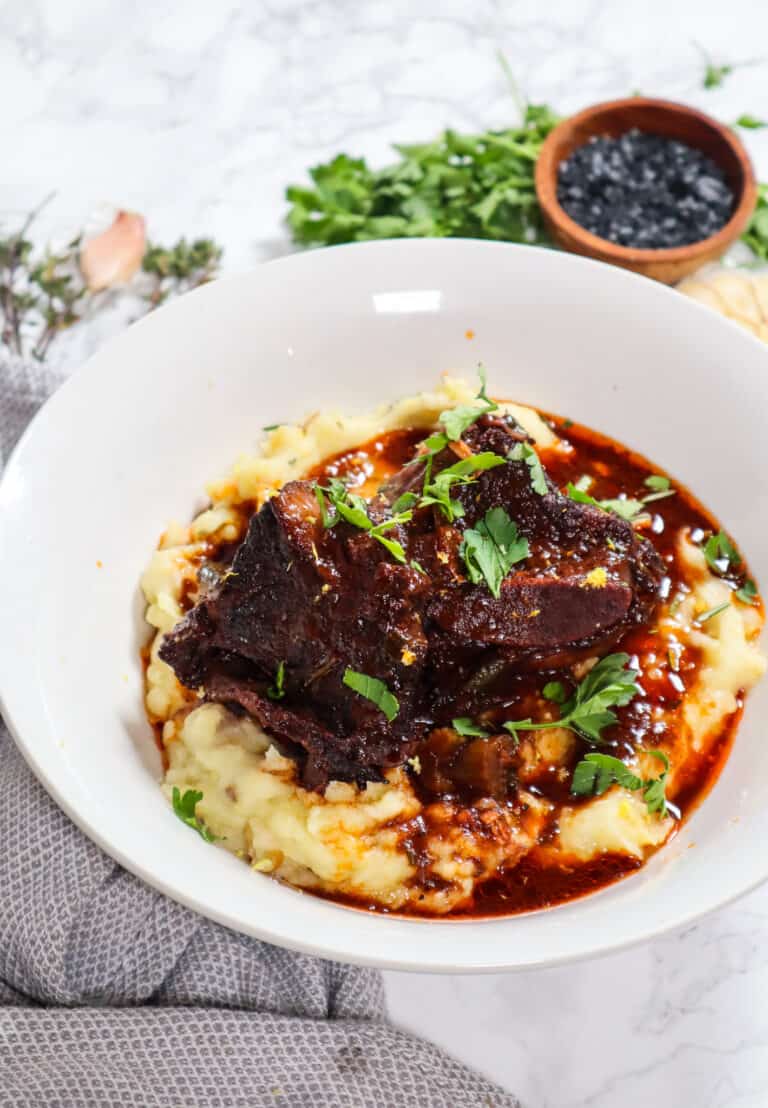 This post may contain affiliate links. As an Amazon Associate, I earn from qualifying purchases. Thank you for your support of goodfoodbaddie.com!​
Best Beef Short Ribs Recipe!
Red Wine-Braised Short Ribs is a seemingly elaborate dish, but is quite easy to make! This recipe only involves a few quality ingredients and a large Dutch oven to make the perfect ribs!
This recipe is a favorite in my home! I love to make these short ribs whenever I am hosting friends and family! It is very easy to put together as most of the work is done in the oven. I am able to sit back and relax with friends while the wonderful aromas fill the home!
What do you need to make Braised Beef Short Ribs with Red Wine Sauce?
Bone-in short ribs are best for this recipe! The bones help to make a full, rich sauce as the short rib slow roast for hours in a delicate mirepoix, full-bodied wine, and beef broth.
What you will need:
3-5 lbs Bone-in Short-rib
1 750 ml dry red wine
Mirepoix: carrots, onion, celery
Aromatics and Herbs: Garlic, parsley, thyme, and rosemary
Beef Stock
Tomato Paste
Salt & Pepper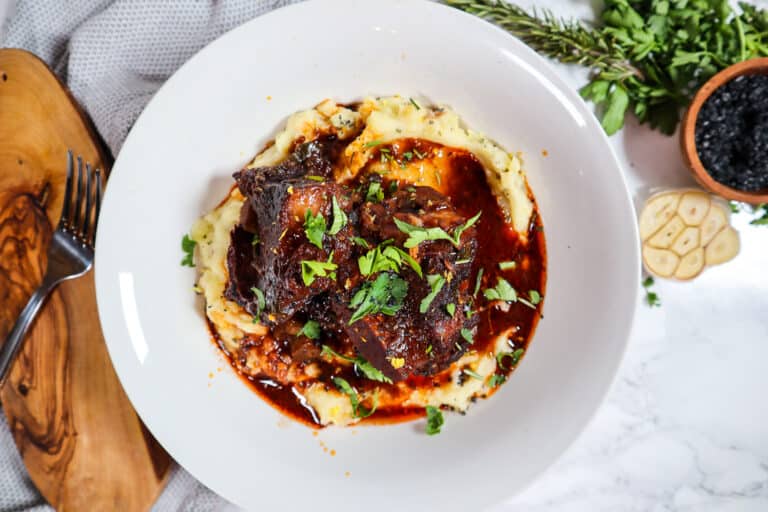 What type of wine is best for making Red Wine Braised Short Ribs?
When you cook with wine the flavor is not prominent in the food; the food does not necessarily taste like wine. However, wine does add depth and enhance the flavor of a dish. When choosing a wine to create a sauce with it is best to steer clear of "cooking wines" as they tend to be lower in quality and complexity. Simply pick a flavorful wine that you would also enjoy drinking.
For this dish, a deep, full-bodied, robust red wine is best. I like to use Cabernet Sauvignon, but any dry red wine works for this dish to create an incredibly delicious sauce.
How To Make Red Wine-Braised Short Ribs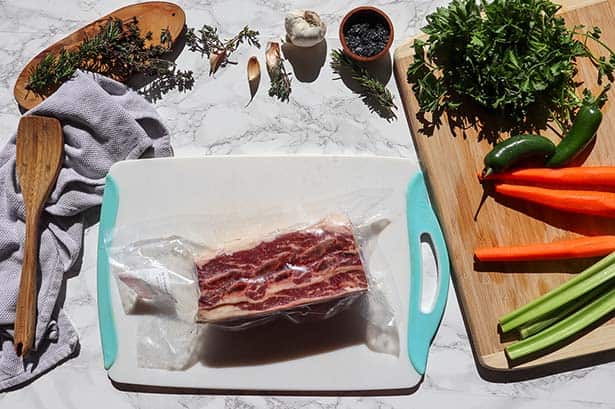 Step 1: Slice And Season The Short Ribs
Start by cutting the beef between the bones into 2-inch pieces (if necessary). Then, season each side generously with salt and black pepper. I like to do this first and then set the meat aside while I prepare my vegetables for the sauce. This helps tenderize the meat and bring out its juices, resulting in more flavorful and succulent meat once cooked.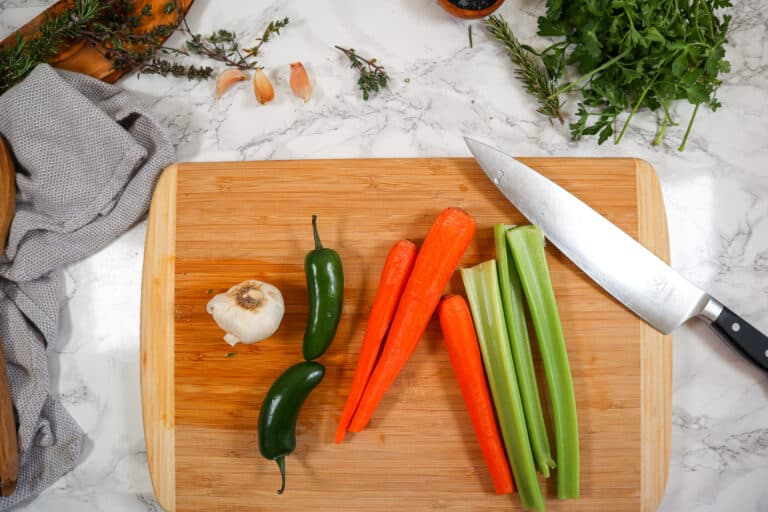 Step 2: Prepare The Vegetables
The vegetables, herbs, and aromatics needed for this dish are garlic, celery, carrots, onion, jalapeno, rosemary, thyme, and parsley. To prepare the vegetables simply give them a rough chop. They are needed simply to flavor the sauce. Once the short ribs are fully cooked you can strain the sauce, removing the vegetables as they will have rendered all their flavor and are no longer edible.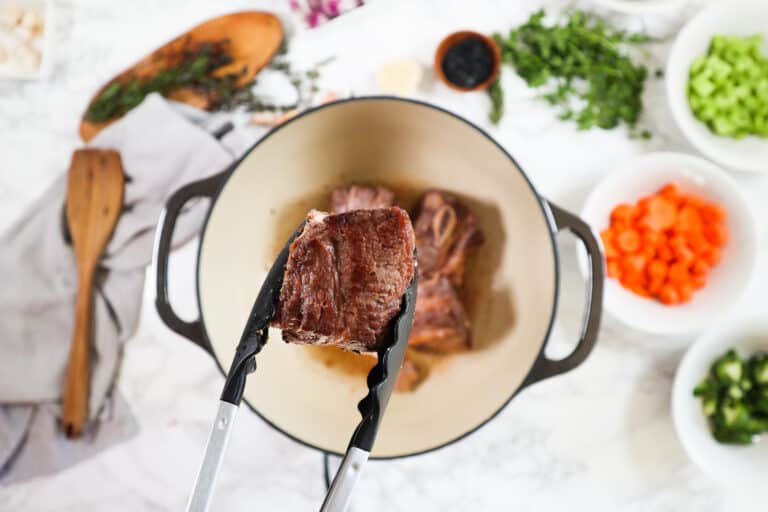 Step 3: Pan Sear The Short Ribs 
Once the vegetables are prepped, it's back to preparing the meat. You'll start by warming up your Dutch oven over medium-high heat, then sear the short ribs on each side, about 6-8 minutes total. After the short ribs are golden brown on each side, transfer to a plate and set aside for later.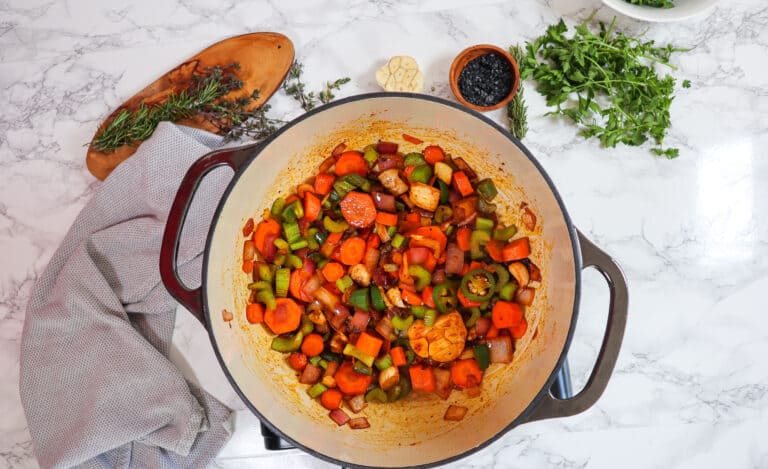 Step 4: Saute And Season The Vegetables 
In the same pot, remove a bit of the oil using a ladle, then add the prepared vegetables. Start with the garlic and sauté it for 2-3 minutes, then add the remaining vegetables. I like to season the vegetables with salt, pepper, and smoked paprika. The smoked paprika simply adds to the complexity of the sauce, making it so much more flavorful.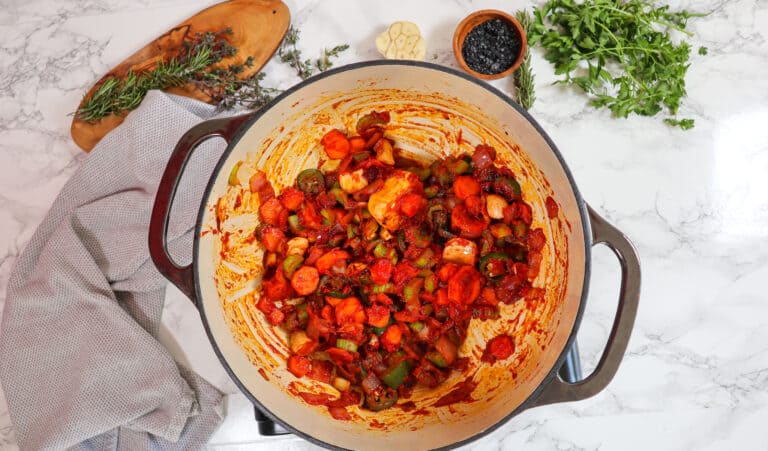 Step 5: Prepare The Braising Liquid 
After the vegetables are softened, which takes about 5-10 minutes, stir in tomato paste and saute for another 2-3 minutes.
Now it is time to add the wine! Pour in 1 750ml of dry red wine. Then, bring the wine to a boil. Once it reaches a boil, lower the heat to medium-low and allow the mixture to simmer for about 20 minutes, or until the wine has reduced by half.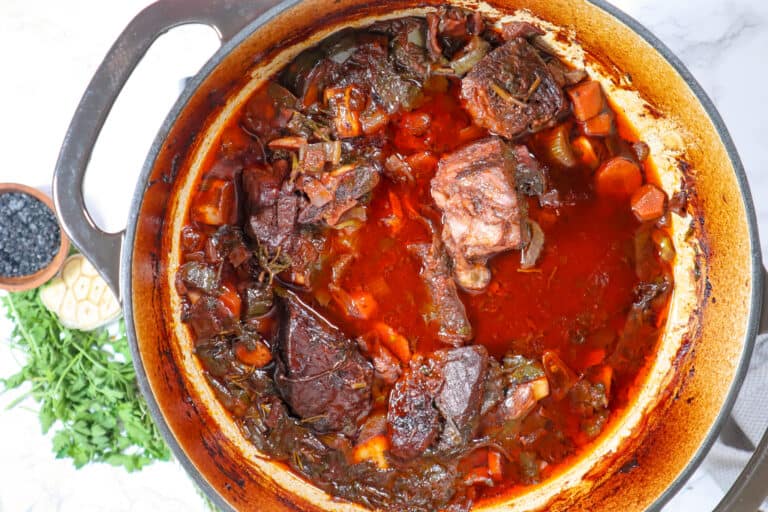 Step 6: Add In The Short Ribs And Herbs, Cover, And Bake! 
At this point, most of your work is done! Simply add the beef broth, and herbs, and then gently nuzzle in the short ribs and any juices that have accumulated. Bring the dish to a low boil, cover with a lid, then transfer it into a preheated oven at 350°F.
Now you can sit back relax, enjoy some wine, and wait until this masterpiece is done! Give it 2-3 hours and the short-rib will be falling off the bone!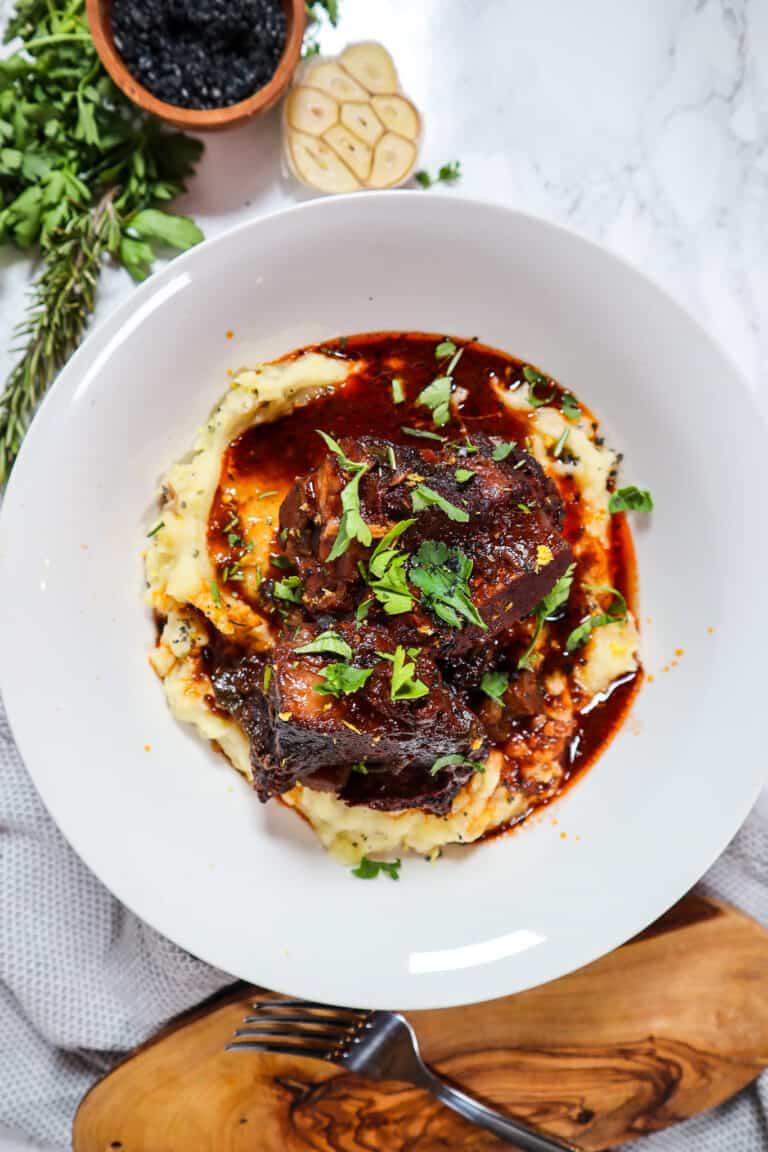 Want to make Red Wine-Braised Short Ribs in the slow cooker?
If you are cooking this dish in a slow cooker, simply prepare all the ingredients on the stove, then transfer everything to the slow cooker.
Season and pan-sear the short ribs. Then, carefully use tongs to transfer it to the slow cooker.
Saute and season the vegetables. Then, add the tomato paste.
Then, prepare the braising liquid. Add the wine and cook it on a low boil until it reduces by half.
Carefully pour the vegetables and wine mixture into the slow cooker. Then, add the beef broth and herbs.
Cook on high heat for 4-5 hours, or low for 8 hours.
This is the perfect recipe to prepare early in the day and enjoy the wonderful aromas as the day goes on. You'll have an impressive dish waiting for you to enjoy!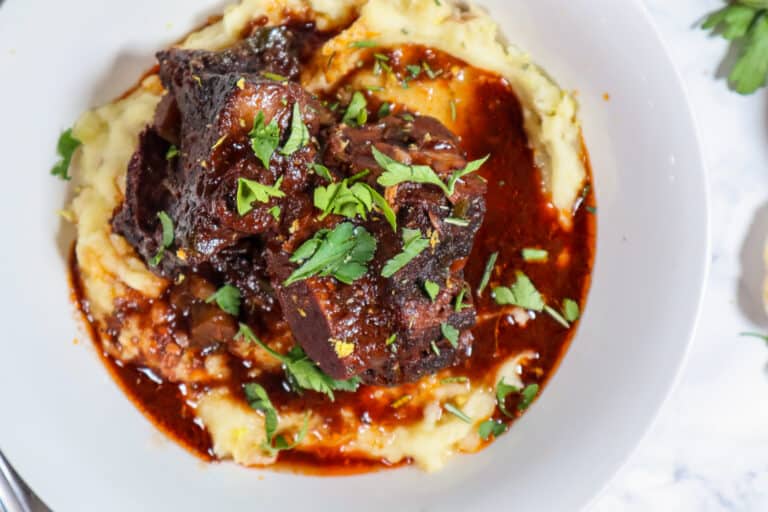 Tips for making the BEST Red Wine-Braised Short Ribs
Use high-quality grass-fed meat- I Use Butcher Box!
Use Bone-in short ribs
Thicker, meatier short ribs work best.
Season the ribs generously with salt and pepper on all sides before searing for the best results.
If you do not have a Dutch Oven, use an oven-proof pot.
Common Questions
What Does Braised Short Ribs Mean?
Braising beef short ribs involves first searing the meat, then baking the meat in liquid until it is fork-tender and falls off the bone.
Can You Braise Short Ribs Too Long?
The longer you braise the meat, the more the tough connective tissues break down, resulting in tender, delicious meat. However, if you braise the meat too long it will turn into shreds. 
Is It Necessary To Brown Meat Before Braising?
Yes, searing the meat before braising helps to seal in and enhance the flavor of the meat.
What to eat with your short ribs?
I enjoy my short ribs over garlicky mashed potatoes! You can also serve it over pasta! Here are a few of my favorite side dishes to serve with these Red Wine Braised Short Ribs.
If you try the recipe, don't forget to rate the recipe and let me know what you think in the comments. Leave a quick review & star rating ★ below! Take pictures, tag #goodfoodbaddie, and share them with me on Instagram, Facebook, and Pinterest! I love seeing my recipes come to life in your kitchen
MORE EASY AND IMPRESSIVE DINNER RECIPES TO TRY!
Best Red Wine-Braised Short Rib Recipe + Video
Tender juicy Red Wine-Braised Short Ribs that falls off the bone effortlessly, cooked in a rich, complex red wine sauce and served over creamy mashed potatoes. Perfect for a cozy meal, this recipe is easy to make and yields deeply, robust, flavorful meat.
Print
Pin
Rate
Ingredients
2

tbsp

Avocado, grapeseed, or coconut  oil

3

pounds

Bone-in short ribs, at least 1 1/2 inches thick

2

Large heads garlic, cut crosswise

1

Medium Red Onion, chopped

3

Celery Stalks, chopped

3

Medium Carrots, chopped

2

Jalapenos, chopped

2

tsp

Sea Salt and Freshly Ground Pepper

1

tsp

Smoked Paprika

1

750 ml

Dry Red Wine (I like to use Cabernet Savignoun)

3

tbsp

Tomato Paste

3

cups

Beef stock/broth, plus more as needed

4

Sprigs Rosemary

3

Sprigs Thyme

1

cup

Parsley

1

tbsp

finely grated lemon zest
Instructions
Heat oven to 350 degrees. Heat oil in a large Dutch oven over medium-high heat. Season short ribs on all sides with salt and pepper. Working in batches of 3-4 pieces, sear short ribs on all sides until deeply and evenly browned, 6 to 8 minutes per batch. Transfer browned short ribs to a large plate and continue with remaining ribs.

Pour off all but 2 tablespoons of remaining oil in the pan. Reduce heat to medium, and add garlic, cut side down and cook, undisturbed, until golden brown, about 1 to 2 minutes. Add onion, celery, carrots, and jalapeño and season with salt, pepper, and smoked paprika. Mix well and continue to cook until vegetables are softened but not yet browned, about 5 to 10 minutes. Add tomato paste and stir to coat. Continue to cook, stirring occasionally, until tomato paste has started to caramelize a bit on the bottom, about 2 to 3 minutes.

Add red wine and, using a wooden spoon, scrape up any browned or caramelized bits. Bring to a boil; lower heat to medium and simmer until wine is reduced by half, about 20 minutes. Stir in beef stock along with thyme, parsley, and rosemary. Using tongs, return short ribs to the pot, placing them in so that they are submerged (if they are just barely covered, nestle them bone side up so that all the meat is submerged, adding more beef stock or water as necessary to cover). Bring to a simmer, then cover and transfer to oven.

Cook, undisturbed, until short ribs are meltingly tender and falling off the bone (you should be able to shred the meat with a fork), 2½ to 3 hours.

Using tongs, remove the ribs from the pot, taking care  not to let the bone slip out and transfer them to a large plate. Strain the vegetables from the sauce. (The vegetables no longer have flavor and can be discarded) Garnish with parsley, garlic and lemon zest over the top of the short ribs. Separate the fat from the sauce, season with salt and pepper and serve alongside.
Video
Nutrition
Looking for more delicious recipes? Try these!