Looking for the best red-wine braised short ribs recipe? You've found it! Tender juicy short rib that falls off the bone effortlessly, braised in a rich, complex red wine sauce and served over creamy mashed potatoes. Perfect for a Sunday night family meal, this recipe is easy to make and yields deeply, robust, flavorful meat.
Short rib is a seemingly elaborate dish, especially when it's paired with a complex sauce. Interestingly enough, it's quite easy to make and only involves a few quality ingredients and a large Dutch oven.
When you want tender, flavorsome short rib, buying quality meat is important. I never skimp out on quality because, in my experience, quality ingredients is what makes or breaks a dish! Luckily, I have a favorite family-owned California ranch that I get my meat from called Buy Ranch Direct. Their cattle are grass-fed and finished and are never injected with hormones, antibiotics, or steroids. They live in open pasture, eat certified organic grass, and drink water from a fresh mountain spring.
Recently I collaborated with Buy Ranch Direct and now provide 2 curated box options of a variety of meat that you can order from my site and have it delivered straight to your door! If you haven't yet, check it out! It's important to buy grass-fed & finished, organic meat from cattle that have been well cared for and raised in open pastures. Not only is this better for you as grass-fed meat is significantly more nutrient-rich and healthier than non-grass-fed meat, but it is better for the environment, the animals, and the local farmers. 🙂
So now, I have this delicious, easy recipe to share AND a way for you to purchase the high-quality meat needed to make this phenomenal dish at home!
The two key ingredients here are wine and beef.
I've mentioned above the importance of buying high-quality meat, but also want to point out that when making short ribs, bone-in ribs are the best for this recipe. That is mostly because the bones help to make a full, intensely flavored sauce as the short rib roast for hours in a luscious sauce made from a simple mirepoix, complex wine, and beef broth.
The wine, the second key here, is essential as well. When you make cook with wine the flavor is not prominent in your food; the food does not necessarily taste like wine. However, wine does add depth and enhances the flavor of a dish. When choosing a wine to create a sauce with it is best to steer clear of "cooking wines" as they tend to be lower in quality and complexity, and simply pick a flavorful wine that you would also enjoy drinking. 
While there are infinite complexities and flavor profiles of wine, for this dish a deep, full-bodied, robust red wine is best. I like to use Cabernet Sauvignon, but any dry red wine works and is perfect for this dish in making an immensely delicious sauce.
What you need to make this dish:
3-5 lbs Bone-in Short-rib

1 750 ml dry red wine

Mirepoix: carrots, onion, celery 

Aromatics and Herbs: Garlic, parsley, thyme, and rosemary

Beef Stock

Tomato Paste

Salt & Pepper
Here is a quick, easy to follow video on how to make this delicious recipe!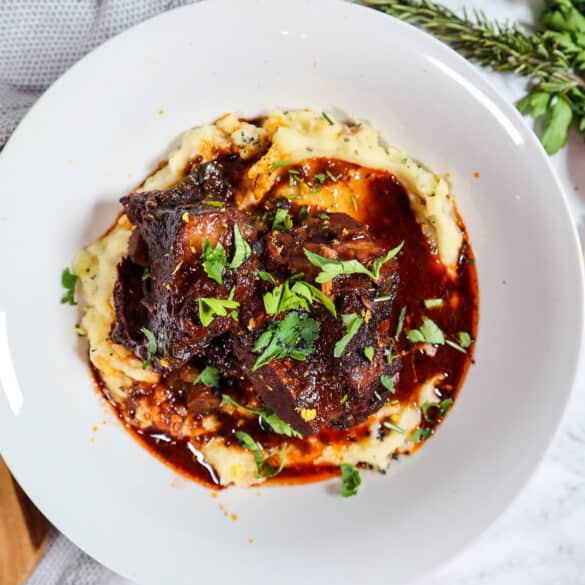 Print Recipe
Best Red Wine-Braised Short Rib Recipe
Tender juicy short rib that falls off the bone effortlessly, braised in a rich, complex red wine sauce and served over creamy mashed potatoes. Perfect for a cozy meal, this recipe is easy to make and yields deeply, robust, flavorful meat.
Ingredients
2

tbsp

Avocado, grapeseed, or coconut  oil

3

pounds

Bone-in short ribs, at least 1 1/2 inches thick

2

Large heads garlic, cut crosswise

1

Medium Red Onion, chopped

3

Celery Stalks, chopped

3

Medium Carrots, chopped

2

Jalapenos, chopped

2

tsp

Sea Salt and Freshly Ground Pepper

1

tsp

Smoked Paprika

1

750 ml

Dry Red Wine (I like to use Cabernet Savignoun)

3

tbsp

Tomato Paste

3

cups

Beef stock/broth, plus more as needed

4

Sprigs Rosemary

3

Sprigs Thyme

1

cup

Parsley

1

tbsp

finely grated lemon zest
Instructions
Heat oven to 325 degrees. Heat oil in a large Dutch oven over medium-high heat. Season short ribs on all sides with salt and pepper. Working in batches of 3-4 pieces, sear short ribs on all sides until deeply and evenly browned, 6 to 8 minutes per batch. Transfer browned short ribs to a large plate and continue with remaining ribs.

Pour off all but 2 tablespoons of remaining oil in the pan. Reduce heat to medium, and add garlic, cut side down and cook, undisturbed, until golden brown, about 1 to 2 minutes. Add onion, celery, carrots, and jalapeño and season with salt, pepper, and smoked paprika. Mix well and continue to cook until vegetables are softened but not yet browned, about 5 to 10 minutes. Add tomato paste and stir to coat. Continue to cook, stirring occasionally, until tomato paste has started to caramelize a bit on the bottom, about 2 to 3 minutes.

Add red wine and, using a wooden spoon, scrape up any browned or caramelized bits. Bring to a boil; lower heat to medium and simmer until wine is reduced by half, about 20 minutes. Stir in beef stock along with thyme, parsley, and rosemary. Using tongs, return short ribs to the pot, placing them in so that they are submerged (if they are just barely covered, nestle them bone side up so that all the meat is submerged, adding more beef stock or water as necessary to cover). Bring to a simmer, then cover and transfer to oven.

Cook, undisturbed, until short ribs are meltingly tender and falling off the bone (you should be able to shred the meat with a fork), 2½ to 3 hours.

Using tongs, remove the ribs from the pot, taking care  not to let the bone slip out and transfer them to a large plate. Strain the vegetables from the sauce. (The vegetables no longer have flavor and can be discarded) Garnish with parsley, garlic and lemon zest over the top of the short ribs. Separate the fat from the sauce, season with salt and pepper and serve alongside.
Video
How to make the best Red-Wine Braised Short Ribs!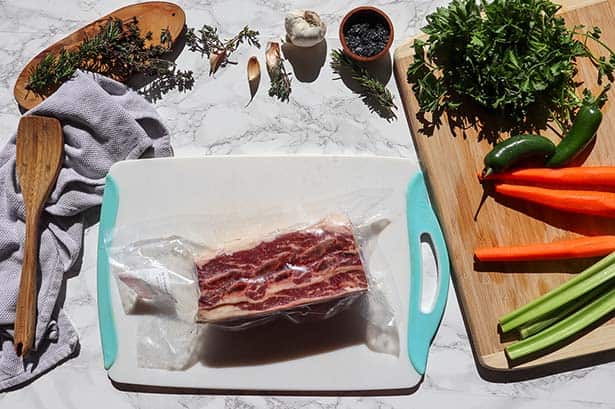 Start by cutting the beef between the bones into 2-inch pieces. Then, season each side generously with salt and pepper. I like to do this first and then set the meat aside to allow it to marinade while I prepare my vegetables for the sauce. This helps tenderize the meat and bring out its juices resulting in more flavorful and succulent meat once cooked.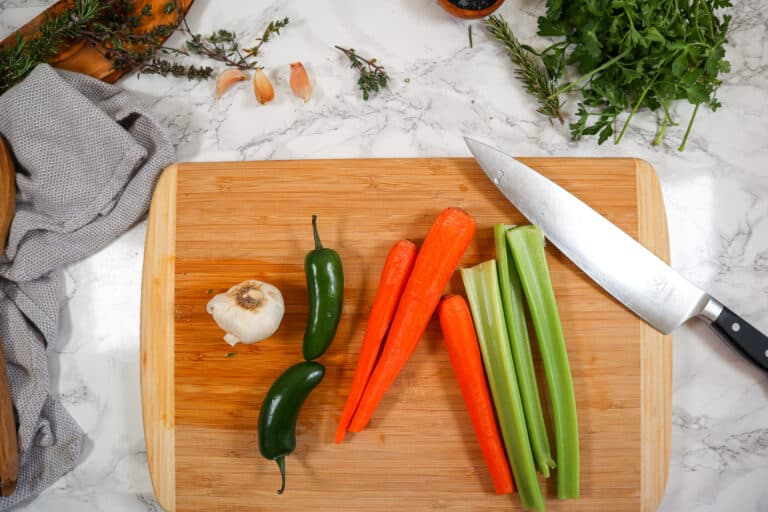 The vegetables, herbs, and aromatics needed for this dish are garlic, celery, carrots, onion, jalapeno (completely optional, I just like a little spice), rosemary, thyme, and parsley. To prepare the vegetables simply give them a rough chop. They are needed simply to flavor the sauce. Once the short-ribs are fully cooked you can strain the sauce, removing the vegetables as they will have rendered all their flavor and are no longer edible.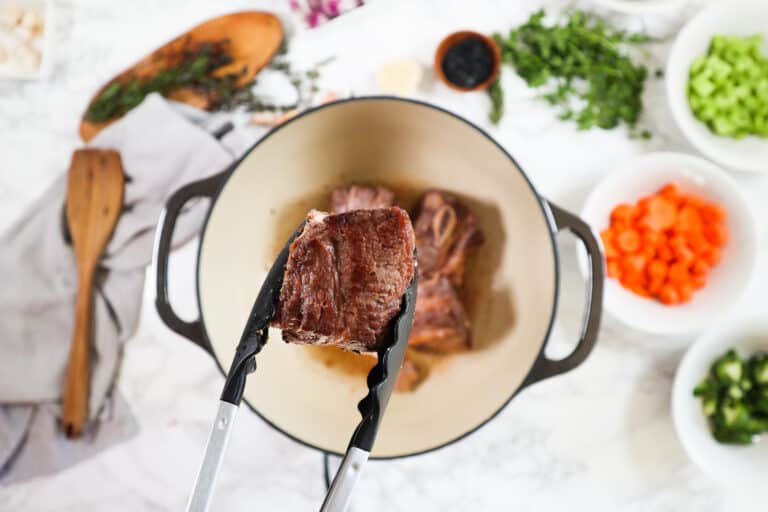 Now that the vegetables are prepped, it's back to preparing the meat. You'll start by warming up your dutch oven over medium-high heat, then searing the short-ribs on each side, about 6-8 minutes total. After the short ribs are golden brown on each side, transfer to a plate and set aside for later.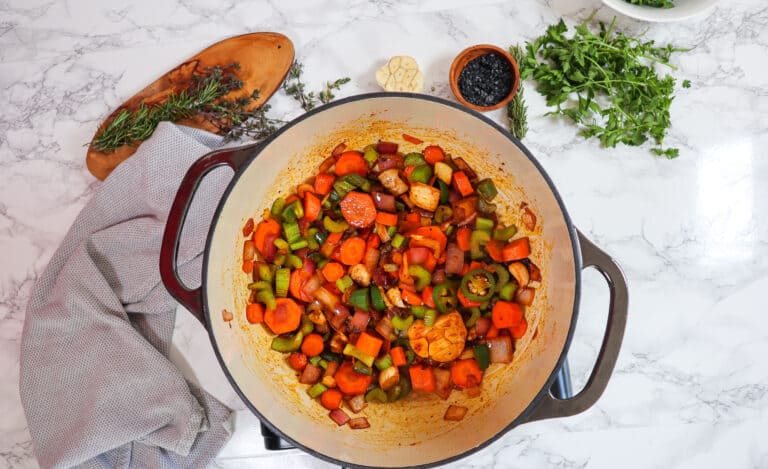 Using the same oil, remove a bit, then add the prepared vegetables. Start with the garlic and saute it for 2-3 minutes, then add the remaining vegetables. I like to season the vegetables with salt, pepper, and smoked paprika. The smoked paprika simply adds to the complexity of the sauce, making it so much more flavorful.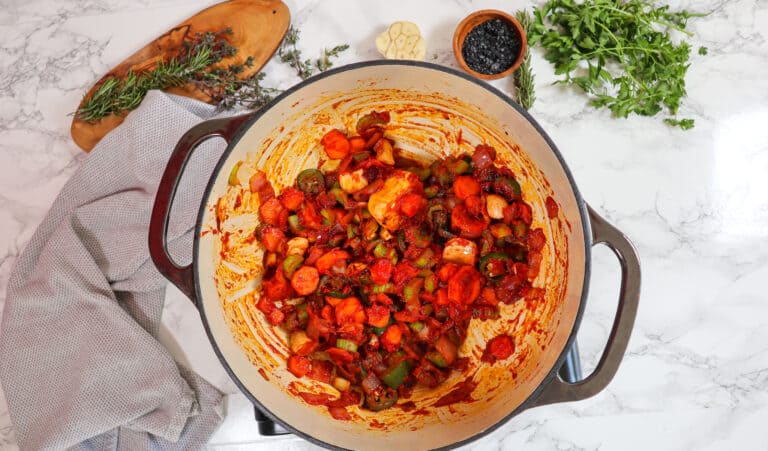 After the vegetables are softened, which takes about 5-10 minutes, stir in tomato paste and saute for another 2-3 minutes.
Now it is time to add the wine! Pour in 1 750ml of dry red wine. Then, bring the wine to a boil. Once it reaches a boil, lower the heat to medium-low and allow the mixture to simmer for about 20 minutes, or until the wine has reduced by half.
At this point, most of your work is done! Simply add the beef broth, herbs, and then gently nuzzle in the short-rib and any juices that have accumulated. Bring the dish to a low boil, then transfer it into a preheated oven at 350°F.
Now you can sit back relax, enjoy some wine, and wait until this masterpiece is done! Give it 2-3 hours and the short-rib will be falling off the bone.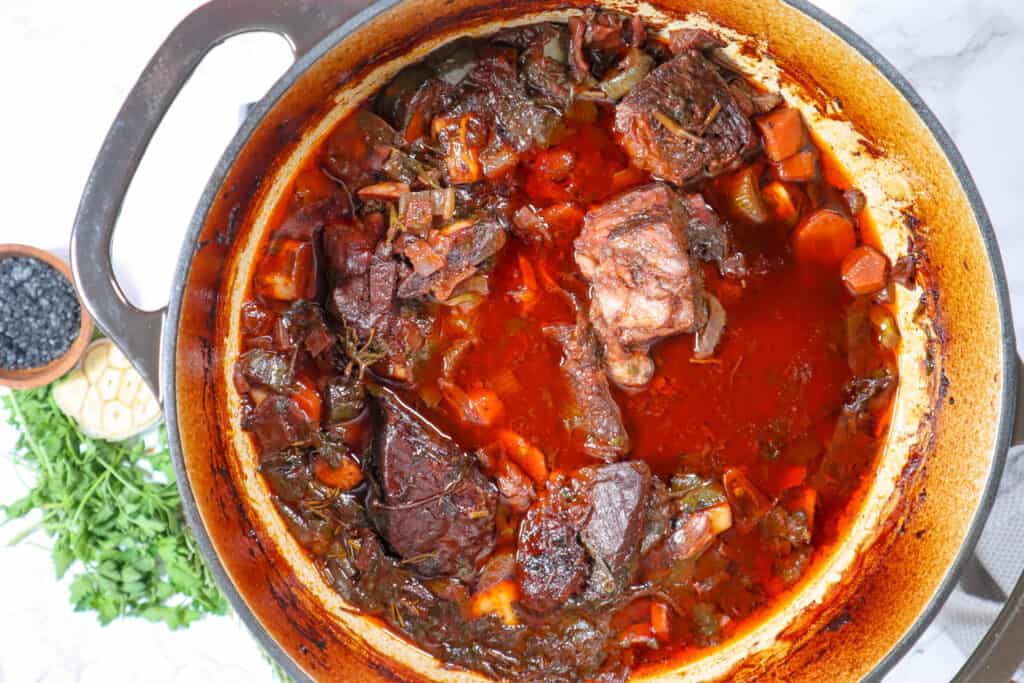 To Note: If you are cooking this dish in a Crockpot you would simply prepare all the ingredients on the stove, then transfer everything to the Crockpot and cook on high heat for 3-4 hours.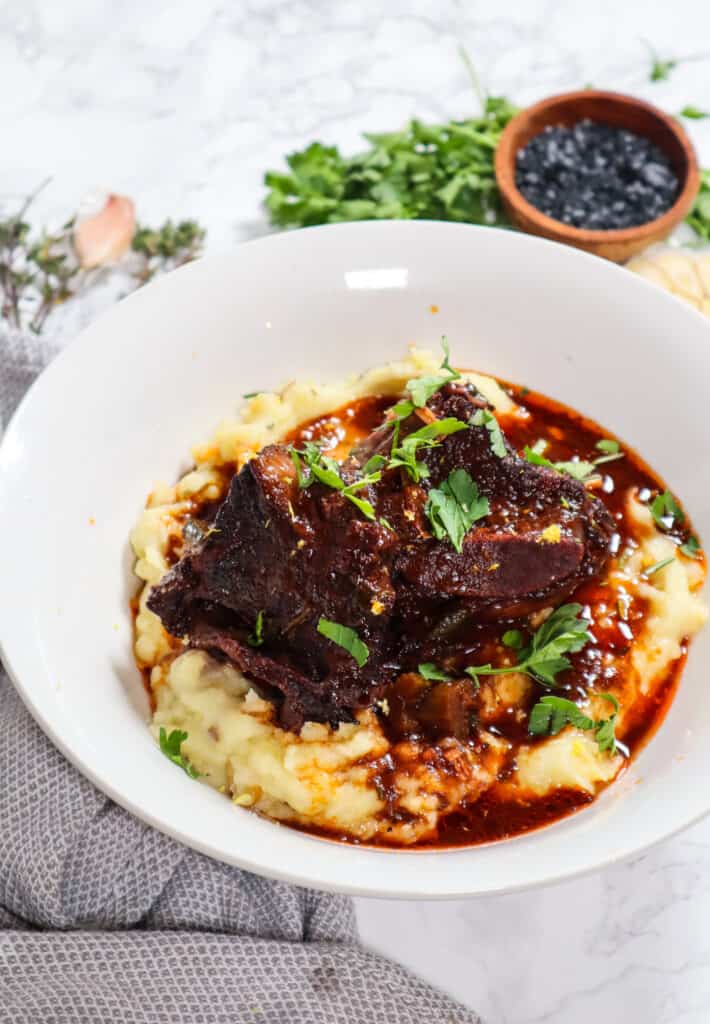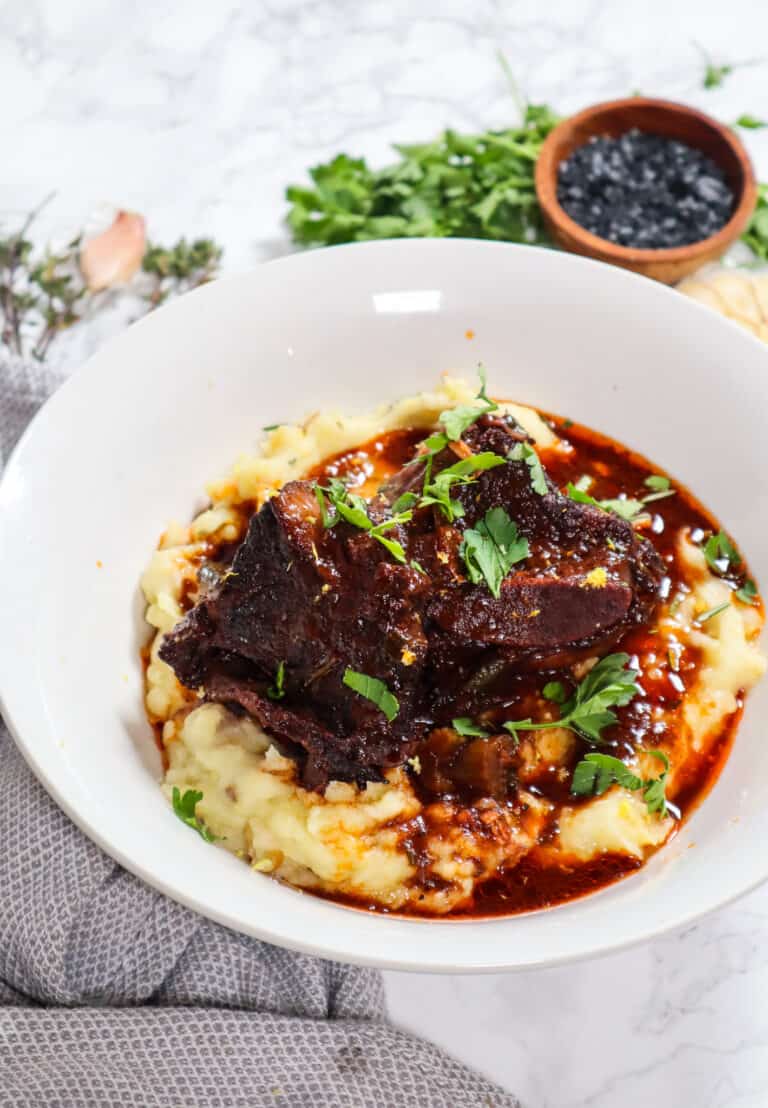 Delicious Red-Wine Braised Short Ribs
Served over creamy dairy-free mashed potatoes.