You'll love this easy Buttermilk Roasted Chicken recipe! The chicken is marinated in a simple, herbaceous buttermilk mixture and then roasted in the oven, giving you a perfectly golden, flavorful whole chicken!
If you love flavorful, easy poultry dishes, you will definitely want to try my Spatchcock Turkey or Herb Crusted Spatchcock Chicken next!
This content contains affiliate links, which helps goodfoodbaddie.com to provide free recipes and resources. As an Amazon Associate, I earn from qualifying purchases. Thank you for your support of the blog!
This is one of those recipes that once you try it once you will never be able to forget it and will want to make it again and again! I initially saw this buttermilk roasted chicken made years ago by Samin Nosrat on Salt, Heat, Acid, and Fat, a lovely cooking show. Since seeing it, I've made it dozens of times and have found ways to elevate the recipe and make it my own! 
Buttermilk Roasted Chicken Is 
Super easy to make
Tender, moist, and packed with flavor
Enough to feed a whole family
Pairs well with any side dish 
You may be asking yourself, "Does buttermilk make chicken moist?". The answer is a resounding yes! Because of its high acidity, buttermilk helps to tenderize the meat and keeps it nice, tender, and juicy when it is cooked.
How to Make Buttermilk Roasted Chicken
Making Buttermilk Roasted Chicken is SO EASY. This will soon become your favorite way to make a whole chicken. Buttermilk Roasted Chicken can be made in a few simple steps:
Marinade the chicken using my herbaceous buttermilk recipe

Allow the chicken to marinate for at least 12 hours 

When you are ready to enjoy it, transfer it into the oven and let the magic happen!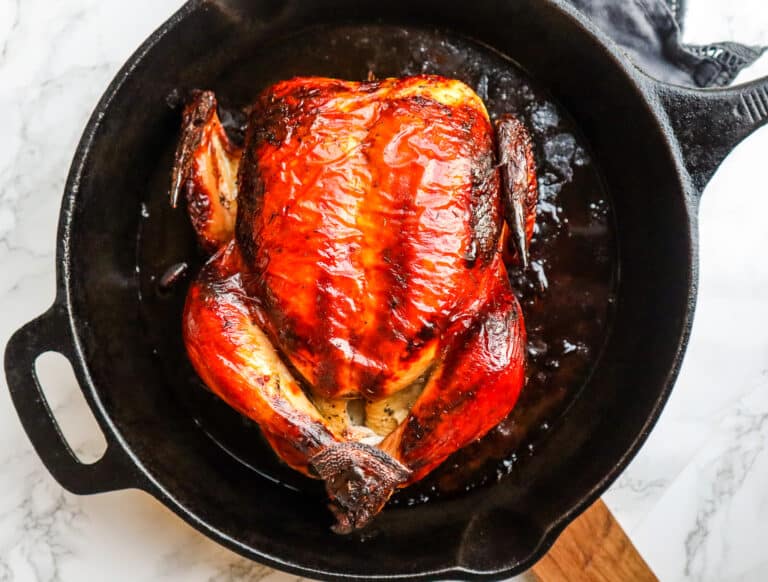 How to Make Buttermilk Marinade
The buttermilk helps tenderize the chicken so that it is moist and tender when it is done roasting. You can easily marinade the chicken in salt and buttermilk, but why skip on adding more mouthwatering flavor to your chicken!?
I've made this recipe more times than I can count and have done lots of experimenting with the flavors. The addition of garlic, fresh herbs, and spices takes this chicken over the top! I've made it three years in a row for  Thanksgiving Dinner and each year it is devoured in less than 10 minutes with everyone asking for more!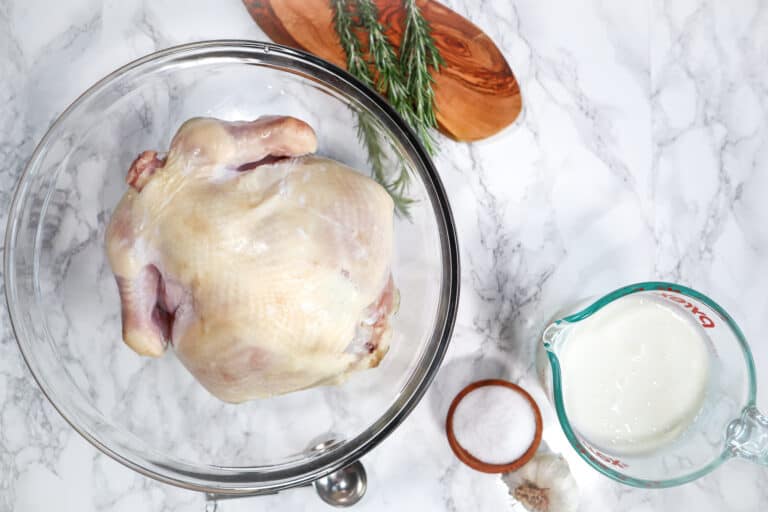 For The Buttermilk Marinade You Will Need: 
Buttermilk: For a dairy-free substitute, use non-dairy milk with lemon or vinegar added. (see recipe notes)
Salt: Do not skip the salt. It may seem like a lot of salt, but it is not. Along with the buttermilk, the salt helps to break down the meat which further helps to tenderize the meat. Do not worry, your chicken will not taste salty. 🙂
Rosemary: My favorite herb! It adds incredible depth and flavor to the chicken. It is very subtle but the taste is undeniably good!
Garlic: And lots of it! The garlic helps to make this chicken even more rich in flavor. 
Herbs de Provence: Not much is needed because the chicken gets its flavors primarily from other ingredients used. If you do not have Herbs de Provence, you can also use Italian Seasoning. (I've linked my favorite brands here: Herbs de Provence and Italian Seasoning)
How Long Can You Leave Chicken In Buttermilk?
How long to soak chicken in buttermilk
The longer you leave your chicken in the buttermilk, the more tender and flavorful the chicken will be when it is cooked. Always store your chicken in the fridge. The minimum time to soak the chicken in buttermilk is at least 12 hours. You can leave the chicken marinating in the fridge for up to two days.
Can You Soak Chicken In Milk Instead Of Buttermilk?
If you do not have buttermilk, you can make your own by adding lemon juice or vinegar to regular milk. Simply add 1 tablespoon of lemon juice or vinegar (white vinegar or apple cider vinegar)per 8 ounces of milk.
What is a Good Non-dairy Substitute for Buttermilk?
For a non-dairy buttermilk substitution, simply use your favorite non-dairy milk and add lemon juice or vinegar. It is best to use unflavored non-dairy milk like unsweetened almond milk or soy milk. Add 1 tablespoons of Lemon Juice or Vinegar (white vinegar or apple cider vinegar) per cup of milk.
Tips To Making The Best Buttermilk Roasted Chicken
Tip 1: Once the chicken has been marinating for at least 12 hours, the chicken is ready for roasting. When you remove the chicken from the marinade take a paper towel and remove any of the excess buttermilk. Some people have asked, "Do you wash buttermilk off chicken?", and the answer is no, it is not necessary. 
Tip 2: After removing any excess buttermilk, transfer the chicken to a wire rack. This is for 2 reasons:
So that any excess buttermilk can drip off of the chicken.

To give the chicken time to come to room temperature before roasting it in the oven. It is important that the chicken is room temperature so that it cooks evenly throughout the entire chicken. (Please do not take your chicken straight out of the fridge and put it in the oven.)
Tip 3: You can remove the chicken wing tips if you would like. The chicken wing tips generally stick up and burn while cooking, plus no one eats that part. I don't generally bother with removing the wing tips, but you most certainly can! 
Tip 4: Make sure to follow the recipe instructions and rotate the chicken to ensure even cooking and a beautiful, uniform golden crust.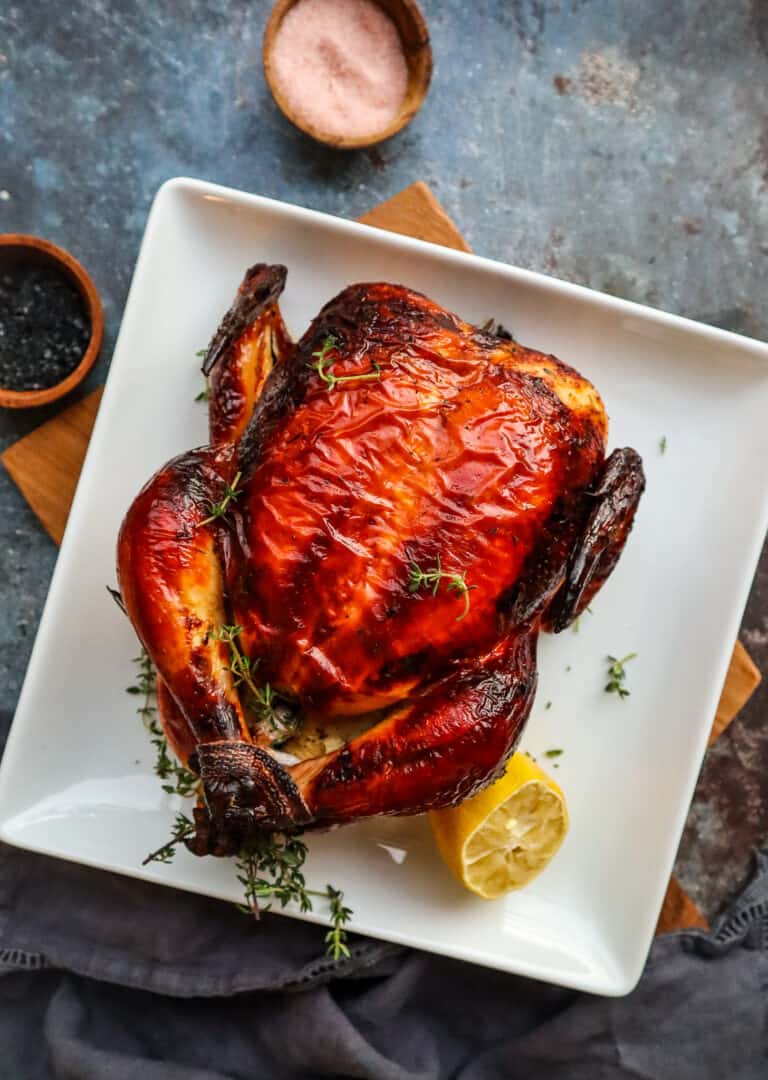 You can roast a whole chicken, or any other parts of the chicken. I find bone-in chicken works best for this buttermilk roasted chicken recipe. However, you can also roast chicken breast or tenders if you'd like! 

If you dont want to roast your chicken, you can always coat the chicken with flour and fry the chicken to make classic buttermilk fried chicken. 

If you want to make this dairy-free, simply create your own non-dairy buttermilk by mixing non-dairy milk with an acid, like lemon or vinegar. 

You can roast your chicken with vegetables and potatoes to easily create an entire meal!
I hope you enjoy this Buttermilk Roasted Chicken Recipe!
Buttermilk Roasted Chicken
You'll love this easy flavorful Buttermilk Roasted Chicken recipe! The chicken marinates in a simple, herbaceous buttermilk mixture and then is roasted in the oven giving you a perfectly golden, flavorful whole chicken!
Print
Pin
Rate
Ingredients
1

Whole Chicken, 3 1/2 -4 pounds

4

tbsp

Sea Salt

2.5

cups

Buttermilk

6

Garlic Cloves

3

tbsp

Fresh Rosemary

1

tbsp

Italian Seasoning
Instructions
Season the chicken generously with salt, about 2 tbsp per side, and let it sit for 30 minutes. (The salt helps the chicken absorb the flavor and retain the moisture)

Stir 2 tablespoons sea salt into the buttermilk to dissolve. Place the chicken in a gallon-size resealable plastic bag and pour in the buttermilk.

Close the bag, massage the buttermilk all around the chicken, place on a rimmed plate, and refrigerate for 12 to 24 hours. Rotate the bag periodically (every 4-6 hours) to ensure every part of the chicken gets marinated.

Remove the chicken from the fridge an hour before you plan to cook it. Take the chicken out of the plastic bag and wipe off any excess buttermilk with a paper towel. Tightly tie together the legs with a piece of butcher's twine (or string). Place the chicken on a wire rack and allow the chicken to come to room temperature while any excess buttermilk drips off the chicken.

Heat the oven to 425°F degrees with a rack set in the center position.

Transfer the chicken into a cast iron or shallow roasting pan. If you want to add potatoes and vegetables, arrange them around the chicken.

Slide the pan to the back of the oven on the center rack. Rotate the pan so that the legs are facing the back left corner and the breast is pointing toward the center of the oven. Roast for 20 minutes.

After 20 minutes, the chicken should begin to brown. Lower the heat to 400°F and roast the chicken for an additional 10 minutes. Then, rotate the pan so the legs point towards the right corner of the oven and roast for 30 more minutes, or until the chicken is golden brown. The chicken is done when the juices run clear when cutting into the leg and an instant thermometer inserted into the thickest part reads 165°F.

Remove the chicken from the oven and let it rest for 10 minutes before carving.

Serve with your favorite side dishes and enjoy!
Notes
For non-dairy buttermilk, mix 1 tbsp lemon juice or white vinegar (or apple cider vinegar) per cup of non-dairy milk. (use unsweetened almond milk, hemp milk, or soy milk)
If you do not have buttermilk, you can make it by adding 1 tbsp white vinegar per 1 cup of whole milk. Let the mixture curdle at the top, then use. 
Store any leftover chicken in an airtight container for up to 5 days. 
You can also freeze any leftover chicken in an airtight container for up to 2 months. (slice the chicken first)
Nutrition