This easy sheet pan salmon with roasted asparagus, herb-crusted potatoes, and luscious avocado crema is perfect for a quick, healthy, filling meal that everyone will enjoy!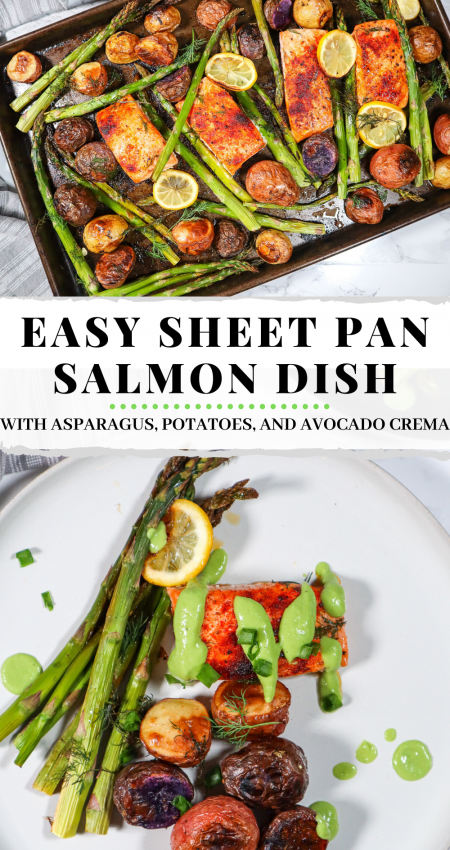 I love making delicious, elaborate dishes that can knock people's tastebud out of this world. However, I also enjoy a quick, simple meal that does the same, which is why one-pot or one-sheet pan meals are my absolute favorite!
I understand the sentiment of most: at the end of the day after completing a long day's worth of work the first thing we all want to do is relax and the last thing we want to do is spend hours in the kitchen. When I am feeling exhausted, but still want to eat a delicious, hearty, and HEALTHY meal, I love to whip up an easy one-pan dish. In this instance, the oven is my irreplaceable best friend. With one-pan dishes, all I have to do is warm up the oven, throw my food inside, maybe check on it or rotate it after a few, and relax and enjoy my favorite show until the food is finished.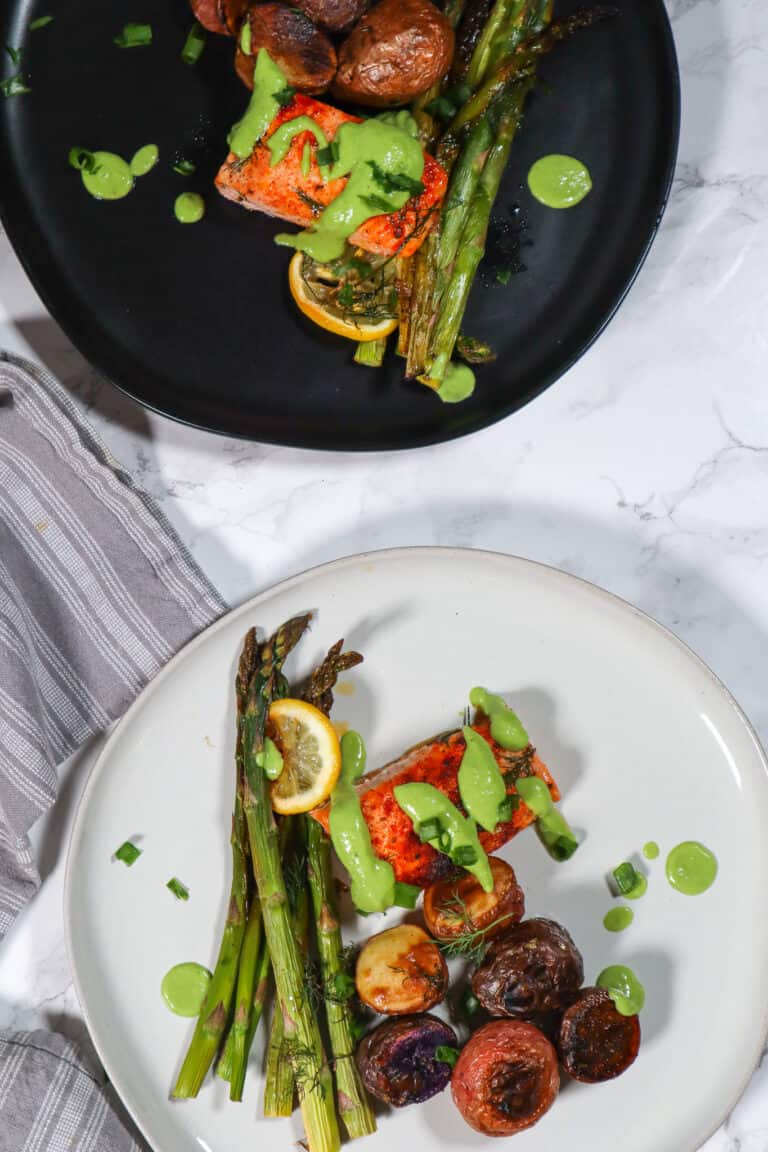 For this recipe you will need:
Salmon: Thick cuts of salmon work great and absorb the flavors of the herbs, lemon, and seasoning while developing the perfect crust and remaining tender and moist on the inside. A quick tip: I like to marinate my salmon (for at least 10 minutes) with coconut aminos and dash of salt before cooking it to produce a deep rich flavor.
Asparagus: Asparagus is perfect for this recipe because it cooks well with the salmon. It develops a caramelized, slightly crisp outer layer and remains soft on the inside as it absorbs the lemon and surrounding flavors.
Baby potatoes: I love using mutli-colored potatoes because it makes for a beautiful looking dish once cooked. Red potatoes also work well!
Seasonings: Salt and Pepper are the main seasonings here, along with a touch of smoked paprika to season the salmon
Fresh Herbs: I love using fresh herbs in my dishes! The flavor is powerful, deep, and just enhances the flavors of the dish. Fresh Rosemary is needed to season the potatoes and fresh dill is needed for the salmon.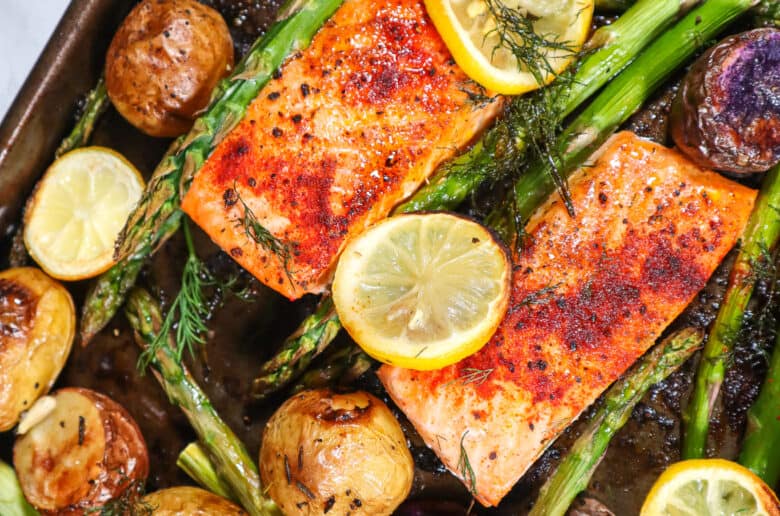 To make this dish even more flavorful, I drizzle my favorite Avocado Crema sauce on top!
Avocado Crema is a simple, yet incredibly luscious tantalizing sauce. Its the somewhat elevated version of guacamole but more sophisticated and versatile. I LITERALLY put my avocado crema sauce on everything: short-rib tacos with pineapple salsa, protein-packed salads with roasted vegetables, mushroom beet burgers with sweet potato fries, ON my sweet potato fries. Honestly, this sauce compliments everything, and especially this delicious, easy sheet pan salmon meal!
Avocado Crema takes only minutes to make as all you need are a few ingredients and a blender. In my recipe, I use fresh cilantro, jalapeno, and a few other ingredients and it turns out phenomenal every single time. I would highly recommend it for this salmon dish and you can find the recipe here.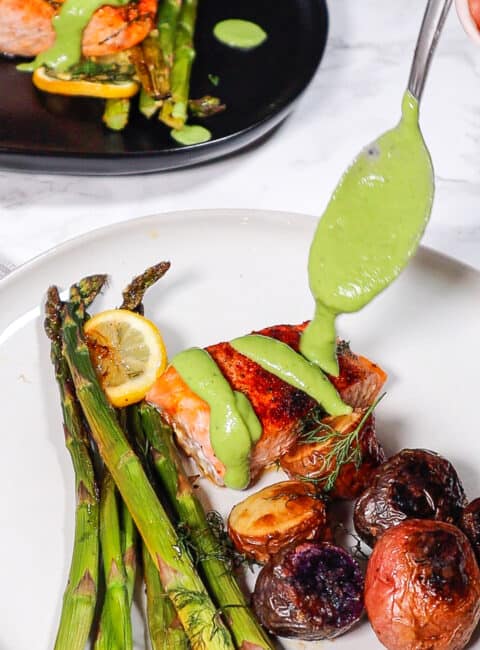 A few tips to make your Easy Sheet Pan Salmon Dish A Success:
First, cut the baby potatoes in half and roast in the oven for thirty minutes, then add the salmon and asparagus and finish the dish. Potatoes take longer to cook and you do not want to dry out the salmon while trying to cook the potatoes.
If you have coconut amino sauce (or soy sauce), marinate the salmon with a few teaspoons and season with salt, while the potatoes are in the oven. This helps the salmon yield the most flavor as it is cooked.
You can place the potatoes, salmon, and asparagus on separate areas of the sheet pan or mix them together — both ways cook perfectly.
If you have a silicone baking mat or aluminum foil, use this to line your sheet try for a quick, easy cleanup.
Here's a 1-minute video to show you just how easy it is to make this delicious sheet pan salmon dish:
Easy Sheet Pan Salmon with Asparagus and Potatoes
This easy sheet pan salmon with roasted asparagus, herb-crusted potatoes, and luscious avocado crema is perfect for a quick, healthy, filling meal that everyone will enjoy!
Print
Pin
Rate
Ingredients
4

Salmon Fillets

1

pound

Asparagus, trimmed

2

pounds

Baby Potatoes

2

Lemons, juiced

3

tbsp

Olive Oil

2

tbsp

Fresh Rosemary

3

tbsp

Fresh Dill

1

tsp

Smoked Paprika

1

tsp

Italian Seasoning

Salt and Pepper, to taste

1/2

Lemon, thinly sliced
Optional (to marinate salmon)
2

tbsp

Coconut Amino Sauce (or Soy Sauce)

~1/2

tsp

Sea Salt

2

cloves Garlic, Minced
Instructions
Preheat the oven to 400 degrees. Cut baby potatoes in half and arrange them on large sheet pan. Season the potatoes with salt, pepper, Italian seasoning, fresh rosemary, and 2 tbsp olive oil. Bake in preheated oven for 25-30 minutes. (If you cut potatoes into small 1/4 inch cubes, you can bake for shorter time, ~15 minutes).

While the potatoes are baking, you marinate the salmon with salt, fresh garlic, and coconut amino sauce (or soy sauce).

Remove the potatoes from the oven, arrange the salmon and asparagus on the sheet pan. Season the salmon with smoked paprika, lemon juice, salt, pepper, and fresh dill. Season the asparagus with salt and pepper. Drizzle 1 tablespoon of olive oil on the entire dish and place sliced lemon along salmon and asparagus. Bake in the oven for 20 minutes, or until the salmon is cooked through. (No more than 30 minutes)
Nutrition
Useful Products for this recipe
Disclaimer: Some of the links above are affiliate links, which pay me a small commission for my referral at no extra cost to you and helps me keep my site running! I'm sharing these products because I use them, trust them, and cannot recommend them enough. All thoughts and opinions are 100% my own.