Over easy eggs are gently cooked on both sides for a deliciously gooey, golden yolk. Learn how to make perfect over easy eggs each time with this simple step-by-step guide that details everything from what pan to use to which ingredients to select. (This recipe is naturally gluten-free.)
Once you have perfected eggs over easy, learn how to make over medium eggs next.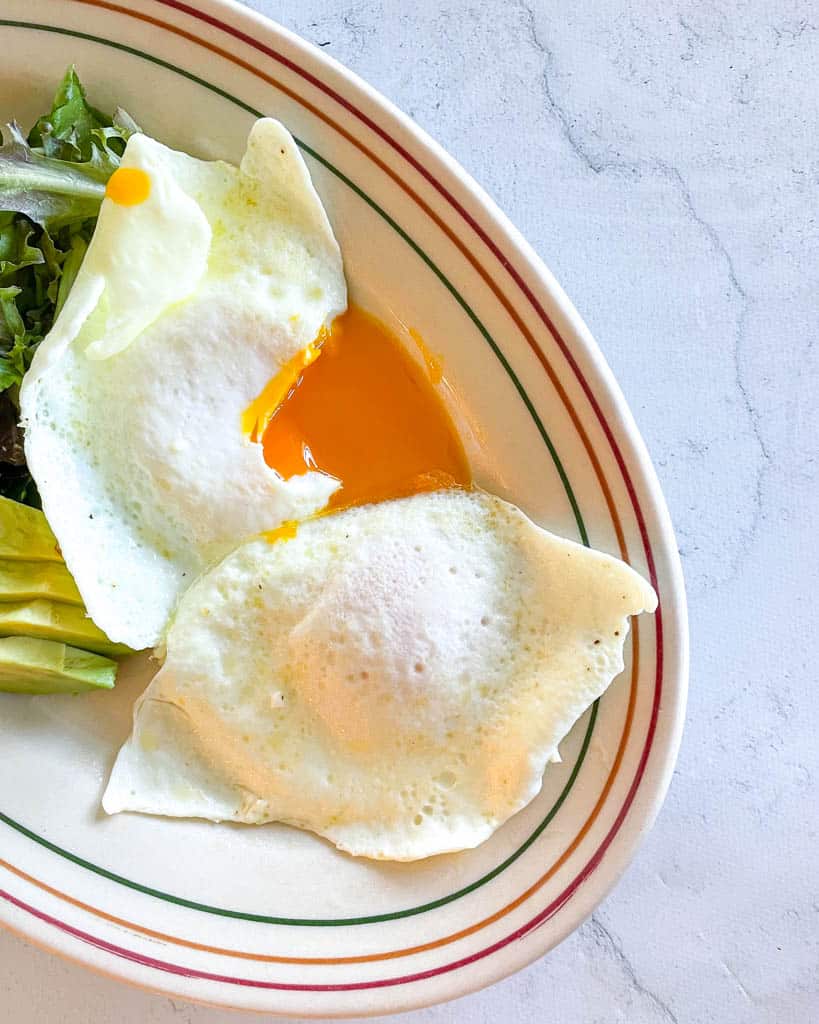 Over easy eggs is a tasty way to begin the morning and a welcome addition to some of the best meals. The bright yolk is rich in flavor and nutrients so it adds to anything it is paired with. Figuring out how to make perfectly firm egg whites while keeping a runny yolk intact may seem tricky but with this guide, you are on well on your way to making the best over easy eggs every time!
Reasons This Over Easy Eggs Recipe Works
Better than restaurant eggs! Never get an incorrect order again. Make them at home so they are cooked just how you like them.
A healthy choice! One large egg is packed with over 6 grams of protein and can improve cholesterol levels.
Quick and easy! Make them with just a few ingredients in less than 5 minutes.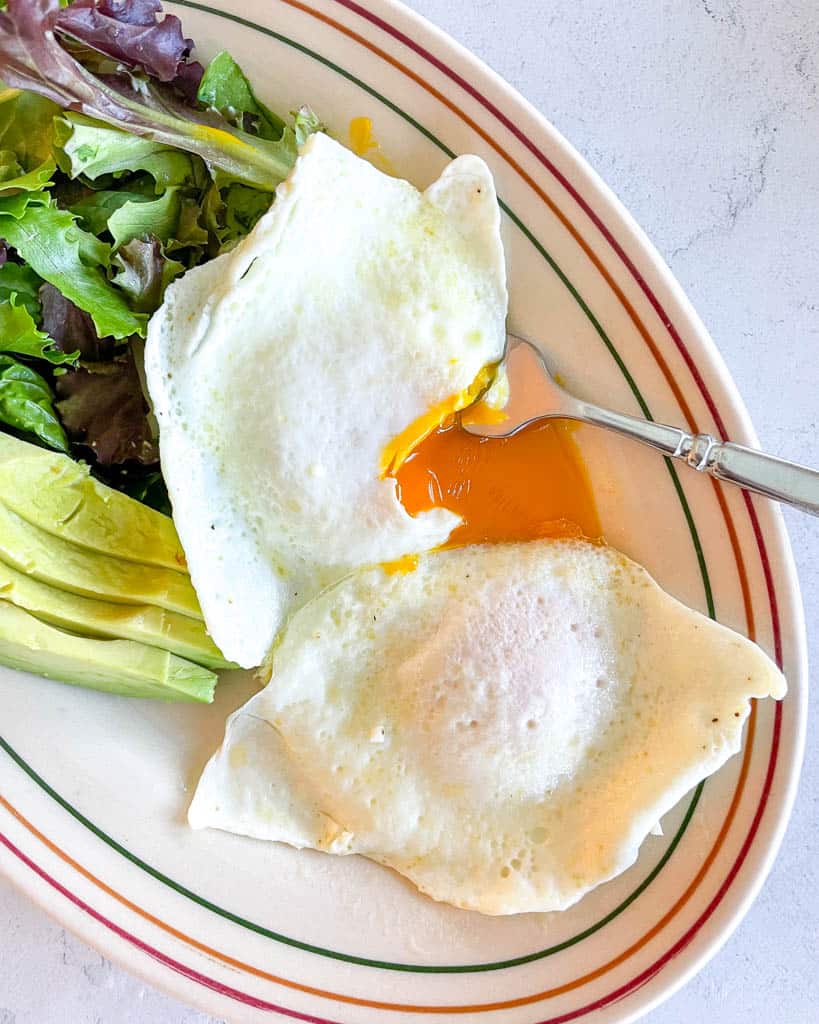 What Are Over Easy Eggs?
Over easy eggs are flipped and cooked on both sides. "Easy" references how done the yolk is. The yolk remains wet and runny but the whites surrounding it are completely solid. The eggs are flipped once to allow the whites to cook completely.
Four Types of Fried Eggs
Sunny Side Up: Fried yolk up, without flipping. The yolk is runny with the whites barely set.
Over-Easy: Flipped and the yolk remains runny.
Over-Medium: Flipped and the yolk is slightly runny.
Over-Hard: Flipped and the yolk is fully cooked.
Tools Needed
Eggs are simple but if you are not using the right equipment, you could be left with a burnt, sticky mess. To fry over-easy egg you will need:
An eight or 10-inch non-stick pan or skillet: This is the ideal size pan to cook one or two eggs at a time. Since it is a nonstick pan, you do not need as much butter. They will slide off the pan and onto a plate with ease. If you do not have a non-stick frying pan, use a well-coated cast iron skillet.
A wide, flat spatula: In order to easily scoop and flip, you need a wider spatula. Center the egg on the spatula so it does not break.
Ingredients You'll Need
Egg: The best-tasting ones are local, organic, or cage-free. If you're cooking on a budget, just make sure they are fresh. Fresh eggs (less than a week old) look and taste better.
Butter: This is certainly the tastiest option and a classic choice but you can swap it for oil instead.
Salt and Pepper: to taste.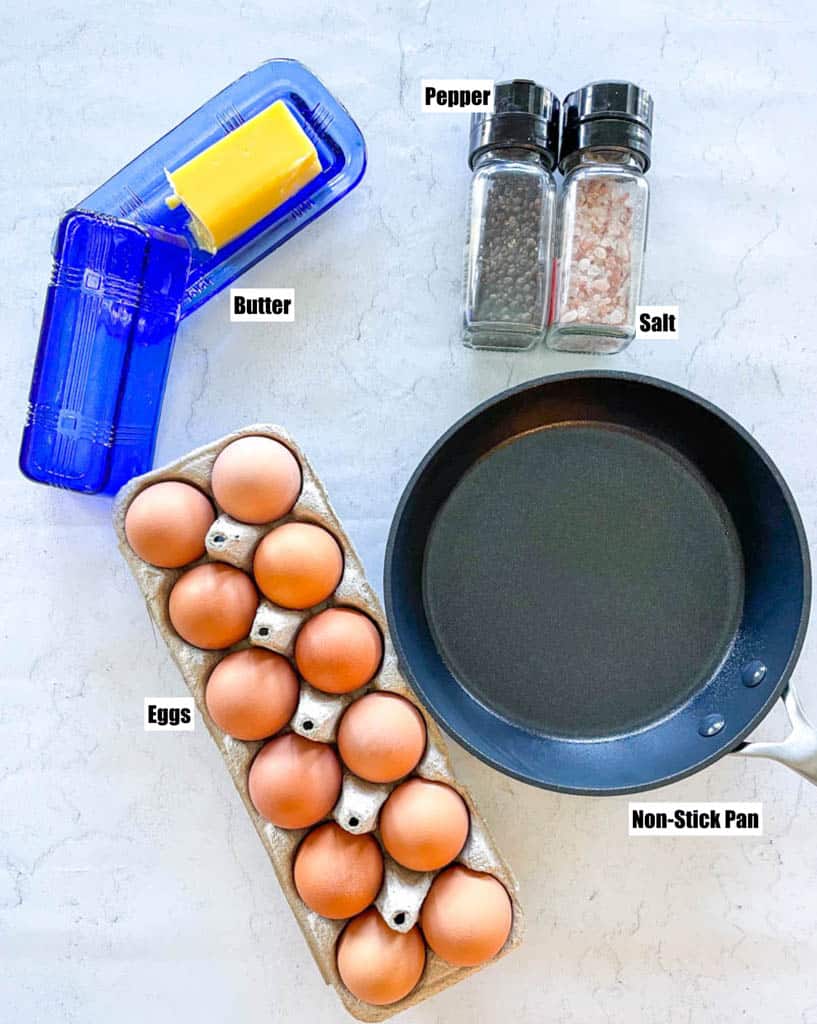 How to Make Over Easy Eggs
MELT BUTTER, ADD EGGS & SEASON. In a non-stick skillet over medium-low heat, melt butter. Once the butter has melted, crack 1 or 2 eggs into the pan. Season with sea salt and freshly ground black pepper.
COOK & FLIP. Let it cook for 2 minutes. You want the whites to be firm, but the yolk is still runny. Then use a spatula to gently flip them and cook for 30 seconds.
PLATE. Gently slide the eggs out of the pan and place them on toast or a plate. The yolk should runny with fully cooked egg whites.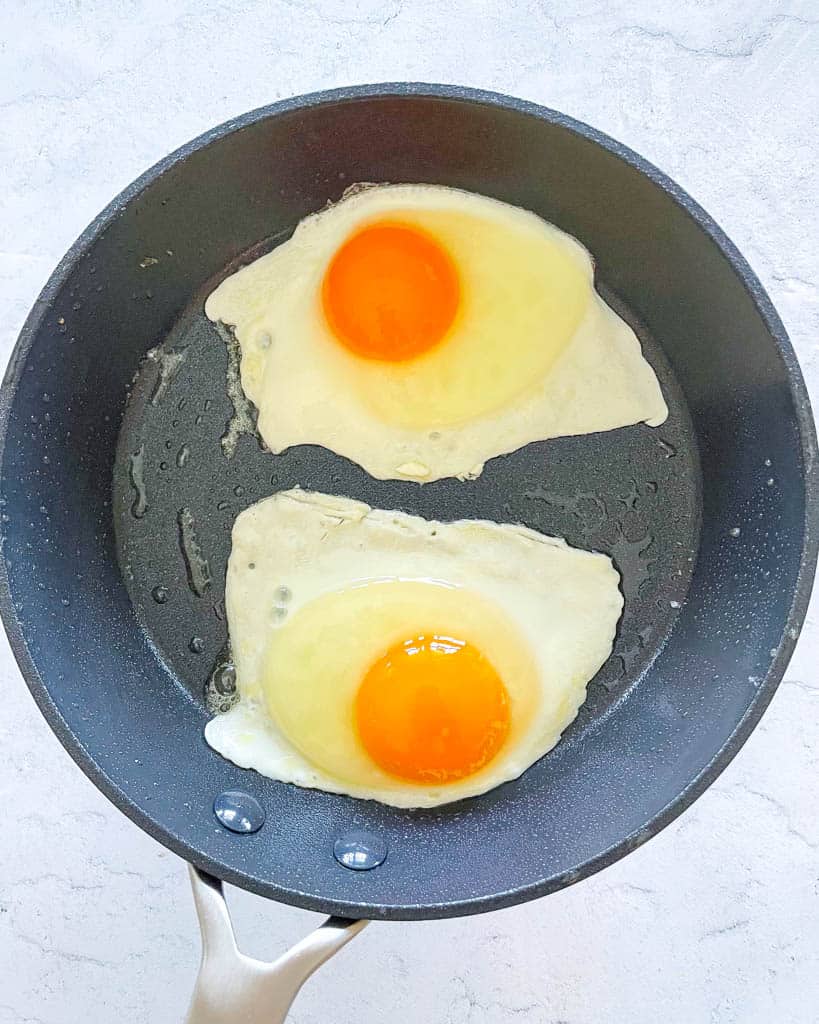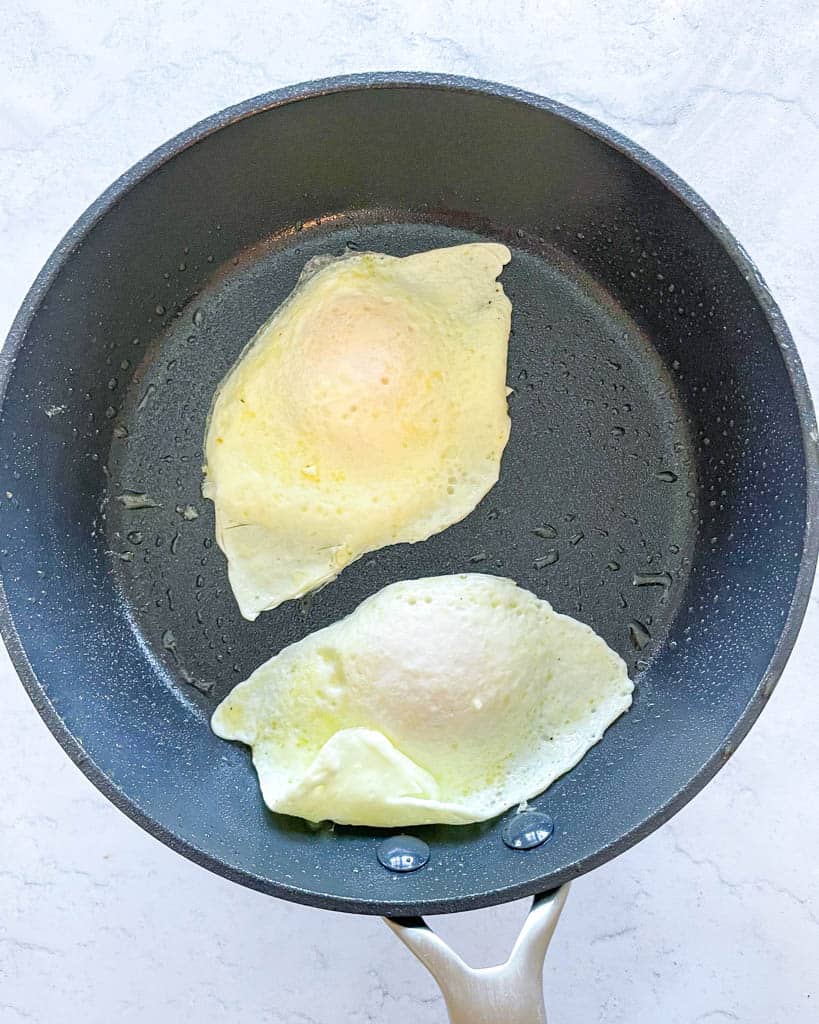 Tips To Nail the Recipe
Fry over low heat so the whites gradually set and the yolk does not cook too quickly.
The cook time may vary depending on the pan and ingredients. The best way to determine when they need to be flipped or are done is to check for visual cues.
Cook 1-2 eggs at a time in order to avoid overcrowding the pan.
Ways to Serve Over Easy Eggs
Eggs can always be enjoyed as a standalone meal but they taste delicious when paired with other foods. Here are some ideas:
FAQs
When do you flip over easy eggs?
Wait until almost all the whites are cooked and set. They are set when they go from clear to opaque.
Can I eat over easy eggs while pregnant?
Runny yolks are not recommended for pregnant people due to their weaker immune systems.
What is the difference between sunny side and over easy?
You do not flip sunny-side eggs. The whites are also still a bit runny. Whereas, over easy eggs are flipped and the whites are fully cooked.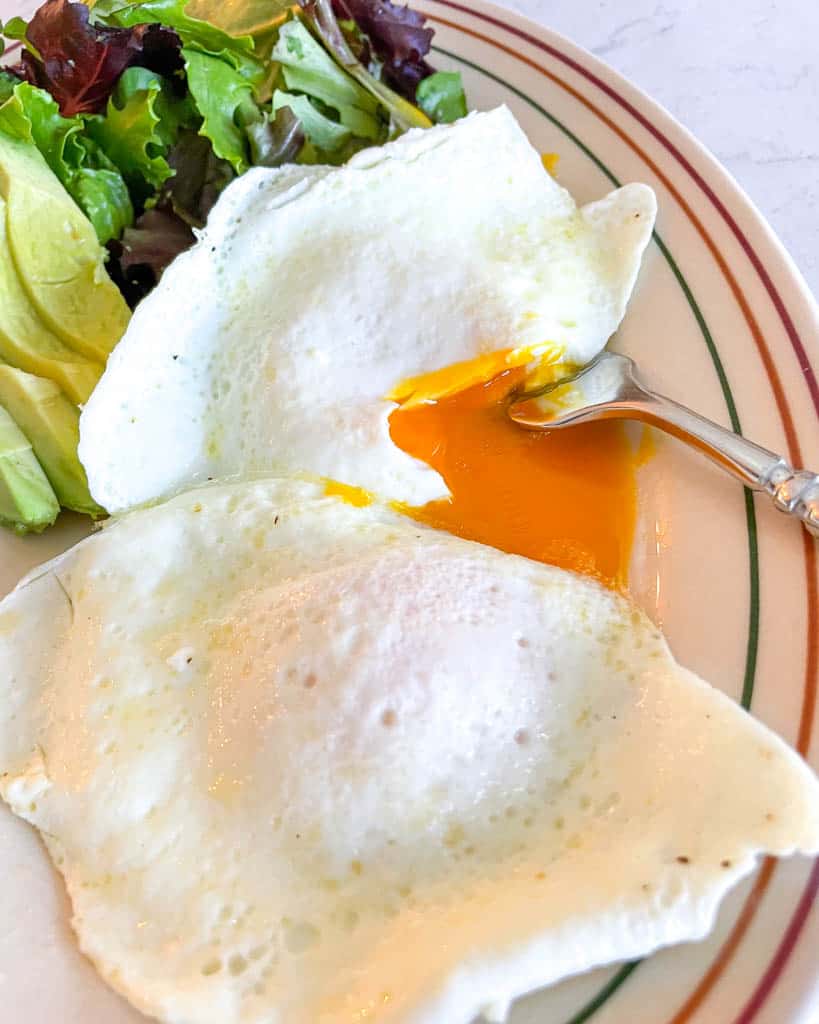 I Hope You Enjoy This Recipe!
If you try the recipe, don't forget to rate the recipe and let me know what you think in the comments. Leave a quick review & star rating ★ below! Take pictures, tag #goodfoodbaddie, and share them with me on Instagram, Facebook, and Pinterest! I love seeing my recipes come to life in your kitchen.
More Breakfast Egg Recipes To Try!