Can you believe that you can have this incredibly delicious meal with authentic Jamaican flavors made and ready to enjoy in less than 30 minutes!?
Jerk Salmon Bowl with Rice, Beans and Mango Salsa
What is the best fish to jerk?
Any firm fish like cod, whiting, halibut, salmon works perfectly! Shrimp is great too! You'll want to rub the jerk marinade or seasoning into the flesh so the fish absorbs the flavor!
What is jerk sauce made of?
Jerk sauce ingredients
Jerk sauce is typically made of allspice, nutmeg, soy sauce thyme, scotch bonnet peppers, brown sugar, ginger, cloves, and salt. As straightforward as the ingredients are, jerk seasoning is anything but! It's spicy, salty, sweet, zesty, and literally reminiscent of Jamaica! 
So, as much as I LOVE Jamaican food (literally my first love), I have never made Jerk seasoning from scratch. One day I will, but honestly, it's challenging because I know the best jerk sauce to buy!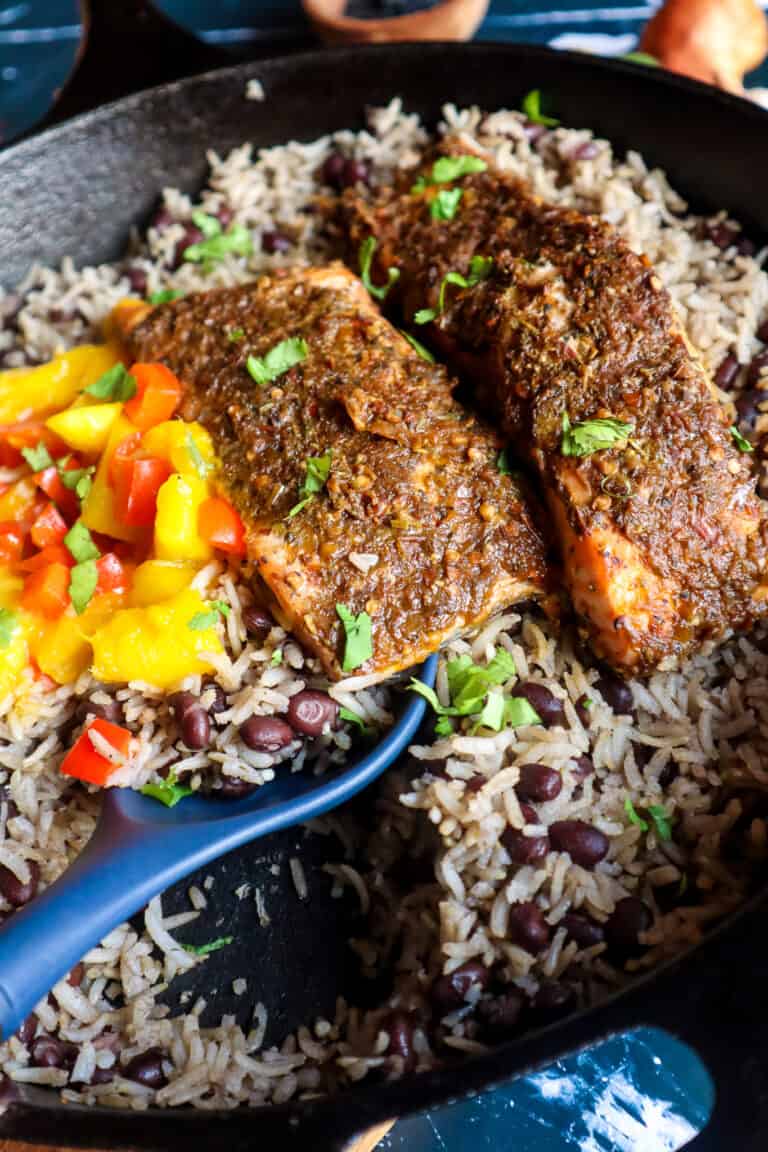 There are times where I deeply crave jerk seasoning and anything jerk, whether it's jerk chicken, shrimp, or jerk salmon and veggies.
Growing up in Maryland, there are AMAZING Caribbean restaurants around almost every corner with the most unbelievably delicious food —my mouth is watering just thinking about it! AND, if you didn't live near a bomb Caribbean restaurant, there was Grace Jerk Seasoning in EVERY grocery store. Grace is the best jerk seasoning you can buy!!
Needless to say, I was devastated when I could not find it in the grocery stores in Los Angeles. I've been living here for five years and I've finally come across Grace seasoning!! So, of course, I had to share this amazing Jerk Salmon a recipe with you!
If you don't have Grace Seasoning at your local grocery store, you can purchase it here: Jerk Seasoning Mild or Jerk Seasoning Hot.
So since we have the Grace Seasoning, making the jerk salmon is super easy! I like to marinate my salmon early in the day and put it in the fridge to allow the flavors to seep deep into the fish. A little Grace Jerk Seasoning goes a long way! You'll only need a few teaspoons to season each of the salmon fillets.
Mango salsa is a simple, flavorful salsa that pairs perfectly with the jerk seasoning. I love pairing mango salsa with complex spicy flavors because it's sweet, tanginess elevates the entire composition of the dish!
Making mango salsa takes only 5 minutes! You simply chop the ingredients and mix everything together. You can check out my quick video of how to make mango salsa below.
If you make this Jerk Salmon Bowl with Rice, Beans, and Mango Salsa, don't forget to rate the recipe and let me know what you think in the comments below! Take pictures, tag #goodfoodbaddie, and share it with me on Instagram! I love hearing from you! 
Easy Jerk Salmon Bowl with Rice, Beans, and Mango Salsa
This easy jerk salmon bowl is filled with rice and beans, topped with mango salsa, and packed with authentic Jamaican flavors! It's a delicious 30-minute dish, perfect for a flavorful weeknight meal!
Print
Pin
Rate
Ingredients
1

lb

Wild Caught Salmon Filet

2

tbsp

Grace Jerk Seasoning
Rice and Beans
2

cups

Cooked Brown Rice

1/4

Red Onion, diced

1

tsp

Cumin

1

tbsp

Cooking Oil

1/4

tsp

Sea salt

1

12 ounce can black beans, rinsed and drained
Mango Salsa
2

ripe Mangos

1/4

Red Onion, diced

1

Jalapeno, diced

1/2

Red Pepper, chopped

1/3

cup

Cilantro, chopped

1

Lime, juiced

1/4

tsp

Smoked Paprika (optional)

Pinch of Salt
Instructions
Rub the salmon with the Grace Jerk Seasoning. If you have pieces, divide the sauce evenly between each piece. (You can also rub the marinade on the skin as well) If time permits, let the salmon marinate in the sauce for at least 30 minutes before cooking.

In an oven-safe dish with a lid, or covered with foil, place the salmon in the preheated oven. Bake the salmon for 15 minutes.

Remove the lid or cover and turn the oven settings to broil. Broil the salmon for 5 minutes to achieve a golden, slightly crisp crust.

In a large skillet, add the cooking oil over medium heat. Then, add the onion and saute for 2-3 minutes, or until translucent. Add the rice, beans, and seasonings and cook for an additional 5 minutes.

Combine the ingredients for the mango salsa in a small bowl.

Now that all the layers of the salmon bowl are complete, create your bowl by layering the rice and beans, salmon, and salsa. Enjoy!
Notes
I prefer to use skinless salmon so that I can put the marinade on each side and the flavor seeps through the entire salmon. 
If you don't have Grace Seasoning at your local grocery store, you can purchase it here: Jerk Seasoning Mild or Jerk Seasoning Hot.
You can store any leftovers in an airtight container in the fridge for up to 3 days. 
Nutrition
This content contains affiliate links, which helps goodfoodbaddie.com to provide free recipes and resources. As an Amazon Associate, I earn from qualifying purchases. Thank you for your support of the blog!
Looking for more salmon recipe to try? Try these!