Can you believe how easy it easy to make granola at home!? With Less than 10 ingredients and only 30 minutes, you can have your own homemade maple granola! It's packed with tons of nutrients, omega3s, and 8g of Protein per serving! Its Gluten-Free, Refined Sugar-Free, Dairy-Free, and Vegan!
If you love easy homemade granola recipes, you'll love my Honey Almond Granola and Healthy Chocolate Granola!
This granola recipe is one of my all-time favorites! It's perfectly sweetened with maple syrup, incredibly nutritious thanks to the chia seeds, hemp seeds, and oats, and it's perfect for breakfast or as a quick healthy snack!
The fact that this granola recipe is SUPER easy to make and doesn't recipe a laundry list of ingredients, easily makes this the best granola recipe out there!
Honestly, once you start making homemade granola, you'll never by store brought granola again —trust me, I sure haven't!
There are many reasons why you'll love this healthy homemade Maple Granola Recipe
Of course, because it is

super easy

to make!

It's the perfect amount of sweetness and completely refined sugar-free. Pure maple syrup gives the granola the most pleasant flavor.

It is gluten-free! No more searching the grocery store aisles for a decent

healthy

gluten-free cereal!

It's

packed with 8g of protein per serving

plus tons of calcium, fiber, omega3s, and antioxidants!
Maple Granola Recipe Ingredients:
Oats
You'll need Old-fashioned oats aka Rolled Oats. Make sure to use certified gluten-free oats like this one, if you would like this recipe to be gluten-free.
Nuts and/or Seeds
I use pecans in this recipe, but you can use whatever nuts you like. Shaved almonds and walnuts are also great options! The Chia Seeds provide an extra nutrient boost. They are packed with protein, calcium, fiber, and potassium! You can also throw in hemp seeds to make this granola even more nutritious! (Just add ¼ cup!)
Natural Sweetener
Maple Syrup will give the granola the perfect sweetness. You can also use date syrup or honey (for a healthy, non-vegan option)
Oil
The coconut oil helps to bind the ingredients and gives the granola a nice crispy crunchy texture. I like and always use coconut oil, but you can also use neutral-tasting oil like grapeseed or avocado oil.
Spices and Such
You'll need cinnamon, a pinch of salt, and vanilla extract. I love this combination, especially paired with the maple syrup — SO GOOD!
Optional Mix-ins
The mix-ins are how you add your own unique flair to the granola! 
Try

Shredded Coconut

: Add them during the second half of baking to get the delicious toasted coconut pieces. 

You can add chocolate! (To keep this recipe vegan, use vegan chocolate, like

Hu Simple Chocolate

–my favorite!)

Dried Fruits are the perfect add-ins: Add dried cranberries, apricots, or blueberries once the granola has completely cooled.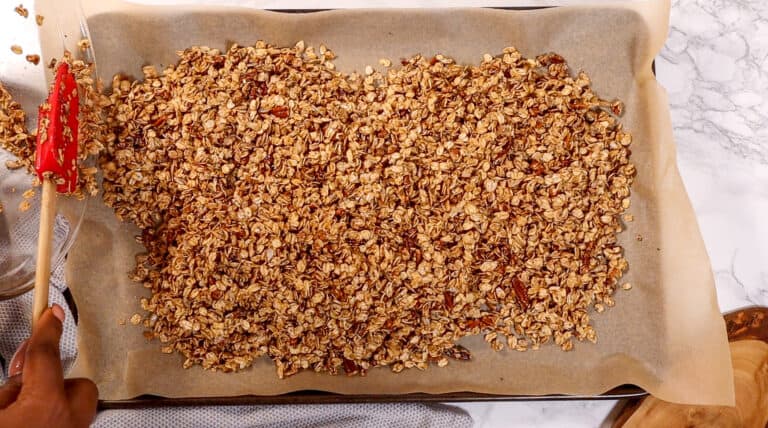 Tips to make the best granola
Line the pan with parchment paper:

Not only does this help for easy cleanup, but it also helps the oats from burning and sticking to the pan!

Don't skip mixing the granola halfway through:

You mix the granola halfway through for two reasons: to prevent it from burning (no one likes the taste of burnt granola) and,, after mixing, you will smooth the granola down to create an even layer for the remainder of the baking process. 

Let the granola cool completely:

As the granola cools, those nice granola clusters we love will form. Let the cooling process work its magic!
Whether you're looking for an easy granola recipe for yogurt, or a maple pecan granola recipe for snacking, or simply a chunky granola recipe, this is it!
If you make this Protein-Packed Maple Granola Recipe, don't forget to rate the recipe and let me know what you think in the comments below! Take pictures, tag #goodfoodbaddie, and share it with me on Instagram! I love hearing from you!
Protein-Packed Maple Granola Recipe | Gluten-Free
With Less than 10 ingredients and only 30 minutes, you can have your own homemade granola! It's packed with tons of nutrients, omega3s, and 19g of Protein per serving! Its Gluten-Free, Refined Sugar-Free, Dairy-Free, and Vegan!
Print
Pin
Rate
Ingredients
4

cups

Rolled Oats

1

cup

Pecans

1/2

cup

Hulled Sunflower Seeds

1/4

cup

Chia Seeds

1/2

cup

Maple Syrup

1/4

cup

Coconut Oil, melted

1

tsp

Vanilla

3

tsp

Cinnamon

1/4

tsp

Sea Salt

1/2

cup

Coconut Shavings
Instructions
Preheat the oven to 300°F and line a baking sheet with parchment paper; set aside.

Mix together all of the ingredients (except coconut shavings), starting with the dry ingredients and moving to the liquid ingredients. Stir to make sure all of the oats are coated.

Bake for 10 minutes, then remove from the oven and thoroughly stir the granola. Use a spatula to create an even layer. Then, place the granola back in the oven to bake for an additional 10 minutes

Remove the granola fromthe oven, add coconut shavings, and mix thoroughly. Press the granola into an even layer and bake for an additional 5 minutes.

Remove the granola from the oven and allow it to cool for at least 15 minutes (the longer the better).

Enjoy with your favorite milk, yogurt, or ice cream! Store in an airtight conatiner for up to 2 weeks!
Notes
MAKE IT GLUTEN FREE: Be sure to use certified gluten-free oats that are processed in a gluten-free facility MAKE IT NUT FREE: Use seeds, like pepitas or sunflower seeds, instead of nuts. MAKE IT VEGAN: Use Maple Syrup or Date Syrup. (honey for non-vegan option) STORE IT: Granola can be stored in an airtight container at room temperature for up to 2 weeks.
Nutrition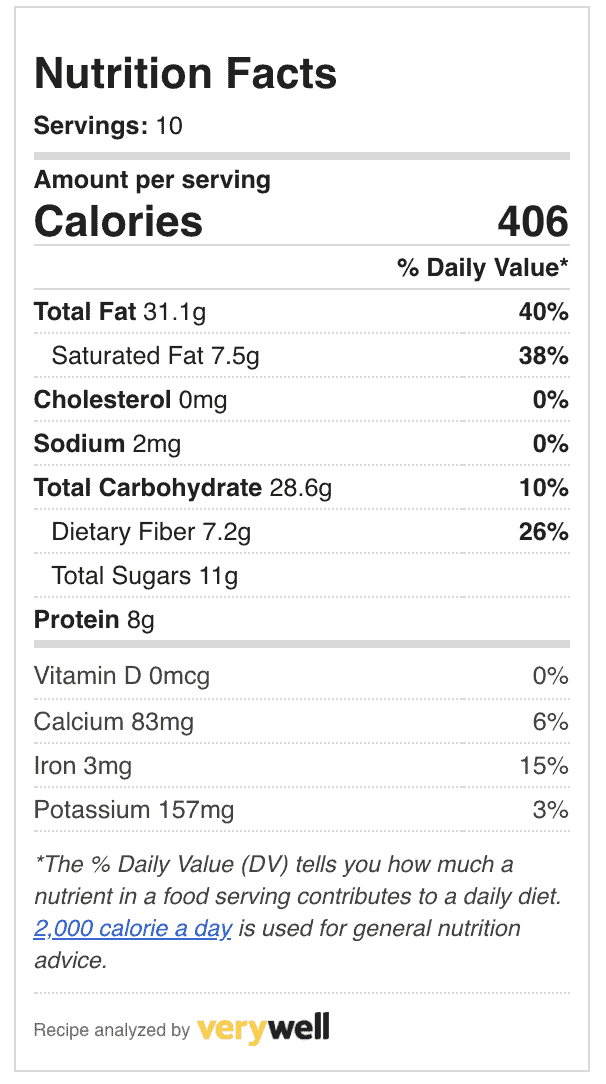 More Granola Recipes to Try!