One-Pot Coconut Curry with Blackened salmon is a flavorful, effortless dish! Make Perfectly seasoned blackened salmon submerged in a rich homemade coconut curry sauce, sprinkled with basil and served over rice. I promise, this dish will blow you away!
If you love salmon dishes, try my One-Pot Creamy Blackened Salmon with Mushrooms or 5-Ingredient Maple Ginger Glazed Salmon next!
Want an easy curry recipe? A curry recipe that can be made in minutes, instead of hours!?
Try this simple curry recipe. The curry sauce is completely vegan, which gives you the option to later add whichever vegetables or protein that you'd like! In this recipe, I've spiced it up and added Blackened Salmon to my curry sauce and it was EPIC.
How to Make Blackened Salmon?
Blackening salmon simply involves seasoning the salmon generously with a mixture of spices and then sauté it on each side until you get a delectable golden crust! It's so simple but packs a TON of mouthwatering flavor. I have blackening salmon down to a science now and I find it best when I make my own seasoning mixture.
Here's the seasoning blend I use to blacken my salmon:
1 tsp crushed black pepper
1 tsp Himalayan salt
2 tsp Italian seasoning
1.5 tsp chili powder
1 tsp dried oregano
1/2 tsp red crushed pepper
1 tsp smoked paprika
2 tsp garlic powder
1/2 tsp dried parsley
How do you make the perfect curry sauce?
Curry Sauce seems to be one of those intimidating foods, but it is actually super easy to make from scratch. Curry has become a staple in my household. It's my easy go-to, especially when I am having friends for dinner and I want something that will be incredibly satisfying but not ridiculously consuming to make.
What brings curry sauce to life are the aromatics: the garlic, ginger, and onion. Starting the sauce by caramelizing onions, adding savory garlic, and finishing with pungent ginger, is essential to creating the best curry sauce.
After preparing the aromatic, seasoning is the next key step. I keep it very simple with my seasonings for the curry, because curry seasoning has enough flavor on its own. How you prepare the curry seasoning is the most crucial step. After you sauté the onions, garlic, and ginger, you add the curry seasoning, along with dried ginger and turmeric, and you sauté it directly on the pan for 1-2 minutes. At this point, the aromas of the dish should have your place smelling incredible.
I also make my curry sauce Thai style by using coconut milk as the base for my sauce. I love the creamy, luscious taste of coconut in my sauce. It gives the curry sauce the perfect shade of yellow/orange and gives it a subtle, yet robust taste.
Optional add-ons to your Curry Sauce
Eggplant is a great addition!
I love eggplant and believe nothing is better than eggplant in curry sauce. If you like eggplant too, it is a wonderful addition to your sauce. I have tried multiple ways to prepare the eggplant, either cutting it into cubes and baking it for 25 minutes or sauté it on the pan with the aromatics for 10-15 minutes. Both ways work and turn out delicious in the curry. If you bake it, simply add it back after pouring in the broth and coconut milk.
Lemongrass is also great in curry.
To properly use lemongrass you must cut along the bottom 4 inches and peel the first couple layers before using. Then you can finely chop the lemongrass and add it to the aromatics, cooking it for 2-3 minutes. It will add a light citrusy flavor to the sauce.
Basil is a must!
I add basil after adding the coconut cream and broth and I save just a bit to sprinkle on top of the curry when it is finished. I add a ton of basil, simply because it makes the curry sauce taste oh so incredible.
You can add your favorite vegetables, fish, or meat to the curry. I would recommend par-cooking the meat or fish first so that it can finish cooking later in the sauce. (Par-cooking means to cook the food partially so that later it can finish cooking).
What to eat your curry dish with?
Now that you have this flavorsome sauce, what are you going to eat it with? Rice!
Coconut Curry goes extremely well over a bowl of basmati rice. However, let's say you are looking for a low-carb option, then cauliflower rice is perfect too! I show three different ways to make cauliflower rice in an easy to follow video tutorial.
I hope you enjoy this One-Pot Coconut Curry with Blackened Salmon!
If you try the recipe, don't forget to rate the recipe and let me know what you think in the comments. Leave a quick review & star rating ★ below! Take pictures, tag #goodfoodbaddie, and share them with me on Instagram, Facebook, and Pinterest! I love seeing my recipes come to life in your kitchen.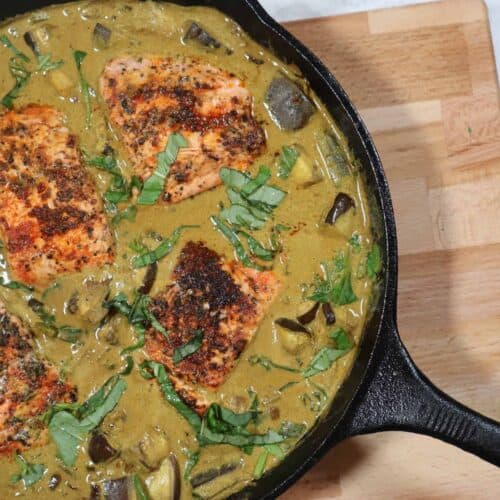 Coconut Curry with Blackened Salmon
Try this simple curry recipe. It is completely vegan, which gives you the option to later add whatever you like whether that is vegetables, fish, or meat.
Print
Pin
Rate
Ingredients
Blackening Seasoning
1

tsp

Crushed Black Pepper

1

tsp

Sea Salt

2

tsp

Italian Seasoning

1.5

tsp

Chili Powder

1

tsp

Oregano

1/2

tsp

Red Crushed Pepper

1

tsp

Paprika

2

tsp

Garlic Powder

1/2

tsp

Dried Parsley

1

tbsp

Olive Oil

1

tbsp

ghee, melted
Coconut Curry Sauce
1

Medium White Onion, diced

4

Cloves Garlic, minced

2

tbsp

Fresh Ginger, minced

1

Eggplant, cut into cubes

2.5

tbsp

Red Curry Powder

1

tsp

Turmeric Powder

1/4

tsp

Ground Ginger

1

tsp

Sea Salt

1/2

tsp

Pepper

2

tbsp

Coconut Oil, or preferred cooking oil

20

oz

Coconut Milk (full fat, canned)

1

cup

Vegetable Broth

1

cup

Fresh Spinach

1/3

cup

Fresh Basil

1.5

lb

Salmon, cut into 5 -6oz pieces
Optional Garnish
2

tbsp

Fresh Basil, chopped
Instructions
Prepare the Blackened Salmon
Season the salmon generously with the blackening seasoning. (If the opposite side is skin-less, season this side as well)

Over medium-high heat, add 1 tbsp ghee and cooking oil to a cast iron and then place salmon seasoning side down on the cast iron. Sauté the Salmon for 3-4 minutes on each side. Be sure not to move the salmon while it's cooking to allow the salmon to blacken properly. 


The salmon should have a slightly dark, golden-brown crust. Remove the salmon from the heat, transfer onto a plate, cover it with foil, and set aside for later.
Make The Coconut Curry
Using a cloth or paper towel, carefully wipe the cast iron clean of any remaining seasonings from the salmon. Lower the heat to medium heat.

Add 1 tbsp cooking oil to a pan and sauté chopped onions for 5 minutes, or until translucent. Then, add garlic and saute for 2-3 minutes. Add the ginger and saute for an additional 1-2 minutes.

If you choose to add lemongrass, add it after the ginger and saute for 2-3 minutes. If you choose to add eggplant, add it now and saute it for 10-15 minutes, or until golden brown

Next, add the curry powder, turmeric powder, and ginger powder to the cast iron and saute for 1-2 minutes while continuously stirring.

Slowly pour in the coconut milk while continuously stirring. Then, add the vegetable stock, basil, and eggplant. Stir to mix all the ingredients together.

Slowly add the salmon back into the curry sauce, turn the heat to low, and allow the mixture to simmer for 15-20 minutes. Add the spinach and cook for an additional 5 minutes.

Garnish the curry with the remaining basil. Serve over brown rice or cauliflower rice.
Notes
Nutrition:
Serving: 6
Fat: 25g
Protein 30.1g
Calories: 464
Tip: Serve over Brown Rice, Cauliflower Rice, Quinoa, or Mashed Potatoes.
If making in the oven, place in a pre-heated oven at 375° for 25 minutes. Once the eggplant is done, set aside for later use.
Nutrition