Have you ever had Blueberry Avocado Pancakes? Well, you are in for a treat! Blueberries and avocados are both nutrient-dense superfoods that taste incredible and together are the best flavor combination!
If you love cooking with avocado, you'll definitely want to try my Vegan Chocolate Avocado Bread next!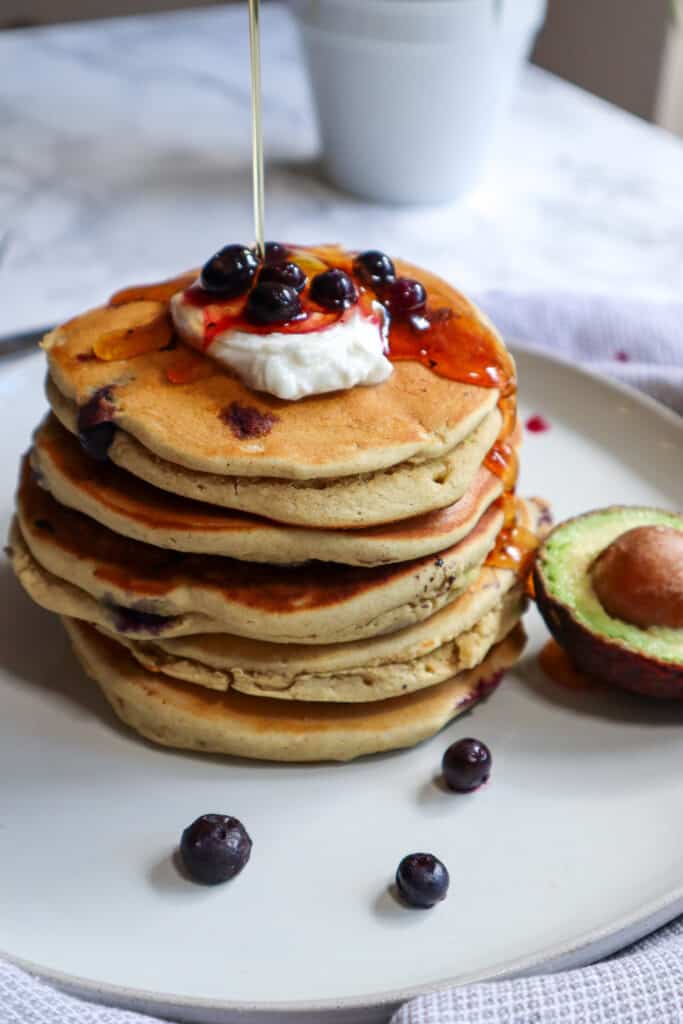 Let's Talk About Avocados!
Avocados are one of the most incredible superfoods.
They have about 20 vitamins & minerals in every serving, including potassium (which helps control blood pressure), lutein (which is good for your eyes) and folate (which is crucial for cell repair and during pregnancy). (1)
Avocados also are a good source of vitamins B, C and E, which helps your body fight off disease and infection, and fiber, which helps you feel full longer. (1)
Avocados are a great source of fat— the good fat! Monounsaturated fat, which aids in lowering bad cholesterol. (2)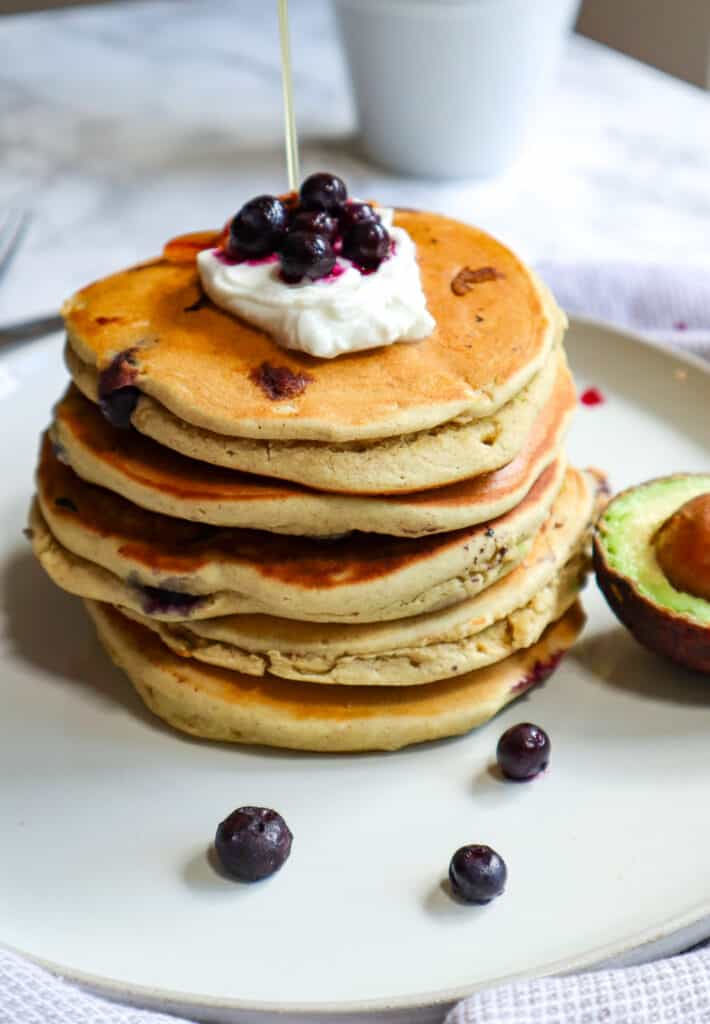 I literally put avocado on EVERYTHING! It's perfect as a topping for eggs, salads, chicken, wraps. Of course, it's amazing as a dip: guacamole or avocado hummus. And it's a great alternative for mayo; just spread avocado on your sandwich instead!
But, here's one dish that many people do not think to add avocados: PANCAKES!
Putting Avocados In Pancake Mix
Putting avocados in pancake mix is the best kept secret! Honestly, it's incredible! It makes the pancakes even more fluffy and loads it up with amazing nutrients. The avocado in the pancakes is hardly detectable; it has absolutely no taste. However, it does make for a creamier pancake batter and sometimes a cool green color (with the more avocado you use).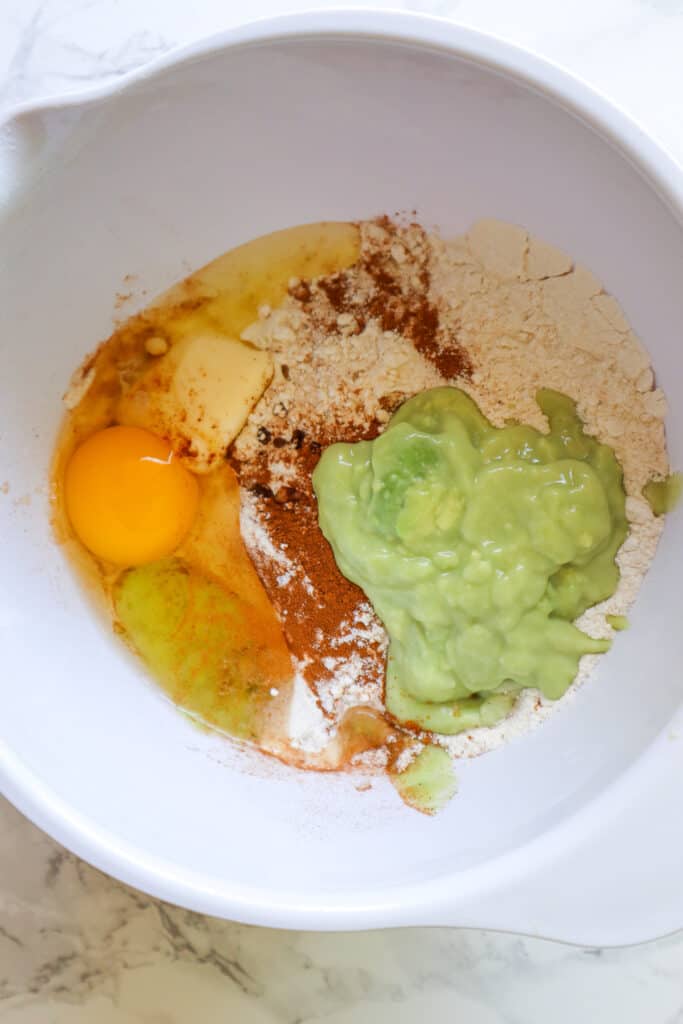 How to Make Blueberry Avocado Pancake Batter?
Making blueberry avocado pancakes is just as easy as making regular pancakes. The biggest difference is in the avocado, which you have to be sure to use a soft, ripe avocado.
Mix the dry ingredients together into a large bowl.
Add all of the wet ingredients (except the eggs) into the blender. Blend until smooth and then add the mixture to the dry ingredients along with the eggs.
Stir to combine, and now you have your avocado pancake batter. I like to add the blueberries in when I first pour the batter onto the pan.
When to add fruit to your pancake batter?
Some people like to add their fruit to the pancake batter. I find it best to add the fruit directly onto the pancake while it is cooking. Simply pour the batter onto a pan over medium-low heat. Then, add your fruit fillings while the first side is cooking. I've found that this is the best way to ensure you don't have gaping holes in your pancakes or damp fruit that leaves the surrounding pancake batter undone.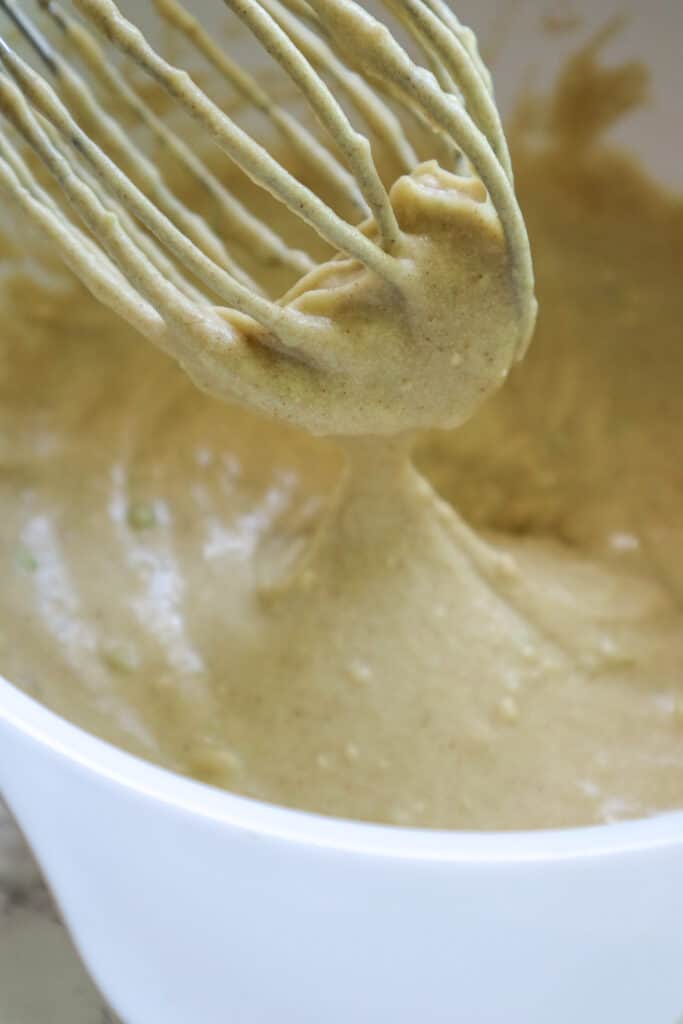 Toppings For Your Blueberry Avocado Pancakes
My favorite topping for these pancakes is simply a dollop of cashew yogurt (or Greek yogurt if you do not mind the dairy) and a tablespoon or two of maple syrup… MOUTHWATERING! It's an incredible combination.
You can also try:
Fresh Strawberries and Blueberries
Caramelized Apples
Sliced Almonds
Whipped Cream
Almond Butter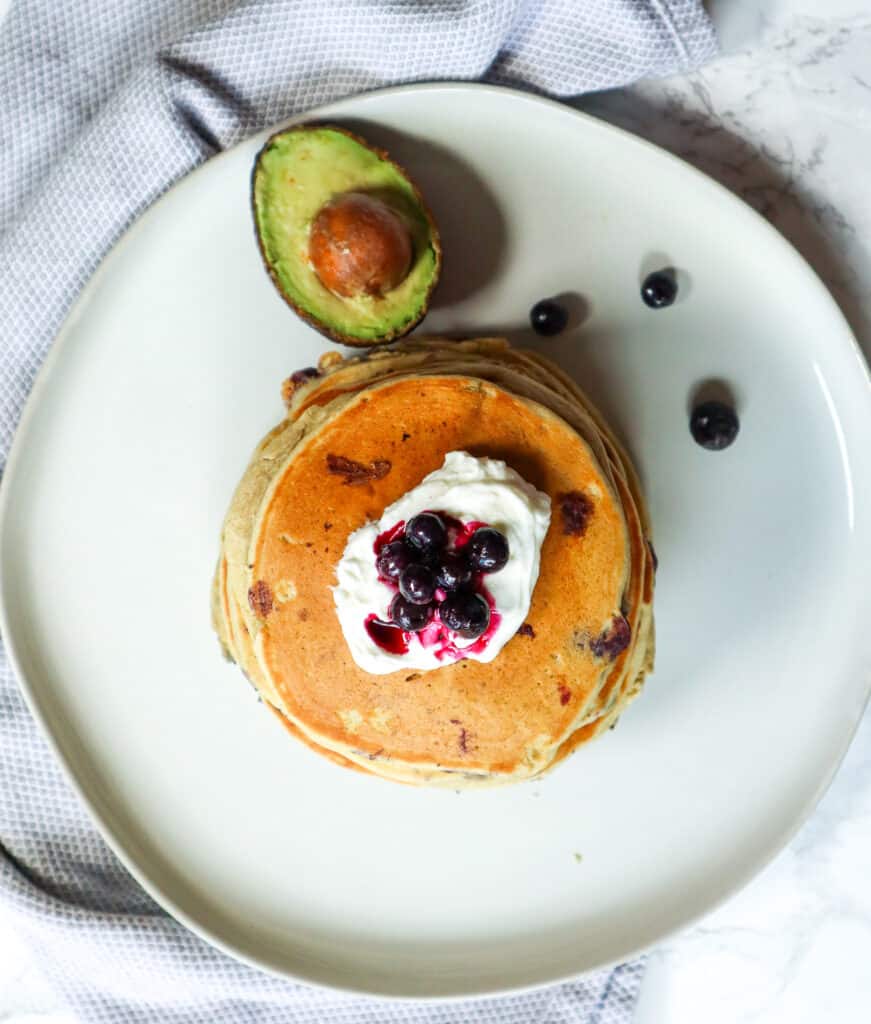 I Hope You Enjoy These Blueberry Avocado Pancakes!
If you make try the recipe, don't forget to rate it and let me know what you think in the comments below! Take pictures, tag #goodfoodbaddie, and share them with me on Instagram! I love hearing from you!
More Delicious Pancake Recipes To Try!
Apple Cinnamon Pancakes | Gluten-Free
Pumpkin Pancakes | Vegan + Gluten-Free
Red Beet Velvet Pancakes | Vegan + Gluten-Free
Mini Pancake Cereal | Gluten-Free + Vegan
Blueberry Avocado Pancakes
Have you ever had Blueberry Avocado Pancakes? Well, you are in for a treat! Blueberries and avocados are both nutrient-dense superfoods that taste incredible and provide the best flavor combination! These fluffy, nutritious pancakes are the ultimate breakfast meal!
Print
Pin
Rate
Ingredients
1

cup

Non-Dairy Milk

1 1/2

cup

All-Purpose Gluten-Free Flour (can sub regular flour)

1

Egg

1

ripe California avocado, mashed (small)

1

tbsp

Coconut Oil, melted

1

tbsp

Maple Syrup (or Date Syrup)

1

tsp

Vanilla Extract

1/2

tsp

Nutmeg

1

tsp

Baking Powder

1/2

tsp

Sea Salt

1/2

cup

Fresh Blueberries

butter for the pan
Instructions
In a large bowl, whisk together the flour, baking powder, nutmeg, and salt.

In a food processor or blender, add the avocado, non-dairy milk, vanilla extract, and maple syrup. Blend until smooth.

Add the wet ingredients to the dry ingredients, including the eggs and melted coconut oil. Stir until fully combined.

In a large non-stick skillet over medium-low heat, pour 1/4 cup of the pancake batter into the skillet. Use the back of the measuring cup or ladle to smooth the batter into a circle. Top the batter with a few blueberries, then cook until bubbles start to form in the batter and the pancake is golden underneath, about 3-5 minutes.

Flip the pancake and cook the other side for about 2-3 minutes, or until golden. Repeat with the remaining batter

Enjoy the pancakes with butter, coconut yogurt, maple syrup, and more fresh blueberries.
Nutrition
Resources: