Start your mornings with a delightful chocolatey crunch with this Healthy Chocolate Granola. This easy recipe is made with simple ingredients and can be made in less than 30 minutes! It's chocolatey, crunchy, nutritious, gluten-free, and vegan!
If you like this granola recipe, you'll love my Easy Honey Almond Granola and Protein-Packed Maple Granola Recipe!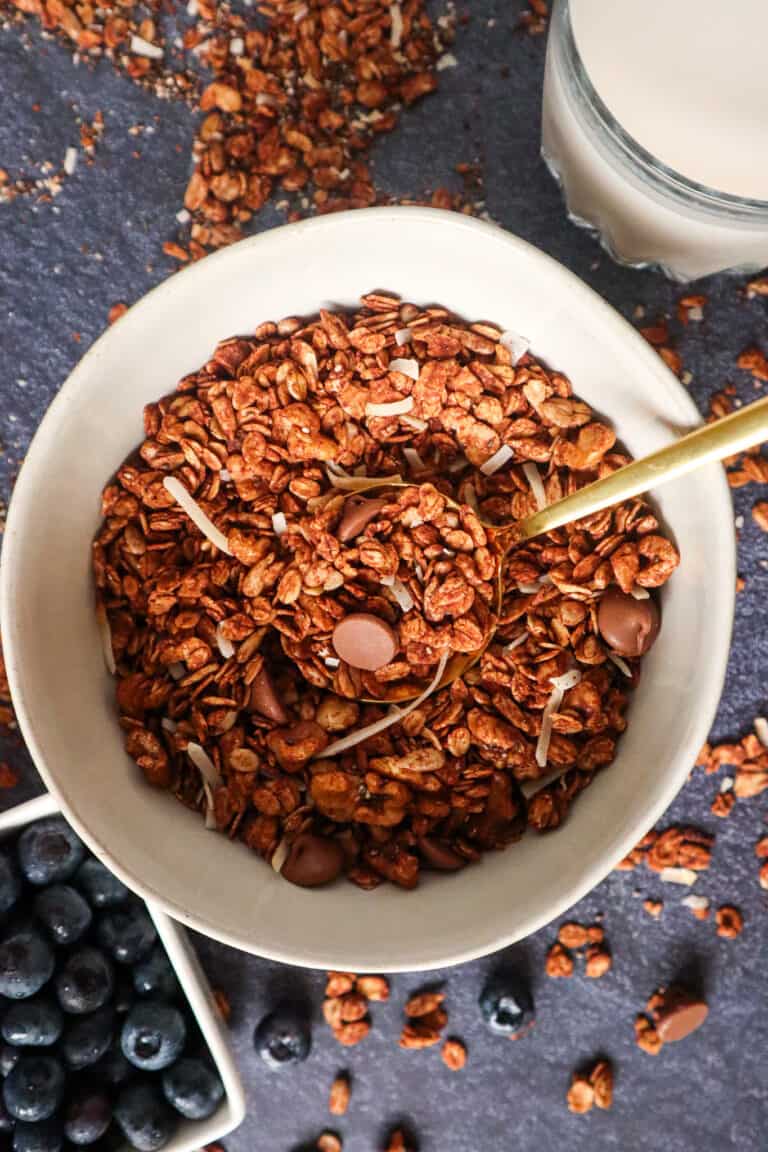 This content contains affiliate links, which helps goodfoodbaddie.com to provide free recipes and resources. As an Amazon Associate, I earn from qualifying purchases. Thank you for your support of the blog!
I am a huge chocolate lover! It does not matter the time of day or what it is, if it's filled with chocolate I am all about it! I usually make Honey Almond Granola or Maple Pecan Granola, but this time I decided to switch things up and add chocolate to the mix!
This Chocolate Granola is my absolute favorite! It's super easy to make, the ingredients are clean, it's nutritious, and it's oh soo good!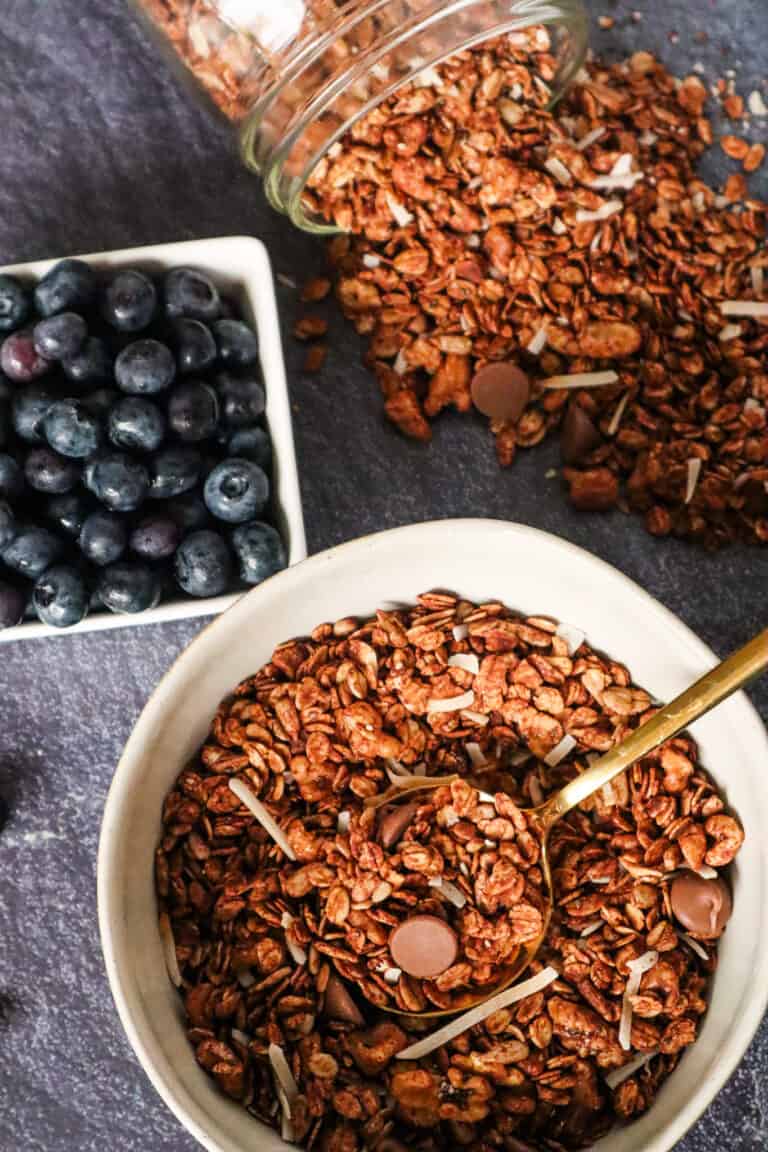 Let's talk about why this granola is healthy. I am not just going to label the granola as healthy and leave you wondering how it's healthy; that's not what we do around here!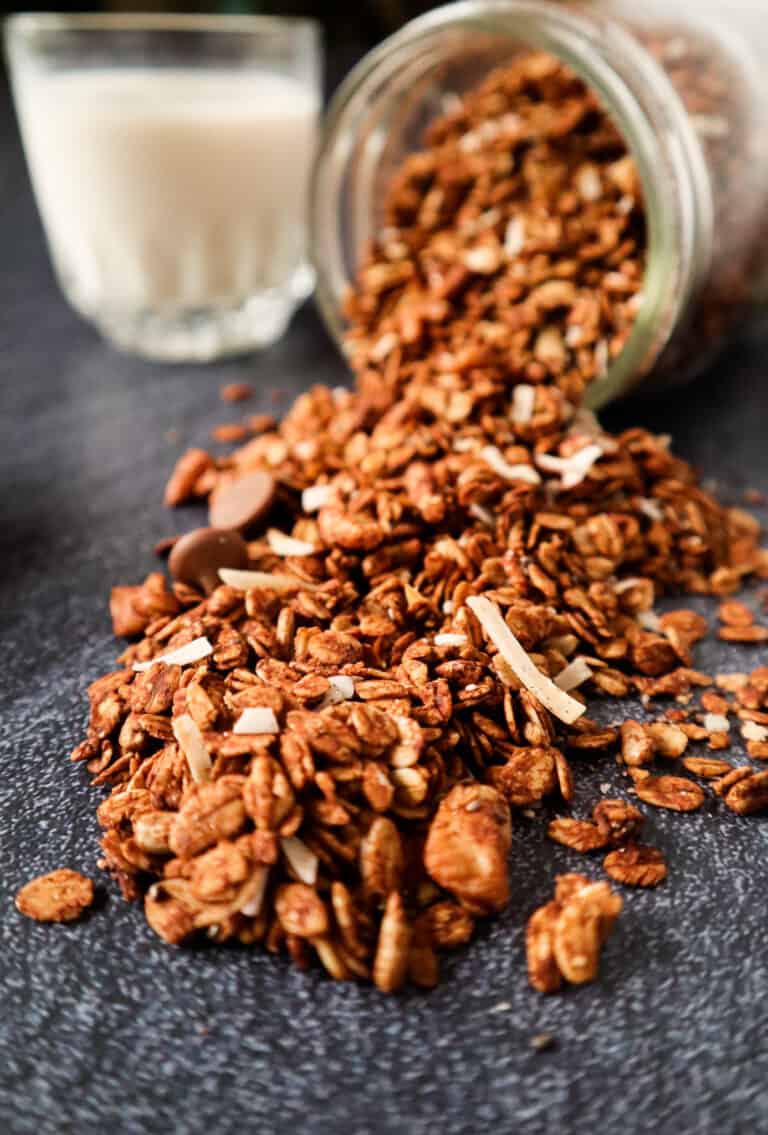 Let's go over exactly why this Chocolate Granola is healthy.
It is made with real, wholesome ingredients. Every ingredient is one you know and can pronounce. Each ingredient is also organic, free of any toxins and additives that are harmful to your body.
The rich chocolate flavor comes from raw cacao powder, which is unprocessed chocolate and filled with tons of antioxidants, calcium, and fiber.
This granola is refined sugar-free, which means we use natural sweeteners that come from the earth to give this granola the perfect sweetness. The maple syrup used in this recipe not only sweetens the granola but also compliments the cacao perfectly by cutting the bitterness and giving the granola the best chocolatey flavor.
The oats and nuts provide tons of protein, with each serving giving you 12 grams of protein.
Dark chocolate granola cereal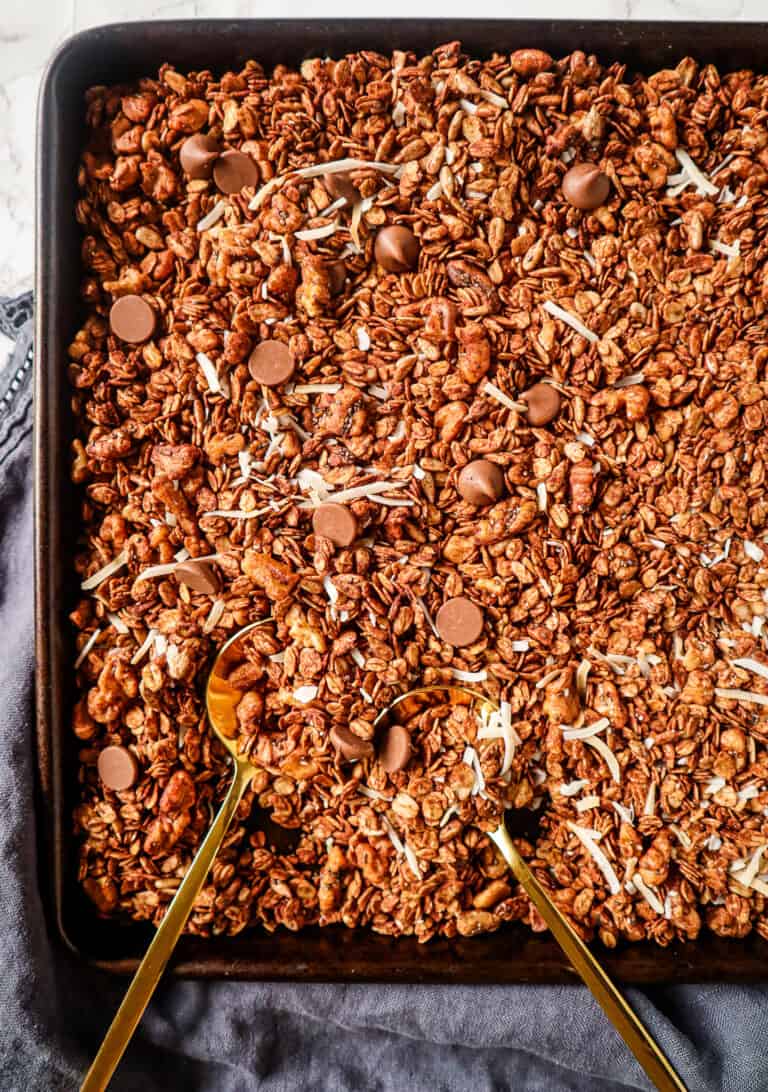 This healthy granola recipe is super easy, requiring 10 ingredients and less than 30 minutes to make!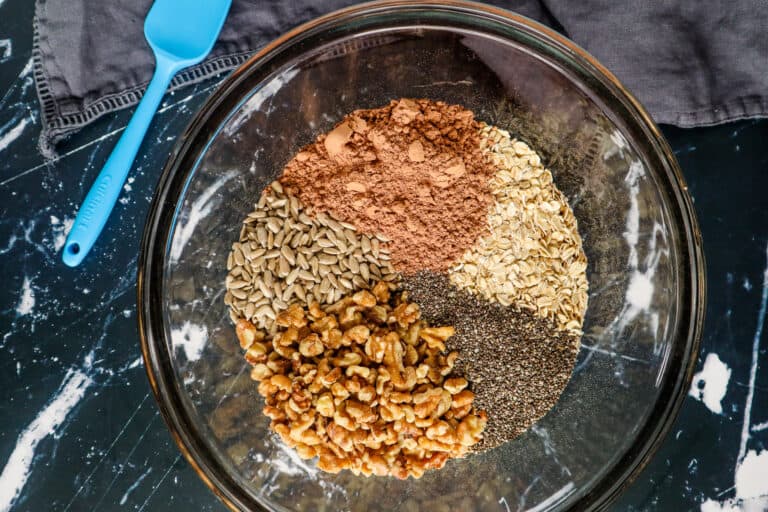 What you'll need for this chocolate granola recipe:
Rolled Oats: also known as Old-fashioned oats. (Make sure to use certified gluten-free oats like this one, if you would like this recipe to be gluten-free)
Raw Cacao Powder: to get the added bonus of nutrients, use cacao powder. Here is my favorite cacao power to use. If you do not have cacao powder, you can always use unsweetened cocoa powder.
Nuts: I use walnuts in this recipe, but you can use whatever nuts you like. Shaved almonds and pecans are also great options!
Chia Seeds: Chia Seeds provide an extra nutrient boost. They are packed with protein, calcium, fiber, and potassium!
Maple Syrup: This natural sweetener will give the granola the perfect sweetness and cuts the bitterness of the cacao. You can also use honey (for a healthy, non-vegan option)
Melted Coconut Oil: Helps to bind the ingredients when baking
Vanilla Extract: For delicious added flavor that compliments the chocolate perfectly.
Coconut Shavings: A great topping to add to the granola that provides flavor, texture, and added crunch.
A Pinch of Salt: Just a bit to bring out all of the flavors
Dark Chocolate Chunks: Completely optional, but add more chocolatey goodness to the mix! To keep this recipe vegan, use vegan chocolate, like Hu Simple Chocolate –so good!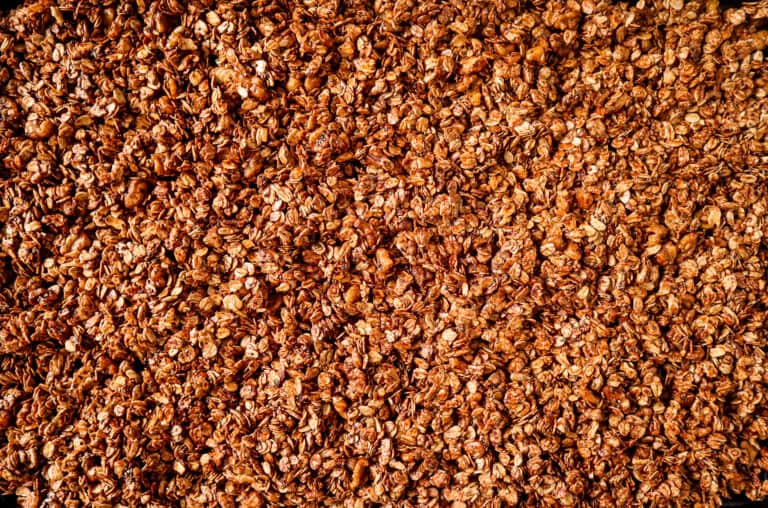 This Healthy Chocolate Granola is:
Easy to Make
Crunchy
Chocolatey
Perfectly sweet
Protein-Packed
Nutrient-Rich
Gluten-Free
Vegan
&& Super Tasty!
I hope you enjoy this Healthy Chocolate Granola Recipe!
If you try the recipe, don't forget to rate the recipe and let me know what you think in the comments below! Take pictures, tag #goodfoodbaddie, and share them with me on Instagram! I love seeing my recipes come to life in your kitchen.
More Delicious Recipes To Try!
Healthy Chocolate Granola Recipe
Start your mornings with a delightful chocolatey crunch with this Healthy Chocolate Granola. This easy recipe is made with simple ingredients and can be made in less than 30 minutes! It's chocolatey, crunchy, nutritious, gluten-free, and vegan!
Print
Pin
Rate
Ingredients
4

cups

Rolled Oats

1/3

cup

Cacao Powder (or Unsweetened Cocoa Powder)

1

cup

Chopped Walnuts (or your favorite nuts)

1/2

cup

Hulled Sunflower Seeds

1/2

cup

Maple Syrup

1/3

cup

Coconut oil, melted

2

tsp

Vanilla Extract

2

tbsp

Chia Seeds

1/4

tsp

Sea Salt

1/2

cup

Coconut Shavings

1/3

cup

Chocolate Chips for topping, optional
Instructions
Preheat the oven to 300°F and line a baking sheet with parchment paper; set aside.

Mix together all of the ingredients (except for the coconut shavings), starting with the dry ingredients and moving to the liquid ingredients. Stir to make sure all of the oats are coated.

Bake for 10 minutes, then remove from the oven and thoroughly stir the granola. Then, place the granola back in the oven to bake for an additional 10 minutes

Remove the granola from the oven, add coconut shavings, and mix thoroughly. Press the granola into an even layer and bake for an additional 5 minutes.

Remove the granola from the oven and allow it to cool for at least 15 minutes.

Enjoy with your favorite milk, yogurt, or ice cream! Store in an airtight conatiner for up to 2 weeks!
Notes
MAKE IT GLUTEN FREE: Be sure to use certified gluten-free oats that are processed in a gluten-free facility MAKE IT NUT FREE: Use seeds, like pepitas or sunflower seeds, instead of nuts. MAKE IT VEGAN: Use Maple Syrup. (honey for non-vegan option) STORE IT: Granola can be stored in an airtight container at room temperature for up to 2 weeks.
Nutrition