Providing you with tons of protein, omega-3s, fiber, and good carbs, this protein-packed acai bowl is an absolute winner. Save your $15 and make this at home! It's incredibly easy, and great for breakfast or a post-workout meal!
This content contains affiliate links, which help goodfoodbaddie.com to provide free recipes and resources. As an Amazon Associate, I earn from qualifying purchases. Thank you for your support of the blog!
Two meals that are the most important: Breakfast and Post-Workout meals. This recipe fulfills either purpose. I think we all could agree that breakfast is the most important meal (unless you are fasting of course). What most people ignore is the importance of a post-workout meal.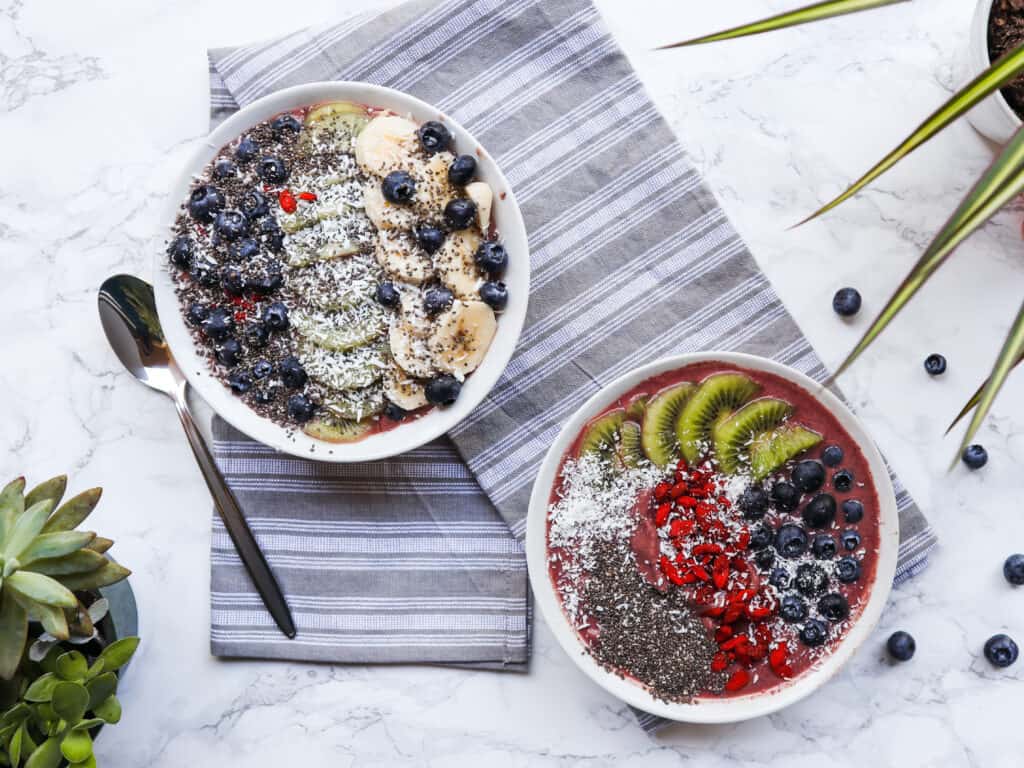 Post-workout meals are essential for muscle revival and growth.
While working out, the proteins in the muscle get broken down and your glycogen storage—the body's main fuel source for our cells, is completely diminished. To efficiently repair your body and support muscle growth your body needs essential nutrients to repair. Everyone is well aware of protein and the need to consume protein to build muscle. However, there is another nutrient your body is begging for after a workout: Carbohydrates, the most significant source of energy for your body! Protein can convert into glucose, but the process is not as efficient as carbohydrates, which are the main source for glucose generation.
Protein and Carbohydrates work simultaneously to aid recovery and build muscle.
Protein supplies your body with the amino acids necessary for muscle renewal and development, while carbohydrates supply your body with the fuel necessary to expedite recovery.
The rule of thumb is that you should consume 3:1 (carbs to protein) post-workout. (1)
Consume 0.5-0.7 grams of carbs per pound of bodyweight post-workout (2)
Consume 0.14-0.23 grams of protein per pound of bodyweight post-workout (2)
Most importantly, post-workout meal means consuming a meal within 30-45 minutes after working out!
So, if I weigh 130 pounds and eat my recommended amount of carbs and protein, that means I will consume between 65-91 grams of carbohydrates and between 18- 30 grams of protein.
You do not have to be super technical, especially if you are just beginning to work out. What is most important is that you eat a protein and carb-rich meal 30-45 minutes after your workout. My Protein-Packed Acai bowl is filled with tons of nutrients that aid your body in recovery after working out, AND it is a delicious treat!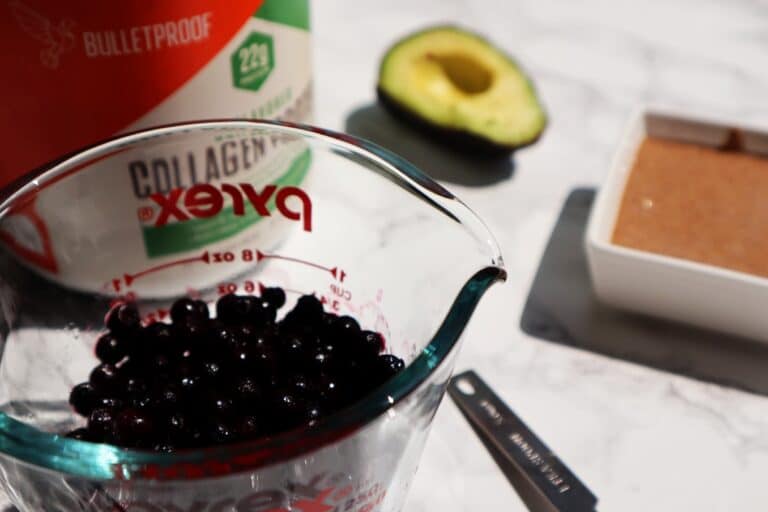 I use Unflavored BulletProof Collagen for my protein source. I've tried so many protein powders in the past and this, by far is the best one! It has absolutely no taste, which is extremely important to me! It also has 24 grams of Hydrolyzed Collagen per serving, which is an essential amino acid for hair, skin, nail, and joint repair. This is my go-to protein powder!
How to make a protein packed acai bowl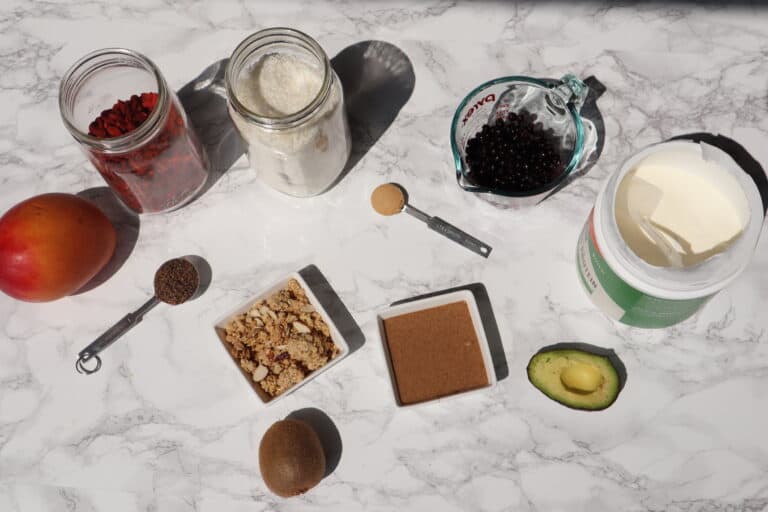 I also load my acai bowl with all the fruits and superfoods I have in the kitchen. I love adding avocado to the base because it gives the acai mixture a smooth texture. I also add almond butter to add just a bit more protein to the mix.
I do not use ice in my mix and find it dilutes the flavor of the acai. Instead, I use frozen organic berries, which are loaded with antioxidants.
Lastly, I top my acai bowl with plenty of superfoods:
And any fruit I have on hand.
Try it out this Protein Acai Bowl and let me know what you think!
If you try the recipe, don't forget to rate the recipe and let me know what you think in the comments below! Take pictures, tag #goodfoodbaddie, and share them with me on Instagram! I love seeing my recipes come to life in your kitchen.
More Protein-Packed Breakfast/Post Workout Recipes:
Protein Packed Acai Bowl
Packed with tons of protein, omega-3s, fiber, and good carbs, this acai bowl is an absolute winner. Save your $15 and make this at home! It's incredibly easy, and great for breakfast or a post-workout meal!
Print
Pin
Rate
Ingredients
Acai Bowl Base
1

Unsweetened Sambazon Acai Packet

1

cup

Frozen Organic Blueberries

1/4-1/2

cup

Organic Almond Milk

2

tbsp

Almond Butter

1/2

Avocado

2

Scoops Unflavored BulletProof Collage Protein (or your favorite protein powder)

1

tsp

Maca
Toppings
1/4

cup

Granola

1/2

Mango, cut into cubes

1

Kiwi Sliced

2

tsp

Goji Berries

1

tsp

Chia Seeds

2

tsp

Coconut Shavings
Instructions
Take the Sambazon Acai Packet out of the freezer and run it briefly under cold water. Set the acai packet aside while you gather all of the ingredients for the bowl.

While the acai is still in the packet, break the acai into 3-4 pieces. Place the acai in the blender along with the other base ingredients.

Blend on medium-high setting until smooth (approximately 1 minute)Scoop the acai into a bowl and add the toppings. Feel free to add as many toppings as you like!
Notes
Serving: 1

Fat: 61.6g

Calories: 748

Protein: 23.3g
PRO TIP:
Slice all fruit and measure all ingredients while Sambazon Acai Packet is thawing.

Add as much almond milk as you like. No more than 1/2 cup is recommended to maintain a thick consistency.
Nutrition