Baba Ganoush is a savory, smokey, creamy eggplant Dip. Using just a few ingredients, you'll have a delectable dip that serves as an appetizer, snack, or spread. This is a delicious, healthy Mediterranean snack that you'll love and enjoy!
If you love delicious dips, you'll want to try my Sweet Potato Hummus, Vegan Tzatziki, or Cilantro Jalapeno Hummus next!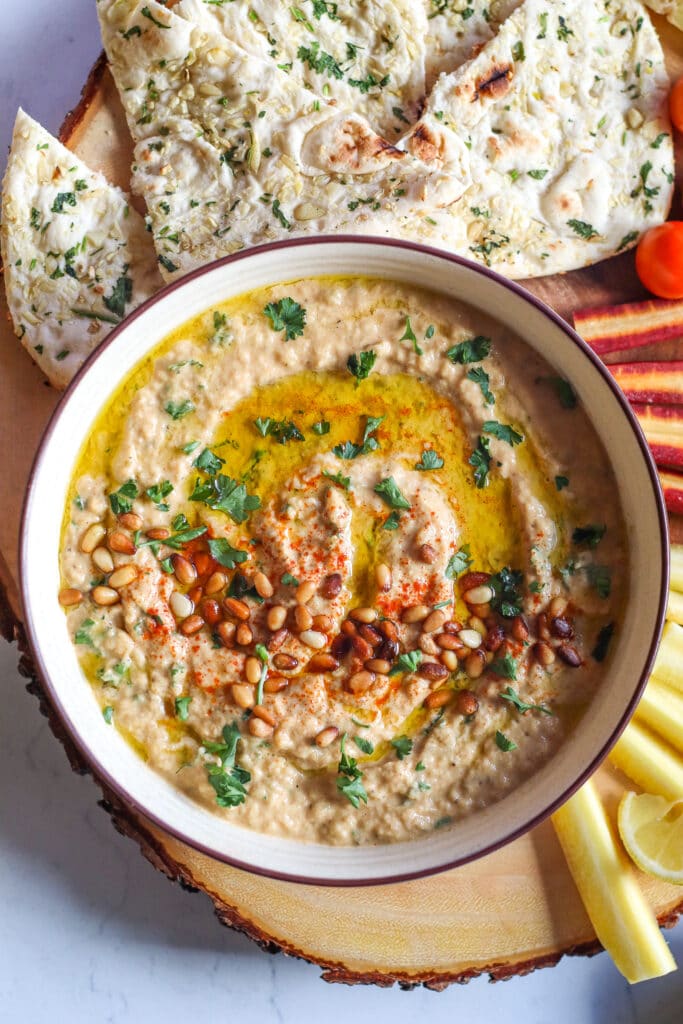 What is Baba Gaboush?
Baba Ganoush is a Mediterranean eggplant dip made with roasted or grilled eggplant, lemon, tahini, olive oil, and garlic. It is usually eaten with pita bread, chips, raw veggies like carrots and celery, or used as a spread.
What is the difference between Baba Ganoush and Hummus?
The primary difference between baba ganoush and hummus is that baba ganoush is made with eggplant and hummus is made with chickpeas. Whichever one you like depends on your preference. If you love eggplants, baba ganoush is a delicious dip to try and can be enjoyed in a variety of ways!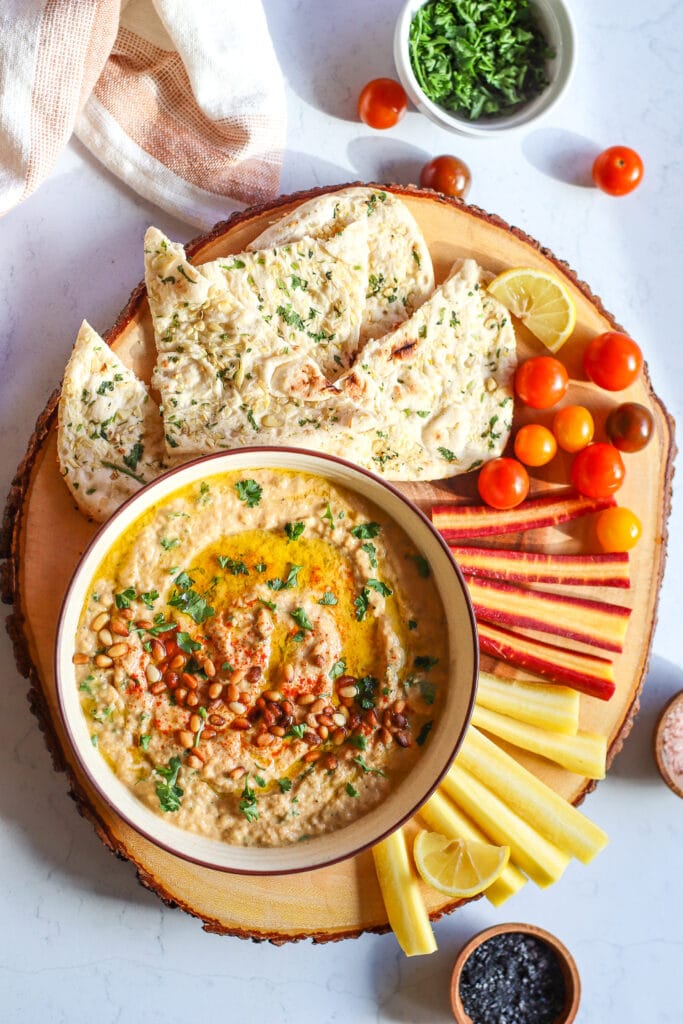 Is Baba Ganoush Healthy?
Extremely! Eggplant has a high vitamin and mineral content, providing vitamin C, vitamin B6, vitamin K, magnesium, manganese, potassium, and more! It is also high in fiber and has a low-calorie content. The most alluring aspect of this dip is that it is Vegan, Paleo, Whole30, Keto compliant, and naturally Gluten-Free. This baba ganoush simple recipe is packed with tons of health benefits along with flavor and can be added to any diet!
What To Eat With Baba Ganoush?
In the Mediterranean Diet, baba ganoush is typically paired with pita bread or fresh veggies, like sliced carrots or celery. Baba ganoush is a wonderful accompaniment to any Middle Eastern style meal and can be served as a dip or spread with your favorite grilled chicken, or more traditional dishes like my Lamb Kofta Recipe.
If you are having a party, try baba ganoush and pita chips instead of the typical salsa and chips! You'll be surprised how many people love it!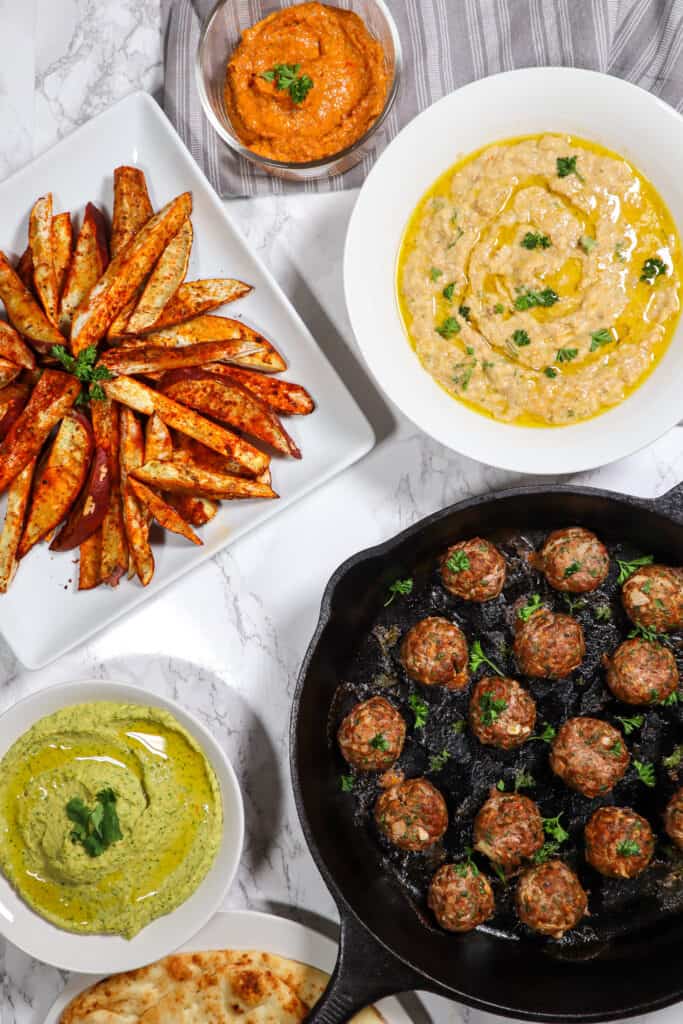 How To Make The Best Baba Ganoush?
Making baba ganoush is extremely simple, but there are a few steps that help distinguish a phenomenal dip from the mediocre. The key to making the best baba ganoush is all in the way the eggplant is prepared.
I've tried multiple ways and have learned that the best way to roast the eggplant for this dip is to roast it whole. Do not slice the eggplant into cubes and roast it in the oven and use the cubes for the recipe; it will turn out dry and bland! Take the eggplant and simply place it on an oven-safe tray and roast it for 45 minutes to an hour. When the skin of the eggplant has collapsed and the eggplant is soft to touch, this indicates that the eggplant is fully cooked and can be removed from the oven.
Baba Ganoush Recipe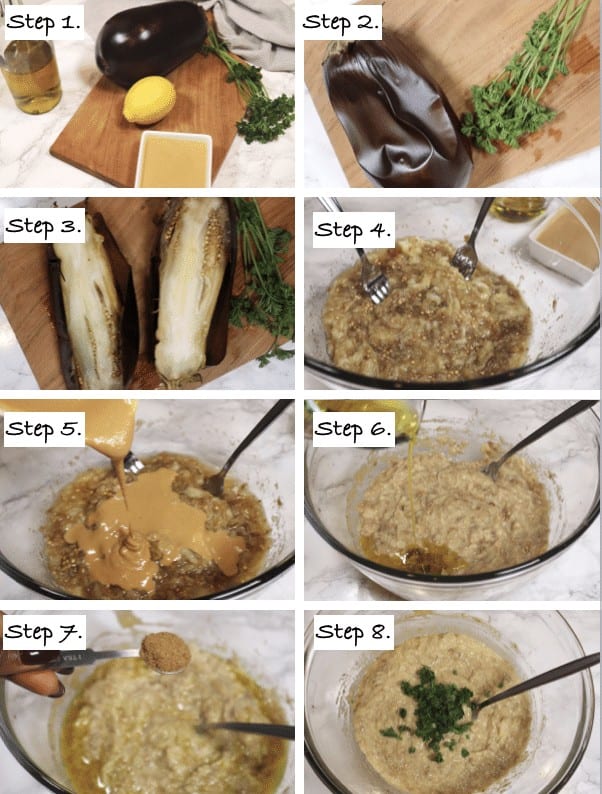 Gather your ingredients.
Leave the eggplant whole and roast it in the oven.
Let the eggplant cool and slice it in half. Let it rest for 5-10 minutes before using.
Scoop the eggplant into a large bowl, making sure to leave the skin and the liquid behind. Using two forks, shred and mash the eggplant until all the long strings of eggplant have been broken down. You now have the base for your baba ganoush and it has been cooked perfectly with all of the excess moisture removed, ensuring you a creamy, mouthwatering dip.
Mix in the tahini and lemon juice.
Mix in the olive oil
Add the cumin and paprika
Add the parsley. Taste and adjust the flavor to your liking. Add lemon juice for more zest, and olive oil to make it creamier. Top with olive oil, pine nuts, pomegranate, fresh parsley, and enjoy!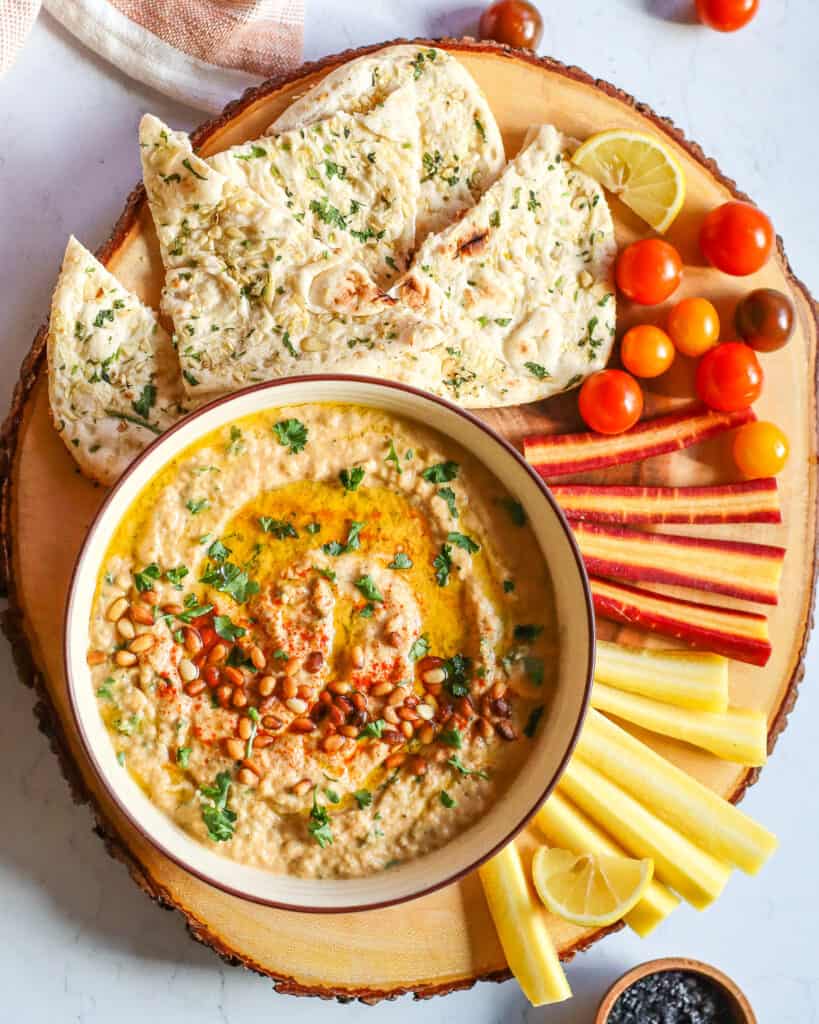 Tips To Making The Best Baba Ganoush
You do not need a food processor to make Baba Ganoush. It is quite easy to make it by hand. I use two forks to break down the eggplant and mix the ingredients together; it works perfectly.

Eggplant suggestions: When picking out a large eggplant, you want to pick one that is shiny and smooth, with no spoiled or soft parts. You can pick up the eggplant to see how heavy it is: the heavier the better.

Feel free to use less olive oil if you like. You can make baba ganoush using only 3 tablespoons, but the more olive oil you use, the creamier your dip will be.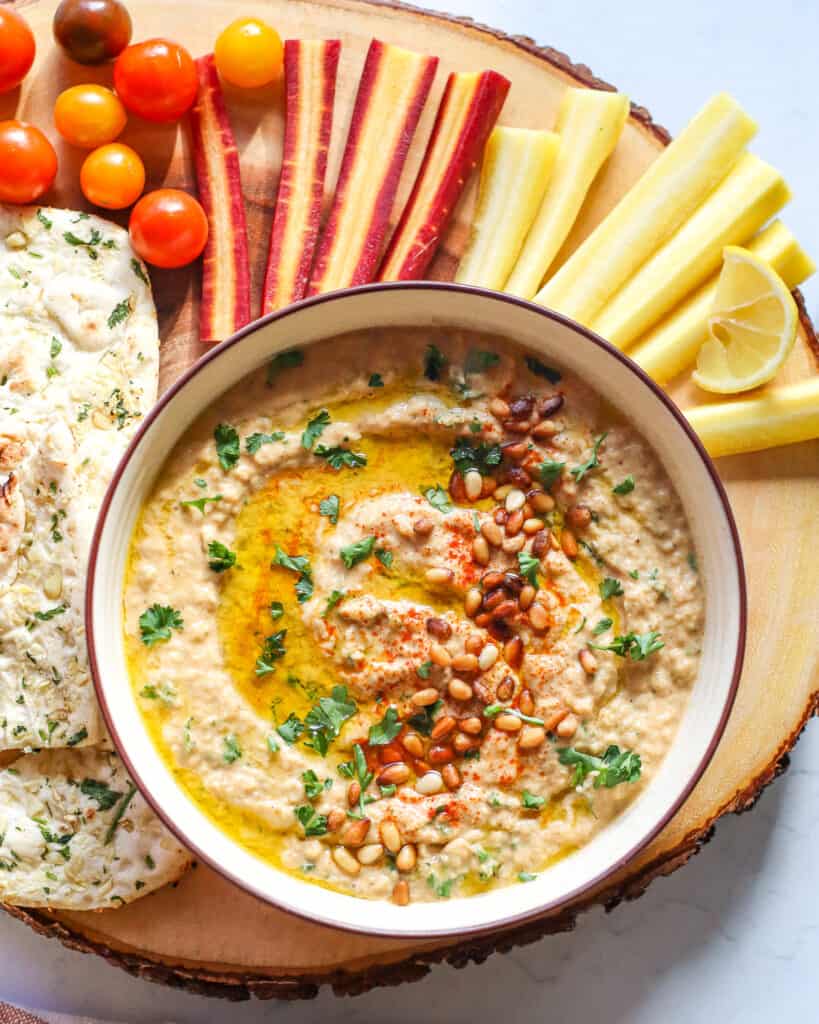 I Hope You Enjoy This Baba Ganoush Recipe!
If you try the recipe, don't forget to rate the recipe and let me know what you think in the comments below! Take pictures, tag #goodfoodbaddie, and share them with me on Instagram! I love hearing from you!
More Eggplant Recipes: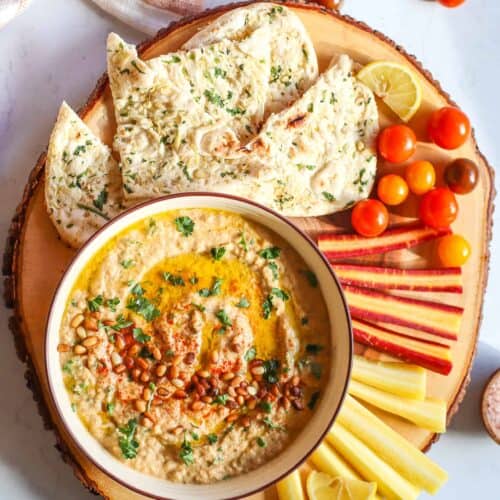 Best Baba Ganoush Recipe
Baba Ganoush is a savory, smokey, creamy Middle Eastern Eggplant Dip. With just a few ingredients: roasted eggplant, lemon, tahini, and olive oil, you have a delectable dip that serves as an appetizer, snack, or spread. This is a delicious, healthy Mediterranean snack that you'll love and enjoy!
Print
Pin
Rate
Ingredients
1

Large Eggplant

2

Lemons, juiced

1/2

cup

Extra Virgin Olive Oil, plus more for garnish

1/4

cup

Tahini

1

tsp

Cumin

1/2

tsp

Paprika

3

tbsp

Fresh Chopped Parsley, plus more for garnish

Salt, to taste
Instructions
Preheat the oven to 450°F

Place 1 whole Eggplant onto a cooking sheet and bake for 35-45 minutes, or until the skin collapses and is soft to touch.

Remove the Eggplant from the oven and cut it in half. Allow the eggplant to cool slightly, so it is easier to handle and also to allow the juices to flow from the eggplant.

Scoop out the eggplant and transfer into a large mixing bowl, being careful to not include the liquid from the eggplant. Using 2 forks, shred the eggplant as much as possible, making sure to break up long string pieces.

Mix in tahini, one and a half lemons juiced, and stir vigorously until it is mixed well. Slow pour in the olive oil and continue to use your fork to stir well.

Add the seasonings: paprika, cumin, and salt (I use about 1/4 teaspoon and add more to my liking). Stir well and add the chopped parsley. Feel free to add more lemon (if you like the flavor to be more tart) or salt if needed.

Pour the baba ganoush into a serving bowl. Lightly drizzle with Olive oil, sprinkle with a bit of parsley and smoked paprika, and enjoy!
Nutrition