This Homemade Snickers Ice Cream Bar is a decadent treat filled with nice-cream, date caramel, salted peanuts, and topped with rich chocolate. A spin on the infamous Snickers ice cream bar, but homemade and healthier. It's Vegan, Gluten-Free, and Refined Sugar-Free!
If you love no-bake desserts, you'll want to try my No-Bake Matcha Oreo Cheesecake or Homemade Chocolate Bark next!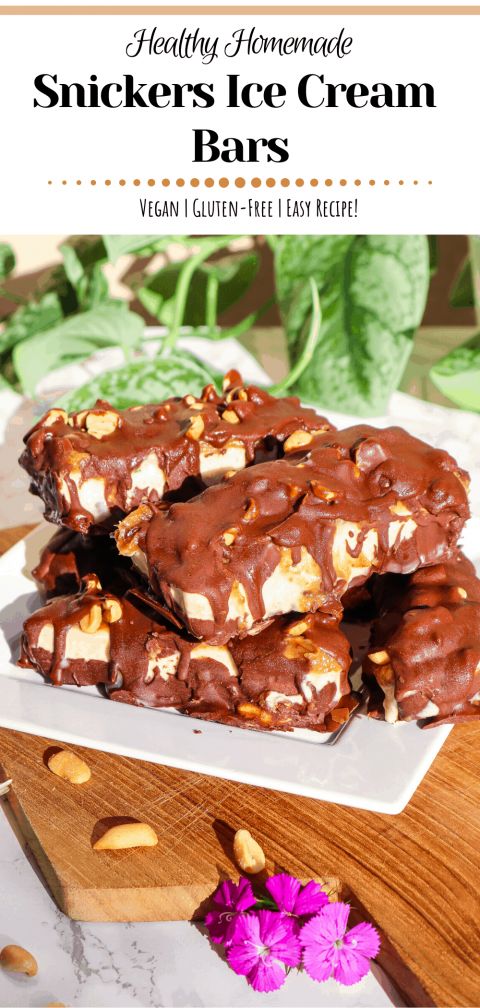 This content contains affiliate links, which help goodfoodbaddie.com to provide free recipes and resources. As an Amazon Associate, I earn from qualifying purchases. Thank you for your support of the blog!
Snickers ice cream bars were my favorite frozen treat growing up. Anyone else?! My mom would bring home a whole box and the bars would hardly last an entire week.
I don't know what I loved more: the creamy caramel, the sweet ice cream, the salty crunch from the peanuts, or the milk chocolate. I just loved it all! So, of course, I couldn't help myself but make a dairy-free homemade version of this Snickers ice cream bar recipe. Now that I have, I think this may be my new favorite dessert recipe!
You'll love these Homemade Snickers Bars because they are:
An Easy No-Bake Chocolate Dessert
Vegan, Gluten-free, Dairy-free, and Refined sugar-free
Tasty! (EVEN BETTER than the store bought version!)
Made with REAL ingredients
What layers are used to make this Snickers Ice Cream Bar?
Peanut Butter Nice Cream is used to make the ice cream filling. It is dairy-free, vegan, and absolutely delicious!
The healthy, sweet caramel filling will be made with dates. Here is my date caramel recipe! It is naturally sweet and rich, perfect for these ice cream bars!
Salty Peanuts, because it wouldn't be a snickers bar without that perfect crunchy, salty layer!
Chocolate, and lots of it! These ice cream bars are coated from top to bottom in chocolate so seal in all the delicious layers. Make sure to use Vegan Chocolate, ones without dairy, minimal ingredients, and higher cacao percentages. Here are two great vegan chocolate options: Trader Joe's Semi-Sweet Chocolate Chip and Lily's 70% Dark Chocolate Sea Salt Bar.
How to Make Nice Cream
The first layer of the Homemade Snickers Ice Cream Bar is the nice cream and it is super easy to prepare! You'll need:
1 Can full-fat coconut milk (must use full-fat coconut milk, like this one)
1 tbsp Vanilla Extract
4 Medjool Dates Pitted (liked these)
1 tbsp Peanut Butter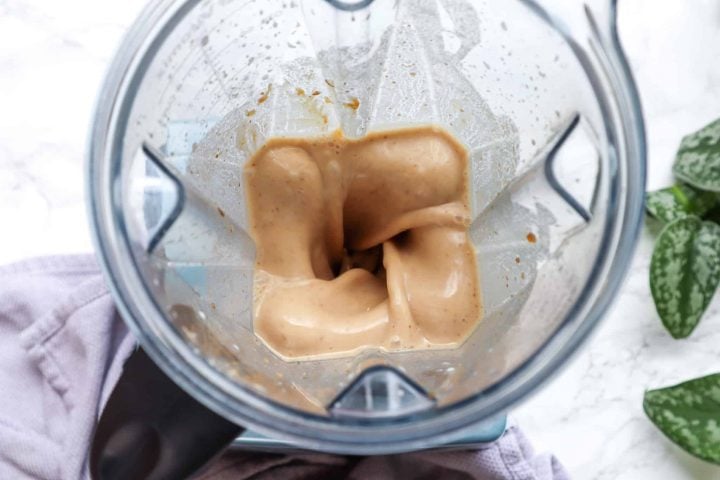 All you'll need to do is blend all of the ingredients together in a high-powered blender or food processor until it is smooth and creamy. After blending, you'll need to transfer the mixture into a parchment-lined bread pan. In order to help achieve the perfect bar shape, use a bread pan. Once the nice cream is in the freezer, you can move on to the next step. The nice cream will need at least 3 hours to freeze over.
Feel free to make the nice cream days ahead. It keeps well in the freezer and can be used whenever you are ready.
Making Date Caramel
Making Date Caramel is easy and only requires a few ingredients and a blender. You can find my date caramel recipe here.
Here are a few tips for making the date caramel:
If your dates are too dry (not sticky to the touch), soak them in water for about 10 minutes before blending.
When blending the dates, slowly add in the water and almond milk until you achieve a uniform consistency. You should not have to add more than ½ cup of water.
You can add peanut butter to make the caramel a bit creamier. The flavor is subtle and hardly detectable.
The Best Way to Melt Chocolate
Double Boiling Method
Add the crushed chocolate or chocolate chips to a heatproof glass bowl. Place the glass bowl over a pot with simmering water. Using a rubber spatula or whisk, gently stir the chocolate until it is completely melted. This should take about 1-2 minutes. DO NOT add water when mixing the chocolate because this will cause the chocolate to harden.
Microwave Method
Add the crushed chocolate or chocolate chips to a bowl. Place the bowl in the microwave and heat the chocolate for 30 seconds at a time, removing and stirring between each time. Continue to repeat this method until the chocolate has melted.
After you have all your layers ready, the last step is simple: Layer it up!
Cut the nice cream into bars
Dip the nice cream into the chocolate
Top with date caramel
Add Salted Peanuts
Finish by adding a layer of melted chocolate.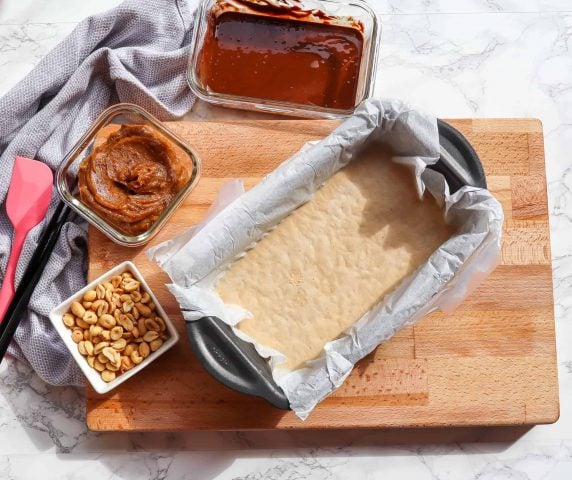 The trick here is to move fast. You do not want the nice cream to melt as you are adding the various layers. Once assembled, transfer the Homemade Snickers Bars back into the freezer for at least 30 minutes.
Now These Homemade Snickers Bars are Yours to Enjoy!!
Shortcuts & Tips
I love making all of the layers from scratch and find it to be the most enjoyable part of creating these ice cream snickers bars. However, if you'd like to save time, here are a couple of tricks:
Use your favorite vegan ice cream. You'll still need to spread it into a layer to make these ice cream bars.
Use store brought Vegan Caramel, like this one: Coconut Caramel Sauce by Hey Boo.
I hope you enjoy these Homemade Ice Cream Snickers Bars!
If you try the recipe, don't forget to rate the recipe and let me know what you think in the comments below! Take pictures, tag #goodfoodbaddie, and share them with me on Instagram! I love seeing my recipes come to life in your kitchen.
Want more chocolatey dessert recipes? Try these!
Homemade Snickers Ice Cream Bars
This Homemade Snickers Ice Cream Bar is a decadent treat filled with nice-cream, date caramel, salted peanuts, and topped with rich chocolate. A spin on the infamous snickers ice cream bar, but homemade and healthier. It's Vegan, Gluten-Free, and Refined Sugar-Free!
Print
Pin
Rate
Ingredients
Peanut Butter Nice Cream
1

can

Full Fat Coconut Milk

4

Medjool Dates, pitted

1

tbsp

Peanut Butter

1

tbsp

Vanilla Extract
Chocolate Drizzle
1.5

cup

chocolate chunks (vegan)

3

tbsp

coconut oil
Additional Layers
1/2

cup

date caramel

1/2

cup

Salted Peanuts
Instructions
Line a bread pan with parchment paper and set aside

In a food processor or high powered blender, add all the nice cream ingredients and blend until smooth. Pour the mixture into the bread pan and place in the freezer until it is fully frozen, at least 3 hours.

Using a high powered blender, make the date syrup. (both the nice cream and date syrup can be made days in advance for easy assembly when ready.)

Prepare the melted chocolate by using the double boiling method or microwave method (mentioned above). Combine the coconut oil into the chocolate while melting.

Once ready to make the Snickers Ice cream bars, remove the nice cream from the freezer. Use the extra parchment paper to remove the nice cream from the bread pan. Slice the nice cream into bar sized pieces. (should result in 6-8 ice cream bars).

Top the ice cream bars with date caramel and peanuts. Then, dip the ice cream bars into the melted chocolate. Finish by adding the remaining melted chocolate on top and place the ice cream bars back into the freezer to firm, at least 30 minutes.

You can enjoy the ice cream bars immediately after they have firmed or leave them in an airtight container in the freezer for up to 2 weeks!
Notes
You can find my easy Date Caramel Recipe Here
I prefer melting my chocolate using the double boiling method and adding coconut oil as it is melting, but use whatever method you like best!
These bars can last up to two weeks in the freezer. When you are ready to enjoy them, take the bars out of the freezer and let sit at room temperature for about 5 minutes to soften for a more enjoyable experience! 
Nutrition
Pin It!