Chicken Tikka Masala is made with luscious cashew cream, dairy-free yogurt marinated chicken, and aromatic spices. This outstanding dish is a rich, robust, flavorful Indian staple that can be made at home in one pot.
If you're looking for more dairy-free Indian dishes, try my Dairy-Free Butter Chicken next!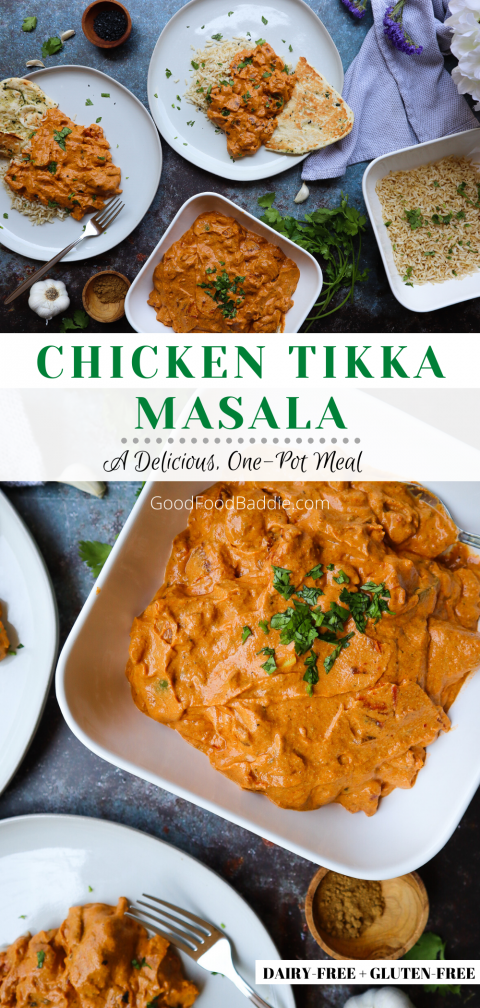 Indian food is my favorite type of cuisine! Unfortunately for me, some of the Indian dishes I love the most are loaded with dairy: yogurt marinated chicken, and heavy cream in the sauces. Since I live a dairy-free lifestyle, it means I have to forgo some of my favorite dishes. Instead of saying goodbye to traditional Chicken Tikka Masala forever, I decided to try to recreate this dish without the dairy.
After some trial and error, I have nailed it! This creamy, dairy-free Chicken Tikka Masala is phenomenal! It also passed the dairy lover's taste test! I made this dish for a dinner party and everyone gobbled it up!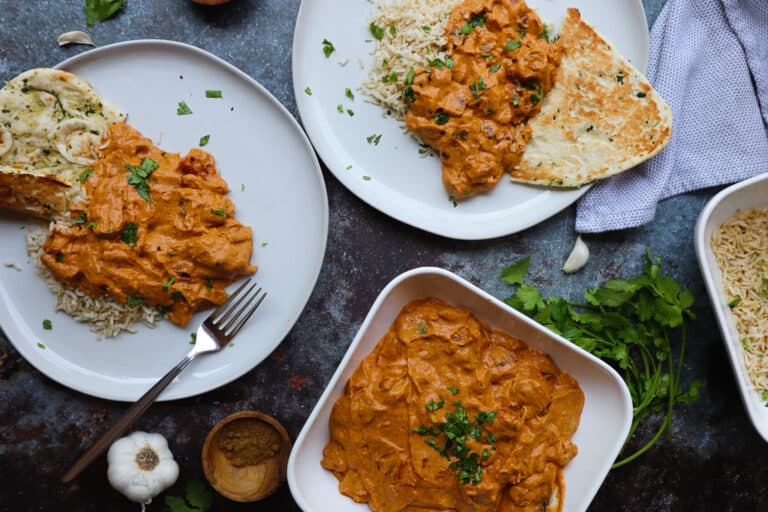 How do you make Chicken Tikka Masala?
Chicken tikka masala is a lot easier to make than it seems! You may very well have all the ingredients you need at home and if not, you can easily find what you need in the grocery store. Authentic Chicken Tikka Masala is made with yogurt marinated chicken that is chargrilled for immense flavor. To save time, and recreate this delicious dish easily at home, we are making this Chicken Tikka Masala in one pot— our favorite type of recipe!
How to make Chicken Tikka Masala dairy-free?
You may be wondering, "How can we make this yogurt marinated chicken in a heavy cream sauce dairy-free?" Well, don't you worry! I have figured out the perfect non-dairy substitutes to recreate this incredible dish!
To make this Chicken Tikka Masala Dairy-Free I use Forager's Project Yogurt to marinade the chicken. It is a cashew-based yogurt and it has quickly become my favorite yogurt. It has a perfect consistency, similar to Greek yogurt, and it is also vegan, soy, and refined sugar-free. No affiliate posting or collaboration, just my honest love for the brand!
As for the heavy cream substitute, I have tested multiple options and luscious homemade garlic cashew cream blew me away. Cashew Cream is so quick and easy to make at home and it is the perfect non-dairy substitute for cream. With its smooth, creamy consistency and ability to absorb whatever flavors it is mixed with, it is the perfect addition to this dish! (If you want to learn more about cashew cream and how to make it check out this post.)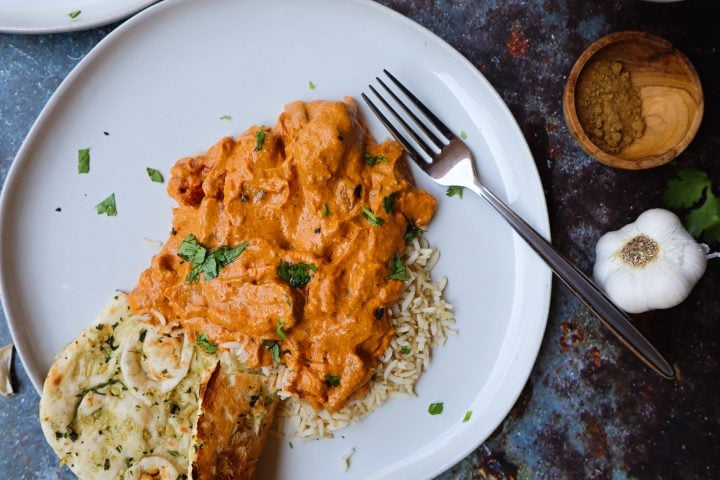 Marinating the Chicken (breast or thighs)
This is the most important step. This marinated chicken is what brings this dish to life! You can use chicken thighs or chicken breasts. Chicken thighs are great because it quickly absorbs the flavors of the marinade (up to 1-hour minimum) and the bones help to give the sauce an even richer flavor.
I use chicken breast, which works perfectly too! If using chicken breast, it is best to cut the chicken breast into large cubes and marinate it for at least 2 hours. If time permits, marinating the chicken overnight provides even more flavor as the yogurt and lemon tenderize the chicken and help it better absorb all of the seasonings.
Browning the Chicken
For this Chicken Tikka Masala dish, I've tried cooking the chicken breast multiple ways. In the recipe instructions below, I brown the chicken cubes first in a pan and set them aside to add to the sauce for later.
I have also skipped this step and browned the chicken cubes in the tomato paste mixture (before adding tomato puree). I cooked the chicken for about 5-7 minutes. This dish turned out perfect both ways! So, feel free to cook the chicken either way.
If you are using chicken thighs, I would suggest browning the chicken first before adding to the sauce.
Spices Needed for Tikka Masala
Garam Masala
Ground Corriander
Cumin
Tumeric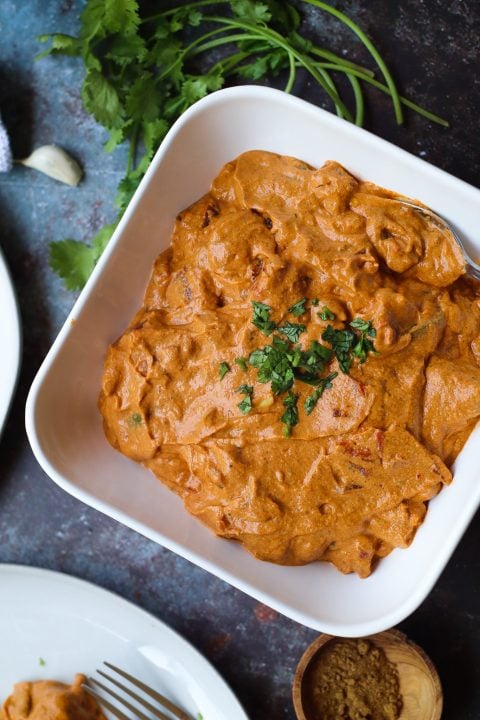 To make the robust flavors that enhance this dynamic dish you will need to use these spices. Don't be shy when it comes to seasoning this dish. You'll be pleasantly surprised as the savory flavors compliment this creamy tomato-based sauce.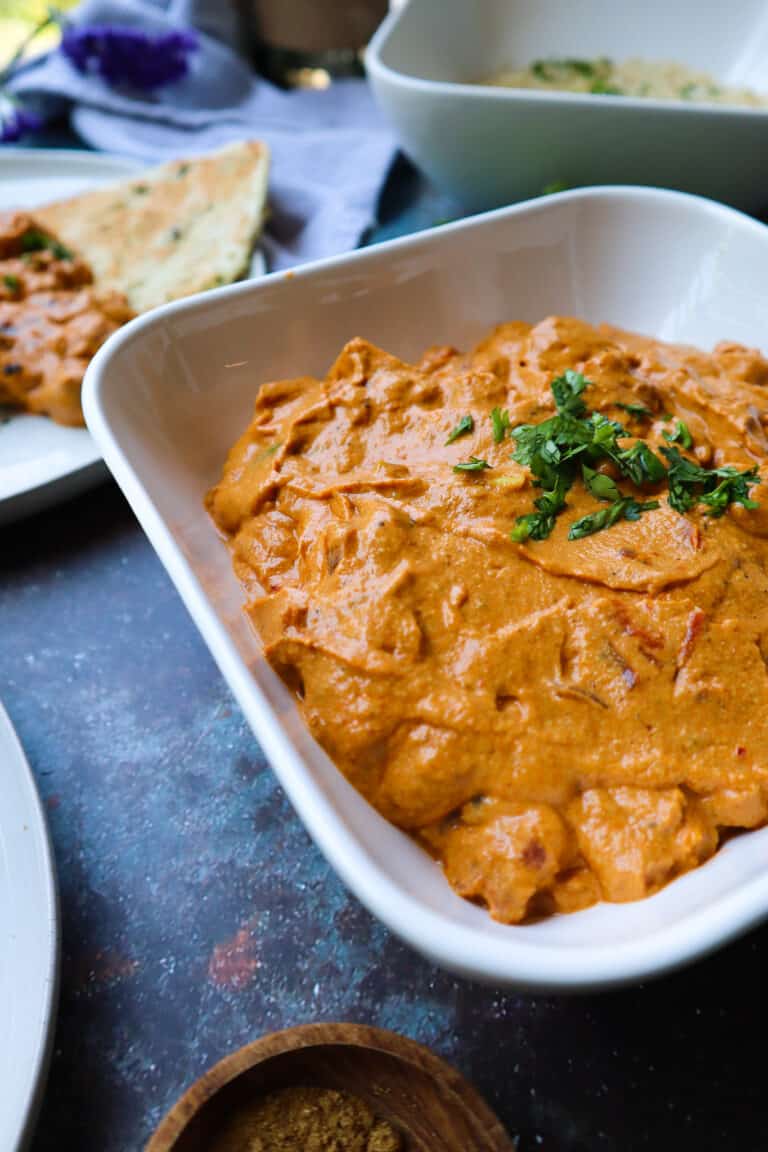 Variations on this recipe
This Chicken Tikka Masala recipe is dairy-free. However, if you do not mind dairy, you can make this recipe exactly the same, but instead of using non-dairy yogurt you can use regular plain yogurt and instead of cashew cream you can use heavy cream.
To note: If you do not have cashews to make cashew cream, you can also sub 1 (13oz) can of full-fat coconut milk. The results are similar, but the coconut milk will add a subtle sweetness to the dish.
What to serve with Chicken Tikka Masala?
This dish is best with a side of hot, fluffy Basmati Rice and Naan! I also enjoy making Crispy Chickpeas and having them on the side with vegetables. With this delicious tikka sauce poured on top, you cannot go wrong with any side!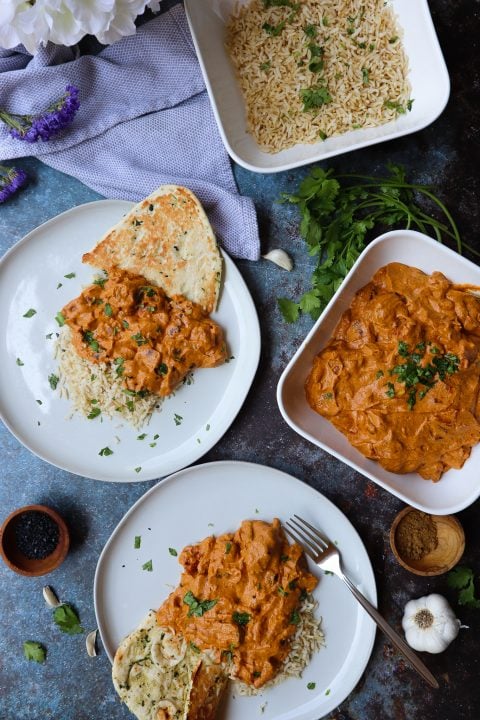 I hope you enjoy this Chicken Tikka Masala Recipe!
If you try the recipe, don't forget to rate the recipe and let me know what you think in the comments below! Take pictures, tag #goodfoodbaddie, and share them with me on Instagram! I love seeing my recipes come to life in your kitchen.
More Dinner Ideas!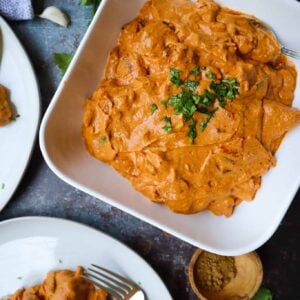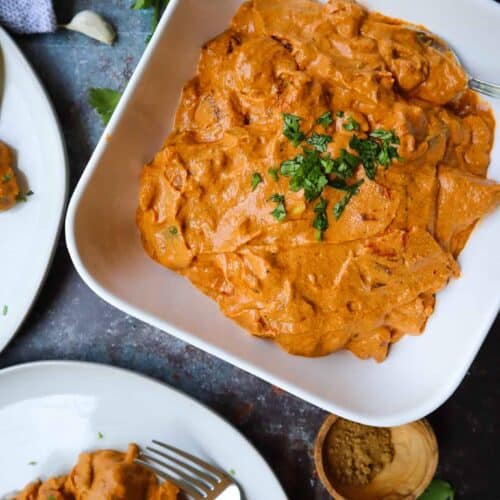 Chicken Tikka Masala Dairy-Free
Chicken Tikka Masala is made with luscious cashew cream, dairy-free yogurt marinated chicken, and aromatic spices. This outstanding dish is a rich, robust, flavorful Indian staple that can be made at home in one pot.
Print
Pin
Rate
Ingredients
For the Marinade
1 1/2

pounds

Boneless Chicken Breast

1

tbsp

Lemon Juice

5

Garlic Cloves, minced

3

tsp

Fresh Ginger, minced

1

cup

Forager's Dairy-Free Yogurt (or other plain non-dairy yogurt alternative)

2

tsp

Garam Masala

2

tsp

Cumin

1

tsp

Turmeric

1/2

tsp

Salt
For the Chicken Tikka Masala
2

tbsp

Cooking oil

1

large onion, chopped

7

Garlic Cloves, minced

1

tbsp

Fresh Ginger, finely grated

2

tbsp

Tomato Paste

2

tsp

Garam Masala

2

tsp

Cumin

2

tsp

Ground Coriander

2

tsp

Turmeric

1

tsp

Red Crushed Pepper

1

tsp

Cayenne Pepper

1

tsp

Sea Salt, plus more to taste

28

oz

Tomato Puree (or petite diced tomatoes)

2

cup

Cashew Cream

2

Jalapenos, roughly chopped (optional)
For the Cashew Cream
24

oz

Water

1 1/2

cup

Raw Cashews

2

cups

Chicken Broth

2

Garlic Cloves
Instructions
Cut the chicken breast into medium bite-sized cubes. In a large bowl, combine cubed chicken breast with all of the ingredients for the marinade. Let the chicken marinate for at least 1-2 hours, or overnight if time permits. 

In a large skillet or dutch oven, over medium heat add ~2 tbsp olive oil. Once the oil is hot, add chicken pieces and saute for 2-3 minutes on each side (no more than 6 minutes). Cook chicken in batches to avoid overcrowding the pan. Remove the chicken when it becomes golden on the outside and set aside. The chicken will finish cooking in the sauce.

In the same pan, add 2 tbsp cooking oil. (You can wipe the remains of the chicken out first if you like.) Next, add onion and saute for 5 minutes. Then, add garlic and ginger and saute for an additional 2 minutes (making sure to stir continuously to prevent burning).

Add tomato paste to the mixture and stir well. Add the remaining seasonings to the mixture and saute for about 30 seconds, until fragrant.

Add the diced chicken and remaining marinade and mix well, saute for about 2-3 minutes. Reduce the heat to medium-low. Pour in the tomato puree and mix well. Add chopped jalapenos (optional). Cover and simmer for 15-20 minutes, stirring occasionally.

While the chicken tikka masala is simmering, prepare the cashew cream. Bring 24 ounces of water to a boil. In a bowl, pour the water over 1 1/2 cup of cashews and allow the cashews to soak for 15 minutes.

After 15 minutes, drain the cashews and add to a high-powered blender with 2 cups chicken broth and 2 garlic cloves. Blend until smooth, about 1-2 minutes.

Add the cashew cream to the sauce and stir well. Over medium-high heat, allow the dish to cook for 5-10 minutes, until the sauce is thick and bubbling.

Garnish with fresh cilantro and serve with basmati rice and naan. Enjoy!
Nutrition