Incredibly delicious Gluten-Free Stuffing made with long-fermented sourdough bread, savory butternut squash, fresh herbs, and sweet cranberries. It's gluten-free, dairy-free, and can be easily made vegan by using vegetable broth instead of chicken broth! Perfect for everyone to enjoy! (You can also make this stuffing using homemade croutons! The recipe is gluten-free, vegan, and ready in 15 minutes.)
If you love making gluten-free bread, you'll want to try my Gluten-Free Focaccia Bread, Gluten-Free Sweet Potato Bread, or Gluten-Free Jalapeño Cheddar Biscuits next!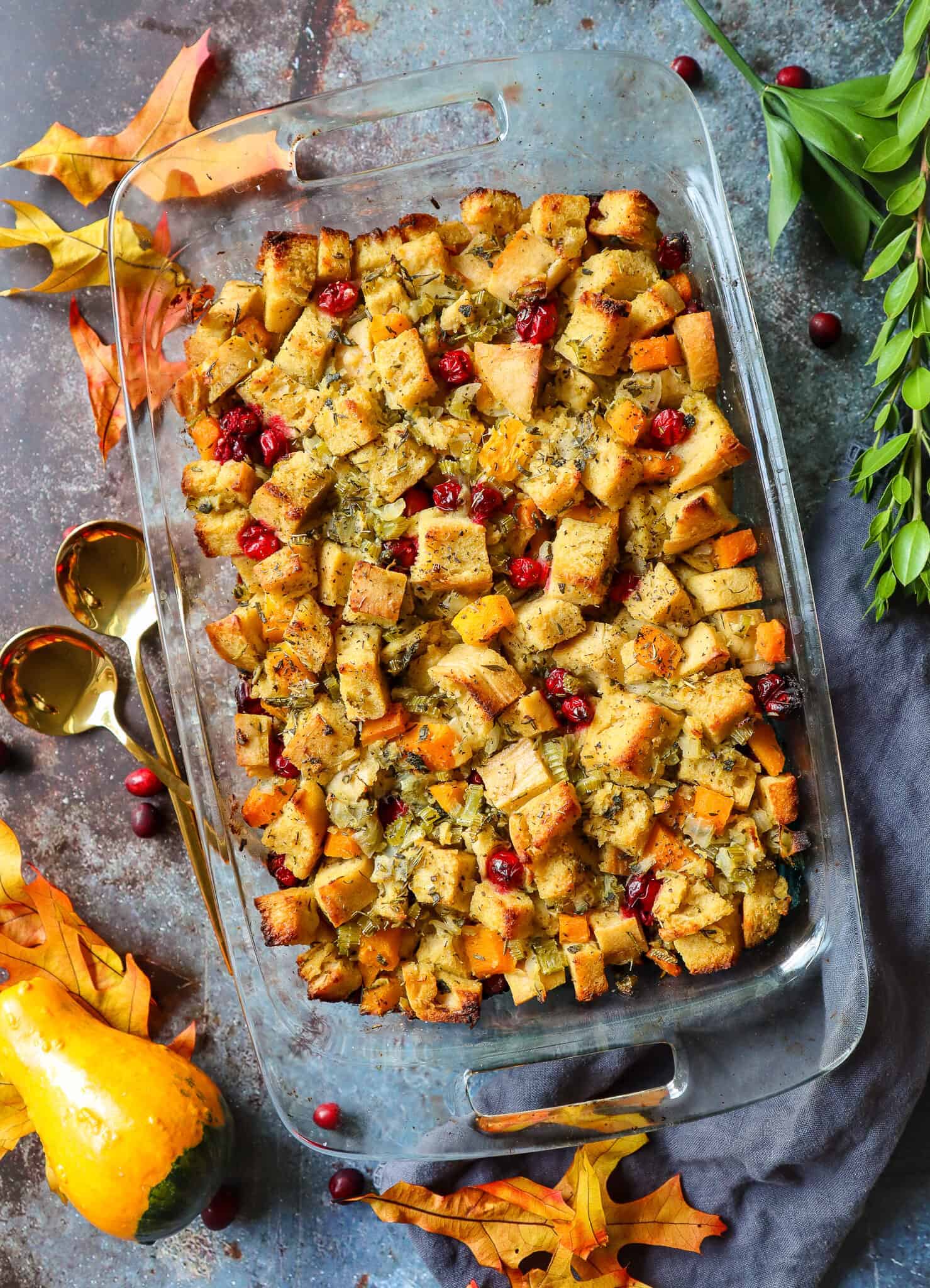 What is Thanksgiving dinner without stuffing? There are many ways to make stuffing. The best stuffing always contains a mix of bread, onion, celery, butter, and fresh herbs! To make this stuffing gluten-free, I use Bread SRSLY Gluten-Free Sourdough Bread! Their bread is super delicious and 100% allergy friendly!
This Gluten Free Sourdough Stuffing Is:
Quick and Easy to Make
Full of Flavor
Easily Customizable (Just switch out the broth to make it vegan!)
Egg-free (This stuffing is nice and fluffy without the eggs and sticks together with the help of broth)
The Perfect Thanksgiving Side Dish
One your family will rave about!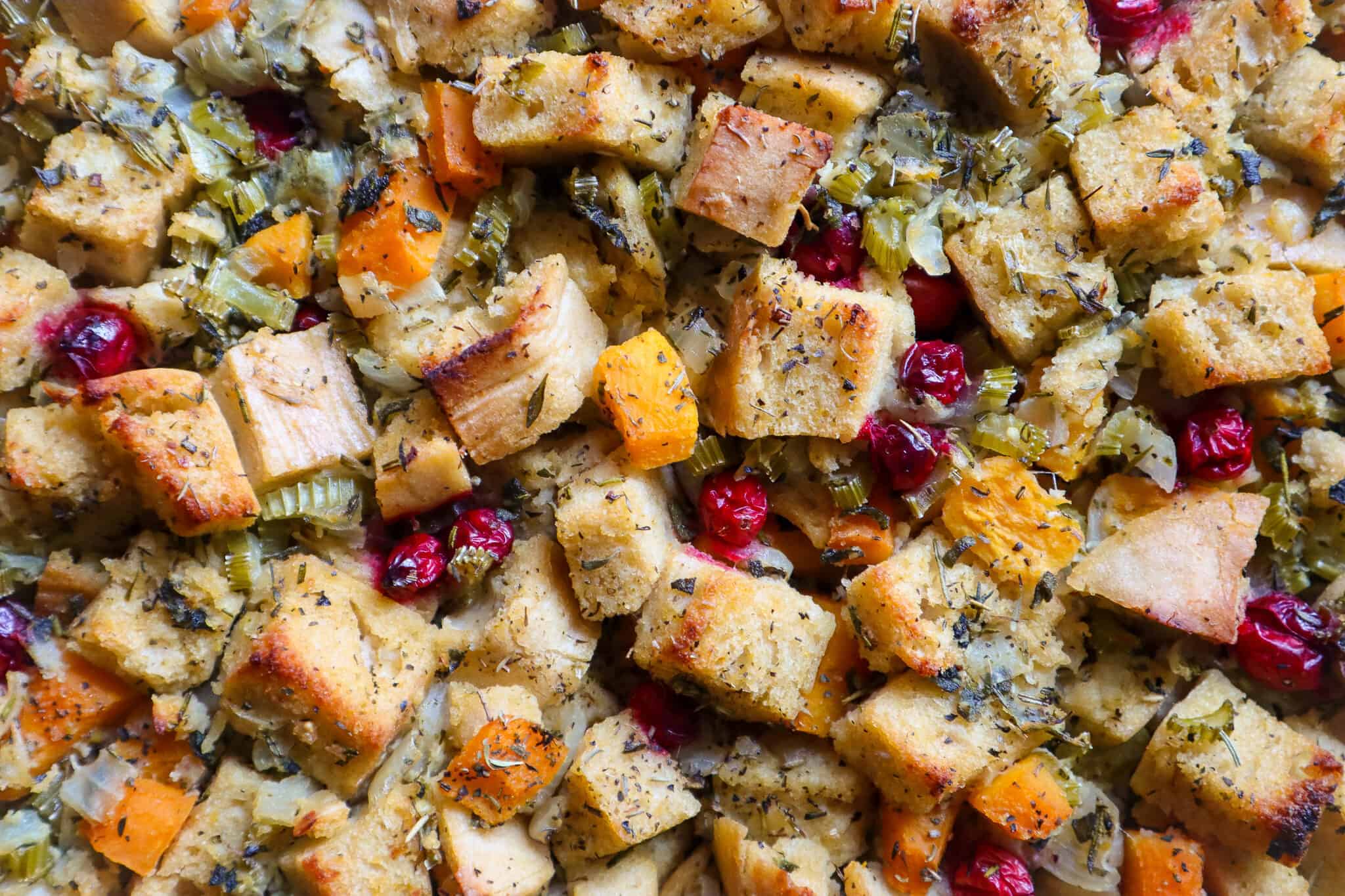 The secret to making the best stuffing is two-part. It's all about the bread and the herbs!
Ditch the store-bought stuffing mix! Making gluten-free stuffing from scratch is super easy! It all starts with the right bread. Sourdough is great because it has a distinct tangy flavor that helps to bring all of the flavors together.
I use Bread SRSLY Sourdough loaves to make my stuffing. All of their loves are freshly baked with organic, non-GMO ingredients, fermented with wild yeast to give the bread its distinct sourdough tang, and completely Gluten, Vegan, And Top 8 Allergen Free!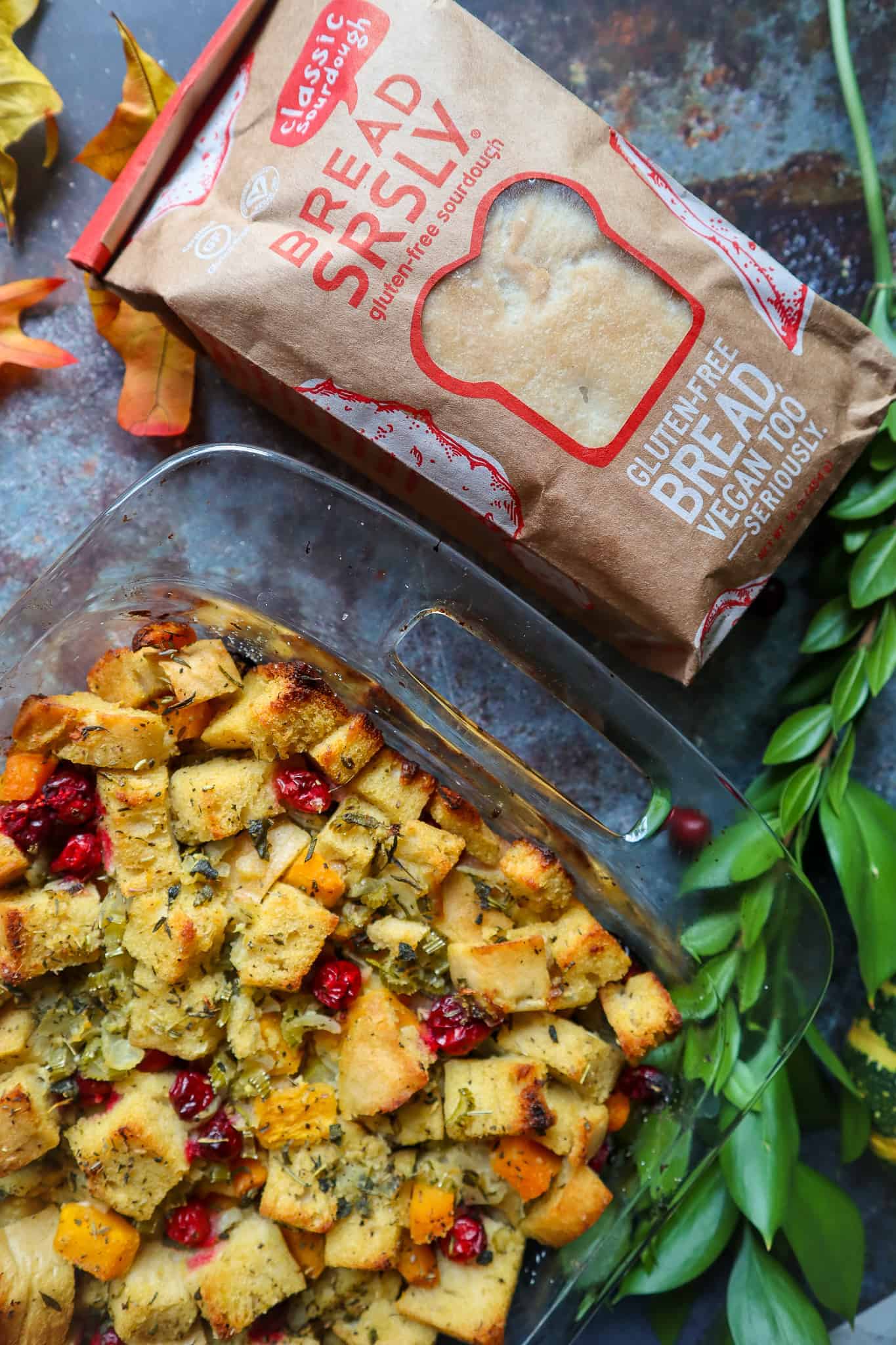 What Herbs To Add To Stuffing?
Herbs are what give the stuffing the incredible taste we love. I cannot imagine a stuffing made without a mix of herbs. You only need a few herbs to make the best stuffing!
That's it! That is all you need to make herb-seasoned stuffing! You can also add herbs de Provence for even more flavor!
What You Need To Make Gluten-Free Stuffing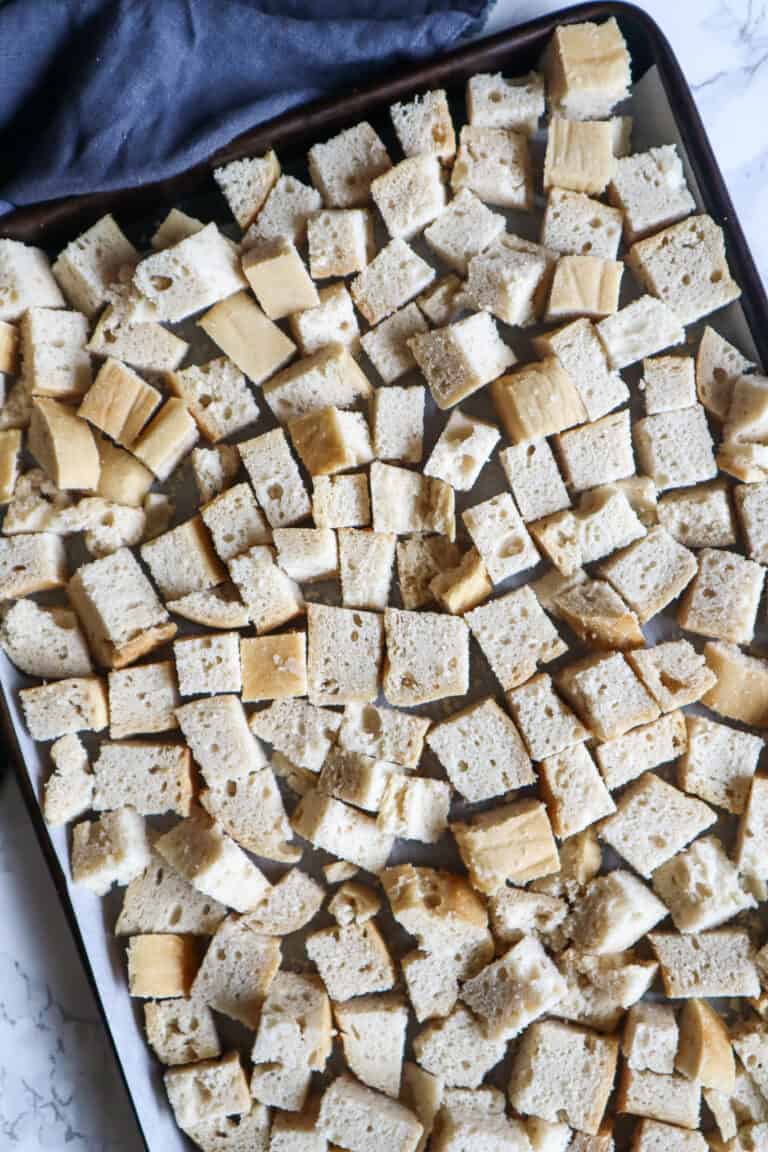 How To Prepare Bread For Stuffing?
You want to make sure your bread is completely dried out to make the best stuffing. Do this by slicing the bread and letting it air dry for a couple of hours. You can also cut the bread into small cubes for the stuffing and dry the bread in the oven at a very low temperature.
Drying the bread in the oven is my preferred method. Simply slice the bread into cubes, transfer it to a parchment-lined baking sheet, and leave it in a preheated oven at 250°F for 25 minutes. When you remove the bread from the oven it should be free of any moisture. When your bread is dry, you can begin to make the stuffing!
How to Make Gluten-Free Stuffing From Scratch | Step-By-Step Images
How To Make Gluten-free Stuffing
Prepare the herbs, celery, onions, and garlic. Slice the butternut squash into small cubes.
In a large skillet over medium heat, add butter, onion, and celery. Cook until the onions are soft and translucent, about 5 minutes.
Stir in the herbs, seasonings, and garlic. Sauté for about 2-3 minutes.
Stir in the butternut squash and sauté for 3-5 minutes.
Add in the bread cubes and mix until all the cubes are evenly coated with the herbs, garlic, and onion mixture.
Slowly pour in the broth and continue to stir until most of the broth is absorbed.
Lastly, turn off the heat and stir in fresh cranberries.
Transfer the stuffing mixture into a large baking dish and transfer to a preheated oven at 425°F for 30 minutes covered. Then remove the foil covering and bake for an additional 15 minutes.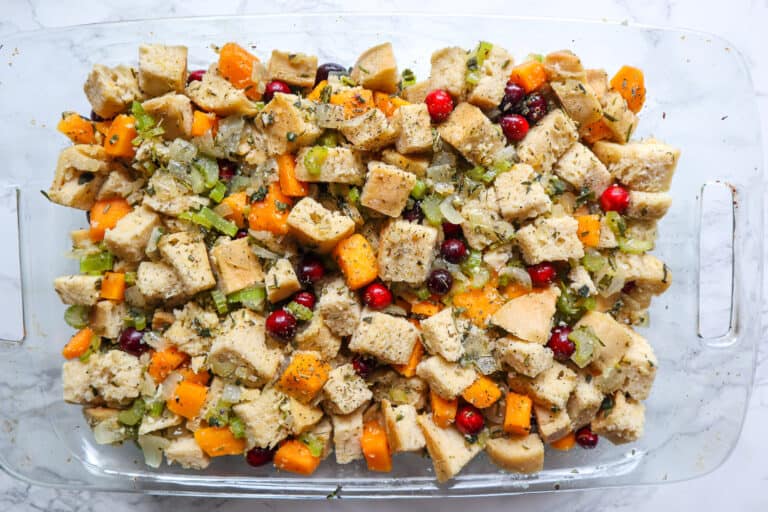 If you want to stuff the mixture inside a turkey, simply skip the last step and stuff inside a turkey instead.
Recipe Customizations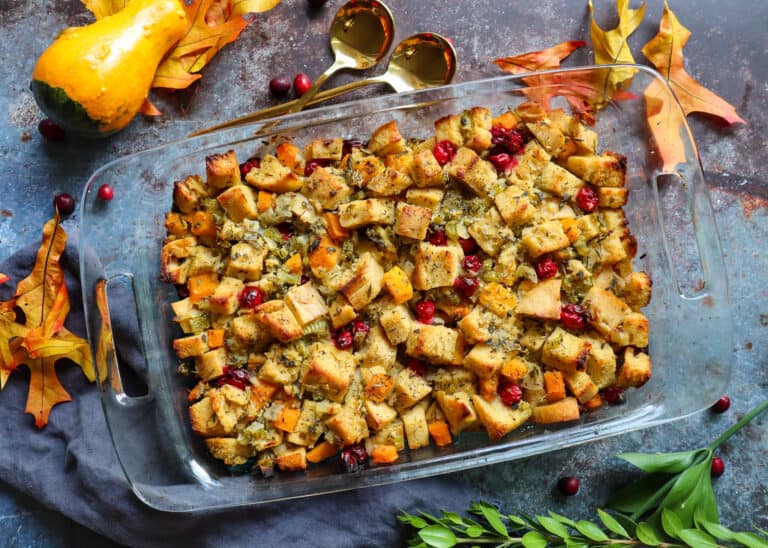 Make Ahead Instructions
You can easily make this stuffing the day before to save time. Simply follow the instructions up until it is time to bake. You will do an initial bake for 30 minutes covered. Then, remove the stuffing from the oven and allow it to cool completely. The next day when you are ready to enjoy the stuffing, warm it in the oven at 350°F for about 10 minutes covered and 10 minutes uncovered.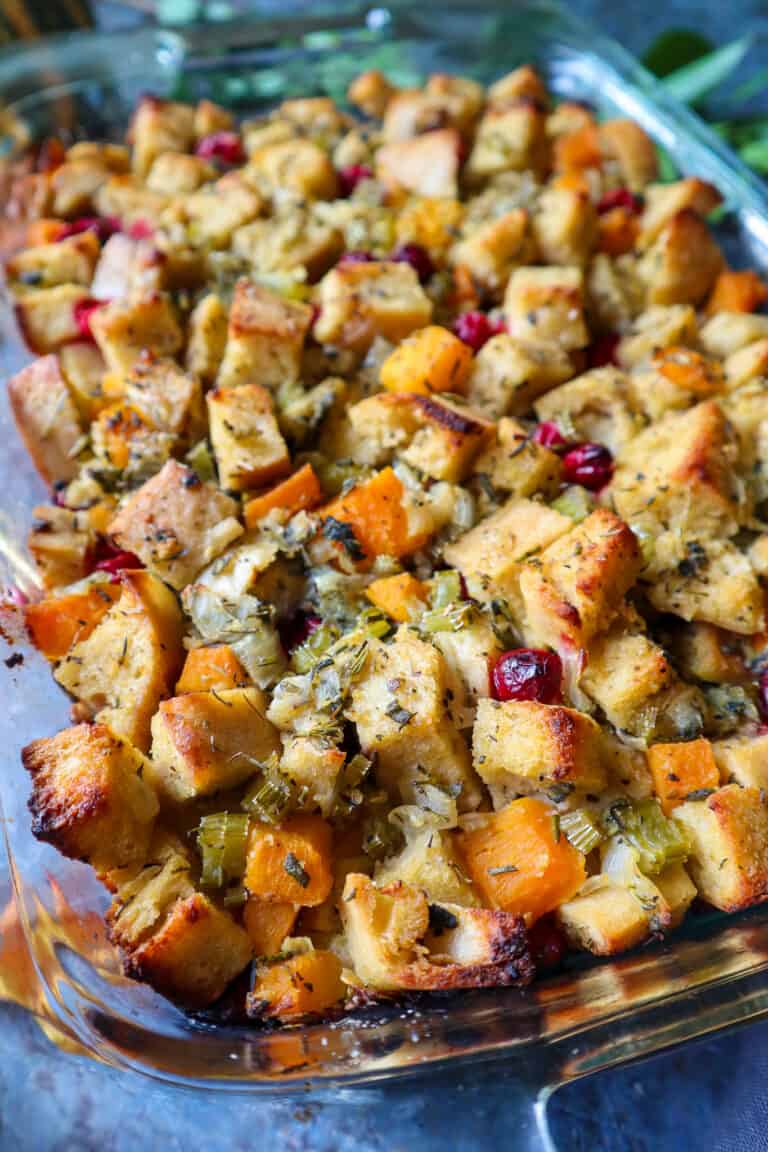 I Hope You Enjoy This Gluten-Free Stuffing Recipe!
If you try the recipe, don't forget to rate the recipe and let me know what you think in the comments. Leave a quick review & star rating ★ below! Take pictures, tag #goodfoodbaddie, and share them with me on Instagram, Facebook, and Pinterest! I love seeing my recipes come to life in your kitchen.
More Thanksgiving Recipes!
Gluten-Free Sourdough Stuffing
Incredibly delicious Gluten-Free Sourdough Stuffing with savory butternut squash and sweet cranberries in every bite. It's gluten-free, dairy-free, and can be easily made vegan by using vegetable broth instead of chicken broth! Perfect for everyone to enjoy!
Print
Pin
Rate
Ingredients
1.5

(24 oz)

loaf Bread SRSLY Gluten-Free Sourdough (or about 10 cups of bread cubes)

1

cup

celery, diced

1

cup

Onion, diced

6

Garlic Cloves, minced

2

cups

Chicken Broth (or Vegetable Broth)

1/2

cup

Butter, (vegan or regular)

2

tbsp

Parsley, chopped

2

tbsp

Sage, chopped

2

tbsp

Rosemary, chopped

2

tbsp

Thyme, chopped

1

tbsp

Herbs de Provence

1

tsp

Poultry Seasoning (I use Trader Joe's Chickenless Seasoning)

1/2

tsp

Sea Salt

1.5

cup

Butternut Squash, sliced into small cubes

1

cup

Fresh Cranberries

Salt and Pepper, to taste
Instructions
Prepare the herbs, celery, onions, and garlic by giving each a rough chop. Slice the butternut squash into small cubes. 

Preheat the oven to 425°F. Coat a large (4 QT) baking dish with butter and set aside.

In a large pan over medium-low heat, add butter, salt, onion, and celery. Cook until the onions are soft and translucent, about 5 minutes. 

Stir in the herbs, seasonings, and garlic. Sauté for about 2-3 minutes.

Stir in the butternut squash and sauté for 3-5 minutes. 

Add in the bread cubes and mix until all the cubes are evenly coated with the herbs, garlic, and onion mixture.

Slowly pour in the broth and continue to stir until most of the broth is absorbed, about 3 minutes.

Turn off the heat and stir in fresh cranberries.

Transfer the stuffing mixture into the large baking dish and top with salt and pepper. Transfer it to the oven and bake for 30 minutes covered. Then remove the foil covering and bake for an additional 15 minutes. Remove from the oven and serve. Enjoy!

(You can also skip the last step and instead, use the stuffing mixture to stuff a turkey.)
Notes
Make sure to used dried bread. If your bread is not completely dried out,

slice the bread into cubes, transfer it to a parchment-lined baking sheet, and leave it in a preheated oven at 250°F for 25 minutes.

You can easily make this gluten-free vegan stuffing by using vegetable broth instead of chicken broth

I used a loaf and a half (about 24 ounces) of Gluten-Free Bready SRSLY Sourdough. 

Store any leftovers in the air airtight container in the fridge for up to 5 days. 

The best way to reheat the stuffing for the most optimal taste is in the oven. Place it in an oven-safe dish and rewarm at 350°F for about 10 minutes. (You can also microwave it for 30-60 seconds)
Nutrition