Charcuterie Boards are a delightful arrangement of robust cheese, delicious meats, savory crackers, fruits, nuts, and more. They are an essential element that enhances any dinner, holiday party, or gathering of friends.
These delectable cheese and meat boards allow the guest an alluring feast to snack on with many options, while saving the host tons of time due to its easy preparation. Learn how to quickly make a mind-blowing charcuterie board in minutes!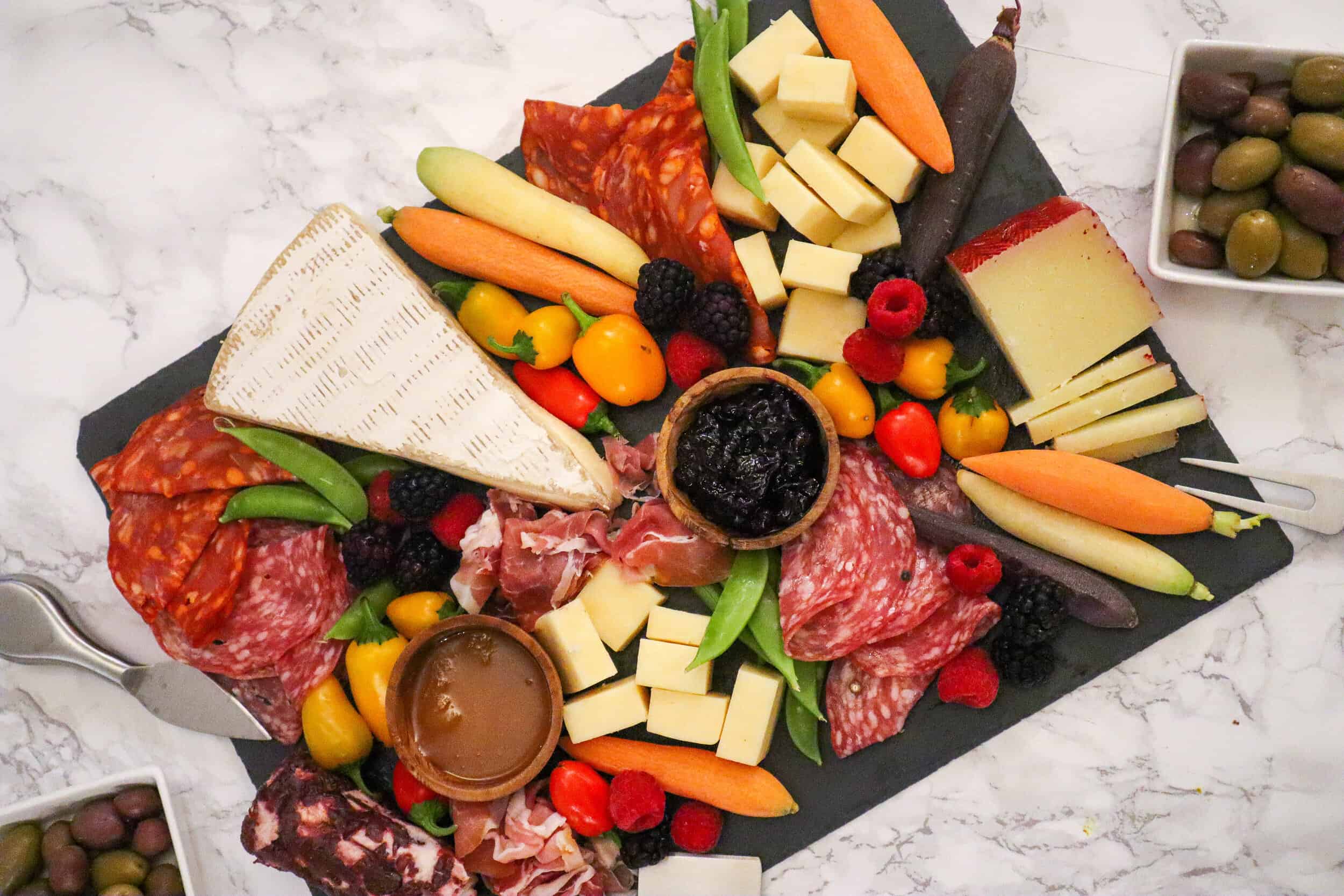 The key to making a good charcuterie board is to have fun with it.
This is your chance to let out your artistic flair, color outside the lines, and enjoy the process of piecing this delectable board together. Before you being, there are just a few things you will need.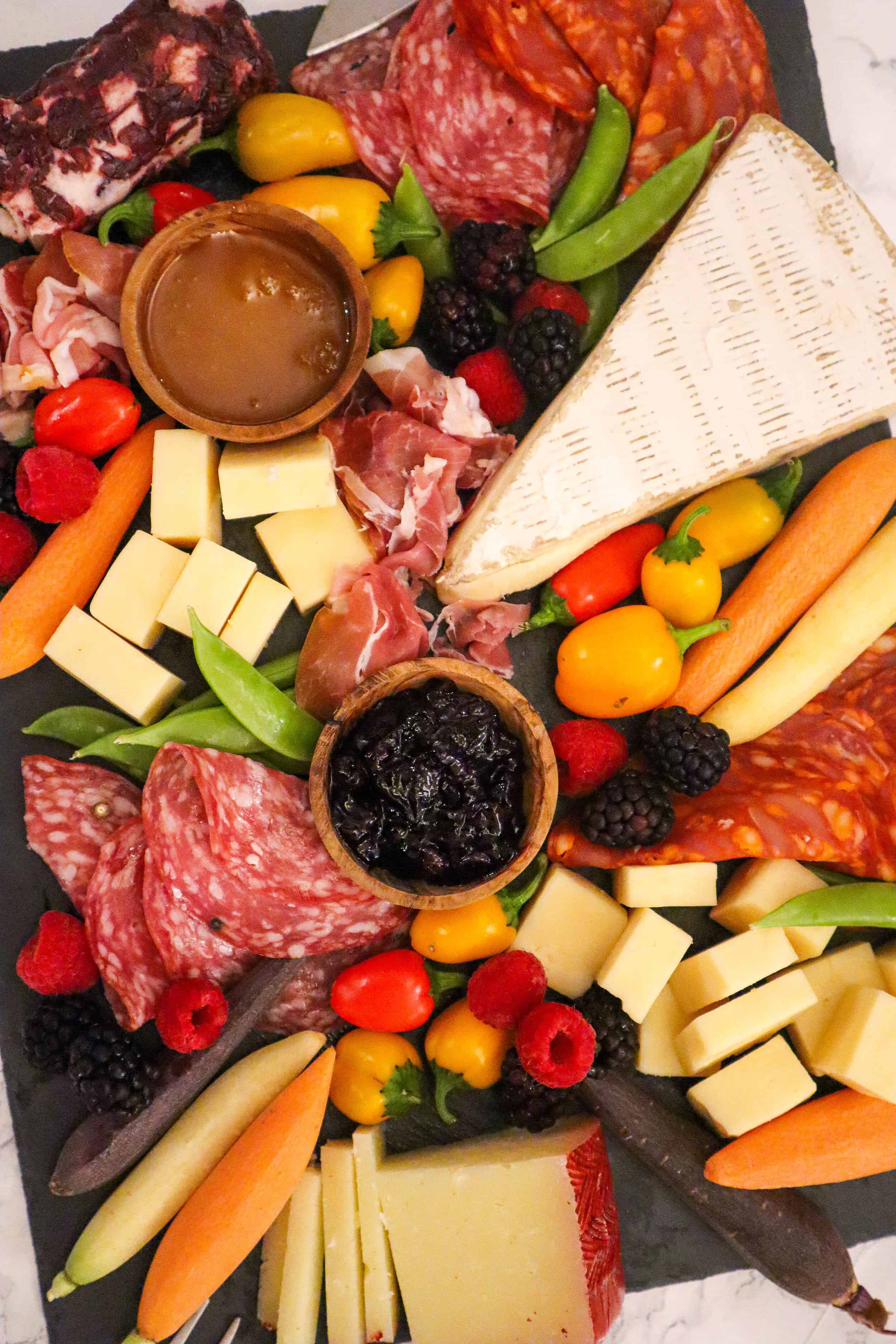 First, what exactly is a charcuterie board?
Charcuterie, the French word for "cooked meat", pronounced shar-koo-tuh-ree, is an assortment of cured, smoked, or prepared meats arranged beautifully on a board and paired with various cheeses, fruits, jams, and nuts. It is very common to see charcuterie boards on the menu at popular farm-to-table restaurants and wine bars. Charcuterie boards are perfect to make at home and an easy party appetizer that everyone will fawn over an enjoy. It takes less than 5 minutes to put together a charcuterie board, which means no fuzz or fret for the host. Just have plates, napkins, and wine ready so you can sit back and relax enjoy your guest.
How to make an epic charcuterie and cheese board?
Step 1:
You'll need a canvas to start your work of art: a large board.
You can use a nice wooden cutting board, chalkboard, marble slab, or slate. I love using a wooden cutting board or slate for a clean, sophisticated look. You can purchase a wooden cutting board, slate, or chalkboard from your favorite home decor stores like Pottery Barn, HomeGoods, Marshalls, or Target. I purchased my slate board on Amazon and I love it because it comes with gorgeous serving knives and forks.
Step 2:
You'll need savory meats; the more variety the better.
Salami, Italian Sliced Prosciutto, pepperoni, and other cured meats. Trader Joe's and WholeFoods have a wonderful selection of meat assortments that are ready-to-go and easy to just remove from the packet and place on your tray. Here's an example of a few
Step 3:
Time for everyone's favorite part: the cheese!
The cheese is the most important part and bridges everything together. You will need different types of cheese ranging from soft to hard and varying milk types, from cow to sheep to goat. My favorite cheeses to use are Manchego, Brie, Goat, and Gouda; you just can't go wrong with these!
Step 4: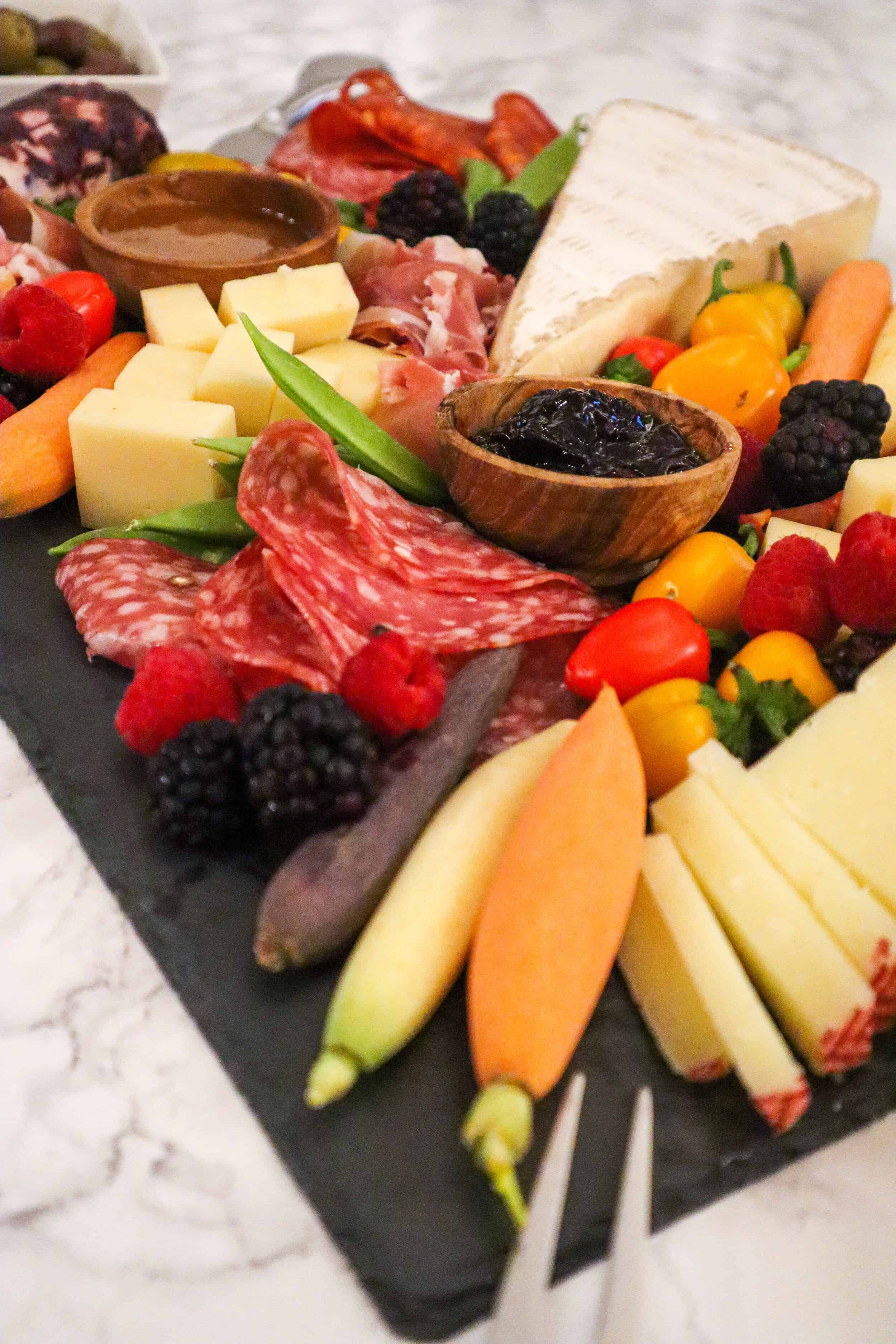 Add your favorite sauces. You don't need many, just a few for people to enjoy with their meat and cheese.
I  like to add two or three to my board: a sweet jam, honey, and dijon mustard are always good! For your board, you will need small bowls to house the sauces. I love using a variety of sizes or a clashing material of bowls to add some visual dynamism to my board. If you have extra boards you can throw nuts or dried fruit into them! Here's the one I used and it is pictured here.
Step 5:
Add Texture and Color!
This is the part where you have the most fun! Now that your meats and cheeses are arranged on the board, fill the remaining space with all your favorite bites: cured olives, marinated artichoke, snap peas, carrots, celery slices, and more. Throw in pockets of seasonal fruits, like raspberries and blackberries or apple and orange slices. The fruit provides vibrant pops of color to the board while providing a satisfying sweet that pair perfectly with the meat and cheese.
Step 6:
Almost done!
Your board should be looking impeccable by now and all you need are a few more bites to make it perfect. Here you can add your favorite nuts and dried fruit. Almonds and pistachios are always great and dried apricots and pitted dates are always a party favorite!
Step 7:
Time to make the final touches.
If you like, you can place some fresh herbs on the board to give it a subtle, pop of color; mint, basil, and rosemary are beautiful additions. Lastly, add an assortment of crackers and breadsticks and your charcuterie board is complete!
When to make a Charcuterie Board?
Try making a charcuterie board for dinner first. It's an easy effortless meal that and your loved ones can enjoy. Pair it with wine to make it even more fun. You'll soon begin to love charcuterie boards and find that they are so EASY to make. Bring them to your next gathering, or throw a party yourself and have charcuterie as the star appetizer of the show!
How to Make a Charcuterie Board
Charcuterie Boards are a delightful arrangement of robust cheese, delicious meats, savory crackers, fruits, nuts, and more. They are an essential element that enhances any dinner, holiday party, or gathering of friends.
Print
Pin
Rate
Ingredients
2 ounces cheese per person
Soft Cheese, choose 2-3 types: Brie Camembert, Burrata, Bleu, Fontina, Goat, etc.

Semi hard cheese, choose 2-3 types: Gouda White Cheddar, Manchego, Gruyere, etc
1-2 ounces meat per person
Salami, Prosciutto, Ham, etc.
Variety of Jams, Perserves, and Sauces
Strawberry jam, Honey, Dijon mustard, pesto, hummus. Serve 2-3 ounces of each 
Fruits and Veggies: Use a Varitey of Each
8

oz

blueberries, washed and drained

8

oz

strawberries, washed and drained

8

oz

raspberries, washed and drained

4

oz

snap peas

10-12

sliced carrots

1

cucumber, sliced in thin dials
Dried Fruit, Nuts, and Pickled Treats
5

oz

dried fruits: apricots, dates, banana chips, etc,

4-5

oz

nuts: raw almonds, pistachios, cashews, etc

4

oz

cured olives, peppers, artichokes, etc.
Garnish
Fresh Sprigs of herbs: mint, rosemary, or basil
Instructions
Place cheese and meats on various spots on the board.

Place all jams and sauces in a small bowl, then onto the board.

Fill the remaining space with fruits, veggies, crackers, nuts and remaining ingredients.
Notes
Nutrition:
Serving: 6-8
Fat: 34g
Protein 14g
Calories: 609
Nutrition
Try Making a Charcuterie Board for your next date night!