Pesto is the secret that no one ever shares. It has the power to elevate ANY dish, by invigorating savory, mouth-watering life into each bite. I love making pesto and I've found it has many uses. I first discovered the power of pesto after creating my now popular, Pesto Crusted Salmon. The use of pesto on the salmon makes this recipe foolproof, guaranteed to be incredibly delicious every time it is made. Plus, the finish looks so impressive that if you're cooking for guests, they'll feel as if they are eating at a gourmet restaurant.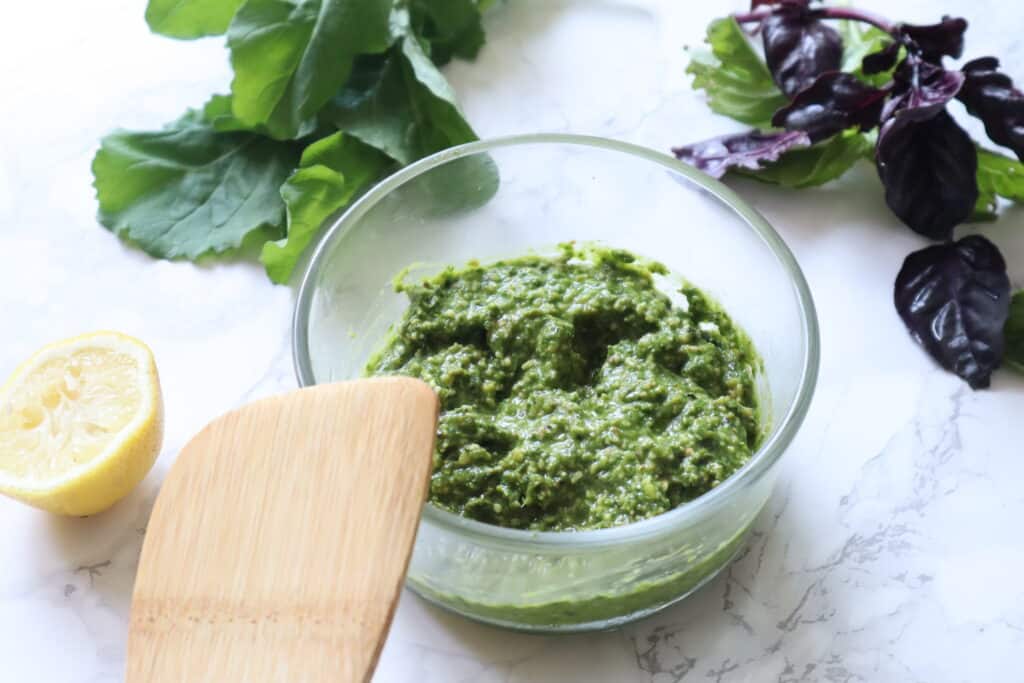 I've expanded my pesto use and find it equally delectable as a spread on your favorite sandwich, a dip with plantain chips or pita bread, a sauce for pasta, a topping for salad, and honestly, the possibilities are endless. It is perfect as a snack, a subtle enhancement to a dish, or the star of a meal.
The secret to my pesto recipe is my slight variation on the traditional, basil, pine nut, olive oil, and parmesan cheese recipes. However, lets be honest, while basic is cool and safe, we don't want basic! We want flavor that has us gripping our seats because what we've tasted almost knocks us into another universe. We want to be wowed, especially if we are cooking for others.
The beauty of this recipe is that it is insanely easy, requiring almost no effort, but yielding undeniably fantastic flavor. The only things you need are the ingredients listed below, measuring cups, and a blender. This super easy pesto takes only minutes to make!
There are two primary ingredients that make this pesto stand out from the rest and give the pesto such a dynamic flavor. The first is the arugula. This delicious green provides us with a peppery, spicy, and herbaceous flavor that, when paired with basil, adds a bit of complexity that is hard to resist! The second ingredient is pistachios. I once added this to my pesto when I was out of pine nuts, and I have not looked back since. The pistachios compliment the creamy, oily pine nuts and offer a unique, sweet nutty flavor. Ground to perfection, the pistachios also create an aesthetic appeal as their green color enhances the beauty of the pesto.
Lastly, this recipe is just as delicious without the parmesan cheese! If you are vegan, on the Whole30 challenge, or you simply do not eat cheese, just omit the cheese and you can still enjoy this incredibly delicious pesto!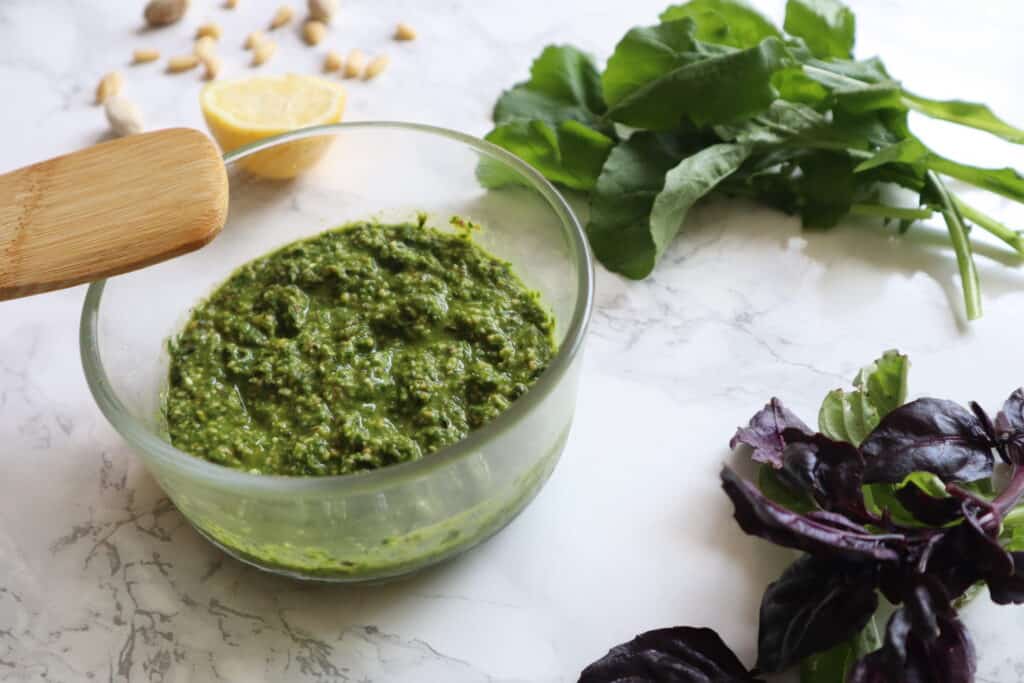 For this recipe you'll need:

Blender or Food Processor
Measuring Cups
Spatula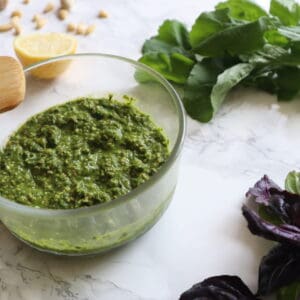 Creamy Pistachio Pesto
Creamy, rich, flavorful Pesto. There are two primary ingredients that make this pesto stand out from the rest and give the pesto such a dynamic flavor: arugula and pistachios.
Print
Pin
Rate
Equipment
Food Processor or Blender
Ingredients
2

cups

Fresh Basil Leaves

1

cup

Arugula

1/2

cup

Freshly Grated Parmesan-Reggiano Cheese

1/3

cup

Extra Virgin Olive Oil

1/3

cup

Pine Nuts

1/3

cup

Pistachios

3

Garlic Cloves

1/4

tsp

Sea Salt

1/8

tsp

Freshly Ground pepper
Instructions
Combine the basil, arugula, pine nuts, pistachios, and garlic into the blender (or food processor). Blend until ingredients are finely chopped.

Add the olive oil, salt, and pepper to the mixture and blend on low until smooth.

Add the parmesan cheese and blend on low until all ingredients are mixed well together. Blend only for 1 minute or less)

If the consistency is too thick for your liking, feel free to add 1-2 tbsp olive oil and blend.
Notes
You can sub chopped walnuts for pine nuts to get an even more dynamic flavor
This recipe makes approx 2 cups of Pesto. You can use 1 cup for pasta, a crust for your fish, or as a chicken marindade. Save the remainder to snack with or for toppings for your favorite salad. This pesto is good with fresh cut veggies, plantain chips, pita bread, or even tortilla chips. And perfect on salads and veggie/grain bowls!
Nutrition