Make delicious, fluffy, veggie-loaded, JUST Egg scramble for breakfast! Enjoy it on top of toast and with your favorite cup of coffee for a delightful meal.
If you love recipes using JUST Egg, you'll definitely want to try my JUST Egg Spinach Artichoke Frittata or JUST EGG Quiche next!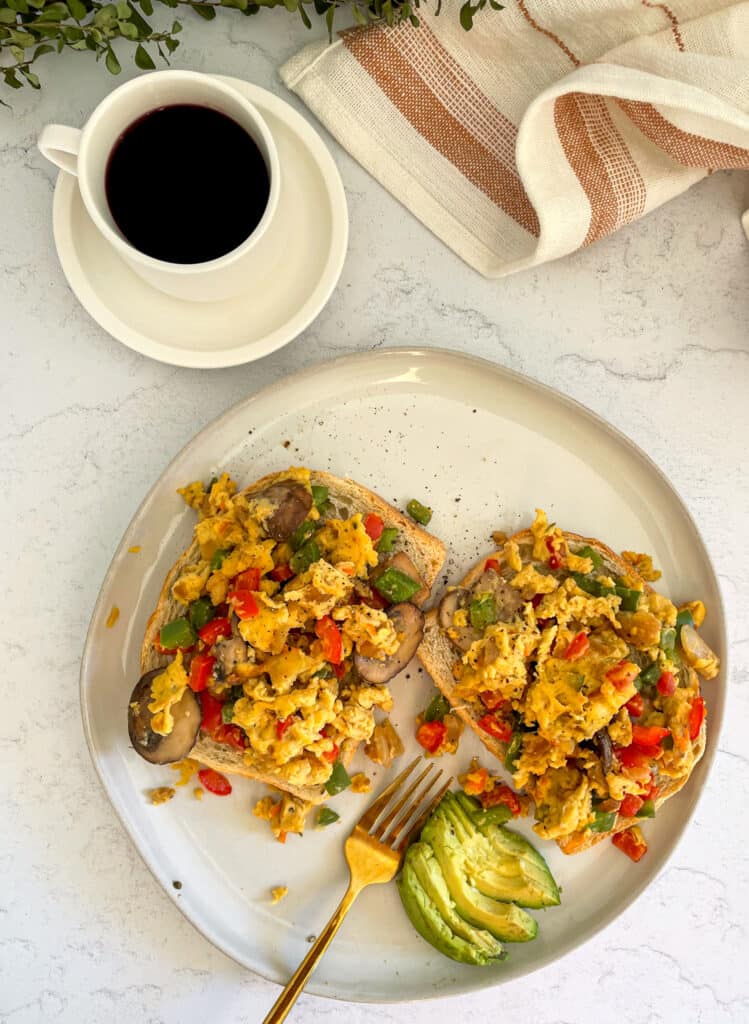 This content contains affiliate links, which help goodfoodbaddie.com to provide free recipes and resources. As an Amazon Associate, I earn from qualifying purchases. Thank you for your support of the blog!
JUST EGG is a great plant-based egg replacement! Not only does it look, cook, and taste like an egg, but it's cholesterol-free, non-GMO, and dairy-free. It's made from a protein-dense legume called mung bean, and a few other ingredients. The full ingredient list here: JUST Egg Ingredients.
What I like best about JUST EGG is that it is made with clean, sustainable ingredients. Producing JUST Egg requires less water, land, and emits less carbon emissions, which is better for you and the environment!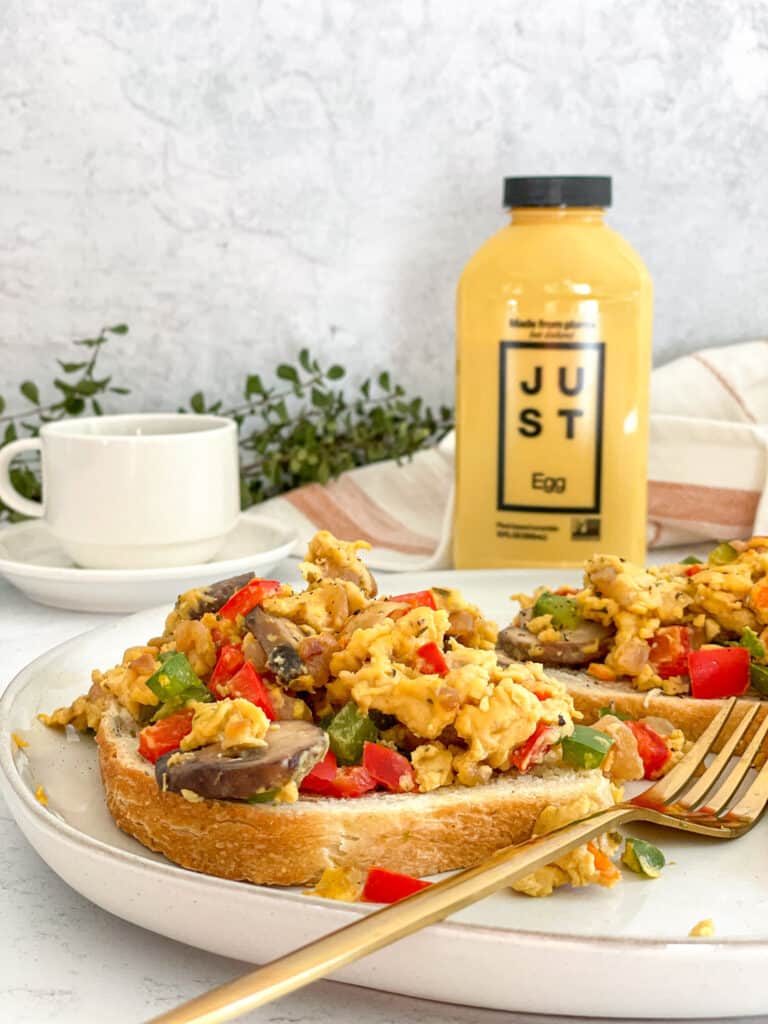 This JUST Egg Scramble is filled with colorful peppers, caramelized onions, and garlic! It's super easy to make and perfect for breakfast on its own, or with a stack of fluffy pancakes!
JUST EGG RECIPE: VEGGIE LOADED JUST EGG SCRAMBLE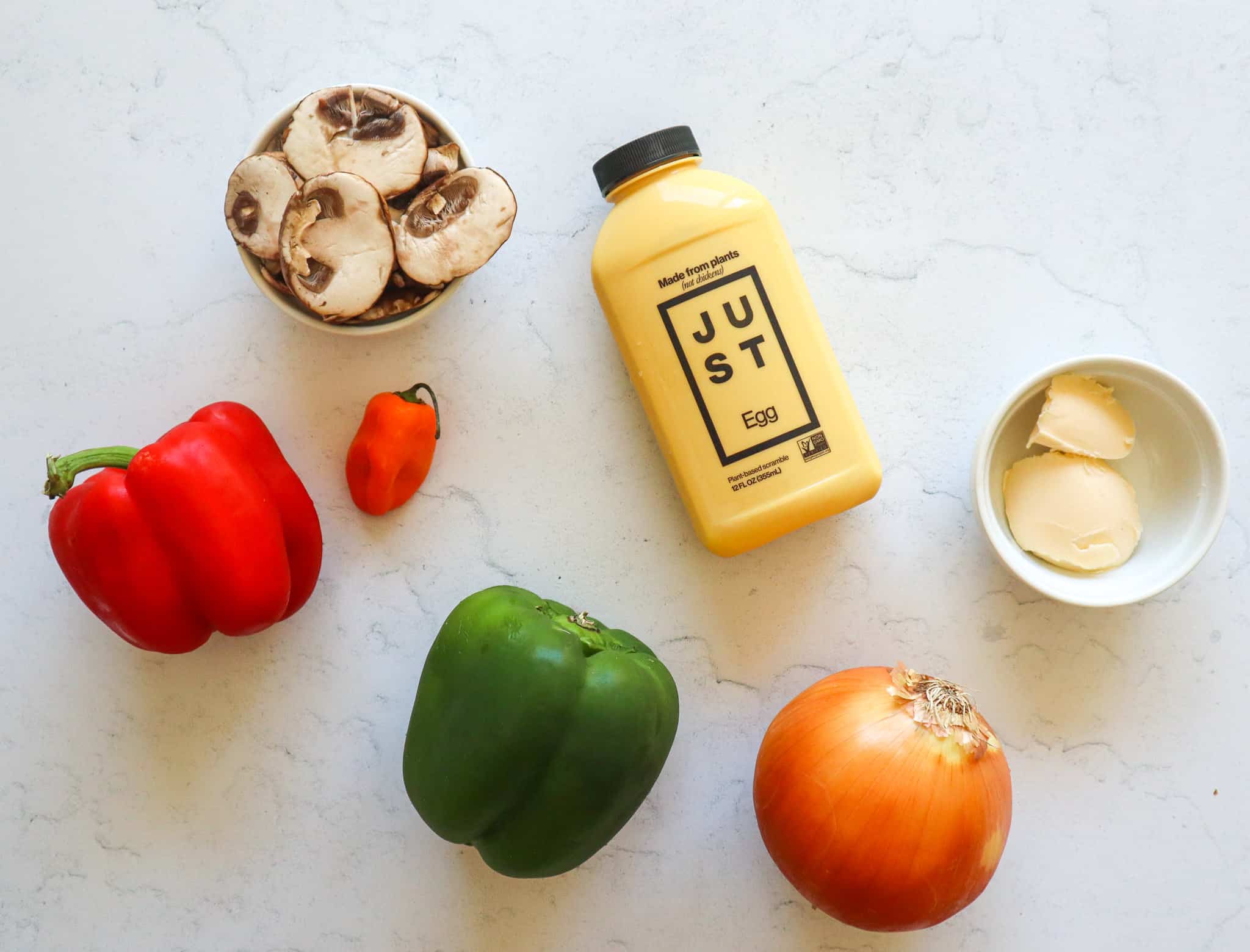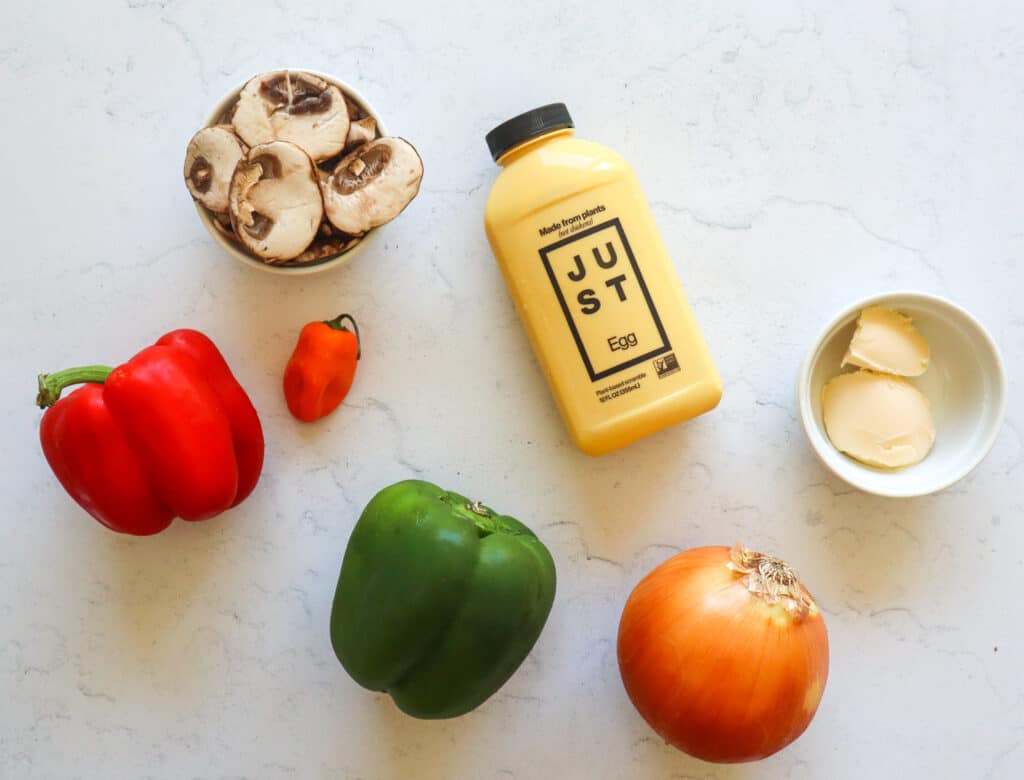 What You Need To Make This JUST Egg Scramble
JUST Egg: I use 1 container of JUST Egg for this recipe.
Peppers: Use red, green, yellow, or orange peppers; any of your favorite peppers to add color and taste. I also add habanero peppers for added spice!
Vegan Butter: Butter or oil is necessary so that the JUST Egg does not stick to the pan
Onion: You can use half of an onion of your choice, or shallots (to fill ½ cup)
Mushrooms: Add any of your favorite veggies. I like to add mushrooms. You can also add asparagus, broccoli, or Brussel sprouts for a tasty veggie-loaded scramble.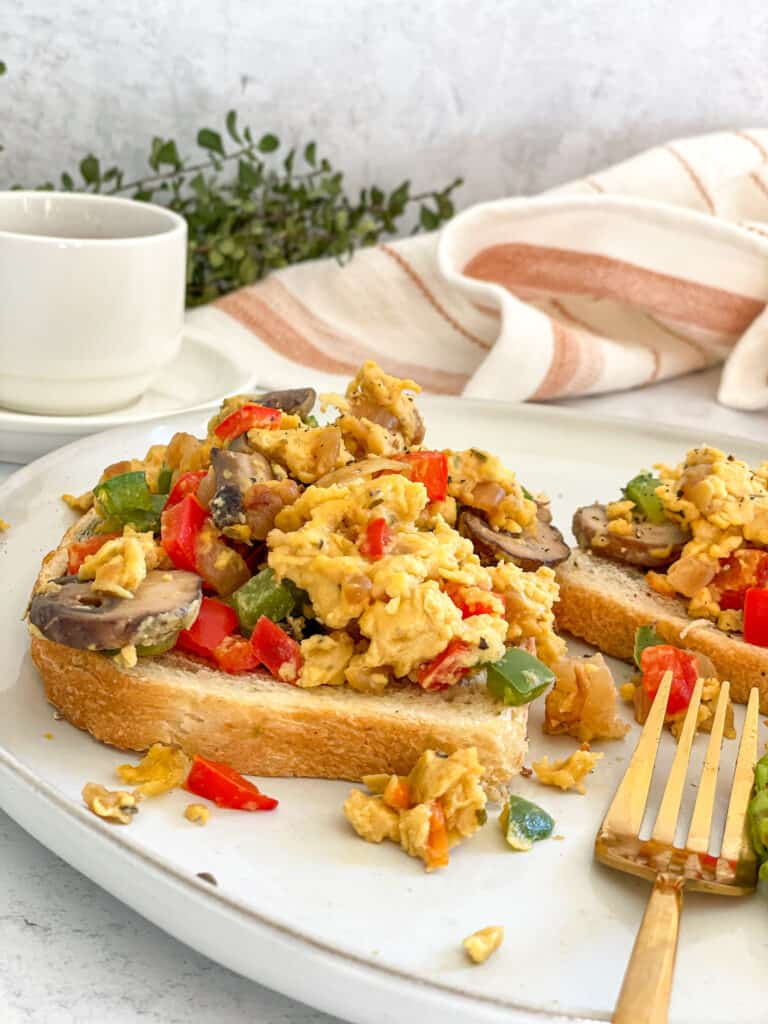 Tips to make the best Veggie-loaded Vegan JUST Egg Scramble
Use a non-stick pan when making your scramble.
Add oil of your choice of vegan butter to the pan before adding the veggies and JUST Egg. (The JUST Egg easily sticks to the pan so you will want to use oil/vegan butter)
Cook the vegetables first. You will need to cook the vegetables for about 5-7 minutes, or until softened and slightly caramelized.
Make sure to use a rubber spatula and stir the scramble while cooking to prevent the JUST Egg from sticking to the pan.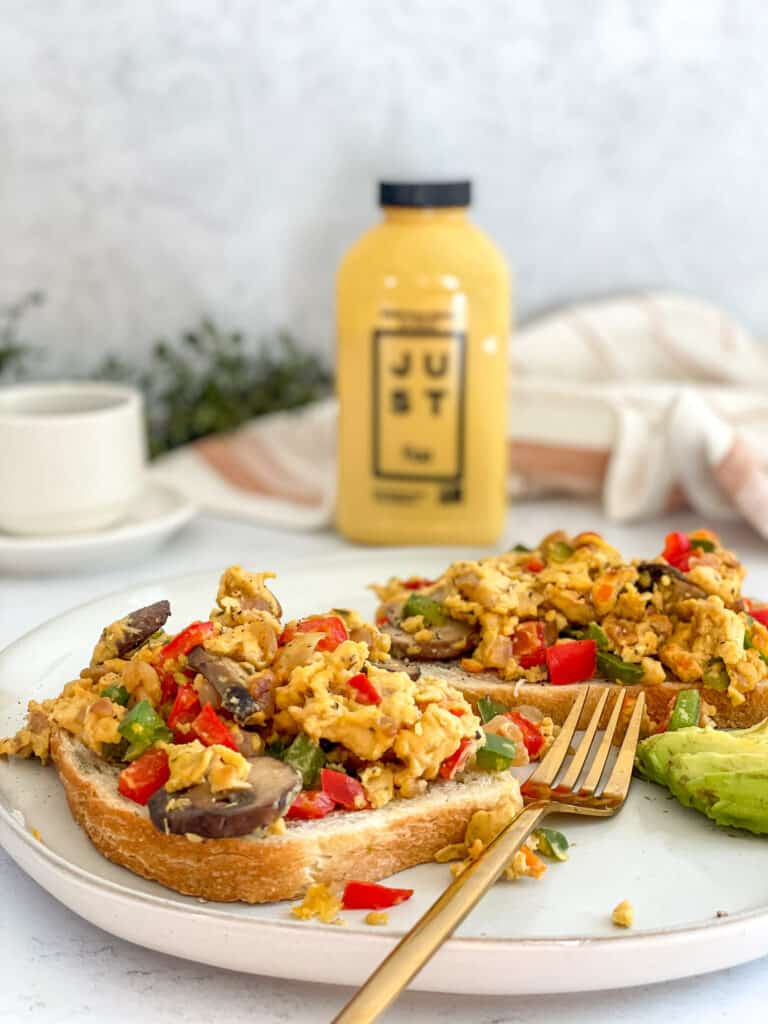 Common Questions
How much JUST Egg is equivalent to one egg?
One large egg is equivalent to 3 Tablespoons of JUST Egg (or 1 serving), and provides 5 grams of plant-based protein.
Does JUST Egg taste like eggs?
JUST Egg has a similar consistency to regular scrambled eggs. If you do not normally eat eggs, you will be pleasantly surprised at how close JUST Egg resembles eggs in taste, especially when you add Kala Namak Black Salt, which gives the scramble a more eggy flavor.
Is JUST Egg safe for egg allergy?
According to the JUST Egg website, it is safe to eat JUST Egg if you have an egg allergy as the product is dairy-free and completely egg-free. Here is a comprehensive chart of the allergen information for all of their products.
Where can I buy JUST Egg?
You can find JUST Egg at your local grocery store in the refrigerated section, typically near the eggs. In the US, it's in Albertsons, WholeFoods, or you can purchase it only from Amazon. JUST also provides a store locator so that you can find where they sell JUST Egg in your area.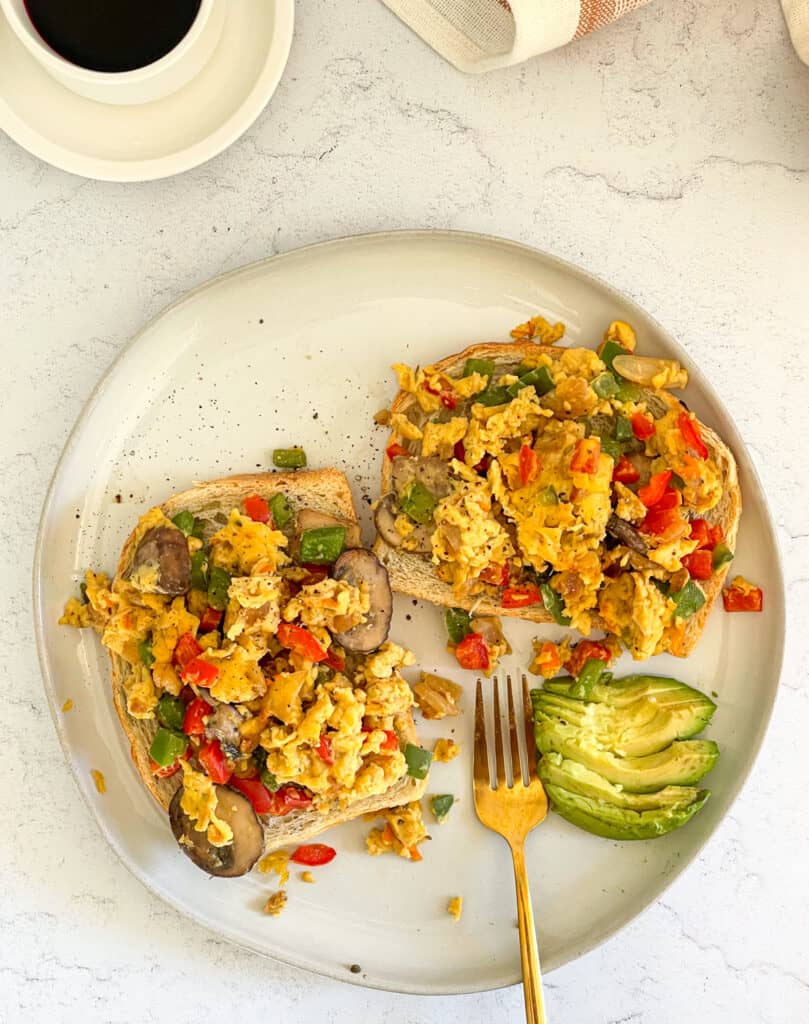 I Hope You Enjoy This Vegan JUST Egg Scramble Recipe!
If you try the recipe, don't forget to rate the recipe and let me know what you think in the comments below! Take pictures, tag #goodfoodbaddie, and share them with me on Instagram! I love hearing from you! 
What To Eat With Your JUST Egg Scramble: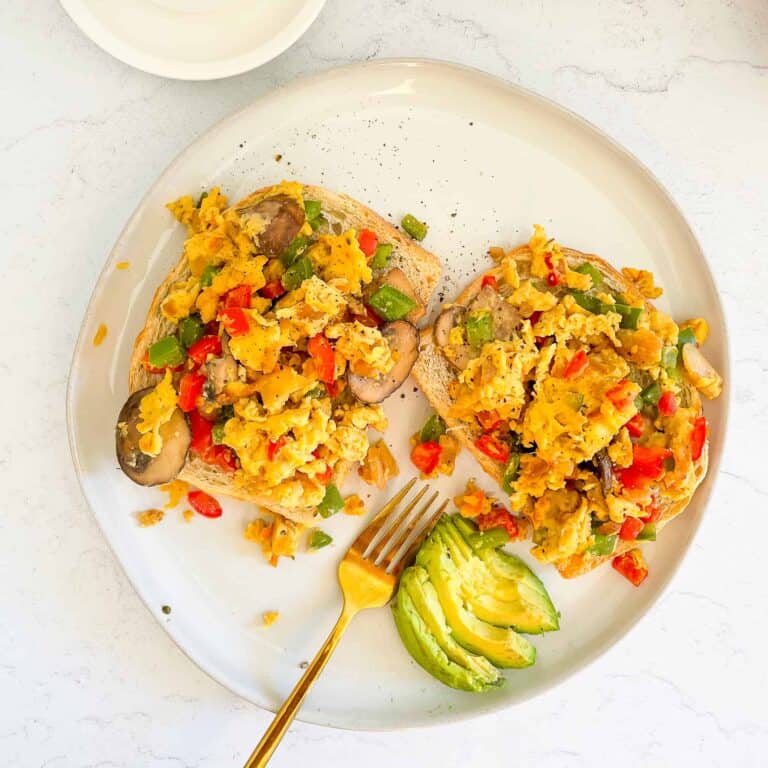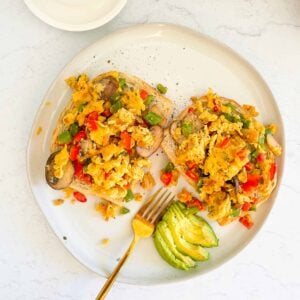 Veggie-Loaded JUST Egg Scramble
Make delicious, fluffy, veggie-loaded JUST Egg scramble for breakfast! Enjoy it on top of toast and with your favorite cup of coffee for a delightful meal.
Print
Pin
Rate
Ingredients
12

oz

JUST Egg

1/2

cup

Onion, chopped

3

Garlic Cloves, minced

1/2

cup

Mushrooms, sliced

2/3

cup

Bell Pepper, chopped (any color)

1

Habanero Pepper (optional)

1

tsp

Italian Seasoning

Salt and Pepper, to taste

1/8

tsp

Kala Namak Black Salt (optional)
Instructions
Over medium heat, in a non-stick pan add oil or vegan butter. Add chopped onions and saute for 1-2 minutes. Then, add minced garlic, mushrooms, and peppers. Saute for 5-7 minutes, or until softened.

Shake the bottle of JUST Egg. Pour the JUST Egg into the pan with the cooked vegetables. Let the mixture sit for a moment, then using a rubber spatula stir the mixture to prevent the JUST Egg from sticking to the pan. Season with Italian Seasoning, salt, and pepper.

Cook the JUST Egg for about 5-7 minutes, occasionally using the spatula to push the cooked center to the outer edges and moving any uncooked mixture to the center to cook. Cook the scramble until all of the liquid has been cooked through and resembles scrambled eggs.

Garnish with chives, green onions, red crushed peppers, and Kala Namak Black Salt. Serve over toast or as a side to your favorite breakfast meal!
Nutrition