Maca Coffee is a natural substitute for coffee made with maca root powder, milk, cinnamon, and natural sweetener. Maca root is an adaptogenic plant native to Peru, that can be used as an energizer that fights fatigue and increases stamina. Here's a recipe for maca coffee that you can easily make from home each morning! (This recipe is vegan and naturally gluten-free).
If you enjoy maca drinks, then definitely check out our Golden Maca Latte Recipe and Healthy Maca Hot Chocolate next! For more naturally energizing drinks, try this Cacao Husk Tea next!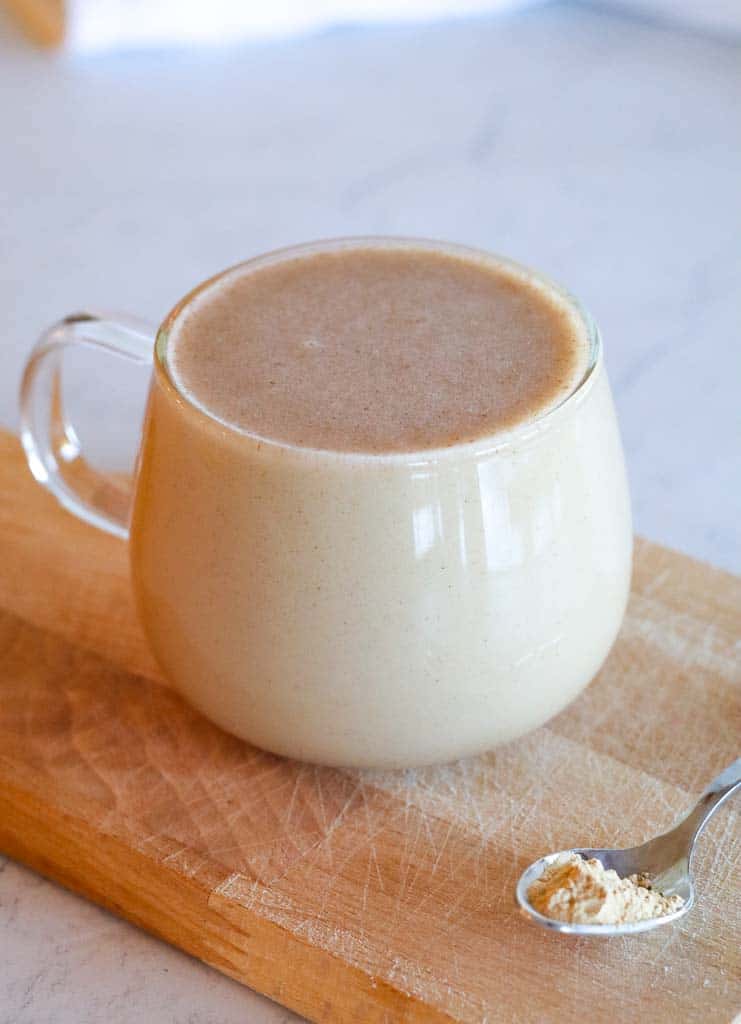 Maca Coffee is a caffeine-free alternative to your typical cup of coffee. It is a delicious energizing drink without the coffee jitters or racing heart effects. I drink it pretty much every day. I've gotten to the point where I LOVE it and enjoy experimenting with the flavors. Sometimes I keep it simple and make a basic maca coffee and other times I add matcha, moringa, turmeric, or cacao powder! I'll show you how to make a simple energizing maca coffee and you can decide whether you want to experiment and add more flavors!
You'll Love This Maca Coffee Recipe! It's:
Super nutritious, made with clean ingredients.
Vegan, naturally sweetened, gluten-free, and suitable for almost any diet!
Easily customizable. Add your favorite superfoods like cacao, turmeric, and ashwagandha, or add spices like cinnamon and cardamom to give it an even more delicious flavor.
Quick and Easy To Make. Ready in less than 5 minutes. Perfect for those busy mornings.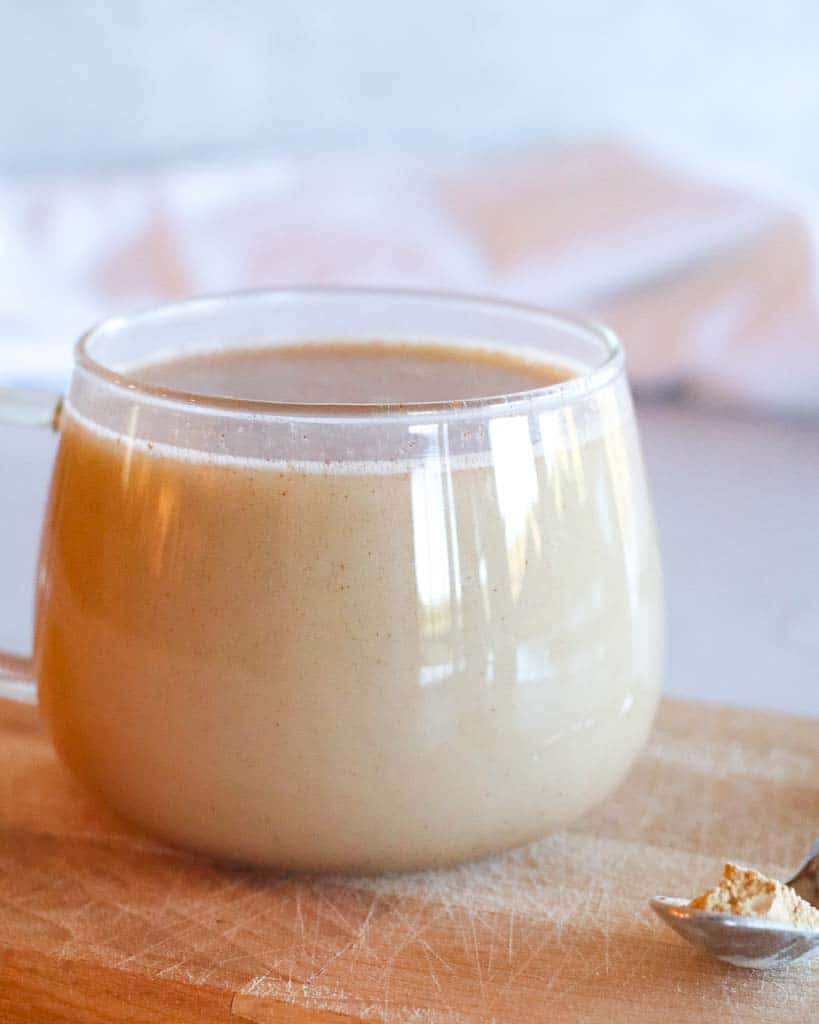 Maca plant, aka Peruvian ginseng, offers a wide variety of benefits and it is a great addition to your diet!
Benefits of Maca
Improves Memory, Learning, And Concentration Skills
Improves Mood and Helps Reduce Anxiety and Depression
Boost Energy, Endurance, and Stamina
Supports A Healthier Metabolism
May Reduce Blood Pressure
High in Vitamins and Minerals such as Calcium, Magnesium, Potassium, Iron, Iodine, and Vitamins B1, B2, C, and E.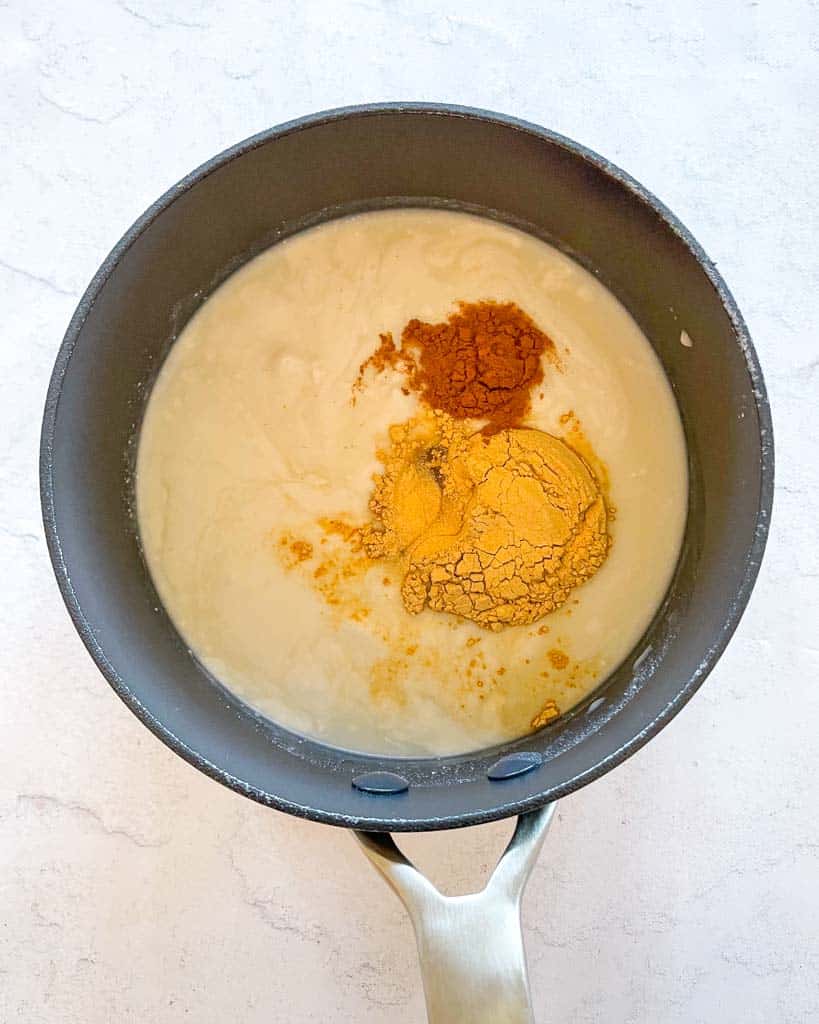 Ingredients You'll Need
Organic Maca Powder: Maca is an energy, mood, and libido-enhancing root high in fiber, calcium, iron, and amino acids. There are several types of maca powder. They are different in color but have nearly the same nutritional profile. There is red, black, and yellow maca. Red and yellow maca are the types most commonly found online and in health for stores. Gelatinized maca powder is best.
Non-Dairy Milk or Regular Milk: Use the milk of your choice. I like to use Unsweetened Oat Milk and find that oat milk has the creamiest consistency compared to milk made with almonds. If you would like to make your own oat milk at home try my 5-Minute Homemade Oat Milk Recipe.
Canned Coconut Milk: This gives the drink a rich, velvety consistency and delicious flavor. You can use reduced-fat or full-fat coconut milk. Just be sure to give the canned coconut milk a good store before using it. If you prefer, you can use half and half or heavy cream instead.
Natural Sweetener: I like to use pure maple syrup, but agave syrup, honey, or coconut sugar work as well. Use your favorite sweetener or leave it out if you'd like.
Cinnamon: To give the drink a delicious, warm flavor.
Pure Vanilla Extract: Just a drop or two is needed to bring all the flavors together.
What does maca taste like?
Maca has a slightly nutty, caramel taste. It is enjoyable on its own but tastes even better when mixed with cacao, peanut butter (or any nut butter), coconut, and vanilla flavors.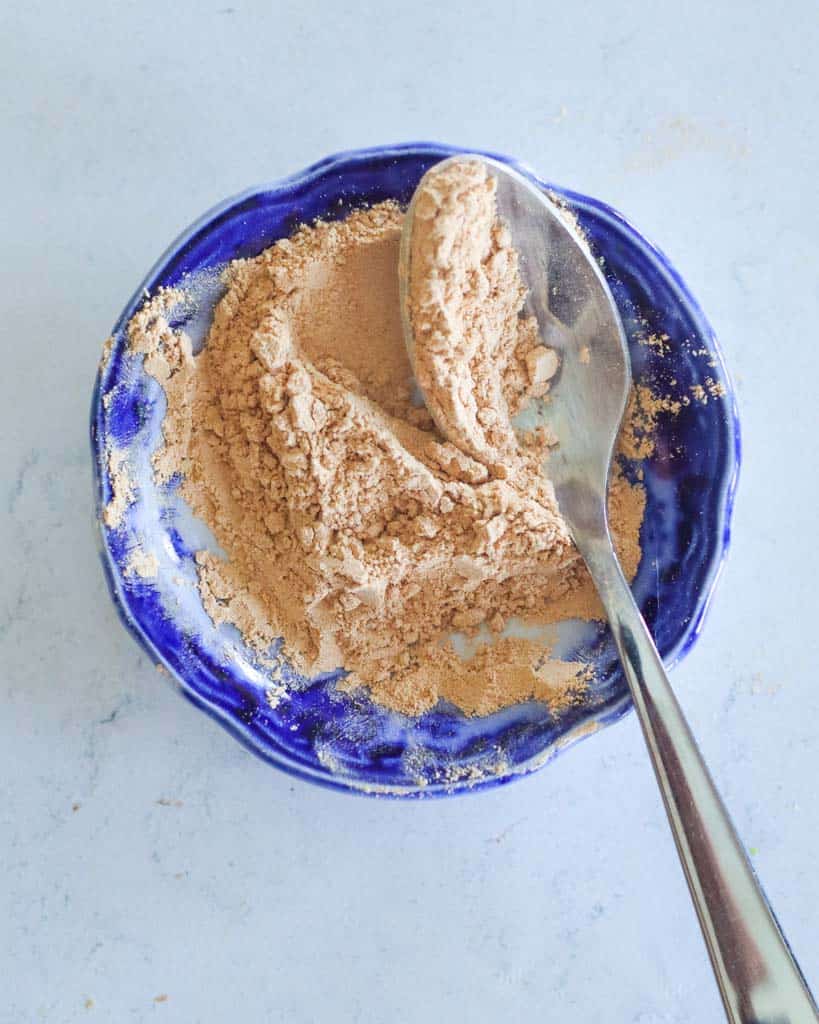 Types Of Maca Powders And Their Benefits:
Yellow Maca Powder: This is the most harvested and readily available type of maca. You can easily find this in your local grocery store or health food store. The enhanced benefits of yellow maca are that it contains mood-boosting flavonoids, hormone-balancing properties, and may help decrease anxiety and depression. It is also great for both male and female fertility, making yellow maca a great option for both men and women to take. The flavor of yellow maca is mild and slightly sweet, butterscotch flavor.
Red Maca Powder: Red maca has been clinically shown to positively impact bone density loss, and has the highest amount of phytonutrients and amino acids out of all the types of maca. Like the other types of maca, it can help balance hormones, relieve menopause symptoms, improve sexual health, and increase libido. Red maca is more effective for women than men. It has a slightly malty caramel taste.
Black Maca Powder: This is considered the rarest type of Peruvian root. It has the highest amount of antioxidants compared to yellow and red maca. Clinical studies have found that black maca may help improve sperm count and sperm motility and improve sexual dysfunction. Black maca is more effective for men than women. It has a subtle, nutty flavor.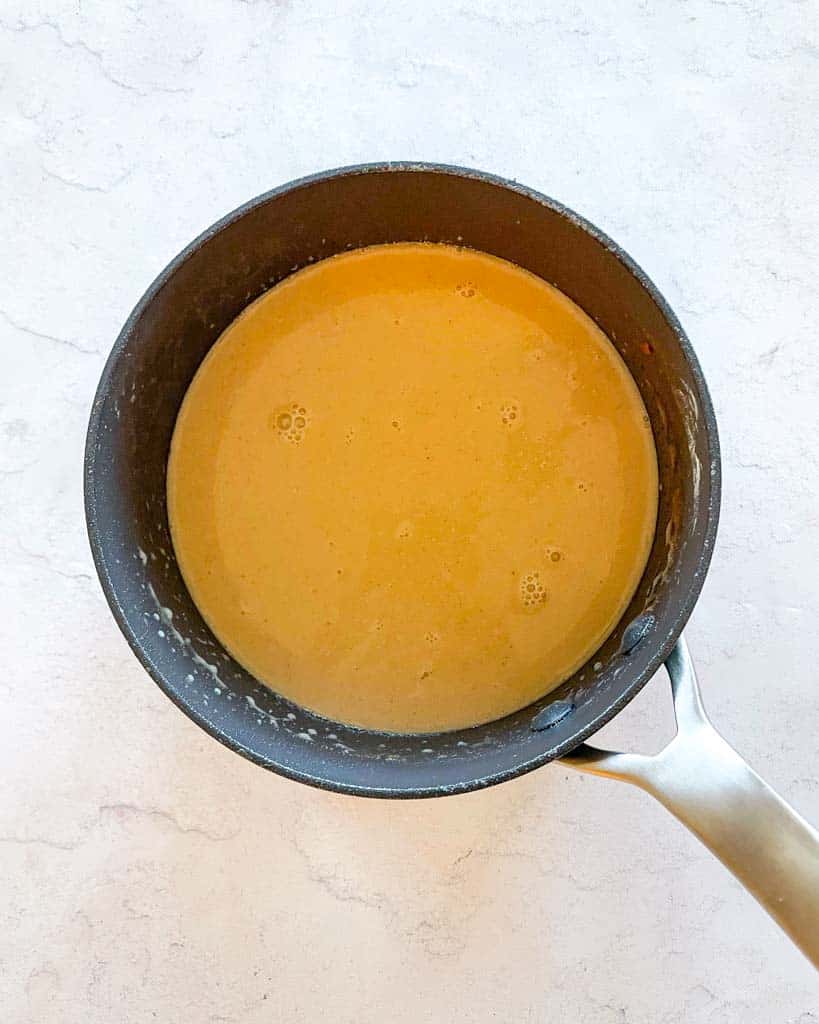 How To Make Maca Coffee
Add all the ingredients for the maca coffee into a saucepan over medium-low heat. Whisk to combine the ingredients and allow the mixture to simmer for 3-5 minutes, or until warmed through. Stir in any optional add-ins. Pour into your favorite mug and enjoy!
Recipe Variations and Customizations
Add A Shot Of Espresso: Maca in coffee is a great way to enhance your coffee with incredible nutrients. Make this maca coffee and add espresso, or mix maca powder into your coffee. You can add maca powder in coffee, espresso, or cold brew.
Add Cacao Powder: Mix in a couple of teaspoons of raw cacao powder (not cocoa powder) to give your maca coffee a chocolatey taste! Cacao powder is high in antioxidants and is a great source of mood-boosting chemicals like serotonin, tryptophan, tyrosine, and phenylethylamine.
Add Turmeric: Turn your maca coffee into a delicious Golden Maca Latte by adding turmeric and black pepper!
Add A Bit Of Spice: Cayenne Pepper helps improve digestion and reduces high blood pressure. Try adding a pinch for your maca coffee. Cardamom also helps improve digestion. Add a pinch of cardamom for a slightly sweet, herbal flavor.
Add Froth On Top: Use a hand frother to froth a bit of milk, creamer, or coconut milk and pour it on top for a barista-style drink.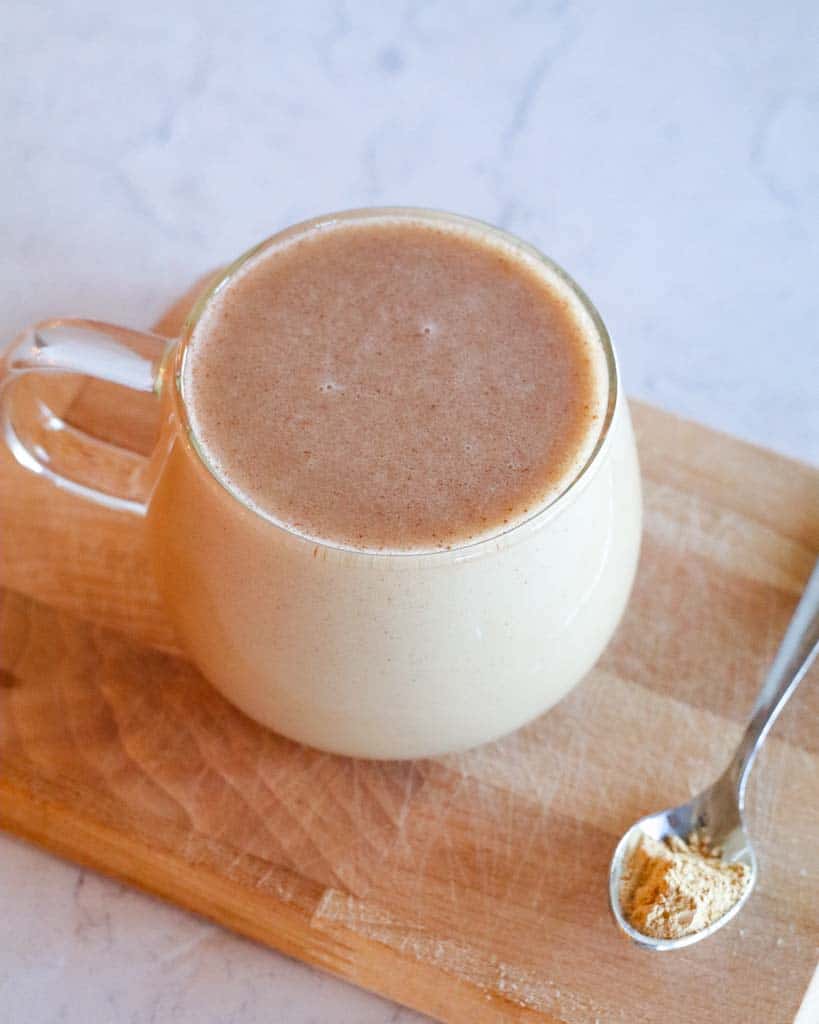 Storage and Rewarming Your Maca Coffee
You can make a large batch of this maca coffee and enjoy it throughout the week. Double or triple the recipe. Allow it to cook completely. Then, pour the maca coffee into an airtight mason jar or bottle. It will last up to 3 days in the fridge. Separation is natural, so give the jar or bottle a good stir before enjoying it. You can drink it over ice or rewarm it on the stove.
More Ways To Add Maca To Your Daily Diet
Maca is extremely versatile and can be added to many different types of drinks and dishes. Add it to your: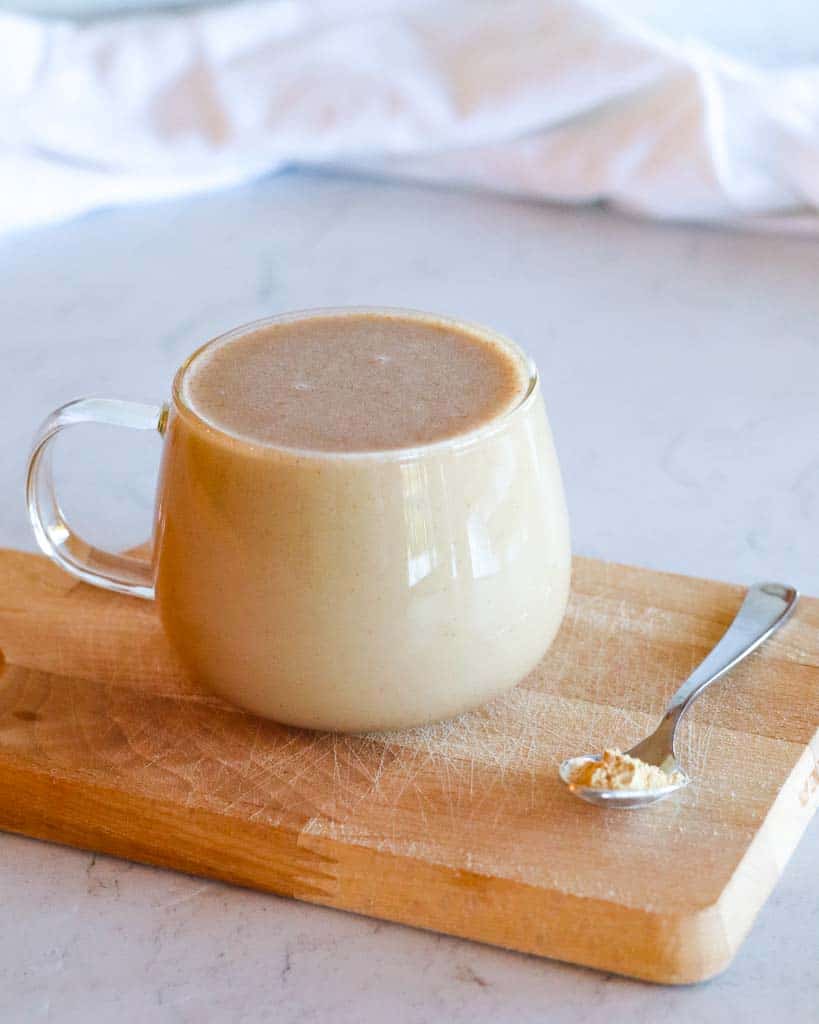 I Hope You Enjoy This Maca Energy Coffee Recipe!
If you try the recipe, don't forget to rate the recipe and let me know what you think in the comments. Leave a quick review & star rating ★ below! Take pictures, tag #goodfoodbaddie, and share them with me on Instagram, Facebook, and Pinterest! I love seeing my recipes come to life in your kitchen.
More Delicious, Energizing Drinks To Try!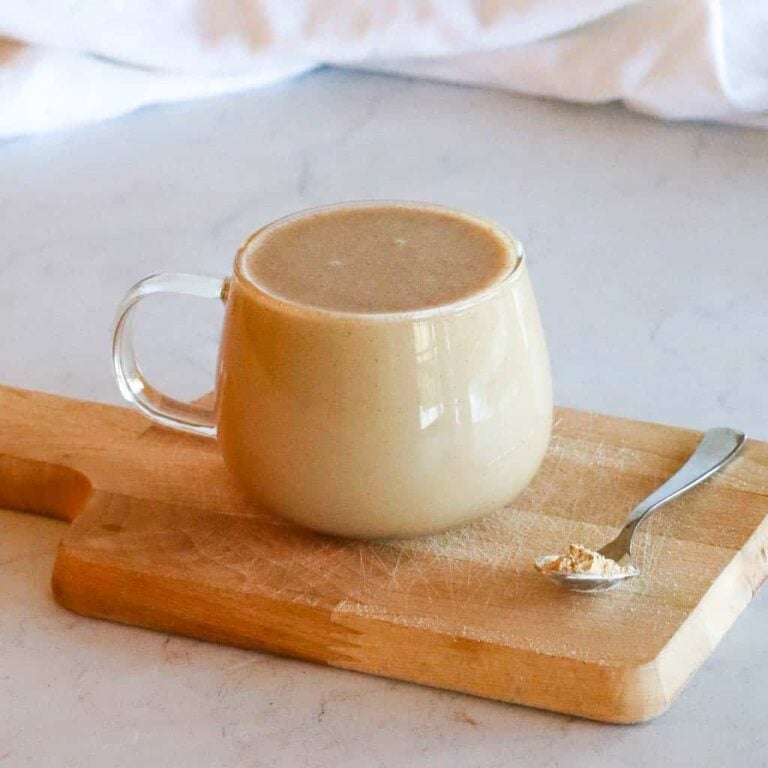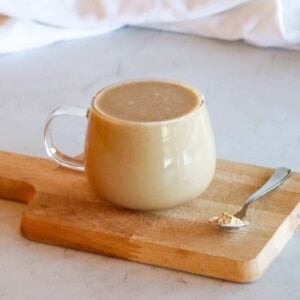 Best Maca Coffee
Maca Coffee is a natural substitute for coffee made with maca root powder, milk, cinnamon, and natural sweetener. Maca root is an adaptogenic plant native to Peru, that can be used as an energizer that fights fatigue and increases stamina. Here's a recipe for maca coffee that you can easily make from home each morning!
Print
Pin
Rate
Ingredients
1

cup

Non-Dairy Milk of choice

(or regular milk)

1/2

cup

Canned Coconut Milk (full fat or reduced fat)

(can sub with half and half or heavy cream)

1

tbsp

Maca Powder

1 1/2

tsp

Turmeric Powder

1/4

tsp

Ground Cinnamon

or to taste

2

tbsp

Maple Syrup or Coconut Sugar (or sweetener of choice)

1/2

tsp

Pure Vanilla Extract
Optional Add-ins
1-2

Espresso Shots (2-3 oz)

prepared

1

tbsp

Raw Cacao Powder

1

tsp

Turmeric Powder

Pinch of Cardamom

Pinch of Cayenne

Pinch of Black Pepper
Instructions
Add all the ingredients to a small saucepan and whisk over medium-low heat for about 5 minutes. You want to simmer and warm the ingredients, but do not bring them to a boil.

Remove the maca from the heat and adjust the taste as needed: adding more sweetener to taste.

Stir in any optional add-ins.

Pour into a mug. Top with frothed non-dairy milk, if desired. Drink warm. Enjoy!
Notes
Storage and Rewarming
STORE: Keep any leftover maca coffee in an airtight mason jar in the fridge for up to 3 days. You can also double or triple the recipe, making a large batch and storing it in the fridge for later.
REWARM: The best way to rewarm your maca coffee is by pouring it into a saucepan and heating it on the stove on low heat for a few minutes, or until it is warm.
goodfoodbaddie.com offers nutritional information for recipes contained on this site. This information is provided as a courtesy and is an estimate only. To obtain the most accurate representation of the nutritional information in any given recipe, you should calculate the nutritional information with the actual ingredients you used to make the recipe. For more information read our
Nutritional Disclaimer
.
Nutrition
Serving:
12
oz
|
Calories:
210
kcal
|
Carbohydrates:
39.7
g
|
Protein:
2.5
g
|
Fat:
4.5
g
|
Saturated Fat:
1.9
g
|
Sodium:
150
mg
|
Potassium:
6
mg
|
Fiber:
1.3
g
|
Sugar:
33.8
g
|
Calcium:
56
mg
|
Iron:
1
mg