Creamy Chicken Gnocchi Soup is a rich, savory soup filled with fresh vegetables, seasoned chicken, smokey bacon, and pillowy textured gnocchi. It is the perfect cozy, hearty soup to warm you up on a chilly evening. This recipe is completely dairy-free, made with luscious cashew cream. It is rich and flavorful with incredible depth that'll leave you wanting more and more.
If you love this Chicken Gnocchi Soup, you'll want to check out my Carrot Lentil Soup, Pozole Verde, or my Roasted Tomato Basil Soup next!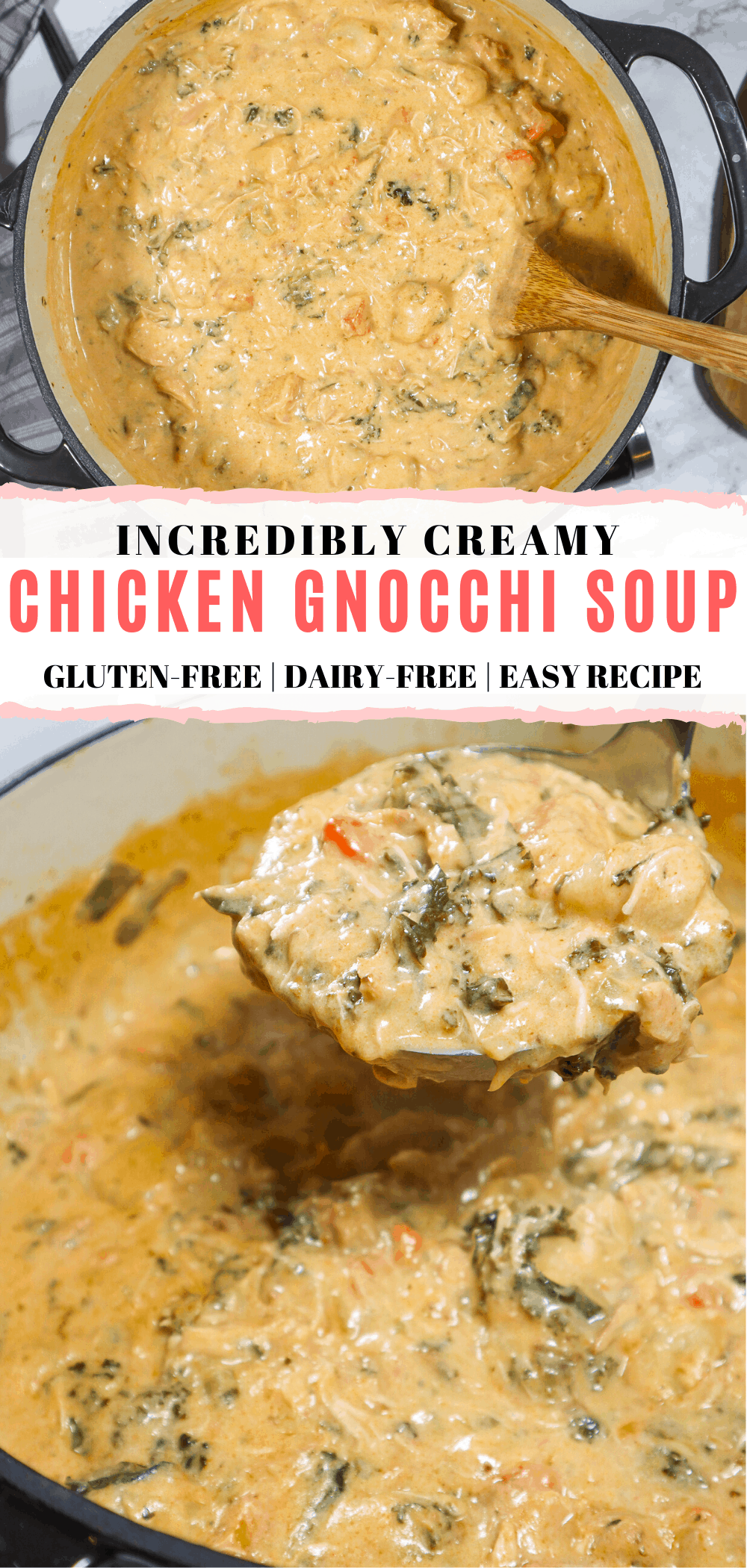 This content contains affiliate links, which help goodfoodbaddie.com to provide free recipes and resources. As an Amazon Associate, I earn from qualifying purchases. Thank you for your support of the blog!
If you're here you've most likely tried Olive Garden's Infamous Chicken Gnocchi Soup and want to make your own version at home. Not only is this recipe better than the restaurant version, but it is also incredibly creamy and dairy-free!
This soup is luscious, rich, savory, and so satisfying! It's absolutely perfect if you are looking for a cozy meal to warm you up during those flighty winter months.
Watch this step-by-step video: Creamy Chicken Gnocchi Soup Recipe
This Creamy Chicken Gnocchi Soup recipe comes together so easily!
I like to make this soup in my dutch oven and allow the flavors to blend over low heat for a couple of hours. However, you can just as easily make this soup creamy chicken gnocchi soup in the the crockpot, which is perfect if you want to simply throw the ingredients together and have a perfectly rich soup ready for dinner.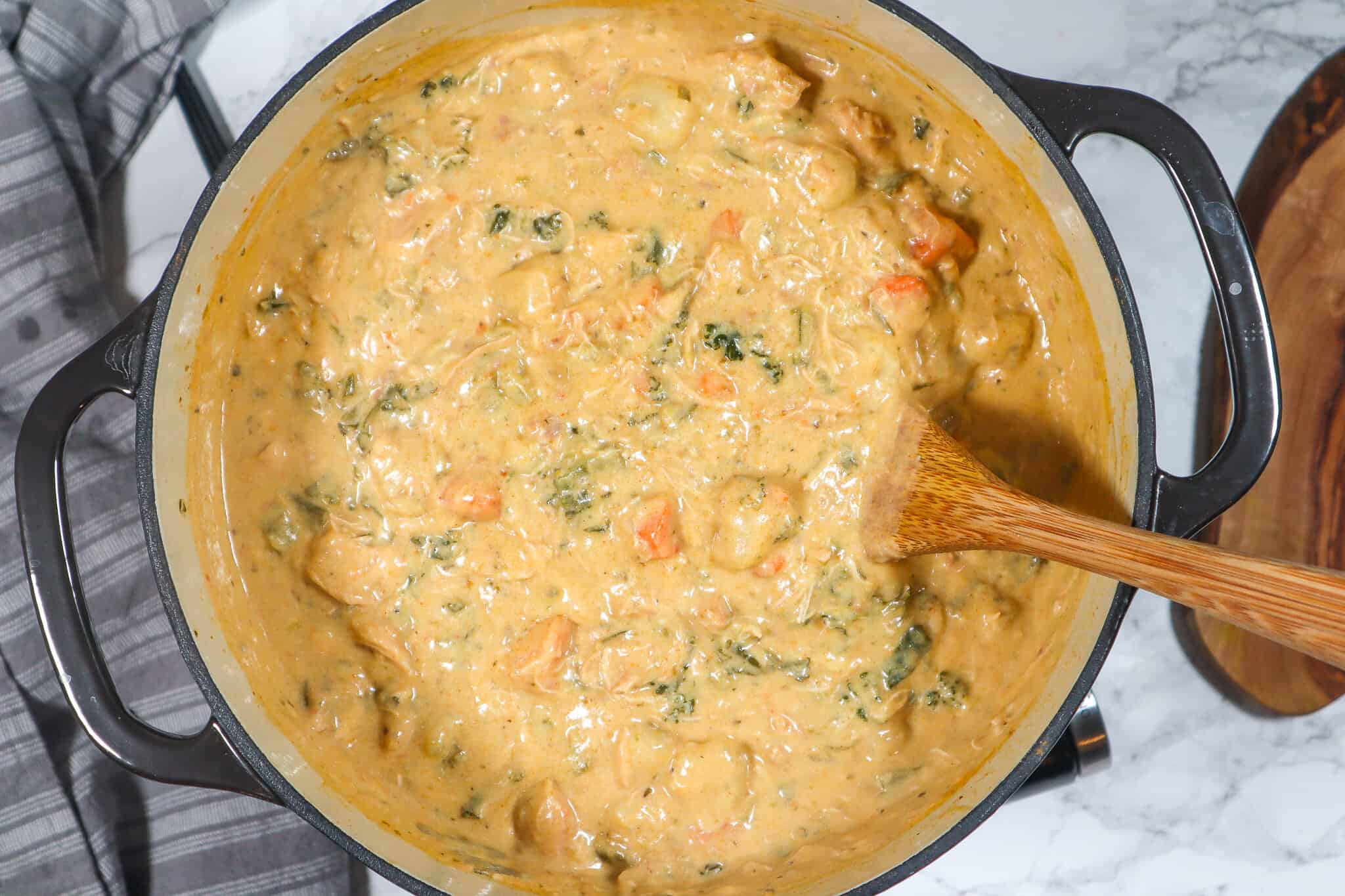 Gluten-Free Gnocchi Recipe
I love making gnocchi from scratch. It is a very romantic endeavor that takes hours in the kitchen and involves me spouting lots of adoring words to the potatoes and cassava flour so that the gnocchi comes out just right. For this recipe, I opted to skip this step and use my favorite pre-made gnocchi from Trader Joe's. They have two types, Kale Gnocchi and Cauliflower Gnocchi, which is my absolute favorite and gluten-free. For this recipe, you can simply toss the gnocchi in frozen and allow it to cook and absorb the delectable flavors of the soup.
What do you need to make Chicken Gnocchi Soup?
Mirepoix: the flavor base for the soup. A mix of chopped carrots, celery, and onions.
Peppers: Poblano and Jalapeno
Chicken Breast: 1 pound cut into large cubes, which will then be shredded once fully cooked.
Bacon: applewood smoked bacon is the best for this soup and gives the soup a subtle smokey flavor. (feel free to omit the bacon)
Aromatics: Fresh Oregano, Rosemary, and Garlic add depth to the soup
Chicken Broth: I use 4-5 cups of chicken broth. The ingredients will first simmer in chicken broth until it is time to add the cream.
Cashew Cream: I LOVED how the cashew cream impacted this recipe. I usually use coconut cream as my dairy-free go to but decided to use cashew cream in order to avoid the detectable coconut flavor that comes with using coconut cream. I am so happy I did! The cashew cream took on all the flavors used in the soup and made the soup mouthwatering and creamy! Even if you are not dairy-free, I would recommend using cashew cream instead of heavy cream; it was phenomenal! Cashew cream is simple to make and here is my

quick method recipe to making the perfect cashew cream

.
Gnocchi: There are many pre-made gnocchi options available. I prefer the frozen options and like to use

Trader Joe's Cauliflower Gnocchi

.
How to make this Creamy Chicken Gnocchi Soup in the Crockpot?
If you are making this soup in the dutch oven, simply follow the recipe instructions below. If you are making this soup in the Crockpot, you will need to alter a few steps.
To get the best flavor, first, pan-sear the chicken slightly to form a golden crust and maximize the flavor. In a medium pan over medium-high heat, add 1-2 tablespoons of olive oil. Once the oil has heated, add chicken. Season the chicken with cayenne pepper, oregano, and Italian seasoning. Saute the chicken for only 3-4 minutes, making sure to add the bacon chunks during the last minute.
Remove the chicken and bacon from the heat and add the chicken to the Crockpot with the remaining ingredients (except the cashew cream, kale, and gnocchi). Cook the soup on high for 4-5 hours or low for 6-8 hours.
After the soup is cooked and ingredients are soft, use two forks to shred the chicken (while inside the soup). Next, add the cashew cream, kale, and frozen gnocchi to the Crockpot. Cook the soup on high for 1 hour. Season with Salt and Pepper. Enjoy!

Quick Way to Make Cashew Cream
For this recipe, place 1 cup of raw unsalted cashews into a medium bowl.
Boil 2 cups of water and pour the hot water over the cashews. Allow the cashews to soak for at least 15 minutes.
When ready, place the cashews (drained) in a blender with 1/2 cup vegetable broth (or chicken broth). Slowly add broth until you reach a creamy, smooth consistency.
For a more detailed recipe or for tasty variations on this cashew cream, check out my post: How to Make Cashew Cream.
I hope you enjoy this
Creamy Chicken Gnocchi Soup
! 
If you try the recipe, don't forget to rate the recipe and let me know what you think in the comments below! Take pictures, tag #goodfoodbaddie, and share them with me on Instagram! I love seeing my recipes come to life in your kitchen.
If you would like more tasty soup recipes, try these!
Homemade Roasted Tomato Basil Soup
Immunity-Boosting Coconut Carrot Lentil Soup
Creamy Chicken Gnocchi Soup
Creamy Chicken Gnocchi Soup is a rich, savory soup filled with colorful vegetables, seasoned chicken, smokey bacon, and pillowy textured gnocchi. It is the perfect cozy, hearty soup to warm you up on a cold winter evening. 
Print
Pin
Rate
Ingredients
1

lb

Boneless Chicken Breast, cut into bize size pieces

4

Slices of Bacon

1/2

Red Onion, chopped

6

Garlic Cloves, minced

3

large Carrots, chopped

3

Celery Stalks, chopped

1

Poblano Pepper, chopped

2

Jalapeno Peppers, chopped

Optional

5

cups

Chicken Broth

2

tbsp

Fresh Oregano

1

tbsp

Fresh Rosemary

1

tsp

Cayenne Pepper

2

tsp

Italian Seasoning or Herbs de Provence

1

tsp

Smoked Paprika

1/2

tsp

Red Crushed Peppers

1 1/2

cup

Cashew Cream

1

cup

Kale

2

Packages Frozen Gnocchi

(I use TJ's Cauliflower Gnocchi)

Salt and Pepper, as desired
Instructions
In a large Dutch Oven pot over medium heat, add 1-2 tbsp olive oil then add 1/2 red onion, chopped. Sauté the onions for about a minute, then add the minced garlic. Sauté the garlic and onions for about 3-5 minutes to caramelize the onions.

Add the sliced chicken breast and pan sear for about 2-3 minutes. Season with cayenne pepper, smoked paprika, Italian seasoning, red crushed peppers, salt, and pepper.

Add sliced bacon and sauté for about 1-2 minutes. Next add the chopped celery, poblano pepper, jalapeño peppers, and carrots. Mix all the ingredients together and pour in 4 cups of chicken broth and add the fresh oregano and rosemary.

Cover the pot and reduce the heat to a low heat and simmer for 2-3 hours, or until the vegetables are soft and chicken is tender/ making sure to stir occasionally.

Next, add the cashew cream, gnocchi, and kale. Cover the pot and simmer on low for 30-35 minutes, stirring occasionally.

Stir the soup before serving and garnish with chopped green onion. Enjoy!
Notes
Nutrition (per serving): 
Servings: 8
Fat: 18.7g
Calories: 453 
Protein: 23.5g
If you are making the recipe in the crockpot, follow the instructions above in my blog.
How To Make Cashew Cream
Nutrition