Traditionally, Bolognese sauce is a hearty-meaty sauce made using ground beef, veal, tomatoes, wine, cream, and herbs. It's a thick sauce that generally takes hours to cook; at least three most say! I think its best served over wide pappardelle noodles, but if you want to keep it even more authentic, try using tagliatelle—an Italian favorite.
I love traditional Bolognese! However, I've done a lot of experimenting and found an incredible way to make Bolognese with a few twists: eggplant in addition to tomatoes as the base sauce and mouth-watering ground lamb for the meat—and it only takes 45 minutes to cook!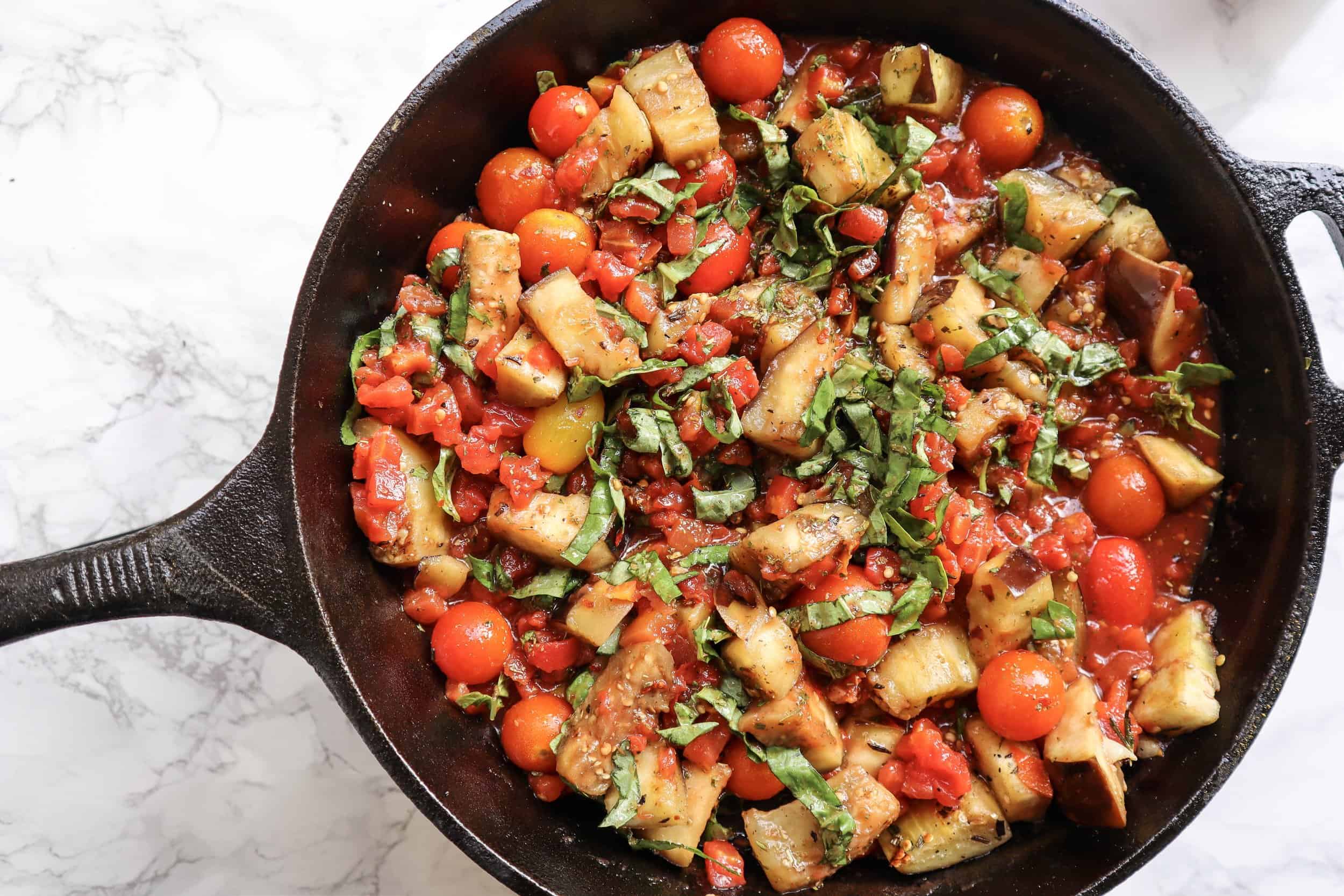 Eggplant, tomatoes, and herbs simmering together to create the sauce
The eggplant brings a completely new dynamic to the tomato sauce. Eggplant has a rich, slightly sweet, yet savory taste. It takes on and enhances the flavors of the food it is cooked with as it is highly absorbent. The texture is soft when cooked properly and perfect for sauces as it blends into a nice creamy texture. Eggplant is extremely hearty and often substituted for meat in many dishes. The complexity of eggplant makes it perfect for making Bolognese sauce, and it only takes about 30 minutes to achieve the desired texture and flavor.
On the other hand, lamb has a highly distinctive taste: rich, gamey, and full! Because Bolognese is a hearty meat sauce, you cannot skip on the meat! The flavor of lamb pairs perfectly with the dynamic sauce and compliments the heartiness of the eggplant. I add the lamb after the sauce has been simmering for 30-45 minutes and the flavors have merged successfully. The full flavor of the lamb quickly enhances the sauce and completely elevates its flavor profile. You can immediately serve the Bolognese at this point, but I recommend allowing the sauce to simmer for an additional 15 minutes to seal in the flavors!
This is a great meal to serve when hosting a dinner. Its filling, delicious, and does not take long to make considering you are making an entire sauce from scratch! This recipe is also dairy, gluten, and sugar free! For those on the Whole30 diet, try this Bolognese over Spaghetti Squash (as I did). Its very tasty and even looks like noodles! (Pro Tip: Skip the ground lamb if you wish to make this meal vegan/vegetarian!)
Flavorful Lamb Bolognese

Capri Lilly | GFB

prep time: 15 mins
cook time: 45 mins
total time: 1 hour

Servings: 6

Ingredients:

1 large Eggplant
1 cup Cherry Tomatoes
3 Sprigs Rosemary
3 Garlic Cloves
1 tbsp Italian seasoning
1 tsp Dried Parsley
1/2 tsp Crushed Red Pepper
1/4 tsp Salt & Pepper
1/2 cup Fresh Basil
2 cups of Diced Tomatoes
1 Lb Ground Lamb
Extra Virgin Olive Oil

Instructions:

Prepare the ingredients for the dish: mince the garlic and rosemary, cut the eggplant into cubes. Pour 2-3 tbsp EVOL into the pan along with the minced garlic and rosemary. Sauté for 1-2 minutes
Add the cubed eggplant and sauté for 10 minutes, or until eggplant appear golden in color. Eggplant is highly absorbent so add 1-2 tbsp EVOL while cooking if necessary
Pour in the diced tomatoes, cherry tomatoes, basil, and seasonings. Mix well and allow the sauce to come to a boil. Once the sauce is boiling, reduce to low heat and allow the sauce to simmer for 30-45 minutes. Stir occasionally.
Cook the ground lamb in a separate pan with salt and pepper, until lamb is a browned and cook thoroughly (approximately 10 minutes on medium heat).
The sauce is ready once the diced tomatoes are bursting and the eggplant is soft to touch. (Check with a spoon)
Leave the sauce chunky, or use an immersion blender (or blender) to make the sauce a creamy texture. (Blend for 1 minute or less)
Mix in the cooked lamb and allow the sauce to simmer for 10-15 minutes.
The Bolognese is ready to serve. Enjoy!

Nutrition:

Serving: 6
Fat:45.5 g
Calories: 682

PRO TIP: Serve over your favorite pasta: Pappardelle and Tagliatelle are great! Want a Gluten free or veggie option? Try Zoodles or Spaghetti Squash!